Loop Electrosurgical Excision Procedure (LEEP)
Author: Howard A Shaw, MD, MBA; Chief Editor: Christine Isaacs, MD more...
Updated: May 30, 2014
What would you like to print?
Pre-Procedure
Background
The treatment of high-grade cervical dysplasia has traditionally been by cervical conization (also known as cone biopsy). Cervical conization is defined as the excision of a cone-shaped portion of the cervix surrounding the endocervical canal, which includes the entire transformation zone. Many methods are available to perform excisional treatment. These include using a scalpel ("cold-knife conization"), laser, or electrosurgery (ie, loop electrosurgical excision procedure [LEEP], also called large loop excision of the transformation zone [LLETZ]). In this chapter, the authors limit the discussion to LEEP.
One of the benefits of LEEP is that it provides the pathologist with an intact specimen in which to study an intraepithelial or superficially invasive lesion in its entirety. In certain situations, however, the entire lesion is not obtained by this method (pregnancy, extension of the lesion into the vaginal fornices, or high in the endocervical canal). In addition, LEEP excision procedures minimize blood loss by thermal cautery during excision but may cause thermal artifact that impairs the interpretability of a specimen.
Indications
Indications for LEEP excision are as follows:
Unsatisfactory

colposcopy

(the transformation zone is not fully visualized), especially if a high-grade lesion is suspected

Suspected microinvasion

Lack of correlation between the cytology and colposcopy/biopsies, especially if a high grade lesion is suspected

Lesion extending into the endocervical canal

Endocervical curettage showing CIN or glandular abnormality

Suspected adenocarcinoma in situ (In this instance, cold-knife conization may be preferable as an increased risk of positive margins and higher recurrence risk with LEEP compared to cold-knife conization [CKC] may exist.

[1]

)

Colposcopist unable to rule out invasive disease

Recurrence after an ablative or previous excisional procedure
Contraindications
LEEP should not be performed during pregnancy unless a strong suspicion of cancer exists (as discussed below).
Preparation
Anesthesia
In most cases, LEEP excision is an office procedure performed under local anesthesia. Using a vasoconstricting solution with local anesthetic (listed below) is usually adequate. A 25-gauge to 27-gauge needle is used to inject the solution circumferentially 1 cm deep into the cervix outside the area to be excised. The cervix should blanch postinjection.
Equipment
Equipment includes the following:
Electrosurgical generator

High frequency (350-1200 kHz)
Low voltage (200-500 V)

Grounding pad

Smoke evacuation system

Insulated vaginal speculum with smoke evacuation tubing

Various sizes of LEEP or Fischer cone biopsy excisor electrodes

3-5 mm ball electrode

Single-tooth tenaculum

Monsel's solution

3-5% acetic acid solution

Pitressin plus 1% lidocaine solution (10 units in 30 mL of 1% lidocaine) or 1% lidocaine with epinephrine (1:100,000 dilution)

25-gauge to 27-gauge needle with 10-mL syringe
Positioning
The patient is placed in dorsal lithotomy position, and the grounding pad is placed on the upper thigh.
Complication Prevention
In order to prevent complications and improve the quality of the specimen, 3 principles of electrosurgery should be kept in mind when performing the LEEP procedure. These include electrode size, current waveform, and speed of incision.
Electrode size
Thinner wires provide greater concentration of the current. The higher power density gives a better cutting effect and decreased thermal spread.
Current waveform
The depth of coagulation increases as the current is blended. A blended current mixes cutting and coagulating currents. At higher blends, more coagulating current exists and thus greater thermal damage.
Speed of incision
The faster the wire is passed through the cervical tissue, the cleaner the incision will be and with less thermal artifact in the specimen. The slower the passage of the wire, the more thermal damage will occur to the adjacent tissue. However, this results in better coagulation of the cone bed, but more tissue necrosis and postoperative scarring may occur.[2]
In addition to decrease the risk of cervical stenosis, removing the least amount of tissue possible is important. Incision depths of ≥ 1 cm increase the risk of cervical stenosis.[3]
Technique
Approach The goal of LEEP excisional cone is to remove the entire transformation zone. The size and shape of the excision should be individually tailored to the respective situation. This is important in order to prevent either inadequate removal of the lesion or excising too large a specimen, which can create both short-term and long-term complications. Colposcopy in the procedure or operating room just prior to the LEEP excision provides the surgeon an opportunity to evaluate the upper vagina and vulva.
To help prevent long-term complications, a smaller excision may be performed if the transformation zone and lesion are in the endocervical canal and the ectocervix appears normal. However, if the lesion and transformation zone are confined to the ectocervix and the endocervical canal appears normal, then the excision can be wide and shallow with minimal resection of the endocervical canal.
Procedure
The patient is placed in dorsal lithotomy position and an insulated speculum, with the smoke evacuation tube placed in the vagina to gain visualization of the cervix. The cervix is infiltrated with an anesthetic/vasoconstrictor solution. Acetic acid (3-5%) or Lugol's solution is placed on the cervix to visualize the entire lesion and aid the surgeon in the proper selection of loop electrode. The electrosurgical generator is set at 30-50 watts on blend 1 (see the image below).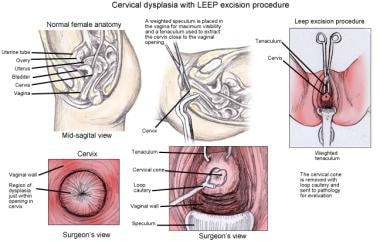 Excision procedure.
Ideally the lesion is excised in one pass. The loop should be carefully passed simultaneously around and under the transformation zone. The entire transformation zone should be excised to a depth of 5-8 mm. For best results, the loop should glide through the cervix. This allows the cutting current to divide the tissue (consistent power density). If the loop moves too slowly, excess thermal damage occurs. If the loop is pulled too rapidly through the cervix, it will drag, bend, or adhere to the tissue, resulting in too shallow of a specimen. In patients with wide lesions or large cervices, making additional passes in order to completely remove all disease may be necessary. In addition, if the lesion extends into the endocervical canal deeper than 5-8 mm depth, additional tissue is excised with a smaller rectangular loop ("top hat").
Colposcopic reassessment can be performed after the procedure is finished, to ensure adequacy of excision. An endocervical curettage may be performed following excision but is often unnecessary, as the result does not change the subsequent management. Bleeding is usually easily controlled with a Ball electrode. The authors also recommend application of Monsel's solution to the cone bed.
Post-Procedure
Complications
Intraoperative bleeding
Bleeding is the most common complication but is rare. As described above, if heavy bleeding does occur, it usually easily controlled with conservative measures such as electrocautery or Monsel's solution. In extreme cases, a suture ligature may be required.
Postoperative bleeding
Bleeding immediately after surgery is usually due to the vasoconstrictor solution wearing off or inadequate intraoperative hemostasis. The authors estimate that up to 8% of patients may present with bleeding within 1-2 weeks of surgery. This type of bleeding is most likely caused by erosion of a blood vessel during healing. The use of Monsel's solution, silver nitrate, electrocautery, or packing usually provides adequate hemostasis.
Infection
Overall, the risk of infection is very low; prophylactic antibiotics are not indicated. The reported rate of infection is 0-8%, with most studies report the low end of this range.[4] Patients with infection may present with malodorous discharge and fever. Treatment consists of oral antibiotics such as azithromycin or doxycycline.
Cervical stenosis and cervical insufficiency
Probably the most concerning complications from the LEEP procedure are late-occurring ones, such as cervical stenosis and cervical insufficiency. Cervical stenosis after LEEP has been reported to be between 4.3-7.7%[5, 6, 7, 8] LEEP as a cause of cervical insufficiency remains controversial. A recent meta-analysis of 20 studies showed no increase in perinatal mortality, preterm delivery less than 28 weeks. In contrast, a large study published in 2009 found an increased risk of preterm delivery at all gestational ages following LEEP procedures.[9, 10, 11]
Long-Term Monitoring
Patients treated for cervical dysplasia need long-term surveillance. Most recurrent or persistent CIN is found within the first 1–5 years. Because of the risk of persistent or recurrent disease in the first year, patients should have cervical cytology after the procedure at 6 months and 12 months after treatment. Human papillomavirus (HPV) DNA testing alone is highly sensitive, and a single test at 1 year detects most recurrences. If the HPV DNA test result is negative or if 2 consecutive repeat cytology tests are negative, then routine screening every 12 months for at least 20 years is the recommended follow up.[12, 13]
In patients with positive cone margins, repeating the conization is not necessary, as most women do not have residual disease. Cytology plus endocervical sampling at 4–6 months after treatment is the recommended management.[12, 13]
Patient Education
Patients are instructed to avoid intercourse and place nothing in the vagina for 2-4 weeks. In addition, she should not bathe or swim during the same time period. She is followed up in 6 weeks to ensure endocervical patency and appropriate healing. Assessment of cervical cytology are performed as noted above.
Summary
See the list below:
LEEP is a relative simple office procedure performed under local anesthesia.

Excisional biopsy provides tissue for pathologic interpretation.

The entire transformation zone can be removed in one continuous piece.

Long-term complications can be minimized by taking the smallest amount of tissue.
References
Kim JH, Park JY, Kim DY, Kim YM, Kim YT, Nam JH. The role of loop electrosurgical excisional procedure in the management of adenocarcinoma in situ of the uterine cervix. Eur J Obstet Gynecol Reprod Biol. 2009 Jul. 145(1):100-3. [Medline].

Soderstrom RM, Brill AI. Principles of electrosurgery as applied to gynecology. Rock JA, Jones HW 3rd. Te Linde's operative gynecology. 10th ed. Philadelphia (PA): Lippincott Williams & Wilkins; 2008. 280-297.

Suh-Burgmann EJ, Whall-Strojwas D, Chang Y, Hundley D, Goodman A. Risk factors for cervical stenosis after loop electrocautery excision procedure. Obstet Gynecol. 2000 Nov. 96(5 Pt 1):657-60. [Medline].

http://lib-sh.lsuhsc.edu/fammed/atlases/leep/leepcomp.html accessed July 30,. 2009.

Monteiro AC, Russomano FB, Camargo MJ, Silva KS, Veiga FR, Oliveira RG. Cervical stenosis following electrosurgical conization. Sao Paulo Med J. 2008 Jul. 126(4):209-14. [Medline].

Brun JL, Youbi A, Hocke C. [Complications, sequellae and outcome of cervical conizations: evaluation of three surgical technics]. J Gynecol Obstet Biol Reprod (Paris). 2002 Oct. 31(6):558-64. [Medline].

Suh-Burgmann EJ, Whall-Strojwas D, Chang Y, Hundley D, Goodman A. Risk factors for cervical stenosis after loop electrocautery excision procedure. Obstet Gynecol. 2000 Nov. 96(5 Pt 1):657-60. [Medline].

Penna C, Fambrini M, Fallani MG, Pieralli A, Scarselli G, Marchionni M. Laser CO2 conization in postmenopausal age: risk of cervical stenosis and unsatisfactory follow-up. Gynecol Oncol. 2005 Mar. 96(3):771-5. [Medline].

Arbyn M, Kyrgiou M, Simoens C, et al. Perinatal mortality and other severe adverse pregnancy outcomes associated with treatment of cervical intraepithelial neoplasia: meta-analysis. BMJ. 2008 Sep 18. 337:a1284. [Medline]. [Full Text].

Noehr B, Jensen A, Frederiksen K, Tabor A, Kjaer SK. Loop electrosurgical excision of the cervix and subsequent risk for spontaneous preterm delivery: a population-based study of singleton deliveries during a 9-year period. Am J Obstet Gynecol. 2009 Jul. 201(1):33.e1-6. [Medline].

Heinonen A, Gissler M, Riska A, Paavonen J, Tapper AM, Jakobsson M. Loop electrosurgical excision procedure and the risk for preterm delivery. Obstet Gynecol. 2013 May. 121(5):1063-8. [Medline].

ACOG Practice Bulletin No. 99: management of abnormal cervical cytology and histology. Obstet Gynecol. 2008 Dec. 112(6):1419-44. [Medline].

Wright TC Jr, Massad LS, Dunton CJ, Spitzer M, Wilkinson EJ, Solomon D. 2006 consensus guidelines for the management of women with cervical intraepithelial neoplasia or adenocarcinoma in situ. J Low Genit Tract Dis. 2007 Oct. 11(4):223-39. [Medline].
Medscape Reference © 2011 WebMD, LLC