Erythromelalgia Clinical Presentation
Author: Antoine N Saliba, MD; Chief Editor: Emmanuel C Besa, MD more...
Updated: Dec 01, 2015
What would you like to print?
History
The classic description of erythromelalgia is a triad of redness, pain, and warmth in the extremities, brought on by warming or dependency and relieved by cooling (see the image below).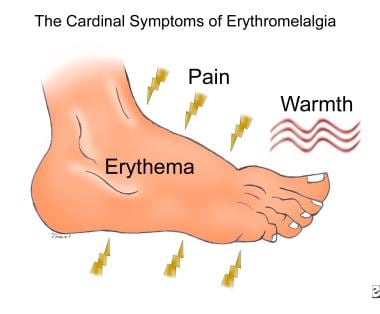 Cardinal symptoms of erythromelalgia.
Paroxysmal burning pain has been also reported to be a presenting symptom of erythromelalgia.[25] Erythromelalgia has also been reported to involve parts other than the extremities (eg, auricular erythromelalgia).[26]
Symptomatic episodes may last minutes to days. They often begin with an itching sensation, progressing to a more severe pain with a burning quality. Pain may be so intense that the patient cannot walk; some must even keep their feet immersed in ice water.
The lower extremities are affected more often than the upper extremities. The soles of feet and toes are most commonly involved. Involvement as high as the knees is observed but is rare. Involvement is usually bilateral, though not necessarily symmetric. Warming the extremity or placing and maintaining the extremity in a dependent position can exacerbate symptoms; cooling and elevating the extremity can relieve symptoms.
Raynaud phenomenon has been reported to occur between episodes of erythromelalgia, but this may be coincidental.
In cases associated with a myeloproliferative disorder, erythromelalgia usually precedes diagnosis of the myeloproliferative disorder by a median of 2.5 years. Dramatic relief with aspirin is typical of this type of erythromelalgia and can be used as an aid to diagnosis.
Given the association with myeloproliferative disorders, the clinician should inquire about a possible history of pruritus, thrombotic episodes (eg, transient visual loss), constitutional symptoms, and abdominal discomfort that could accompany myeloproliferative disorders.
Physical Examination
Between episodes, examination findings may be normal. During an episode, the affected extremity becomes warm, tender, and appears dusky, red, and sometimes mottled.
Peripheral pulses may be normal or bounding. Acrocyanosis may be observed; rarely, it progresses to necrosis of the distal ends of digits. Ischemic ulcers may be observed and may become infected secondarily.
Checking for possible splenomegaly and lymphadenopathy should also be part of a comprehensive physical examination in a patient with suspected erythromelalgia.
References
Drenth JP, van Genderen PJ, Michiels JJ. Thrombocythemic erythromelalgia, primary erythermalgia, and secondary erythermalgia: three distinct clinicopathologic entities. Angiology. 1994 Jun. 45(6):451-3. [Medline].

Michiels JJ, Drenth JP, Van Genderen PJ. Classification and diagnosis of erythromelalgia and erythermalgia. Int J Dermatol. 1995 Feb. 34(2):97-100. [Medline].

Michiels JJ, Abels J, Steketee J, et al. Erythromelalgia caused by platelet-mediated arteriolar inflammation and thrombosis in thrombocythemia. Ann Intern Med. 1985 Apr. 102(4):466-71. [Medline].

Orstavik K, Weidner C, Schmidt R, et al. Pathological C-fibres in patients with a chronic painful condition. Brain. 2003 Mar. 126(Pt 3):567-78. [Medline].

Charkoudian N. Skin blood flow in adult human thermoregulation: how it works, when it does not, and why. Mayo Clin Proc. 2003 May. 78(5):603-12. [Medline].

Mork C, Kalgaard OM, Kvernebo K. Impaired neurogenic control of skin perfusion in erythromelalgia. J Invest Dermatol. 2002 Apr. 118(4):699-703. [Medline].

Waxman SG, Dib-Hajj SD. Erythromelalgia: a hereditary pain syndrome enters the molecular era. Ann Neurol. 2005 Jun. 57(6):785-8.

Drenth JP, te Morsche RH, Guillet G, et al. SCN9A mutations define primary erythermalgia as a neuropathic disorder of voltage gated sodium channels. J Invest Dermatol. 2005 Jun. 124(6):1333-8.

Michiels JJ, te Morsche RH, Jansen JB, Drenth JP. Autosomal dominant erythermalgia associated with a novel mutation in the voltage-gated sodium channel alpha subunit Nav1.7. Arch Neurol. 2005 Oct. 62(10):1587-90.

Nassar MA, Stirling LC, Forlani G. Nociceptor-specific gene deletion reveals a major role for Nav1.7 (PN1) in acute and inflammatory pain. Proc Natl Acad Sci U S A. 2004 Aug 24. 101(34):12706-11.

Yang Y, Wang Y, Li S, et al. Mutations in SCN9A, encoding a sodium channel alpha subunit, in patients with primary erythermalgia. J Med Genet. 2004 Mar. 41(3):171-4. [Medline]. [Full Text].

Eberhardt M, Nakajima J, Klinger AB, Neacsu C, Hühne K, O'Reilly AO, et al. Inherited pain: sodium channel Nav1.7 A1632T mutation causes erythromelalgia due to a shift of fast inactivation. J Biol Chem. 2014 Jan 24. 289(4):1971-80. [Medline]. [Full Text].

Han C, Dib-Hajj SD, Lin Z, Li Y, et al. Early- and late-onset inherited erythromelalgia: genotype-phenotype correlation. Brain. 2009 Jul. 132:1711-22. [Medline].

Tang Z, Chen Z, Tang B, Jiang H. Primary erythromelalgia: a review. Orphanet J Rare Dis. 2015 Sep 30. 10:127. [Medline]. [Full Text].

Davis MD, O'Fallon WM, Rogers RS 3rd, Rooke TW. Natural history of erythromelalgia: presentation and outcome in 168 patients. Arch Dermatol. 2000 Mar. 136(3):330-6. [Medline].

Kalgaard OM, Seem E, Kvernebo K. Erythromelalgia: a clinical study of 87 cases. J Intern Med. 1997 Sep. 242(3):191-7. [Medline].

Dupont E, Illum F, Olivarius Bde F. Bromocriptine and erythromelalgia-like eruptions. Neurology. 1983 May. 33(5):670. [Medline].

Zheng ZM, Zhang JH, Hu JM, et al. Poxviruses isolated from epidemic erythromelalgia in China. Lancet. 1988 Feb 6. 1(8580):296. [Medline].

Drenth JP, Michiels JJ, van Joost T, Vuzevski VD. Secondary erythermalgia in systemic lupus erythematosus; [comment]. J Rheumatol. 1993 Jan. 20 (1):144-6. [Medline].

Saviuc PF, Danel VC, Moreau PA, Guez DR, Claustre AM, Carpentier PH, et al. Erythromelalgia and mushroom poisoning. J Toxicol Clin Toxicol. 2001. 39 (4):403-7. [Medline].

Nakajima N, Ueda M, Higashi N, Katayama Y. Erythromelalgia associated with Clitocybe acromelalga intoxication. Clin Toxicol (Phila). 2013 Jun. 51 (5):451-4. [Medline].

Gu Y, Chen F, Liu T, Lv X, Shao Z, Lin H, et al. Early detection of an epidemic erythromelalgia outbreak using Baidu search data. Sci Rep. 2015 Jul 28. 5:12649. [Medline]. [Full Text].

Alhadad A, Wollmer P, Svensson A, Eriksson KF. Erythromelalgia: Incidence and clinical experience in a single centre in Sweden. Vasa. 2012 Jan. 41(1):43-8. [Medline].

Cook-Norris RH, Tollefson MM, Cruz-Inigo AE, Sandroni P, Davis MD, Davis DM. Pediatric erythromelalgia: A retrospective review of 32 cases evaluated at Mayo Clinic over a 37-year period. J Am Acad Dermatol. 2011 Jul 26. [Medline].

Kondo T, Uehara T, Ikegami A, Ikusaka M. Paroxysmal burning pain caused by erythromelalgia. Lancet. 2014 May 10. 383(9929):1692. [Medline].

Messeguer F, Agusti-Mejias A, Vilata Corell JJ, Requena C. Auricular erythromelalgia: report of a rare case. Dermatol Online J. 2013 Feb 15. 19(2):16. [Medline].

Cohen JS. High-dose oral magnesium treatment of chronic, intractable erythromelalgia. Ann Pharmacother. 2002 Feb. 36(2):255-60. [Medline].

Davis MD, Sandroni P. Lidocaine patch for pain of erythromelalgia: follow-up of 34 patients. Arch Dermatol. 2005 Oct. 141(10):1320-1.

Skeik N, Rooke TW, Davis MD, Davis DM, Kalsi H, Kurth I, et al. Severe case and literature review of primary erythromelalgia: Novel SCN9A gene mutation. Vasc Med. 2011 Nov 9. [Medline].

Davis MD, Morr CS, Warndahl RA, Sandroni P. Topically Applied Midodrine, 0.2%, an α1-Agonist, for the Treatment of Erythromelalgia. JAMA Dermatol. 2015 Sep 1. 151 (9):1025-6. [Medline].

Legroux-Crespel E, Sassolas B, Guillet G, et al. [Treatment of familial erythermalgia with the association of lidocaine and mexiletine]. Ann Dermatol Venereol. 2003 Apr. 130(4):429-33. [Medline].

Iqbal J, Bhat MI, Charoo BA, et al. Experience with oral mexiletine in primary erythromelalgia in children. Ann Saudi Med. 2009 Jul-Aug. 29(4):316-8. [Medline]. [Full Text].

Goldberg YP, Price N, Namdari R, Cohen CJ, Lamers MH, Winters C, et al. Treatment of Na(v)1.7-mediated pain in inherited erythromelalgia using a novel sodium channel blocker. Pain. 2012 Jan. 153(1):80-5. [Medline].

Kalgaard OM, Mork C, Kvernebo K. Prostacyclin reduces symptoms and sympathetic dysfunction in erythromelalgia in a double-blind randomized pilot study. Acta Derm Venereol. 2003. 83(6):442-4. [Medline].

Poterucha TJ, Weiss WT, Warndahl RA, Rho RH, Sandroni P, Davis MD, et al. Topical amitriptyline combined with ketamine for the treatment of erythromelalgia: a retrospective study of 36 patients at Mayo Clinic. J Drugs Dermatol. 2013 Mar. 12(3):308-10. [Medline].

Moody S, Pacheco S, Butler IJ, Koenig MK. Secondary Erythromelalgia Successfully Treated With Intravenous Immunoglobulin. J Child Neurol. 2011 Dec 7. [Medline].

Cacciola RR, Cipolla A, Di Francesco E, et al. Treatment of symptomatic patients with essential thrombocythemia: effectiveness of anagrelide. Am J Hematol. 2005 Sep. 80(1):81-3.
Medscape Reference © 2011 WebMD, LLC