Hairy Cell Leukemia Workup
Author: Emmanuel C Besa, MD; Chief Editor: Koyamangalath Krishnan, MD, FRCP, FACP more...
Updated: Apr 28, 2015
What would you like to print?
Laboratory Studies
The typical hairy cells of hairy cell leukemia are so named because of their characteristic cytoplasmic projections, which appear as fine (hairlike) microvilli when seen by light microscopy, phase-contrast microscopy, and electron microscopy. These are mononuclear cells with eccentric or centrally placed nuclei.
Hairy cells have a mature B-cell phenotype and typically express single or multiple immunoglobulin light chains κ λ and pan–B-cell antigens, such as CD20, CD25, CD11c, and CD103, but not CD21 (late B-cell marker). These cells have also been recently distinguished by expression of CD123 and bright annexin A1-positive cells.[7]
Hairy cells strongly express CD45, seen as a bright signal, with increased forward and side scatter resembling large lymphocytes and monocytes. Immunophenotypic analysis helps distinguish hairy cell leukemia from other low-grade B-cell malignancies. A study by Venkataraman et al confirmed that CD123 and CD103 are useful in the differential diagnosis of B-cell lymphoproliferative disorders.[8]
Monoclonal BLy-7 has high sensitivity and specificity for HCL. CD22 stains at higher intensity in hairy cells than in normal B cells.[9] Hairy cells can be identified immunophenotypically in 92% of cases, even when the cells represent less than 1% of the circulating lymphocytes. An HCL variant is with elevated numbers of circulating leukemic cells with their distinctive antigenic pattern showing loss of CD25 positivity coupled with negative CD103.[10] If the diagnosis of hairy cell variant is made, a completely different therapeutic approach will be required. In fact, close inspection of the initial diagnostic data should be considered for patients with hairy cell leukemia who do not show an expected clinical response to therapy.
Cytochemical evaluation is important for diagnostic confirmation of the morphologic findings. Hairy cells demonstrate strong positivity for tartrate-resistant acid phosphatase (TRAP) staining (see image below). A positive TRAP stain in conjunction with a characteristic bone marrow biopsy is essentially diagnostic of hairy cell leukemia.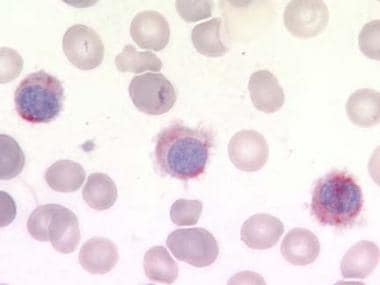 Blood film at × 1000 magnification. This image demonstrates tartrate-resistant acid phosphatase (TRAP) activity of lymphocytes. Photographed by U. Woermann, MD, Division of Instructional Media, Institute for Medical Education, University of Bern, Switzerland.
The peripheral blood cell counts show pancytopenia with decreased cell counts in all three cell lines, as follows:
Anemia is usually severe and normochromic-normocytic in character

Neutropenia and monocytopenia are usually present in hairy cell leukemia, but an elevated white blood cell count (hairy cells) is found in 20% of cases

Thrombocytopenia is found in more than 80% of patients
The bone marrow aspirate is usually unsuccessful due to a "dry tap." Infiltration of the bone marrow by hairy cell leukemia makes aspirating cells through a needle difficult.
Core biopsy of the bone marrow shows a pattern of hairy cell infiltration with a single round or oval nucleus separated by abundant cytoplasm in a fine fibrillar network.[11] The cell appears separated, resulting in the characteristic fried-egg appearance.[11]
When the bone marrow aspirate is not obtainable, immunohistochemical staining of the bone marrow biopsy with either DBA.44 or anti-CD20 yields an accurate estimate of the extent of bone marrow infiltration. In addition, it is important to recognize the occasional patients who present with hypocellular marrow and differentiate them from aplastic anemia. An accurate diagnosis is important in this highly treatable leukemia for successful patient management.[12]
Clonal cytogenetic abnormalities are present in two thirds of patients, and the involvement of chromosomes 1, 2, 5, 6, 11, 14, 19, and 20 have been described. Chromosome 5 abnormality is most frequent (in 40% of patients) with trisomy 5 and pericentric inversions and interstitial deletions of band 5q13.
Imaging Studies
Most patients with hairy cell leukemia have massive splenomegaly such that imaging studies are unnecessary to appreciate its presence. In milder forms, a liver and spleen scan or ultrasound measurement may detect some mild forms of organomegaly that may be missed by abdominal palpation.
Other Tests
Difficult cases can be confirmed by using immunophenotypic analysis of the buffy coat cells or by performing electron microscopy on suspected cells.
Soluble interleukin-2 receptor levels are elevated in patients with hairy cell leukemia and may provide additional supportive data for the diagnosis.
The somatically acquired V600E mutation of the BRAF gene is present in all patients with hairy cell leukemia and represents a reliable marker.[13] A study by Tiacci et al examined the use of a test for genetics-based diagnosis of hairy cell leukemia. The molecular assay determines the presence of the BRAF-V600E mutation in order to differentiate between hairy cell leukemia and other disorders (eg, splenic marginal zone lymphoma, hairy cell leukemia variant). The study found that the molecular assay was a powerful tool for enhancing the diagnostic accuracy.[14]
Histologic Findings
The findings of pancytopenia and splenomegaly in the presence of circulating cells that are TRAP positive and a dry bone marrow aspirate with biopsy material showing infiltration with a mononuclear cells that have a fried-egg appearance are diagnostic of hairy cell leukemia.
Medscape Reference © 2011 WebMD, LLC