Iron Deficiency Anemia Workup
Author: James L Harper, MD; Chief Editor: Emmanuel C Besa, MD more...
Updated: Nov 07, 2015
What would you like to print?
Approach Considerations
Although the history and physical examination can lead to the recognition of the condition and help establish the etiology, iron deficiency anemia is primarily a laboratory diagnosis.
Useful tests include a complete blood count (CBC); a peripheral smear; serum iron, total iron-binding capacity (TIBC), and serum ferritin; evaluation for hemosiderinuria, hemoglobinuria, and pulmonary hemosiderosis; hemoglobin electrophoresis and measurement of hemoglobin A2 and fetal hemoglobin; and reticulocyte hemoglobin content.
Other laboratory tests (eg, stool testing, incubated osmotic fragility testing, measurement of lead in tissue, and bone marrow aspiration) are useful for establishing the etiology of iron deficiency anemia and for excluding or establishing a diagnosis of 1 of the other microcytic anemias.
Complete Blood Count
The CBC documents the severity of the anemia. In chronic iron deficiency anemia, the cellular indices show a microcytic and hypochromic erythropoiesis—that is, both the mean corpuscular volume (MCV) and the mean corpuscular hemoglobin concentration (MCHC) have values below the normal range for the laboratory performing the test. Reference range values for MCV and MCHC are 83-97 fL and 32-36 g/dL, respectively.
Often, the platelet count is elevated (>450,000/µL); this elevation normalizes after iron therapy. The white blood cell (WBC) count is usually within reference ranges (4500-11,000/µL), but it may be elevated.
If the CBC is obtained after blood loss, the cellular indices do not enter the abnormal range until most of the erythrocytes produced before the bleed are destroyed at the end of their normal lifespan (120 d).
Peripheral Smear
Examination of the peripheral smear is an important part of the workup of patients with anemia. Examination of the erythrocytes shows microcytic and hypochromic red blood cells in chronic iron deficiency anemia. The microcytosis is apparent in the smear long before the MCV is decreased after an event producing iron deficiency. Platelets usually are increased in this disorder.
In iron deficiency anemia, unlike thalassemia, target cells usually are not present, and anisocytosis and poikilocytosis are not marked. This condition lacks the intraerythrocytic crystals seen in hemoglobin C disorders.
Combined folate deficiency and iron deficiency are commonplace in areas of the world with little fresh produce and meat. The peripheral smear reveals a population of macrocytes mixed among the microcytic hypochromic cells. This combination can normalize the MCV.
Serum Iron, Total Iron-Binding Capacity, and Serum Ferritin
Low serum iron and ferritin levels with an elevated TIBC are diagnostic of iron deficiency. While a low serum ferritin is virtually diagnostic of iron deficiency, a normal serum ferritin can be seen in patients who are deficient in iron and have coexistent diseases (eg, hepatitis or anemia of chronic disorders). These test findings are useful in distinguishing iron deficiency anemia from other microcytic anemias (see the image below).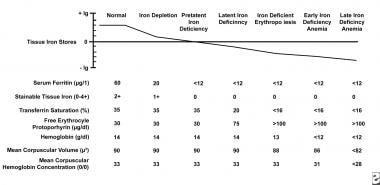 The sequence of events (left to right) that occur with gradual depletion of body stores of iron. Serum ferritin and stainable iron in tissue stores are the most sensitive laboratory indicators of mild iron deficiency and are particularly useful in differentiating iron deficiency from the anemia of chronic disorders. The percentage saturation of transferrin with iron and free erythrocyte protoporphyrin values do not become abnormal until tissue stores are depleted of iron. Subsequently, a decrease in the hemoglobin concentration occurs because iron is unavailable for heme synthesis. Red blood cell indices do not become abnormal for several months after tissue stores are depleted of iron.
Evaluation for Hemosiderinuria, Hemoglobinuria, and Pulmonary Hemosiderosis
Iron deficiency anemia can occur from loss of body iron in the urine. If a freshly obtained urine specimen appears bloody but contains no red blood cells, suspect hemoglobinuria. Obtain confirmation in the laboratory that the pigment is hemoglobin and not myoglobin. This can be accomplished easily because 60% ammonium sulfate precipitates hemoglobin but not myoglobin.
Hemoglobinuria classically is ascribed to paroxysmal nocturnal hemoglobinuria, but it can occur with any brisk intravascular hemolytic anemia. In the early days of heart surgery with implantation of artificial valves, this mechanism of producing iron deficiency anemia was commonplace in large university hospitals. Today, with better prostheses, it has become a less frequent clinical problem. With less severe hemolytic disorders, there may be no significant hemoglobinuria.
Investigate renal loss of iron by staining the urine sediment for iron. Hemosiderin is detected intracellularly. Most of these patients have a low or absent plasma haptoglobin. Similarly, pulmonary hemosiderosis can result in sufficient loss of iron as hemosiderin from the lungs.
Hemoglobin Studies
Hemoglobin electrophoresis and measurement of hemoglobin A
Hemoglobin electrophoresis and measurement of hemoglobin A2 and fetal hemoglobin are useful in establishing either beta-thalassemia or hemoglobin C or D as the etiology of the microcytic anemia. Unfortunately, simple tests do not exist for alpha-thalassemia in most laboratories, and it is a diagnosis of exclusion.
Reticulocyte hemoglobin content
Mateos Gonzales et al assessed the diagnostic efficiency of commonly used hematologic and biochemical markers, as well as the reticulocyte hemoglobin content (CHr) in the diagnosis of iron deficiency in children, with or without anemia.[4] The investigators identified CHr and iron serum as the only parameters that were independently associated with iron deficiency (P < .05), and CHr was the strongest predictor of iron deficiency and iron deficiency anemia.
Mateos Gonzalez et al concluded that measurement of CHr may be a reliable method to assess deficiencies in tissue iron supply and, in combination with a CBC, may be an alternative to the traditional biochemical panel for the diagnosis of iron deficiency in children.[4]
Other Laboratory Tests
Stool testing
Testing stool for the presence of hemoglobin is useful in establishing gastrointestinal (GI) bleeding as the etiology of iron deficiency anemia. Usually, chemical testing that detects more than 20 mL of blood loss daily from the upper GI tract is employed. More sensitive tests are available; however, they produce a high incidence of false-positive results in people who eat meat. Severe iron deficiency anemia can occur in patients with a persistent loss of less than 20 mL/d.
To detect blood loss, the patient can be placed on a strict vegetarian diet for 3-5 days and the stool can be tested for hemoglobin with a benzidine method, or red blood cells (RBCs) can be radiolabeled with radiochromium and retransfused. Stools are collected, and the radioactivity is quantified in a gamma-detector and compared to the radioactivity in a measured quantity of the patient's blood. An immunologic method of detecting human species-specific hemoglobin in stool is under development and could increase specificity and sensitivity.
Incubated osmotic fragility
Incubated osmotic fragility is useful. Microspherocytosis may produce a low-normal or slightly abnormal MCV; however, the MCHC usually is elevated rather than decreased, and the peripheral smear shows a lack of central pallor rather than hypochromia. Spherocytosis can normally be separated from iron deficiency anemia by peripheral blood smear.
Tissue lead concentrations
Measure tissue lead concentrations. Chronic lead poisoning may produce a mild microcytosis. The anemia probably is related to the anemia of chronic disorders. The incidence of lead poisoning is greater in individuals who are iron deficient than in healthy subjects because increased absorption of lead occurs in individuals who are iron deficient. Paint in old houses has been a source of lead poisoning in children and painters.
Bone marrow aspiration
A bone marrow aspirate can be diagnostic of iron deficiency. The absence of stainable iron in a bone marrow aspirate that contains spicules and a simultaneous control specimen containing stainable iron permit establishment of a diagnosis of iron deficiency without other laboratory tests.
A bone marrow aspirate stained for iron (Perls stain) can be diagnostic of iron deficiency, provided that spicules are present in the smear and that a control specimen containing iron is performed at the same time. Although this test has largely been displaced in the diagnosis of iron deficiency by serum iron, TIBC, and serum ferritin testing, the absence of stainable iron in a bone marrow aspirate is the criterion standard for the diagnosis of iron deficiency.
This test is diagnostic in identifying the sideroblastic anemias by showing ringed sideroblasts in the aspirate stained with Perls stain. Occasionally, it is useful in separating patients with the anemia of chronic disorders or alpha-thalassemia from patients with iron deficiency, and it is useful in identifying patients with both iron deficiency and the anemia of chronic disorders.
Histologic Findings
The absence of stainable iron in body tissues, including the bone marrow and liver, is the most useful histologic finding in individuals who are iron deficient. Nonspecific abnormalities of epithelial tissues are reported in iron deficiency. These include gastric atrophy and clubbing of the small intestinal villi. While they suggest that iron deficiency is a pantropic disorder, they have little clinical diagnostic value.
References
Brooks M. Iron Deficiency Linked to Psychiatric Disorders in Kids. Medscape Medical News. Available at http://www.medscape.com/viewarticle/806778. Accessed: July 2, 2013.

Chen MH, Su TP, Chen YS, Hsu JW, Huang KL, Chang WH, et al. Association between psychiatric disorders and iron deficiency anemia among children and adolescents: a nationwide population-based study. BMC Psychiatry. 2013 Jun 4. 13:161. [Medline]. [Full Text].

Hoffmann JJ, Urrechaga E, Aguirre U. Discriminant indices for distinguishing thalassemia and iron deficiency in patients with microcytic anemia: a meta-analysis. Clin Chem Lab Med. 2015 Nov 1. 53 (12):1883-94. [Medline].

Mateos Gonzalez ME, de la Cruz Bertolo J, Lopez Laso E, Valdes Sanchez MD, Nogales Espert A. [Review of haematology and biochemistry parameters to identify iron deficiency] [Spanish]. An Pediatr (Barc). 2009 Aug. 71(2):95-102. [Medline]. [Full Text].

Goddard AF, James MW, McIntyre AS, Scott BB. Guidelines for the management of iron deficiency anaemia. Gut. 2011 Oct. 60(10):1309-16. [Medline].

[Guideline] Qaseem A, Humphrey LL, Fitterman N, et al. Treatment of anemia in patients with heart disease: a clinical practice guideline from the American College of Physicians. Ann Intern Med. 2013 Dec 3. 159(11):770-9. [Medline]. [Full Text].

DeLoughery TG. Microcytic anemia. N Engl J Med. 2014 Oct 2. 371(14):1324-31. [Medline].

Moretti D, Goede JS, Zeder C, Jiskra M, Chatzinakou V, Tjalsma H, et al. Oral iron supplements increase hepcidin and decrease iron absorption from daily or twice-daily doses in iron-depleted young women. Blood. 2015 Oct 22. 126 (17):1981-9. [Medline].

Schrier SL. So you know how to treat iron deficiency anemia. Blood. 2015 Oct 22. 126 (17):1971. [Medline]. [Full Text].

Brittenham GM. Disorders of Iron Metabolism: Iron Deficiency and Iron Overload. Hoffman R. Hematology: Basic Principles and Practice. Sixth Edition. Philadelphia, PA: Elsevier Saunders; 2013. 437-449.

Okam MM, Koch TA, Tran MH. Iron deficiency anemia treatment response to oral iron therapy: a pooled analysis of five randomized controlled trials. Haematologica. 2015 Oct 30. [Medline]. [Full Text].

Koutroubakis IE, Oustamanolakis P, Karakoidas C, Mantzaris GJ, Kouroumalis EA. Safety and efficacy of total-dose infusion of low molecular weight iron dextran for iron deficiency anemia in patients with inflammatory bowel disease. Dig Dis Sci. 2010 Aug. 55(8):2327-31. [Medline].

Onken JE, Bregman DB, Harrington RA, Morris D, Buerkert J, Hamerski D, et al. Ferric carboxymaltose in patients with iron-deficiency anemia and impaired renal function: the REPAIR-IDA trial. Nephrol Dial Transplant. 2013 Aug 20. [Medline].

Brooks M. FDA Approves Injectafer for Iron Deficiency Anemia. Medscape Medical News. Available at http://www.medscape.com/viewarticle/808800. Accessed: August 3, 2013.

Grogan K. Vifor gets FDA approval for Injectafer. PharmaTimes. Available at http://www.pharmatimes.com/Article/13-07-26/Vifor_gets_FDA_approval_for_Injectafer.aspx. Accessed: August 3, 2013.

Fernandez-Gaxiola AC, De-Regil LM. Intermittent iron supplementation for reducing anaemia and its associated impairments in menstruating women. Cochrane Database Syst Rev. 2011 Dec 7. 12:CD009218. [Medline].

De-Regil LM, Jefferds ME, Sylvetsky AC, Dowswell T. Intermittent iron supplementation for improving nutrition and development in children under 12 years of age. Cochrane Database Syst Rev. 2011 Dec 7. 12:CD009085. [Medline].

Araki T, Takaai M, Miyazaki A, Ohshima S, Shibamiya T, Nakamura T, et al. Clinical efficacy of two forms of intravenous iron--saccharated ferric oxide and cideferron--for iron deficiency anemia. Pharmazie. 2012 Dec. 67(12):1030-2. [Medline].

Beutler E, Lichtman MA, Coller BS. Williams Hematology. 6th ed. New York, NY: McGraw-Hill Book Co; 2001. 295-304, 447-70.

Boggs W. Ferric Carboxymaltose Improves Iron-Deficiency Anemia in Renal Impairment. Medscape Medical News. Available at http://www.medscape.com/viewarticle/810657. Accessed: September 16, 2013.

Bothwell TH, Charlton RW, Cook JD. Iron Metabolis in Man. 1979. 1-77.

Conrad ME, Umbreit JN. Iron absorption and transport-an update. Am J Hematol. 2000 Aug. 64(4):287-98. [Medline].

Goodnough LT, Nemeth E. Iron Deficiency and Related Disorders. Greer JP. Wintrobe's Clinical Hematology. 13th ed. Baltimore, Md: Williams & Wilkins; 2014. 617-642.

McLoughlin MT, Tham TC. Long-term follow-up of patients with iron deficiency anaemia after a negative gastrointestinal evaluation. Eur J Gastroenterol Hepatol. 2009 Aug. 21(8):872-6. [Medline].
Medscape Reference © 2011 WebMD, LLC