Pediatric Testicular Torsion Differential Diagnoses
Author: Krishna Kumar Govindarajan, MBBS, MS, DNB, MRCS, MCh; Chief Editor: Marc Cendron, MD more...
Updated: Mar 30, 2015
What would you like to print?
Diagnostic Considerations
Torsion of the cryptorchid testis can be very challenging to diagnose. Many patients present with scrotal pain, but only a fraction of these have torsion.[28, 29] This condition may be mistaken for incarcerated hernia, appendicitis, or other causes of acute abdomen. Intra-abdominal testicular torsion is often associated with malignant degeneration.[30]
Testicular torsion can occur in boys who have undergone prior orchidopexy, though this is unusual. Hence, testicular torsion should be suspected and considered in the differential diagnoses of acute scrotum in this group.[15, 31]
Torsion of the appendix testis may present similarly to testicular torsion. The age of the patient may be helpful, as torsion of the appendix testis is more common in prepubertal boys.[7] These boys are less likely to have nausea and vomiting than boys with testicular torsion.
Upon examination, a classic "blue-dot sign" (ie, a tender nodule with blue discoloration on the upper pole of the testis) may be seen; this finding on the upper scrotum is a typical finding in torsion of the appendix testis (see the image below). However, in the acute setting, differentiating testicular torsion from torsion of the appendix is often impossible, and scrotal exploration should be performed whenever the diagnosis is uncertain. (See Torsion of the Appendices and Epididymis.)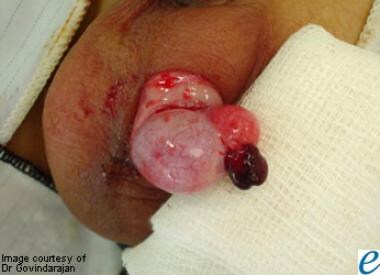 Torsion of appendix testis.
Other problems to consider in the differential diagnosis of testicular torsion include the following:
Hydatid of Morgagni

Idiopathic scrotal edema (dermatitis, insect bite)

Scrotal abscess/cellulitis

Tumor

Obstructed/incarcerated hernia

Furuncle

Hemangioma

Abdominal trauma with hemiscrotum

Splenogonadal fusion

Adrenal neuroblastoma

Meconium peritonitis

Antenatal Meckel diverticulum perforation

Hernial sac torsion

Pyocele

Ventriculoperitoneal shunt migration
Differential Diagnoses
References
Ringdahl E, Teague L. Testicular torsion. Am Fam Physician. 2006 Nov 15. 74(10):1739-43. [Medline].

Chapman RH, Walton AJ. Torsion of the testis and its appendages. Br Med J. 1972 Jan 15. 1(5793):164-6. [Medline]. [Full Text].

Gilchrist BF, Lobe TE. The acute groin in pediatrics. Clin Pediatr (Phila). 1992 Aug. 31(8):488-96. [Medline].

Mac Nicol. Torsion of testis in childhood. Br Med J. 1974. 61:905-8.

Nadel NS, Gitter MH, Hahn LC, Vernon AR. Preoperative diagnosis of testicular torsion. Urology. 1973 May. 1(5):478-9. [Medline].

Hutson J. Undescended testis, torsion, and varicocoele. Grosfeld JL, et al. Pediatric Surgery. 2006. 1193-214.

Gatti JM, Patrick Murphy J. Current management of the acute scrotum. Semin Pediatr Surg. 2007 Feb. 16(1):58-63. [Medline].

Cattolica EV. Preoperative manual detorsion of the torsed spermatic cord. J Urol. 1985 May. 133(5):803-5. [Medline].

Sessions AE, Rabinowitz R, Hulbert WC, Goldstein MM, Mevorach RA. Testicular torsion: direction, degree, duration and disinformation. J Urol. 2003 Feb. 169(2):663-5. [Medline].

Mansbach JM, Forbes P, Peters C. Testicular torsion and risk factors for orchiectomy. Arch Pediatr Adolesc Med. 2005 Dec. 159(12):1167-71. [Medline].

Caesar RE, Kaplan GW. Incidence of the bell-clapper deformity in an autopsy series. Urology. 1994 Jul. 44(1):114-6. [Medline].

Cilento BG, Najjar SS, Atala A. Cryptorchidism and testicular torsion. Pediatr Clin North Am. 1993 Dec. 40(6):1133-49. [Medline].

Ferro F, Iacobelli B. Polyorchidism and torsion. A lesson from 2 cases. J Pediatr Surg. 2005 Oct. 40(10):1662-4. [Medline].

Favorito LA, Cavalcante AG, Costa WS. Anatomic aspects of epididymis and tunica vaginalis in patients with testicular torsion. Int Braz J Urol. 2004 Sep-Oct. 30(5):420-4. [Medline].

Anderson JB, Williamson RC. Testicular torsion in Bristol: a 25-year review. Br J Surg. 1988 Oct. 75(10):988-92. [Medline].

King P, Sripathi V. The acute scrotum. Ashcraft KW et al. Pediatric Surgery. 2005. 717-22.

Williamson RC. Torsion of the testis and allied conditions. Br J Surg. 1976 Jun. 63(6):465-76. [Medline].

Ramachandra P, Palazzi KL, Holmes NM, Marietti S. Factors influencing rate of testicular salvage in acute testicular torsion at a tertiary pediatric center. West J Emerg Med. 2015 Jan. 16(1):190-4. [Medline]. [Full Text].

Davenport M. ABC of general surgery in children. Acute problems of the scrotum. BMJ. 1996 Feb 17. 312(7028):435-7. [Medline]. [Full Text].

Bennett S, Nicholson MS, Little TM. Torsion of the testis: why is the prognosis so poor?. Br Med J (Clin Res Ed). 1987 Mar 28. 294(6575):824. [Medline]. [Full Text].

Nasrallah P, Nair G, Congeni J, Bennett CL, McMahon D. Testicular health awareness in pubertal males. J Urol. 2000 Sep. 164(3 Pt 2):1115-7. [Medline].

Tryfonas G, Violaki A, Tsikopoulos G, Avtzoglou P, Zioutis J, Limas C, et al. Late postoperative results in males treated for testicular torsion during childhood. J Pediatr Surg. 1994 Apr. 29(4):553-6. [Medline].

Scheiber K, Marberger H, Bartsch G. Exocrine and endocrine testicular function in patients with unilateral testicular disease. J R Soc Med. 1983 Aug. 76(8):649-51. [Medline]. [Full Text].

Ozkan KU, Küçükaydin M, Muhtaroglu S, Kontas O. Evaluation of contralateral testicular damage after unilateral testicular torsion by serum inhibin B levels. J Pediatr Surg. 2001 Jul. 36(7):1050-3. [Medline].

Puri P, Barton D, O'Donnell B. Prepubertal testicular torsion: subsequent fertility. J Pediatr Surg. 1985 Dec. 20(6):598-601. [Medline].

Rabinowitz R. The importance of the cremasteric reflex in acute scrotal swelling in children. J Urol. 1984 Jul. 132(1):89-90. [Medline].

Nelson CP, Williams JF, Bloom DA. The cremasteric reflex: a useful but imperfect sign in testicular torsion. J Pediatr Surg. 2003 Aug. 38(8):1248-9. [Medline].

Kalfa N, Veyrac C, Lopez M, Lopez C, Maurel A, Kaselas C, et al. Multicenter assessment of ultrasound of the spermatic cord in children with acute scrotum. J Urol. 2007 Jan. 177(1):297-301; discussion 301. [Medline].

Karmazyn B, Steinberg R, Livne P, Kornreich L, Grozovski S, Schwarz M, et al. Duplex sonographic findings in children with torsion of the testicular appendages: overlap with epididymitis and epididymoorchitis. J Pediatr Surg. 2006 Mar. 41(3):500-4. [Medline].

Lewis RL, Roller MD, Parra BL, Cotlar AM. Torsion of an intra-abdominal testis. Curr Surg. 2000 Sep 1. 57(5):497-499. [Medline].

Mor Y, Pinthus JH, Nadu A, Raviv G, Golomb J, Winkler H, et al. Testicular fixation following torsion of the spermatic cord--does it guarantee prevention of recurrent torsion events?. J Urol. 2006 Jan. 175(1):171-3; discussion 173-4. [Medline].

Steinhardt GF, Boyarsky S, Mackey R. Testicular torsion: pitfalls of color Doppler sonography. J Urol. 1993 Aug. 150(2 Pt 1):461-2. [Medline].

Ingram S, Hollman AS, Azmy A. Testicular torsion: missed diagnosis on colour Doppler sonography. Pediatr Radiol. 1993. 23(6):483-4. [Medline].

Nussbaum Blask AR, Rushton HG. Sonographic appearance of the epididymis in pediatric testicular torsion. AJR Am J Roentgenol. 2006 Dec. 187(6):1627-35. [Medline].

Schalamon J, Ainoedhofer H, Schleef J, Singer G, Haxhija EQ, Höllwarth ME. Management of acute scrotum in children--the impact of Doppler ultrasound. J Pediatr Surg. 2006 Aug. 41(8):1377-80. [Medline].

Kravchick S, Cytron S, Leibovici O, Linov L, London D, Altshuler A, et al. Color Doppler sonography: its real role in the evaluation of children with highly suspected testicular torsion. Eur Radiol. 2001. 11(6):1000-5. [Medline].

Sidhu PS. Clinical and imaging features of testicular torsion: role of ultrasound. Clin Radiol. 1999 Jun. 54(6):343-52. [Medline].

Luscombe CJ, Mountford PJ, Coppinger SM, Gadd R. Diagnosing testicular torsion. Isotope scanning is useful. BMJ. 1996 May 25. 312(7042):1358-9. [Medline]. [Full Text].

Shadgan B, Fareghi M, Stothers L, Macnab A, Kajbafzadeh AM. Diagnosis of testicular torsion using near infrared spectroscopy: A novel diagnostic approach. Can Urol Assoc J. 2014 Mar. 8(3-4):E249-52. [Medline]. [Full Text].

Schoenfeld EM, Capraro GA, Blank FS, Coute RA, Visintainer PF. Near-infrared spectroscopy assessment of tissue saturation of oxygen in torsed and healthy testes. Acad Emerg Med. 2013 Oct. 20(10):1080-3. [Medline].

Cuervo JL, Grillo A, Vecchiarelli C, Osio C, Prudent L. Perinatal testicular torsion: a unique strategy. J Pediatr Surg. 2007 Apr. 42(4):699-703. [Medline].

Lee SD, Cha CS. Asynchronous bilateral torsion of the spermatic cord in the newborn: a case report. J Korean Med Sci. 2002 Oct. 17(5):712-4. [Medline]. [Full Text].

Abasiyanik A, Dagdönderen L. Beneficial effects of melatonin compared with allopurinol in experimental testicular torsion. J Pediatr Surg. 2004 Aug. 39(8):1238-41. [Medline].

Ozkan KU, Boran C, Kilinç M, Garipardiç M, Kurutas EB. The effect of zinc aspartate pretreatment on ischemia-reperfusion injury and early changes of blood and tissue antioxidant enzyme activities after unilateral testicular torsion-detorsion. J Pediatr Surg. 2004 Jan. 39(1):91-5. [Medline].

Aksoy H, Yapanoglu T, Aksoy Y, Ozbey I, Turhan H, Gursan N. Dehydroepiandrosterone treatment attenuates reperfusion injury after testicular torsion and detorsion in rats. J Pediatr Surg. 2007 Oct. 42(10):1740-4. [Medline].

Garel L, Dubois J, Azzie G, Filiatrault D, Grignon A, Yazbeck S. Preoperative manual detorsion of the spermatic cord with Doppler ultrasound monitoring in patients with intravaginal acute testicular torsion. Pediatr Radiol. 2000 Jan. 30(1):41-4. [Medline].

Cornel EB, Karthaus HF. Manual derotation of the twisted spermatic cord. BJU Int. 1999 Apr. 83(6):672-4. [Medline].

Frank JD, O'Brien M. Fixation of the testis. BJU Int. 2002 Mar. 89(4):331-3. [Medline].

Olguner M, Akgür FM, Aktug T, Derebek E. Bilateral asynchronous perinatal testicular torsion: a case report. J Pediatr Surg. 2000 Sep. 35(9):1348-9. [Medline].

Kass EJ, Stone KT, Cacciarelli AA, Mitchell B. Do all children with an acute scrotum require exploration?. J Urol. 1993 Aug. 150(2 Pt 2):667-9. [Medline].

Arda IS, Ozyaylali I. Testicular tissue bleeding as an indicator of gonadal salvageability in testicular torsion surgery. BJU Int. 2001 Jan. 87(1):89-92. [Medline].

Steinbecker KM, Teague JL, Wiltfong DB, Wakefield MR. Testicular histology after transparenchymal fixation using polytetrefluoroethylene suture: an animal model. J Pediatr Surg. 1999 Dec. 34(12):1822-5. [Medline].

Kuntze JR, Lowe P, Ahlering TE. Testicular torsion after orchiopexy. J Urol. 1985 Dec. 134(6):1209-10. [Medline].

Morse TS, Hollabaugh RS. The "window" orchidopexy for prevention of testicular torsion. J Pediatr Surg. 1977 Apr. 12(2):237-40. [Medline].
Medscape Reference © 2011 WebMD, LLC