Robotic-Assisted Laparoscopic Pyeloplasty Periprocedural Care
Author: Chandru P Sundaram, MD; Chief Editor: Edward David Kim, MD, FACS more...
Updated: Jul 07, 2016
What would you like to print?
Patient Education and Consent
After the decision has been made for surgical intervention, the patient should be counseled on all the options available for the treatment of ureteropelvic junction obstruction (UPJO), including endopyelotomy, laparoscopic pyeloplasty, robotic-assisted laparoscopic pyeloplasty (RLP), and open pyeloplasty. The risks and benefits of each procedure should be carefully explained to allow the patient to come to an informed decision.
In the case of RLP, the patient should receive information about the procedure, the possible perioperative complications, and the anticipated postoperative course, as well as about the placement of a ureteral stent and the possible discomfort associated with it. The surgeon should inform the patient of the expected success rate according to his or her own experience. In addition, the surgeon should describe and explain to the patient the secondary procedures that may be considered in the event of persistent obstruction during follow-up.
Preprocedural Evaluation
Radiologic evaluation provides an objective assessment of the degree of obstruction. Each imaging modality provides different anatomic and functional information. Intravenous pyelography (IVP) may be performed in the initial evaluation of flank pain. Findings on IVP include marked hydronephrosis with delayed contrast excretion and a normal-caliber ureter distally.
Computed tomography (CT) provides excellent anatomic information on the kidneys and surrounding structures, the degree of hydronephrosis (see the first image below), and the presence of stones. With contrast enhancement, the presence of lower-pole crossing vessels can be accurately identified (see the second image below).[41] In the delayed excretory phase, filling defects in the renal pelvis should raise suspicion for urothelial malignancies and prompt further ureteroscopic evaluation.
Functional radionuclide studies, such as mercaptoacetyltriglycine (MAG3) renal scanning, now enable noninvasive measurement of the degree of obstruction and the differential function of the affected kidney. Persistence of radionuclide in the renal pelvis despite a diuretic bolus, with prolonged (>20 minutes) elimination half-time, is diagnostic of obstruction (see the image below).
In equivocal situations, a Whitaker test may be necessary. This study measures the rise in intrapelvic pressure during infusion of saline through a nephrostomy catheter at a rate of 10 mL/min. An intrapelvic pressure higher than 22 cm water is indicative of obstruction.[42]
Retrograde pyelography (RPG) is useful for appreciating the anatomy and size of the renal pelvis and for determining the exact site and length of obstruction at the ureteropelvic junction (UPJ) relative to the renal pelvis (see the image below). Distal ureteral lesions can also be excluded. RPG can be performed at the same sitting as pyeloplasty, just before the procedure.
Occasionally, unexpected lesions (eg, polyps or small filling defects in the renal pelvis) may be demonstrated on RPG that could not be seen on CT scan (see the images below). If a suspicious urothelial lesion is seen, further ureteroscopic evaluation is warranted.
After RPG is done, a ureteral stent may be inserted up the affected ureter. An open-ended ureteric catheter is used to measure the length of the ureter from the UPJ to the ureteric orifice. The length of the stent chosen should be about 4 cm longer than the measured length of the ureter; this helps prevent the distal end from migrating into the ureter during intraoperative manipulation.
Equipment
RLP is performed with the da Vinci Surgical System (Intuitive Surgical, Sunnyvale, CA). Instruments used in RLP include the following:
Right arm – Monopolar da Vinci Hot Shears, da Vinci Potts Scissors, da Vinci Large Needle Driver

Left arm – da Vinci PK (Plasma Kinetic; Gyrus ACMI, Southborough, MA) Dissecting Forceps, da Vinci Fine Tissue Forceps, da Vinci Large Needle Driver

Fourth arm – The authors typically do not use the fourth arm for pyeloplasty but rely on retraction sutures and stay sutures to restrict the number of trocars to 4 on the left and 5 on the right (an additional 5-mm trocar is used for retraction of the liver)

Assistant – Stryker Flow 2 suction irrigator (Stryker, Kalamazoo, MI)
Sutures used in RLP include the following:
Anastomotic suture – 4-0 or 5-0 polyglactin on RB-1 needle, cut to 5 in.

Retraction suture – 2-0 polyglactin
Patient Preparation
A negative preoperative urine culture should be obtained, and any urine infection should be treated appropriately. On the day before surgery, the patient is advised to take light meals, and the bowel is cleared with a laxative. From midnight onward, the patient fasts.
Positioning
After completion of RVP during the same general anesthesia, the patient is moved so that the umbilicus is placed at the break of the table. The patient is then turned to a modified flank position at a 45° angle. The authors use an inflatable beanbag and blanket rolls placed behind the back to support the patient in this position. An axillary roll is placed just below the dependent axilla. The table is flexed slightly to increase the space over the ipsilateral flank.
The contralateral arm is placed on an arm board perpendicular to the table, and the ipsilateral arm is placed at the side of the body along the midaxillary line; placing the ipsilateral arm at the side instead of on an Allen armrest avoids collision with the upper robotic arm. The upper leg is extended, and the lower leg is flexed at the hip and knee, with a pillow placed between the legs for support. Bony prominences at the hip, knees and ankles are padded. The patient is secured to the table with tape at the chest, hips, and knees (see the image below).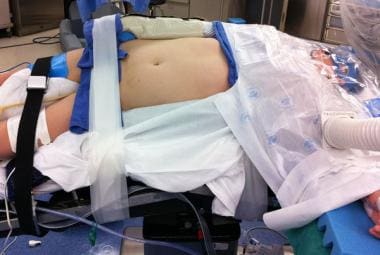 Patient position before draping.
The table is rolled to either side before draping to ensure that the patient's position is secure, especially the position of the head. Finally, the position of the table is adjusted relative to the operating room to allow the patient side cart to be brought to the patient's upper back or shoulder (see the image below).
Patient cart position.
Monitoring and Follow-up
On postoperative day 1, the patient is allowed to resume a regular diet and is asked to ambulate. If drainage output is not excessive, the urethral catheter is removed, and the patient is allowed to void. Fluid from the bulb drain is measured for creatinine. If the creatinine level is normal, the drain is removed, and the patient can be discharged on postoperative day 1 or 2.
After 4-6 weeks, the patient returns for removal of the stent; 6-8 weeks after stent removal, a MAG3 renogram is obtained to evaluate for patency and resolution of obstruction. Further renograms are obtained 6 months and 18 months postoperatively.
References
Scardino PT, Scardino PL. Obstruction at the ureteropelvic junction. H B, editor. The ureter. 2nd ed. New York: Springer Verlag; 1981. 697.

Burgess NA, Koo BC, Calvert RC, Hindmarsh A, Donaldson PJ, Rhodes M. Randomized trial of laparoscopic v open nephrectomy. J Endourol. 2007 Jun. 21(6):610-3. [Medline].

Badlani G, Eshghi M, Smith AD. Percutaneous surgery for ureteropelvic junction obstruction (endopyelotomy): technique and early results. J Urol. 1986 Jan. 135(1):26-8. [Medline].

Motola JA, Badlani GH, Smith AD. Results of 212 consecutive endopyelotomies: an 8-year followup. J Urol. 1993 Mar. 149(3):453-6. [Medline].

Gerber GS, Kim JC. Ureteroscopic endopyelotomy in the treatment of patients with ureteropelvic junction obstruction. Urology. 2000 Feb. 55(2):198-202; discussion 202-3. [Medline].

Conlin MJ, Bagley DH. Ureteroscopic endopyelotomy at a single setting. J Urol. 1998 Mar. 159(3):727-31. [Medline].

Shalhav AL, Giusti G, Elbahnasy AM, Hoenig DM, McDougall EM, Smith DS. Adult endopyelotomy: impact of etiology and antegrade versus retrograde approach on outcome. J Urol. 1998 Sep. 160(3 Pt 1):685-9. [Medline].

Kavoussi LR, Peters CA. Laparoscopic pyeloplasty. J Urol. 1993 Dec. 150(6):1891-4. [Medline].

Schuessler WW, Grune MT, Tecuanhuey LV, Preminger GM. Laparoscopic dismembered pyeloplasty. J Urol. 1993 Dec. 150(6):1795-9. [Medline].

Bauer JJ, Bishoff JT, Moore RG, Chen RN, Iverson AJ, Kavoussi LR. Laparoscopic versus open pyeloplasty: assessment of objective and subjective outcome. J Urol. 1999 Sep. 162(3 Pt 1):692-5. [Medline].

Eden CG, Cahill D, Allen JD. Laparoscopic dismembered pyeloplasty: 50 consecutive cases. BJU Int. 2001 Oct. 88(6):526-31. [Medline].

Klingler HC, Remzi M, Janetschek G, Kratzik C, Marberger MJ. Comparison of open versus laparoscopic pyeloplasty techniques in treatment of uretero-pelvic junction obstruction. Eur Urol. 2003 Sep. 44(3):340-5. [Medline].

Janetschek G, Peschel R, Bartsch G. Laparoscopic Fenger plasty. J Endourol. 2000 Dec. 14(10):889-93. [Medline].

Turk IA, Davis JW, Winkelmann B, Deger S, Richter F, Fabrizio MD. Laparoscopic dismembered pyeloplasty--the method of choice in the presence of an enlarged renal pelvis and crossing vessels. Eur Urol. 2002 Sep. 42(3):268-75. [Medline].

Sundaram CP, Grubb RL 3rd, Rehman J, Yan Y, Chen C, Landman J. Laparoscopic pyeloplasty for secondary ureteropelvic junction obstruction. J Urol. 2003 Jun. 169(6):2037-40. [Medline].

Brooks JD, Kavoussi LR, Preminger GM, Schuessler WW, Moore RG. Comparison of open and endourologic approaches to the obstructed ureteropelvic junction. Urology. 1995 Dec. 46(6):791-5. [Medline].

Yong D, Albala DM. Endopyelotomy in the age of laparoscopic and robotic-assisted pyeloplasty. Curr Urol Rep. 2010 Mar. 11(2):74-9. [Medline].

Gallo F, Schenone M, Giberti C. Ureteropelvic junction obstruction: which is the best treatment today?. J Laparoendosc Adv Surg Tech A. 2009 Oct. 19(5):657-62. [Medline].

Monn MF, Bahler CD, Schneider EB, Sundaram CP. Emerging trends in robotic pyeloplasty for the management of ureteropelvic junction obstruction in adults. J Urol. 2013 Apr. 189(4):1352-7. [Medline].

Hsu TH, Streem SB, Nakada SY. Management of upper urinary tract obstruction. Wein AJ, Kavoussi LR, Novick AC, Partin AW, Peters CA, editors. Campbell-Walsh Urology. 9th ed. Philadelphia: Saunders Elsevier; 2007.

Grasso M, Caruso RP, Phillips CK. UPJ Obstruction in the Adult Population: Are Crossing Vessels Significant?. Rev Urol. 2001. 3(1):42-51. [Medline].

Van Cangh PJ, Nesa S. Endopyelotomy. Prognostic factors and patient selection. Urol Clin North Am. 1998 May. 25(2):281-8. [Medline].

Boylu U, Oommen M, Lee BR, Thomas R. Ureteropelvic junction obstruction secondary to crossing vessels-to transpose or not? The robotic experience. J Urol. 2009 Apr. 181(4):1751-5. [Medline].

Canes D, Desai MM, Haber GP, Colombo JR, Turna B, Kaouk JH. Is routine transposition of anterior crossing vessels during laparoscopic dismembered pyeloplasty necessary?. J Endourol. 2009 Mar. 23(3):469-73. [Medline].

Wayment RO, Waller CJ, Kramer BA, Schwartz BF. Intraoperative cystoscopic stent placement in robot-assisted pyeloplasty: a novel and efficient technique. J Endourol. 2009 Apr. 23(4):583-6; discussion 586-7. [Medline].

Peschel R, Neururer R, Bartsch G, Gettman MT. Robotic pyeloplasty: technique and results. Urol Clin North Am. 2004 Nov. 31(4):737-41. [Medline].

Mendez-Torres F, Woods M, Thomas R. Technical modifications for robot-assisted laparoscopic pyeloplasty. J Endourol. 2005 Apr. 19(3):393-6. [Medline].

Sethi AS, Regan SM, Sundaram CP. Robot-assisted laparoscopic pyeloplasty with and without a ureteral stent. J Endourol. 2011 Feb. 25(2):239-43. [Medline].

Bird VG, Leveillee RJ, Eldefrawy A, Bracho J, Aziz MS. Comparison of robot-assisted versus conventional laparoscopic transperitoneal pyeloplasty for patients with ureteropelvic junction obstruction: a single-center study. Urology. 2011 Mar. 77(3):730-4. [Medline].

Bernie JE, Venkatesh R, Brown J, Gardner TA, Sundaram CP. Comparison of laparoscopic pyeloplasty with and without robotic assistance. JSLS. 2005 Jul-Sep. 9(3):258-61. [Medline].

Braga LH, Pace K, DeMaria J, Lorenzo AJ. Systematic review and meta-analysis of robotic-assisted versus conventional laparoscopic pyeloplasty for patients with ureteropelvic junction obstruction: effect on operative time, length of hospital stay, postoperative complications, and success rate. Eur Urol. 2009 Nov. 56(5):848-57. [Medline].

Silay MS, Spinoit AF, Undre S, et al. Global minimally invasive pyeloplasty study in children: Results from the Pediatric Urology Expert Group of the European Association of Urology Young Academic Urologists working party. J Pediatr Urol. 2016 May 12. [Medline].

Fontenot PA Jr, Capoccia TR, Wilson B, Arthur A, Duchene DA. Robotic-assisted Laparoscopic Pyeloplasty: Analysis of Symptomatic Patients With Equivocal Renal Scans. Urology. 2016 Jul. 93:92-6. [Medline].

Mufarrij PW, Woods M, Shah OD, Palese MA, Berger AD, Thomas R, et al. Robotic dismembered pyeloplasty: a 6-year, multi-institutional experience. J Urol. 2008 Oct. 180(4):1391-6. [Medline].

Schwentner C, Pelzer A, Neururer R, Springer B, Horninger W, Bartsch G. Robotic Anderson-Hynes pyeloplasty: 5-year experience of one centre. BJU Int. 2007 Oct. 100(4):880-5. [Medline].

Lucas SM, Sundaram CP, Leveillee RJ, Bird VG. Laparoscopic and robotic pyeloplasty collaborative group: Analysis of factors influencing success in 800 patients. J Endourol. 2010. 24(S1):A31-A2.

Gupta NP, Nayyar R, Hemal AK, Mukherjee S, Kumar R, Dogra PN. Outcome analysis of robotic pyeloplasty: a large single-centre experience. BJU Int. 2010 Apr. 105(7):980-3. [Medline].

Erdeljan P, Caumartin Y, Warren J, Nguan C, Nott L, Luke PP. Robot-assisted pyeloplasty: follow-up of first Canadian experience with comparison of outcomes between experienced and trainee surgeons. J Endourol. 2010 Sep. 24(9):1447-50. [Medline].

Etafy M, Pick D, Said S, Hsueh T, Kerbl D, Mucksavage P. Robotic pyeloplasty: the University of California-Irvine experience. J Urol. 2011 Jun. 185(6):2196-200. [Medline].

Minnillo BJ, Cruz JA, Sayao RH, et al. Long-term experience and outcomes of robotic assisted laparoscopic pyeloplasty in children and young adults. J Urol. 2011 Apr. 185(4):1455-60. [Medline].

Rabah DM, Al-Hathal N, Al-Fuhaid T, Raza S, Al-Yami F, Al-Taweel W. Computed tomography angiogram: accuracy in renal surgery. Int J Urol. 2009 Jan. 16(1):58-60. [Medline].

Whitaker RH. Methods of assessing obstruction in dilated ureters. Br J Urol. 1973 Feb. 45(1):15-22. [Medline].

Gupta NP, Mukherjee S, Nayyar R, Hemal AK, Kumar R. Transmesocolic robot-assisted pyeloplasty: single center experience. J Endourol. 2009 Jun. 23(6):945-8. [Medline].

Patel T, Kellner CP, Katsumi H, Gupta M. Efficacy of endopyelotomy in patients with secondary ureteropelvic junction obstruction. J Endourol. 2011 Apr. 25(4):587-91. [Medline].
Table. Reported Results of Robotic-Assisted Laparoscopic Pyeloplasty
| | | | | | |
| --- | --- | --- | --- | --- | --- |
| Study (N) | Follow-up (mo) | Success | Operating Time (min) | Complications | Hospital Stay (days) |
| Erdeljan et al 2010 (88) | - | 93% radiographic patency; 93% pain resolution | 167 | 5 major: migrated stent, urinoma | 2.5 |
| Etafy et al 2011 (61) | 18 | 81% radiographic patency and pain resolution | 335 | 4.9% clogged stent; urine leak | 2 |
| Gupta et al 2010 (85) | 13.6 | 96.5% radiographic patency and pain resolution | 121 | 3 urine leaks; 2 conversions; 1 port-site hernia; 1 volvulus | 2.5 |
| Mufarrij et al 2008 (140; 3 centers) | 29 | 95.7% radiographic resolution | 217 | 7% major (7 were stent migration); 2 urine leaks | 2.1 |
| Schwentner et al 2007 (92) | 39.1 | 96.7% radiographic patency | 108 | 2 urine leaks; 1 bleeding | 4.6 |
| Minnillo et al 2011 (155) | 31.7 | 96% stable or improved hydronephrosis | 198 | 7.7% major complications | 1.9 |
| Lucas et al 2010 (485; multiple centers) | 11 | 96.7% radiographic patency; 95.4% symptom improvement | 204 | 5.4% overall; 1.8% urine leak | — |
Medscape Reference © 2011 WebMD, LLC