Robotic-Assisted Laparoscopic Nephroureterectomy Periprocedural Care
Author: Chad R Tracy, MD; Chief Editor: Edward David Kim, MD, FACS  more...
Updated: Dec 26, 2014
What would you like to print?
Patient Preparation
Positioning
In the operative room, after the induction of general anesthesia and placement of an 18-Fr Foley catheter, the patient is placed in a modified flank position (60°) with the hip at the "break" of the table (see the image below).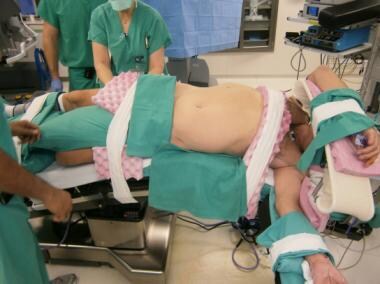 Patient in modified flank position for right sided nephro-ureterectomy.
A minimal amount of table flexion allows opening up of the operative field and facilitates port placement. The modified flank helps allow access to the kidney as well as the bladder. All pressure points are carefully padded, and the patient is secured to the table with 3-inch cloth tape and foam. The patients upper arm is secured with a Krauss arm support (Steris Corporation; Mentor, OH), being careful to keep the arm support as low as possible in order to prevent collision with the robotic arms.
Monitoring & Follow-up
The propensity of upper-tract TCC to have multifocal recurrence and metastatic spread makes close follow-up a critical part of disease management. Organs at risk are the bladder, contralateral upper tract, local surgical bed, and metastatic sites. Because the risk is highest in the first year after the surgery, protocol is more intense during this period.
History, physical examination, urine cytology, and cystoscopy should be performed every 3 months for the first year, every 6 months for the next 2 years, and then yearly thereafter. Contralateral upper tract and local surgical bed imaging via CT urogram should be performed every 6 months for the first 2 years, then yearly thereafter. Metastatic evaluation including history, physical examination, chest radiography, and comprehensive metabolic profile including liver enzymes should be done every 3 months for the first year, every 6 months for the next 2 years, then yearly until 5 years. Additional metastatic workup is based on clinical suspicion.
Medscape Reference © 2011 WebMD, LLC