Myelophthisic Anemia Workup
Author: Emmanuel C Besa, MD; Chief Editor: Koyamangalath Krishnan, MD, FRCP, FACP more...
Updated: Nov 26, 2015
What would you like to print?
Approach Considerations
The presence of lytic and blastic lesions on skeletal radiographic films is common in patients with prostate, lung, or breast cancer metastases.
Bone scans are sensitive for detecting abnormalities found in myelophthisic anemia and for detecting bone metastases, while magnetic resonance imaging (MRI) scans of the involved area can detect marrow infiltration.
The bone marrow aspirate is usually a dry tap, because myelofibrosis makes aspirating blood from the marrow cavity difficult. Biopsy results usually reveal the underlying infiltrative process. Clusters or islands of large, anaplastic cancer cells that bear characteristics of their primary tumor are often observed. Malignant lymphomas invade bone marrow and can cause a myelophthisic myelopathy.
In miliary tuberculosis, caseating granulomas demonstrate positive acid-fast organisms. Tuberculosis granulomas also reveal typical Langhans-type giant cells with multiple nuclei.
Leukoerythroblastic Picture
The characteristic laboratory changes associated with myelophthisic anemia are referred to as a leukoerythroblastic picture, and they include the following (see the image below):
Nucleated red blood cells and teardrop forms

Giant platelets

Immature white blood cells (eg, myelocytes, metamyelocytes, occasionally promyelocytes and myeloblasts) in the peripheral blood smear

This blood film at 1000X magnification demonstrates a leukoerythroblastic blood picture with the presence of precursor cells of the myeloid and erythroid lineage. In addition, anisocytosis, poikilocytosis, and polychromasia can be seen. Courtesy of U. Woermann, MD, Division of Instructional Media, Institute for Medical Education, University of Bern, Switzerland.
Histologic Findings
Immature cells are present in the peripheral blood because the blood-marrow barrier is disrupted. This causes the early release of immature cells into the circulation, resulting in leukoerythroblastic anemia. Changes in the bone marrow are caused by the replacement of normal marrow cells with abnormal, nonhematopoietic cells, such as cells tainted by cancer, lymphoma, or infectious agents. (See the image below.) This results in fibrosis or scarring of the marrow cavity.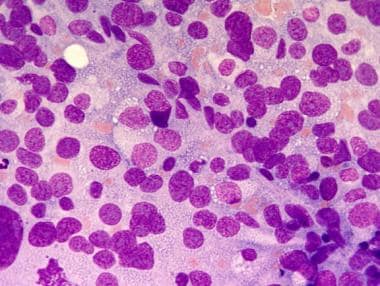 This bone marrow film at 400X magnification demonstrates carcinoma metastasis. Bone marrow cells are completely replaced by large carcinoma cells with clear nucleoli. Courtesy of U. Woermann, MD, Division of Instructional Media, Institute for Medical Education, University of Bern, Switzerland.
Medscape Reference © 2011 WebMD, LLC