Myeloproliferative Disease Treatment & Management
Author: Haleem J Rasool, MD, FACP; Chief Editor: Emmanuel C Besa, MD more...
Updated: Feb 26, 2016
What would you like to print?
Approach Considerations
Treatment of myeloproliferative neoplasms varies by disease subtype. For full discussion, see the following Medscape articles:
Treatment of Chronic Myelogenous Leukemia
Imatinib mesylate (Gleevec), a bcr-abl –specific tyrosine kinase inhibitor (TKI), is approved for use in Philadelphia chromosome–positive chronic myelogenous leukemia (CML) in chronic phase. In one study at 18 months, the complete response rate was 76.2% and the major cytogenetic response rate was 87.1%. Imatinib is also indicated for CML in blast crisis, accelerated phase, or in chronic phase after interferon alfa therapy failure. This is the treatment of choice for most patients.[1]
Interferon alfa, usually administered as a subcutaneous daily injection in a dose of 5 million U, produces hematologic and molecular remissions in some patients with CML. In these patients, evidence shows that it prolongs survival. Several patients who achieved molecular remissions have survived for more than 10 years. Addition of low-dose cytosine arabinoside to interferon alfa has been reported to achieve higher remission rates. Patients with CML who are intolerant of interferon alfa therapy can be treated with hydroxyurea.
Dasatinib (Sprycel) is a TKI indicated for the treatment of adults patients with CML in chronic, accelerated, or myeloid or lymphoid blast phase who are resistant or intolerant to prior therapy including imatinib. Nilotinib (Tasigna) is a TKI indicated for the treatment of chronic phase and accelerated phase Philadelphia chromosome-positive CML in adult patients resistant to or intolerant to prior therapy including imatinib.
Hematopoietic stem cell transplantation can be considered in young patients with CML in chronic phase, if a human leukocyte antigen (HLA)-matched donor is available.
When the disease progresses to the blast phase (see the image below), it is treated as acute leukemia, though the outcome is usually grave.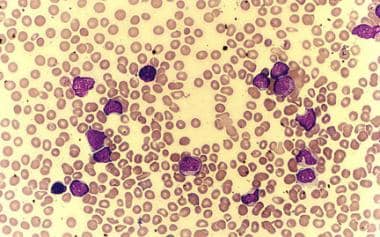 Peripheral smear of a patient with chronic myelogenous leukemia (CML) in blastic phase shows several blasts.
Treatment of Polycythemia Vera
Treatment of polycythemia vera (PV) is palliative. Young (<40 y), asymptomatic patients with PV can be considered for therapeutic phlebotomies alone to maintain hematocrit level below 45%.
High-risk patients with systemic symptoms, history of thrombosis or bleeding, or high rate of phlebotomies or patients older than 69 years are best treated with myelosuppressive therapy in the form of hydroxyurea.[21] In December 2014, the US Food and Drug Administration (FDA) expanded the approval of the JAK1/JAK2 inhibitor, ruxolitinib (Jakafi) for the treatment of PV in patients who have an inadequate response to or cannot tolerate hydroxyureaAn alternative therapy.[22]
in older patients, radioactive phosphorus (32P) can be used for treatment of PV. However, this is unsuitable for younger patients because of the potential for causing secondary leukemia.
Treatment of Essential Thrombocythemia
Treatment of essential thrombocythemia (ET) is meant to relieve symptoms and to prevent complications because no curative modality is available at present. The aim of treatment is to maintain the platelet count within the reference range. This usually can be achieved with hydroxyurea or anagrelide.
Treatment of Primary Myelofibrosis
No curative treatment of primary myelofibrosis (MF) is available at the present time. Asymptomatic patients can be monitored clinically until symptoms develop. Treatment options for symptomatic MF include the following:
Anemia is treated with correction of reversible contributing factors, followed by erythropoiesis-stimulating agents, androgens, immunomodulating drugs, corticosteroids, and splenectomy; however, most patients eventually become transfusion dependent

[23]

Hydroxyurea is useful to suppress the number of circulating cells

Patients with painful, massively enlarged spleens refractory to myelosuppressive therapy are occasionally treated with radiation therapy, but they may ultimately require splenectomy

Two case reports suggest that oral bisphosphonates may be beneficial in decreasing bone marrow fibrosis associated with this illness

Allogeneic hematopoietic stem cell transplantation is curative and may be an alternative for selected patients whose disease is refractory to conventional therapies

[23]
In November 2011, the JAK1/JAK2 inhibitor, ruxolitinib (Jakafi), became the first US Food and Drug Administration (FDA)–approved drug for patients with intermediate- or high-risk myelofibrosis, including primary myelofibrosis, post-polycythemia vera myelofibrosis, and post-essential thrombocythemia myelofibrosis. Approval was expedited in accordance with the US Orphan Drug Act and based on US and international data from the COMFORT-1 and COMFORT-2 trials. Results from the COMFORT-1 trial showed patients (n=309) who received ruxolitinib had a significant reduction in spleen volume (at least 35%) at 24 weeks when assessed by MRI or CT compared with placebo (41.9% vs 0.7%).[24]
Consultations
See the list below:
Surgical consultation for permanent central venous access device placement may be required for patients in whom repeated blood draws, blood transfusions, and/or chemotherapy is anticipated.

A radiation oncologist may need to be involved in selected cases, when splenic radiation is considered appropriate.
Diet and Activity
Massive splenomegaly is usually associated with epigastric and left upper quadrant discomfort and early satiety. Patients with these symptoms are encouraged to eat frequent, small meals rather than 3 large meals.
Individuals with myeloproliferative diseases are not encouraged to restrict their daily activities, but they are encouraged to refrain from physical activities that might expose them to abdominal trauma because massively enlarged spleens are likely to rupture, sometimes in response to minimal trauma.
References
O'Brien SG, Guilhot F, Larson RA. Imatinib compared with interferon and low-dose cytarabine for newly diagnosed chronic-phase chronic myeloid leukemia. N Engl J Med. 2003 Mar 13. 348(11):994-1004. [Medline].

Vardiman JW. The World Health Organization (WHO) classification of the myeloid neoplasms. Blood. 2002. 100:2299-2300. [Medline]. [Full Text].

Chaiter Y, Brenner B, Aghai E, Tatarsky I. High incidence of myeloproliferative disorders in Ashkenazi Jews in northern Israel. Leuk Lymphoma. 1992 Jun. 7 (3):251-5. [Medline].

Baxter EJ, Scott LM, Campbell PJ. Acquired mutation of the tyrosine kinase JAK2 in human myeloproliferative disorders. Lancet. 2005 Mar 19-25. 365(9464):1054-61. [Medline].

James C, Ugo V, Le Couedic JP. A unique clonal JAK2 mutation leading to constitutive signalling causes polycythaemia vera. Nature. 2005 Apr 28. 434(7037):1144-8. [Medline].

Sonbol MB, Firwana B, Zarzour A, Morad M, Rana V, Tiu RV. Comprehensive review of JAK inhibitors in myeloproliferative neoplasms. Ther Adv Hematol. 2013 Feb. 4(1):15-35. [Medline]. [Full Text].

Ursuleac I, Colita A, Adam T, Jardan C, Ilea A, Coriu D. The concomitant occurrence of JAK2V617F mutation and BCR/ABL transcript with phenotypic expression - an overlapping myeloproliferative disorder or two distinct diseases? - case report. J Med Life. 2013 Mar 15. 6(1):34-7. [Medline]. [Full Text].

Mesa RA, Powell H, Lasho T, Dewald G, McClure R, Tefferi A. JAK2(V617) and leukemic transformation in myelofirbrosis with myeloid metaplasia. Leuk Res. 2006/11. 30 (11):1457-60.

Anand S, Stedham F, Beer P, et al. Effects of the JAK2 mutation on the hematopoietic stem and progenitor compartment in human myeloproliferative neoplasms. Blood. 2011 Jul 7. 118(1):177-81. [Medline].

Pardanani A, Brockman SR, Paternoster SF. FIP1L1-PDGFRA fusion: prevalence and clinicopathologic correlates in 89 consecutive patients with moderate to severe eosinophilia. Blood. 2004 Nov 15. 104(10):3038-45. [Medline]. [Full Text].

Levine RL. Another Piece of the Myeloproliferative Neoplasms Puzzle. N Engl J Med. 2013 Dec 10. [Medline].

Nangalia J, Massie CE, Baxter EJ, Nice FL, Gundem G, Wedge DC, et al. Somatic CALR Mutations in Myeloproliferative Neoplasms with Nonmutated JAK2. N Engl J Med. 2013 Dec 10. [Medline].

Nelson R. New Gene Mutation Found in Myeloproliferative Neoplasms. Medscape Medical News. Available at http://www.medscape.com/viewarticle/817704. Accessed: December 16, 2013.

Cancer Facts & Figures 2016. American Cancer Society. Available at http://www.cancer.org/acs/groups/content/@editorial/documents/document/acspc-044552.pdf. Accessed: February 26, 2016.

Johansson P, Kutti J, Andreasson B. Trends in the incidence of chronic Philadelphia chromosome negative (Ph-) myeloproliferative disorders in the city of Goteborg, Sweden, during 1983-99. J Intern Med. 2004 Aug. 256(2):161-5.

Kutti J, Ridell B. Epidemiology of the myeloproliferative disorders: essential thrombocythaemia, polycythaemia vera and idiopathic myelofibrosis. Pathol Biol (Paris). 2001 Mar. 49(2):164-6. [Medline].

Scherber R, Dueck AC, Johansson P, et al. The Myeloproliferative Neoplasm Symptom Assessment Form (MPN-SAF): international prospective validation and reliability trial in 402 patients. Blood. 2011 Jul 14. 118(2):401-8. [Medline].

Donato NJ, Talpaz M. Clinical use of tyrosine kinase inhibitors: therapy for chronic myelogenous leukemia and other cancers. Clin Cancer Res. 2000 Aug. 6(8):2965-6. [Medline].

Bjorkholm M, Derolf AR, Hultcrantz M, et al. Treatment-related risk factors for transformation to acute myeloid leukemia and myelodysplastic syndromes in myeloproliferative neoplasms. J Clin Oncol. 2011 Jun 10. 29(17):2410-5. [Medline]. [Full Text].

Jovanovic JV, Ivey A, Vannucchi AM, Lippert E, Oppliger Leibundgut E, Cassinat B, et al. Establishing optimal quantitative-polymerase chain reaction assays for routine diagnosis and tracking of minimal residual disease in JAK2-V617F-associated myeloproliferative neoplasms: a joint European LeukemiaNet/MPN&MPNr-EuroNet (COST action BM0902) study. Leukemia. 2013 Jul 17. [Medline].

Kaplan ME, Mack K, Goldberg JD. Long-term management of polycythemia vera with hydroxyurea: a progress report. Semin Hematol. 1986 Jul. 23(3):167-71. [Medline].

FDA approves Jakafi to treat patients with a chronic type of bone marrow disease. U.S. Food and Drug Administration. Available at http://www.fda.gov/NewsEvents/Newsroom/PressAnnouncements/ucm425677.htm. December 4, 2014; Accessed: February 26, 2016.

Cervantes F, Correa JG, Hernández-Boluda JC. Alleviating Anemia and Thrombocytopenia in Myelofibrosis Patients. Expert Rev Hematol. 2016 Feb 18. [Medline].

FDA approves first drug to treat a rare bone marrow disease. U.S. Food and Drug Administration. Available at http://www.fda.gov/NewsEvents/Newsroom/PressAnnouncements/ucm280102.htm. November 16, 2011; Accessed: February 26, 2016.

Prasad KN, Manjunath P, Priya L, Sasikumar S. Overcoming the problem of pseudohypoxemia in myeloproliferative disorders: Another trick in the bag. Indian J Crit Care Med. 2012 Oct. 16(4):210-2. [Medline]. [Full Text].

Klampfl T, Gisslinger H, Harutyunyan AS, Nivarthi H, Rumi E, Milosevic JD, et al. Somatic Mutations of Calreticulin in Myeloproliferative Neoplasms. N Engl J Med. 2013 Dec 10. [Medline].

Kralovics R, Passamonti F, Buser AS. A gain-of-function mutation of JAK2 in myeloproliferative disorders. N Engl J Med. 2005 Apr 28. 352(17):1779-90. [Medline].

Levine RL, Wadleigh M, Cools J. Activating mutation in the tyrosine kinase JAK2 in polycythemia vera, essential thrombocythemia, and myeloid metaplasia with myelofibrosis. Cancer Cell. 2005 Apr. 7(4):387-97. [Medline].

O'Brien S, Tefferi A, Valent P. Chronic myelogenous leukemia and myeloproliferative disease. Hematology (Am Soc Hematol Educ Program). 2004. 146-62.

Staerk J, Kallin A, Demoulin JB. JAK1 and Tyk2 Activation by the Homologous Polycythemia Vera JAK2 V617F Mutation:CROSS-TALK WITH IGF1 RECEPTOR. J Biol Chem. 2005 Dec 23. 280(51):41893-9.
Table. Comparison of FAB and WHO Classifications of Chronic Myeloproliferative Diseases.
| | |
| --- | --- |
| FAB | WHO |
| Chronic myelogenous leukemia | Chronic myelogenous leukemia, BCR/ABL1 positive |
| Polycythemia vera | Polycythemia vera |
| Essential thrombocythemia | Essential thrombocythemia |
| Agnogenic myeloid metaplasia/myelofibrosis | Primary myelofibrosis |
| ... | Chronic neutrophilic leukemia, not otherwise specified |
| ... | Mastocytosis |
| ... | Myeloproliferative neoplasms, unclassifiable |
Medscape Reference © 2011 WebMD, LLC