Sigmoid and Cecal Volvulus Workup
Author: Scott C Thornton, MD; Chief Editor: John Geibel, MD, DSc, MSc, MA  more...
Updated: Nov 30, 2015
What would you like to print?
Approach Considerations
Laboratory tests include a complete blood count (CBC) with differential and a comprehensive metabolic profile. An elevated white blood cell (WBC) count and left shift indicate bowel ischemia, peritoneal infection, or systemic sepsis. Bowel obstruction may cause significant changes in electrolyte levels.
Other diagnostic studies include plain abdominal radiography, computed tomography (CT), barium enema, and sigmoidoscopy or colonoscopy.
Plain Abdominal Radiography
Massive dilation of the sigmoid colon loop arising from the pelvis and extending to the diaphragm is a typical finding of sigmoid volvulus. The walls of the loop are evident as three bright lines converging in the pelvis to create a beaklike appearance (see the image below).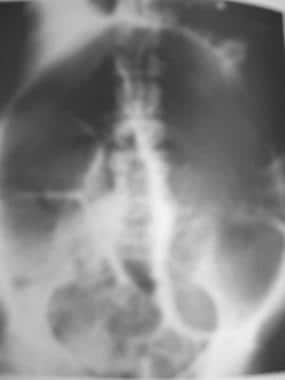 Plain abdominal radiograph demonstrating massively dilated sigmoid colon loop and convergence of walls of colon into beaklike formation.
Cecal volvulus produces large- and small-bowel obstruction. Radiographic findings reveal a markedly distended loop of bowel extending from the right lower quadrant upward to the left upper quadrant. The small bowel is distended, whereas the distal colon is decompressed (see the image below).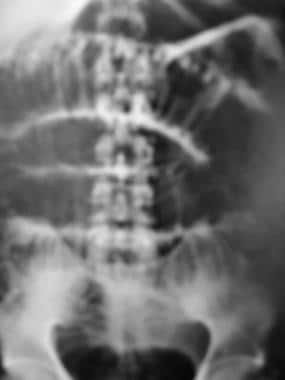 Cecal volvulus with associated small bowel obstruction.
Detailed overviews of the radiologic findings of colonic volvulus are available elsewhere (see Sigmoid Volvulus and Cecal Volvulus).
CT of Abdomen and Pelvis
CT is not often needed, because the plain radiographic findings typically suffice for diagnosis of sigmoid volvulus. However, the radiographic findings for cecal volvulus may be less diagnostic. In such cases, CT can delineate the exact site of the torsion and reveal evidence of ischemia.
Upward displacement of the appendix with large-bowel obstruction is a definitive sign of cecal volvulus. Additionally, decompressed transverse and descending colon are apparent.
Barium Enema
A contrast enema should be performed in patients who show no evidence of peritonitis and in whom plain abdominal radiographs are not diagnostic. The contrast study typically demonstrates a beaklike termination at the point of the sigmoid volvulus (see the image below). Similarly, a foldlike termination may be observed at the point of obstruction in the ascending colon in patients with cecal volvulus.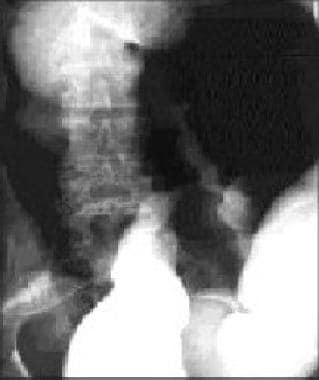 Barium enema of sigmoid volvulus revealing termination of contrast in bird's-beak formation at base of volvulus.
Medscape Reference © 2011 WebMD, LLC