Xanthogranulomatous Pyelonephritis Workup
Author: Samuel G Deem, DO; Chief Editor: Bradley Fields Schwartz, DO, FACS more...
Updated: Nov 09, 2014
What would you like to print?
Approach Considerations
A complete blood count (CBC) with differential may reveal leukocytosis and anemia. Expect these conditions to gradually resolve after nephrectomy. The erythrocyte sedimentation rate (ESR) is frequently elevated.
Liver function findings are abnormal in up to 50% of patients with xanthogranulomatous pyelonephritis (XGP).
Serum chemistries are used to determine the presence of any baseline electrolyte abnormalities, although none is pathognomonic of XGP. Creatinine levels before nephrectomy may be abnormal, but removal of the nonfunctioning xanthogranulomatous kidney should not be expected to alter baseline renal function.[3]
Urine typically contains leukocytes and bacteria. Urinalysis often demonstrates proteinuria. The pH is often basic because Proteus mirabilis is a urease-producing organism. Urine cultures are important in determining the offending organism involved in the XGP process and in assisting in the appropriate selection of antibiotics.
Histologic findings
The pathognomonic microscopic feature of XGP (see the image below) is the lipid-laden foamy macrophage. These cells can be difficult to distinguish from clear cell carcinoma on frozen section.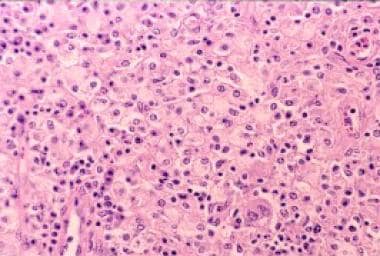 Xanthogranulomatous pyelonephritis.
Imaging studies
Renal ultrasonography usually reveals an enlarged kidney with multiple hypoechoic masses; irregular, thinned parenchyma; and a dilated collecting system.
Mercaptotriglycine (MAG-3) or technetium-99m dimercaptosuccinic acid (99m Tc-DMSA) renal scanning may be used to evaluate or confirm differential renal function.
Magnetic resonance imaging (MRI) is being studied selectively, but reports have not shown MRI to provide any diagnostic benefit beyond that which is achievable with traditional computed tomography (CT) scanning. However, MRI is frequently used in patients with renal insufficiency in whom contrasted images are required, in order to avoid the nephrotoxic intravenous (IV) contrast used for CT imaging.
Computed Tomography
CT scanning is the most useful radiographic technique in evaluating xanthogranulomatous pyelonephritis (XGP), although XGP cannot be diagnosed solely on the basis of radiographic findings. A CT scan demonstrates a heterogenous, nonenhancing mass on a hydronephrotic, nonfunctioning kidney with a central stone. In higher-stage disease, the mass may appear to involve adjacent organs. CT scans may also reveal a large staghorn calculus within the collecting system. (See the images below.)[12]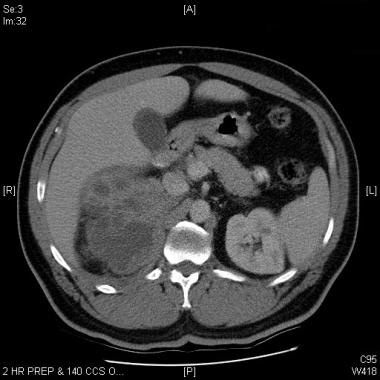 Xanthogranulomatous pyelonephritis appearing as nonenhancing, low-attenuation areas of the dilated collecting system surrounded by enhancing, high-attenuation parenchyma (known as the "bear paw" sign).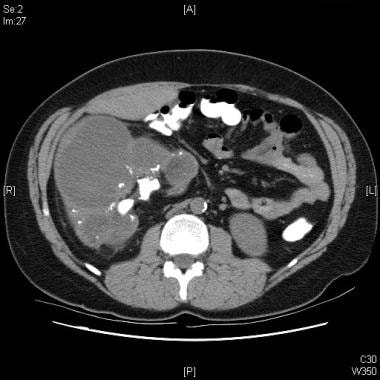 Xanthogranulomatous pyelonephritis with obstruction and staghorn calculus.
References
Schlagenhaufer F. Uber eigentumlich staphylomykosender neiven und des pararenalen bindegewebes. Frankfurt Z Pathol. 1916. 19:139-48.

Peréz LM, Thrasher JB, Anderson EE. Successful management of bilateral xanthogranulomatous pyelonephritis by bilateral partial nephrectomy. J Urol. 1993 Jan. 149(1):100-2. [Medline].

Kuo CC, Wu CF, Huang CC, et al. Xanthogranulomatous pyelonephritis: critical analysis of 30 patients. Int Urol Nephrol. 2011 Mar. 43(1):15-22. [Medline].

Malek RS, Elder JS. Xanthogranulomatous pyelonephritis: a critical analysis of 26 cases and of the literature. J Urol. 1978 May. 119(5):589-93. [Medline].

Gregg CR, Rogers TE, Munford RS. Xanthogranulomatous pyelonephritis. Curr Clin Top Infect Dis. 1999. 19:287-304.

Kim SW, Yoon BI, Ha US, Sohn DW, Cho YH. Xanthogranulomatous pyelonephritis: clinical experience with 21 cases. J Infect Chemother. 2013 Dec. 19(6):1221-4. [Medline].

Hitti W, Drachenberg C, Cooper M, et al. Xanthogranulomatous pyelonephritis in a renal allograft associated with xanthogranulomatous diverticulitis: report of the first case and review of the literature. Nephrol Dial Transplant. 2007 Nov. 22(11):3344-7. [Medline].

Loffroy R, Guiu B, Varbédian O, Michel F, Sagot P, Cercueil JP, et al. Diffuse xanthogranulomatous pyelonephritis with psoas abscess in a pregnant woman. Can J Urol. 2007 Apr. 14(2):3507-9. [Medline].

Inouye BM, Chiang G, Newbury RO, Holmes N. Adolescent xanthogranulomatous pyelonephritis mimicking renal cell carcinoma on urine cytology: an atypical presentation. Urology. 2013 Apr. 81(4):885-7. [Medline].

Tiguert R, Gheiler EL, Yousif R, et al. Focal xanthogranulomatous pyelonephritis presenting as a renal tumor with vena caval thrombus. J Urol. 1998 Jul. 160(1):117-8. [Medline].

Shah HN, Jain P, Chibber PJ. Renal tuberculosis simulating xanthogranulomatous pyelonephritis with contagious hepatic involvement. Int J Urol. 2006 Jan. 13(1):67-8. [Medline].

Rajesh A, Jakanani G, Mayer N, et al. Computed tomography findings in xanthogranulomatous pyelonephritis. J Clin Imaging Sci. 2011. 1:45. [Medline]. [Full Text].

Osca JM, Peiro MJ, Rodrigo M, Martinez-Jabaloyas JM, Jimenez-Cruz JF. Focal xanthogranulomatous pyelonephritis: partial nephrectomy as definitive treatment. Eur Urol. 1997. 32(3):375-9. [Medline].

Bercowsky E, Shalhav AL, Portis A, Elbahnasy AM, McDougall EM, Clayman RV. Is the laparoscopic approach justified in patients with xanthogranulomatous pyelonephritis?. Urology. 1999 Sep. 54(3):437-42; discussion 442-3. [Medline].

Mahesan N, Choudhury SM, Khan MS, et al. One hand is better than two: conversion from pure laparoscopic to the hand-assisted approach during difficult nephrectomy. Ann R Coll Surg Engl. 2011 Apr. 93(3):229-31. [Medline].

Shah KJ, Ganpule AP, Kurien A, Muthu V, Sabnis RB, Desai MR. Laparoscopic versus open nephrectomy for xanthogranulomatous pyelonephritis: An outcome analysis. Indian J Urol. 2011 Oct. 27(4):470-4. [Medline]. [Full Text].

American Urological Association. Best Practice Policy Statement on Urologic Surgery Antimicrobial Prophylaxis. Available at http://www.auanet.org/content/media/antimicroprop08.pdf.
Medscape Reference © 2011 WebMD, LLC