Intestinal Obstruction in the Newborn Clinical Presentation
Author: James G Glasser, MD, MA, FACS; Chief Editor: Ted Rosenkrantz, MD more...
Updated: Mar 17, 2016
What would you like to print?
History and Physical Examination
The signs and symptoms of intestinal obstruction in a newborn may be subtle and nonspecific; hence, a detailed history and a thorough physical examination are important.
Bilious gastric aspirates or emesis indicate that the obstruction is distal to the ampulla of Vater. An infant with bilious vomiting should be considered to have malrotation and midgut volvulus until proven otherwise (with upper gastrointestinal (GI) contrast study).[4]
Although bilious emesis is an acknowledged medical emergency, a survey of 175 pediatric and neonatal physicians, nurses, midwives, and parents reported that almost 75% of participants did not properly identify green as the color of bilious emesis; yellow was the color most often selected.[15]
With a bulbous, dilated obstructed loop of intestine, there may be abdominal distention. Peristalsis may be palpable, particularly if the bowel is filled with fluid. Bowel sounds may be absent, normal, or hyperactive. If perfusion of the intestine is compromised, the infant may have tenderness and signs of shock, including pallor, prolonged capillary refill time, and poor perfusion. There may be hematochezia or evidence of thrombocytopenia or coagulopathy.
Infants with distal intestinal obstruction generally present with diffuse abdominal distention and delayed passage of meconium and absent transitional stools. Bowel sounds may be hypoactive or absent if the obstruction is chronic.
Imperforate anus and other anorectal anomalies are readily diagnosed by inspection of the perineum.
Duodenal atresia
Vomiting and upper abdominal fullness are consistent findings with duodenal atresia. An infant with duodenal atresia may present with emesis of gastric contents or with bilious vomiting, depending upon the location of the obstruction with respect to the ampulla of Vater. In 85% of patients with duodenal atresia, the obstruction lies distal to the ampulla, and these patients have bilious vomiting.
The abdomen is usually distended by the dilated stomach and proximal duodenum but becomes scaphoid when the contents of the distended stomach and duodenum are aspirated. Patients with duodenal atresia should be evaluated for trisomy 21 (Down syndrome).
Malrotation with volvulus
The initial presentation of a newborn with volvulus of the midgut is often bilious vomiting. Immediately after acute volvulus of the midgut, the abdomen is soft and scaphoid and may or may not be tender. As blood flow in the superior mesenteric pedicle is compromised, the bowel becomes ischemic and dilates, and the baby's abdomen becomes increasingly distended and firm. Hypotension and shock may develop from sequestration of fluid within the obstructed bowel. Passage of frank blood per rectum may also occur. Prompt surgical intervention is required.
Jejunal atresia
Infants with Jejunal atresia usually present with bilious vomiting. If the atretic proximal intestine is dilated and bulbous, the baby may also have abdominal distension.
Ileal atresia
With distal obstruction, babies present with more generalized abdominal distention and obstipation; vomiting occurs late, and it is usually feculent. Intestinal duplications may cause obstruction by impingement upon the intestine's lumen or by volvulus.
Meconium ileus and plug syndrome
Meconium ileus usually presents with abdominal distention and obstipation. Meconium plug syndrome is a relatively benign condition, usually occurring in healthy-appearing term infants. Abdominal distention and failure to pass meconium within the first 24 hours of life are the presenting signs.
Hirschsprung disease
Babies with Hirschsprung's disease either fail to pass meconium in the first 24 hours of life, or are intolerant of feedings, or develop abdominal distended and refractory constipation after discharge from the nursery. One must be vigilant to carefully follow infants who have delayed passage of meconium.[16] Failure to recognize Hirschsprung's disease in a timely fashion may eventuate in toxic megacolon and death.[17]
Imperforate anus
Routine inspection of a newborn perineum should include notation of the position and patency of the anus. Anorectal malformations range from anterior displacement of the anal opening to a completely imperforate anus (see the image below). Many infants with imperforate anus have an abnormal sacral progression (seen on pelvic radiographs), as well as a fistula between the rectum and the genitourinary tract, demonstrated by finding meconium in the urine.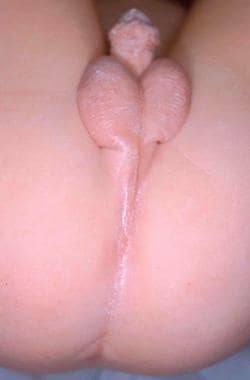 Imperforate anus.
References
Juang D, Snyder CL. Neonatal Bowel Obstruction. Surg Clin North America. 2012, April 17. 92(3):685-711. [Medline]. [Full Text].

de la Hunt MN. The acute abdomen in the newborn. Semin Fetal Neonatal Med. 2006 Jun. 11(3):191-7. [Medline].

de Silva NT, Young JA, Wales PW. Understanding neonatal bowel obstruction: building knowledge to advance practice. Neonatal Netw. 2006 Sep-Oct. 25(5):303-18. [Medline].

Chen QJ, Gao ZG, Tou JF, et al. Congenital duodenal obstruction in neonates: a decade's experience from one center. World J Pediatr. 2014 Aug. 10 (3):238-44. [Medline].

Saha N, Talukder SA, Alam S. Congenital stenosis in the descending colon causing intestinal obstruction in a one and half years male child. Mymensingh Med J. 2013 Jul. 22(3):574-7. [Medline].

Ladd WE. Surgical diseases of the alimentary tract in infants. N Engl J Med. 1936;705:215:

Aslanabadi S, Ghalehgolab-Behbahan A, Jamshidi M, Veisi P, Zarrintan S. Intestinal malrotations: a review and report of thirty cases. Folia Morphol (Warsz). 2007 Nov. 66(4):277-82. [Medline].

Louw JH, Barnard CN. Congenital intestinal atresia: observations on its origin. Lancet. 1955;2:1065:

McAteer JP, Kwon S, LaRiviere CA, Oldham KT, Goldin AB. Pediatric specialist care is associated with a lower risk of bowel resection in children with intussusception: a population-based analysis. J Am Coll Surg. 2013 Aug. 217(2):226-32.e1-3. [Medline].

Busch R. On the history of cystic fibrosis. Acta Univ Carol Med (Praha). 1990. 36(1-4):13-5. [Medline].

Farrelly PJ, Charlesworth C, Lee S, Southern KW, Baillie CT. Gastrointestinal surgery in cystic fibrosis: a 20-year review. J Pediatr Surg. 2014 Feb. 49 (2):280-3. [Medline].

Shiau SL, Su BH, Lin KJ, Lin HC, Lin JN. Possible effect of probiotics and breast milk in short bowel syndrome: report of one case. Acta Paediatr Taiwan. 2007 Mar-Apr. 48(2):89-92. [Medline].

Murphy FL, Sparnon AL. Long-term complications following intestinal malrotation and the Ladd's procedure: a 15 year review. Pediatr Surg Int. 2006 Apr. 22(4):326-9. [Medline].

Dasgupta R, Langer JC. Evaluation and management of persistent problems after surgery for Hirschsprung disease in a child. J Pediatr Gastroenterol Nutr. 2008 Jan. 46(1):13-9. [Medline].

Walker GM, Neilson A, Young D, Raine PA. Colour of bile vomiting in intestinal obstruction in the newborn: questionnaire study. BMJ. 2006 Jun 10. 332(7554):1363. [Medline]. [Full Text].

Gfroerer S, Rolle U. Pediatric intestinal motility disorders. World J Gastroenterol. 2015 Sep 7. 21 (33):9683-7. [Medline].

Baxter KJ, Bhatia AM. Hirschsprung's disease in the preterm infant: implications for diagnosis and outcome. Am Surg. 2013 Jul. 79(7):734-8. [Medline].

Maheshwari P, Abograra A, Shamam O. Sonographic evaluation of gastrointestinal obstruction in infants: a pictorial essay. J Pediatr Surg. 2009 Oct. 44(10):2037-42. [Medline].

Ionescu S, Andrei B, Oancea M, et al. Postnatal treatment in antenatally diagnosed meconium peritonitis. Chirurgia (Bucur). 2015 Nov-Dec. 110 (6):538-44. [Medline].

[Guideline] Bulas D, Gunderman R, Coley BD, et al. ACR Appropriateness Criteria vomiting in infants up to 3 months of age. [online publication]. Reston (VA): American College of Radiology (ACR); 2008.

Applegate KE, Anderson JM, Klatte EC. Intestinal malrotation in children: a problem-solving approach to the upper gastrointestinal series. Radiographics. 2006 Sep-Oct. 26(5):1485-500. [Medline].

Borsellino A, Zaccara A, Nahom A, Trucchi A, Aite L, Giorlandino C, et al. False-positive rate in prenatal diagnosis of surgical anomalies. J Pediatr Surg. 2006 Apr. 41(4):826-9. [Medline].

Sadigh G, Zou KH, Razavi SA, Khan R, Applegate KE. Meta-analysis of air versus liquid enema for intussusception reduction in children. AJR Am J Roentgenol. 2015 Nov. 205 (5):W542-9. [Medline].

Shinohara T, Tsuda M, Koyama N. Management of meconium-related ileus in very low-birthweight infants. Pediatr Int. 2007 Oct. 49(5):641-4. [Medline].

Pena A. Anorectal malformations: experience with the posterior sagittal approach. In: Stringer MD, Oldham KT, Howard ER, eds. Pediatric Surgery and Urology: Long Term Outcomes. Philadelphia, Pa: WB Saunders and Co; 1998:376-386:

Gura KM, Duggan CP, Collier SB, Jennings RW, Folkman J, Bistrian BR, et al. Reversal of parenteral nutrition-associated liver disease in two infants with short bowel syndrome using parenteral fish oil: implications for future management. Pediatrics. 2006 Jul. 118(1):e197-201. [Medline].

Grant HW, Parker MC, Wilson MS, Menzies D, Sunderland G, Thompson JN, et al. Adhesions after abdominal surgery in children. J Pediatr Surg. 2008 Jan. 43(1):152-6; discussion 156-7. [Medline].

Pratap A, Kaur N, Shakya VC, Sapkota G, Tanveer-ur Rahman S, Biswas BK, et al. Triple tube therapy: a novel enteral feeding technique for short bowel syndrome in low-income countries. J Pediatr Surg. 2007 Mar. 42(3):470-3. [Medline].

Walker GM, Raine PA. Bilious vomiting in the newborn: how often is further investigation undertaken?. J Pediatr Surg. 2007 Apr. 42(4):714-6. [Medline].

Molvarec A, Bábinszki A, Kovács K, Tóth F, Szalay J. Intrauterine intestinal obstruction due to fetal midgut volvulus: a report of two cases. Fetal Diagn Ther. 2007. 22(1):38-40. [Medline].

Cassart M, Massez A, Lingier P, Absil AS, Donner C, Avni F. Sonographic prenatal diagnosis of malpositioned stomach as a feature of uncomplicated intestinal malrotation. Pediatr Radiol. 2006 Apr. 36(4):358-60. [Medline].

Vinocur DN. Neonatal Intestinal Obstruction. Amer J Radiology Online. [Full Text].

Lima M, Ruggeri G, Domini M, Gargano T, Mazzero G, Landuzzi V, et al. Evolution of the surgical management of bowel atresia in newborn: laparoscopically assisted treatment. Pediatr Med Chir. 2009 Sep-Oct. 31(5):215-9. [Medline].

Subbarayan D, Singh M, Khurana N, Sathish A. Histomorphological features of intestinal atresia and its clinical correlation. J Clin Diagn Res. 2015 Nov. 9 (11):EC26-9. [Medline].

Singer CE, Codoveanu CS, Ciobanu MO, et al. Hirschprung's disease in different settings - a series of three cases from a tertiary referral center. Rom J Morphol Embryol. 2015. 56 (3):1195-200. [Medline].

Tarlan S, Mahyar A, Chegini V, Chegini V. Megacystis microcolon intestinal hypoperistalsis syndrome: report of a rare case in newborn. Acta Med Iran. 2015 Aug. 53 (8):518-22. [Medline].

Woo HK, Kim EK, Jung YH, et al. Reduced early dried blood spot citrulline levels in preterm infants with meconium obstruction of prematurity. Early Hum Dev. 2015 Dec. 91 (12):777-81. [Medline].

Kunitsu T, Koshida S, Tanaka K, et al. Neonatal Meckel diverticulum: obstruction due to a short mesodiverticular band. Pediatr Int. 2015 Oct. 57 (5):1007-9. [Medline].
Medscape Reference © 2011 WebMD, LLC