Intestinal Obstruction in the Newborn Differential Diagnoses
Author: James G Glasser, MD, MA, FACS; Chief Editor: Ted Rosenkrantz, MD  more...
Updated: Mar 17, 2016
What would you like to print?
Diagnostic Considerations
Inspection and palpation of the infant's abdomen and perineum often suggest the correct diagnosis (see Presentation). An anteriorly displaced anus or an imperforate anus can be identified with careful perineal inspection. Inability to pass a nasogastric tube is diagnostic of esophageal atresia. Diagnostic modalities, such as simple abdominal radiography, radiographic contrast studies, and abdominal ultrasonography[18] can be extremely helpful in identifying the existence and possible etiology of a neonatal bowel obstruction (see Workup).
Differentiating proximal from distal bowel obstruction is helpful because patients with proximal obstruction often present with different clinical scenarios than patients with distal obstruction. Abdominal distention may indicate mechanical obstruction or ileus due to sepsis or hyperbilirubinemia. An abnormal gas pattern visualized on abdominal radiography may be diagnostic of bowel obstruction. Abdominal tenderness (signs of peritonitis) denotes bowel injury secondary to a closed loop obstruction or volvulus or necrotizing enterocolitis.
An algorithm for the diagnosis of neonatal intestinal obstruction is depicted in the image below.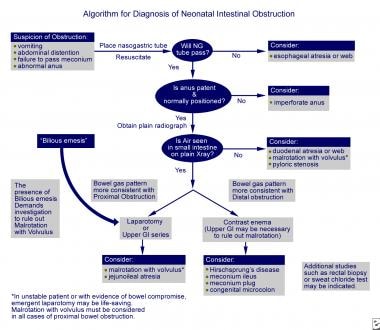 A sample algorithm for the diagnosis of neonatal intestinal obstruction.
References
Juang D, Snyder CL. Neonatal Bowel Obstruction. Surg Clin North America. 2012, April 17. 92(3):685-711. [Medline]. [Full Text].

de la Hunt MN. The acute abdomen in the newborn. Semin Fetal Neonatal Med. 2006 Jun. 11(3):191-7. [Medline].

de Silva NT, Young JA, Wales PW. Understanding neonatal bowel obstruction: building knowledge to advance practice. Neonatal Netw. 2006 Sep-Oct. 25(5):303-18. [Medline].

Chen QJ, Gao ZG, Tou JF, et al. Congenital duodenal obstruction in neonates: a decade's experience from one center. World J Pediatr. 2014 Aug. 10 (3):238-44. [Medline].

Saha N, Talukder SA, Alam S. Congenital stenosis in the descending colon causing intestinal obstruction in a one and half years male child. Mymensingh Med J. 2013 Jul. 22(3):574-7. [Medline].

Ladd WE. Surgical diseases of the alimentary tract in infants. N Engl J Med. 1936;705:215:

Aslanabadi S, Ghalehgolab-Behbahan A, Jamshidi M, Veisi P, Zarrintan S. Intestinal malrotations: a review and report of thirty cases. Folia Morphol (Warsz). 2007 Nov. 66(4):277-82. [Medline].

Louw JH, Barnard CN. Congenital intestinal atresia: observations on its origin. Lancet. 1955;2:1065:

McAteer JP, Kwon S, LaRiviere CA, Oldham KT, Goldin AB. Pediatric specialist care is associated with a lower risk of bowel resection in children with intussusception: a population-based analysis. J Am Coll Surg. 2013 Aug. 217(2):226-32.e1-3. [Medline].

Busch R. On the history of cystic fibrosis. Acta Univ Carol Med (Praha). 1990. 36(1-4):13-5. [Medline].

Farrelly PJ, Charlesworth C, Lee S, Southern KW, Baillie CT. Gastrointestinal surgery in cystic fibrosis: a 20-year review. J Pediatr Surg. 2014 Feb. 49 (2):280-3. [Medline].

Shiau SL, Su BH, Lin KJ, Lin HC, Lin JN. Possible effect of probiotics and breast milk in short bowel syndrome: report of one case. Acta Paediatr Taiwan. 2007 Mar-Apr. 48(2):89-92. [Medline].

Murphy FL, Sparnon AL. Long-term complications following intestinal malrotation and the Ladd's procedure: a 15 year review. Pediatr Surg Int. 2006 Apr. 22(4):326-9. [Medline].

Dasgupta R, Langer JC. Evaluation and management of persistent problems after surgery for Hirschsprung disease in a child. J Pediatr Gastroenterol Nutr. 2008 Jan. 46(1):13-9. [Medline].

Walker GM, Neilson A, Young D, Raine PA. Colour of bile vomiting in intestinal obstruction in the newborn: questionnaire study. BMJ. 2006 Jun 10. 332(7554):1363. [Medline]. [Full Text].

Gfroerer S, Rolle U. Pediatric intestinal motility disorders. World J Gastroenterol. 2015 Sep 7. 21 (33):9683-7. [Medline].

Baxter KJ, Bhatia AM. Hirschsprung's disease in the preterm infant: implications for diagnosis and outcome. Am Surg. 2013 Jul. 79(7):734-8. [Medline].

Maheshwari P, Abograra A, Shamam O. Sonographic evaluation of gastrointestinal obstruction in infants: a pictorial essay. J Pediatr Surg. 2009 Oct. 44(10):2037-42. [Medline].

Ionescu S, Andrei B, Oancea M, et al. Postnatal treatment in antenatally diagnosed meconium peritonitis. Chirurgia (Bucur). 2015 Nov-Dec. 110 (6):538-44. [Medline].

[Guideline] Bulas D, Gunderman R, Coley BD, et al. ACR Appropriateness Criteria vomiting in infants up to 3 months of age. [online publication]. Reston (VA): American College of Radiology (ACR); 2008.

Applegate KE, Anderson JM, Klatte EC. Intestinal malrotation in children: a problem-solving approach to the upper gastrointestinal series. Radiographics. 2006 Sep-Oct. 26(5):1485-500. [Medline].

Borsellino A, Zaccara A, Nahom A, Trucchi A, Aite L, Giorlandino C, et al. False-positive rate in prenatal diagnosis of surgical anomalies. J Pediatr Surg. 2006 Apr. 41(4):826-9. [Medline].

Sadigh G, Zou KH, Razavi SA, Khan R, Applegate KE. Meta-analysis of air versus liquid enema for intussusception reduction in children. AJR Am J Roentgenol. 2015 Nov. 205 (5):W542-9. [Medline].

Shinohara T, Tsuda M, Koyama N. Management of meconium-related ileus in very low-birthweight infants. Pediatr Int. 2007 Oct. 49(5):641-4. [Medline].

Pena A. Anorectal malformations: experience with the posterior sagittal approach. In: Stringer MD, Oldham KT, Howard ER, eds. Pediatric Surgery and Urology: Long Term Outcomes. Philadelphia, Pa: WB Saunders and Co; 1998:376-386:

Gura KM, Duggan CP, Collier SB, Jennings RW, Folkman J, Bistrian BR, et al. Reversal of parenteral nutrition-associated liver disease in two infants with short bowel syndrome using parenteral fish oil: implications for future management. Pediatrics. 2006 Jul. 118(1):e197-201. [Medline].

Grant HW, Parker MC, Wilson MS, Menzies D, Sunderland G, Thompson JN, et al. Adhesions after abdominal surgery in children. J Pediatr Surg. 2008 Jan. 43(1):152-6; discussion 156-7. [Medline].

Pratap A, Kaur N, Shakya VC, Sapkota G, Tanveer-ur Rahman S, Biswas BK, et al. Triple tube therapy: a novel enteral feeding technique for short bowel syndrome in low-income countries. J Pediatr Surg. 2007 Mar. 42(3):470-3. [Medline].

Walker GM, Raine PA. Bilious vomiting in the newborn: how often is further investigation undertaken?. J Pediatr Surg. 2007 Apr. 42(4):714-6. [Medline].

Molvarec A, Bábinszki A, Kovács K, Tóth F, Szalay J. Intrauterine intestinal obstruction due to fetal midgut volvulus: a report of two cases. Fetal Diagn Ther. 2007. 22(1):38-40. [Medline].

Cassart M, Massez A, Lingier P, Absil AS, Donner C, Avni F. Sonographic prenatal diagnosis of malpositioned stomach as a feature of uncomplicated intestinal malrotation. Pediatr Radiol. 2006 Apr. 36(4):358-60. [Medline].

Vinocur DN. Neonatal Intestinal Obstruction. Amer J Radiology Online. [Full Text].

Lima M, Ruggeri G, Domini M, Gargano T, Mazzero G, Landuzzi V, et al. Evolution of the surgical management of bowel atresia in newborn: laparoscopically assisted treatment. Pediatr Med Chir. 2009 Sep-Oct. 31(5):215-9. [Medline].

Subbarayan D, Singh M, Khurana N, Sathish A. Histomorphological features of intestinal atresia and its clinical correlation. J Clin Diagn Res. 2015 Nov. 9 (11):EC26-9. [Medline].

Singer CE, Codoveanu CS, Ciobanu MO, et al. Hirschprung's disease in different settings - a series of three cases from a tertiary referral center. Rom J Morphol Embryol. 2015. 56 (3):1195-200. [Medline].

Tarlan S, Mahyar A, Chegini V, Chegini V. Megacystis microcolon intestinal hypoperistalsis syndrome: report of a rare case in newborn. Acta Med Iran. 2015 Aug. 53 (8):518-22. [Medline].

Woo HK, Kim EK, Jung YH, et al. Reduced early dried blood spot citrulline levels in preterm infants with meconium obstruction of prematurity. Early Hum Dev. 2015 Dec. 91 (12):777-81. [Medline].

Kunitsu T, Koshida S, Tanaka K, et al. Neonatal Meckel diverticulum: obstruction due to a short mesodiverticular band. Pediatr Int. 2015 Oct. 57 (5):1007-9. [Medline].
Medscape Reference © 2011 WebMD, LLC