Platelet Aggregation
Author: Christopher P Kellner, MD; Chief Editor: Thomas M Wheeler, MD  more...
Updated: Aug 01, 2014
What would you like to print?
Reference Range
The reference range is a normal biphasic pattern of aggregation in response to specific platelet activators (see image below).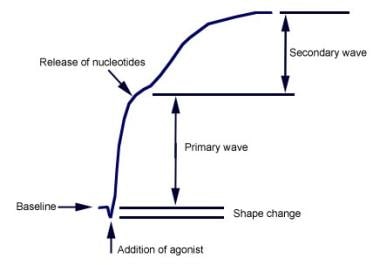 Aggregation curve showing events in classic biphasic aggregation.
Interpretation
Decreased platelet aggregation may be associated the following:
Fibrin degradation products

Drugs that block platelet formation (eg, thiazide diuretics, interferon, alcohol)
Collection and Panels
Specifics for collection and panels are outlined as follows:
Specimen type: Whole blood

Container: Vacutainer, light blue (citrate)

Collection method: Venipuncture

Specimen volume: 4 mL
Other instructions
See the list below:
Four tubes are needed for platelet aggregation testing.

Seven tubes are required for full aggregation and secretion testing.

Process whole blood specimens within 4 hours of collection.

Store specimens at room temperature (cooling may lead to activation).
Related tests: Complete blood count, platelet count, prothrombin time (PT); partial thromboplastin time (PTT), bone marrow biopsy, coagulation factors, von Willebrand factor (VWF)
Background
Description
Platelet aggregation studies test the clumping response of platelets to various platelet activators (eg, ADP, collagen, arachidonic acid, thrombin, epinephrine, ristocetin) as continuously recorded by a light transmission aggregometer. With some aggregometers, the secretion of platelet granules, another indicator of platelet function, may also be evaluated simultaneously by measuring the release of ATP by the aggregating platelets. Platelet secretion defects can provide greater diagnostic sensitivity than platelet aggregation testing alone.[1, 2, 3]
Indications/Applications
Conditions associated with decreased platelet aggregation include suspected hereditary and acquired disorders of platelet function. Indications for platelet aggregation studies include the following:
Diagnostic evaluation of excessive bleeding or bruising

Monitor the effectiveness of antiplatelet medication

Detect aspirin resistance

Monitor platelet function during complex surgical procedures

Screen at-risk presurgical patients
Considerations
Medications (including over-the-counter medications) that may affect platelet aggregation results include the following:
Antibiotics (penicillins, cephalosporins, nitrofurantoin)

Antihistamines

Aspirin-containing compounds

Dipyridamole

Nonsteroidal anti-inflammatory drugs (NSAIDs)

Theophylline

Ticlopidine

Tricyclic antidepressants
Healthcare providers should ask patients about any of these medications that may have been taken within 2 weeks before testing.
References
Burris CA, Ashwood ER, Burns DE. Tietz Textbook of Clinical Chemistry and Molecular Diagnostics. 4th ed. St. Louis: Elsevier Saunders; 2006. 1633:962-967.

McPherson RA, Matthew R. Pincus MR. Henry's Clinical Diagnosis and Management by Laboratory Methods. 22nd ed. Philadelphia: Elsevier Saunders; 2011. 254-5.

Wallach J. Interpretation of Diagnostic Tests. 6th ed. New York: Little, Brown; 1996. 717.

Lee J, Kim JK, Kim JH, Dunuu T, Park SH, Park SJ, et al. Recovery time of platelet function after aspirin withdrawal. Curr Ther Res Clin Exp. 2014 Dec. 76:26-31. [Medline]. [Full Text].

Arbel Y, Birati EY, Finkelstein A, Halkin A, Kletzel H, Abramowitz Y, et al. Platelet inhibitory effect of clopidogrel in patients treated with omeprazole, pantoprazole, and famotidine: a prospective, randomized, crossover study. Clin Cardiol. 2013 Jun. 36(6):342-6. [Medline].
Medscape Reference © 2011 WebMD, LLC