Renal Biopsy
Author: Lanna Cheuck, DO; Chief Editor: Edward David Kim, MD, FACS more...
Updated: Feb 11, 2016
What would you like to print?
Background
A renal biopsy is a procedure used to obtain a segment of renal tissue, usually through a needle or another surgical instrument. Analysis of this tissue is then used in the diagnosis of an underlying renal condition.
Renal biopsy is used to diagnose renal diseases ranging from infection to transient rejection to renal cell carcinoma. Once a biopsy diagnosis is established, it can be used to help guide treatment options and may also assist in determining prognosis of the underlying condition.
Indications
Renal biopsy is typically performed by a radiologist under CT or ultrasonographic guidance. However, a urologist can also perform renal biopsy during renal surgery.
There are multiple indications to perform renal biopsy, including the following:
Unexplained renal failure

Isolated nonnephrotic proteinuria

Renal masses (primary or secondary)

Renal transplant rejection
Paripovic et al[1] and Printza et al[2] both performed retrospective studies to determine indications of pediatric renal biopsy. Both found that nephrotic syndrome was the most common indication (32.9%). Paripovic et al found that other indications included asymptomatic hematuria (23.4%), urinary abnormalities in systemic diseases (15.8%), and proteinuria (11.4%). Both studies found that glomerular disease was most prevalent.
Paripovic et al found that the most common causes of glomerular disease included focal segmental glomerulosclerosis (20.9%), mesangioproliferative glomerulonephritis (14.6%), immunoglobulin A (IgA) nephropathy (8.9%), minimal change disease (13%), lupus nephritis (6%), and Henoch-Schönlein nephritis (4%).
Printza et al found that the most common findings included focal segmental glomerulosclerosis (15%), IgA nephropathy (13.5%), minimal change disease (10%), various stages of lupus nephritis (8.5%), Henoch-Schönlein nephritis (7.5%), membranous glomerulonephritis (7.5%), mesangioproliferative glomerulonephritis (6%), postinfectious glomerulonephritis (6%), hemolytic uremic syndrome (5%), tubulointerstitial nephropathies (3.5%), and acute tubular necrosis (2.5%).
The image below depicts a micrograph of focal segmental glomerulosclerosis.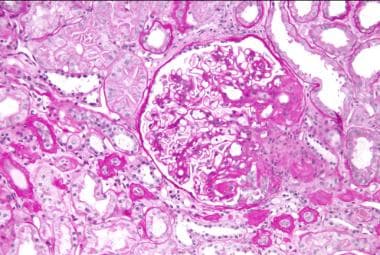 Histology slide.
Application of biopsy in the renal allograft
The application of biopsy to renal allografts is a controversial indication that is still being actively researched.
Rush et al from the Manitoba Adult Renal Transplant Program were the first to report the finding of subclinical rejection within the first 3 months post transplantation.[3] Subclinical rejection can be broadly defined as lymphocytic infiltration of a renal allograft with normal function. Rush et al further classified subclinical rejection as a serum creatinine increased by more than 10% 2 weeks before the protocol biopsy and a histological Baniff score (system used for scoring renal allograft histology) of "ai2at2" (type 1A acute rejection) or greater.[4] The controversy regarding this topic is whether detecting subclinical rejection from a specific biopsy protocol can guide early successful treatment of renal allograft pathology, ultimately improving long-term graft function.
A study analyzed a 10-year follow-up of their patient population diagnosed with subclinical rejection at 14 days post transplantation.[5] Their results showed a significant decrease in graft survival over the 10-year period, concluding that subclinical rejection can predict transplant outcomes. Another study attempted to determine the benefit of early detection of subclinical rejection and subsequent treatment with corticosteroids.[6] The study featured 72 patients randomized to 2 biopsy groups, one receiving biopsies at 1, 2, 3, 6, and 12 months (biopsy arm) and the other receiving biopsy at 6 and 12 months (control group). Patients in the biopsy group showed a decrease in acute rejection, reduced chronic tubulointerstitial score at 6 months, and a lower serum creatinine at 24 months compared with patients in the control group.
Despite whether biopsy in normal, functioning renal allografts will be determined clinically beneficial in the future, renal biopsy remains the criterion standard for the diagnosis of renal transplant abnormalities. In a patient with suspected renal transplant abnormalities, whether based on laboratory findings, such as elevated creatinine levels, or clinical signs, such as fever, edema, hypertension, oliguria, and proteinuria, histological confirmation of the diagnosis is often required.[7] One study analyzed the accuracy of clinical prediction of allograft pathology related to diagnosis found after renal biopsy.[8] Findings revealed 43% of clinical predictions were totally correct and of the 57 % of cases where predictions were not accurate, 26% of those cases were completely incorrect, clarifying the necessity of renal biopsy for accurate diagnosis of allograft pathology.
Contraindications
Absolute contraindications to renal biopsy include the following:
Uncorrectable bleeding diathesis

Uncontrollable severe hypertension

Active renal or perirenal infection

Skin infection at biopsy site
The following are relative contraindications to renal biopsy:
Uncooperative patient

Anatomic abnormalities of the kidney which may increase risk

Small kidneys

Solitary kidney
Technical Considerations
The following factors may make renal biopsy difficult for the radiologist:
Small kidneys

Solitary kidney

Retrorenal colon

Highly vascularized tumors (increased risk of bleeding)
Other considerations include the possibility of infection, injection into a muscle (creating a hematoma), and the possibility of the biopsy needle inadvertently piercing other organs in close proximity to the kidney, such as the colon, spleen, and liver.
References
Paripovic D, Kostic M, Kruscic D, et al. Indications and results of renal biopsy in children: a 10-year review from a single center in Serbia. J Nephrol. 2012 Feb 27. [Medline].

Printza N, Bosdou J, Pantzaki A, et al. Percutaneous ultrasound-guided renal biopsy in children: a single centre experience. Hippokratia. 2011 Jul. 15(3):258-61. [Medline]. [Full Text].

Rush DN, Henry SF, Jeffery JR, Schroeder TJ, Gough J. Histological findings in early routine biopsies of stable renal allograft recipients. Transplantation. 1994 Jan. 57(2):208-11. [Medline].

Rush D. Protocol transplant biopsies: an underutilized tool in kidney transplantation. Clin J Am Soc Nephrol. 2006 Jan. 1(1):138-43. [Medline].

Choi BS, Shin MJ, Shin SJ, et al. Clinical significance of an early protocol biopsy in living-donor renal transplantation: ten-year experience at a single center. Am J Transplant. 2005 Jun. 5(6):1354-60. [Medline].

Rush D, Nickerson P, Gough J, et al. Beneficial effects of treatment of early subclinical rejection: a randomized study. J Am Soc Nephrol. 1998 Nov. 9(11):2129-34. [Medline].

Ahmad I. Biopsy of the transplanted kidney. Semin Intervent Radiol. 2004 Dec. 21(4):275-81. [Medline]. [Full Text].

Al-Awwa IA, Hariharan S, First MR. Importance of allograft biopsy in renal transplant recipients: correlation between clinical and histological diagnosis. Am J Kidney Dis. 1998 Jun. 31(6 Suppl 1):S15-8. [Medline].

Renal Biopsy. Medline Plus. Available at http://www.nlm.nih.gov/medlineplus/ency/article/003907.htm. Accessed: June 18, 2012.

Rose, MD, Burton, and Theodore Post MD. Chapter 2B: Renin-angiotensin system." UpToDate. (2004). 1 Mar 2012.

McCune TR, Stone WJ, Breyer JA. Page kidney: case report and review of the literature. Am J Kidney Dis. 1991 Nov. 18(5):593-9. [Medline].

Harrison, K L. Renal dysfunction due to an arteriovenous fistula in a transplant recipient. Journal of the American Society of Nephrology 5.6 Dec 1994. Williams & Wilkins; 01 Mar 2012. 1300-6.

Kitterer D, Gürzing K, Segerer S, Alscher MD, Amann K, Braun N, et al. Diagnostic impact of percutaneous renal biopsy. Clin Nephrol. 2015 Dec. 84 (12):311-22. [Medline].

Whittier MD, William and Stephen Korbet MD. Indications for and complications of renal biopsy." UpToDate. (2011). 26 Feb 2012.

Kriegshauser JS, Patel MD, Young SW, Chen F, Eversman WG, Chang YH, et al. Factors Contributing to the Success of Ultrasound-Guided Native Renal Biopsy. J Ultrasound Med. 2016 Feb. 35 (2):381-7. [Medline].
Medscape Reference © 2011 WebMD, LLC