Renal Biopsy Technique
Author: Lanna Cheuck, DO; Chief Editor: Edward David Kim, MD, FACS more...
Updated: Feb 11, 2016
What would you like to print?
Approach Considerations
A renal biopsy is typically performed percutaneously through the patient's back.
Renal Biopsy
The patient is placed in the prone position, and the biopsy is typically taken from the lower pole of the kidney if there are no specific locations of interest. In order to localize this portion of the kidney, the biopsy is typically performed under ultrasound guidance.[13]
The biopsy needle is guided using ultrasound to ensure visualization of the needle as it pierces the kidney parenchyma. The size of the needle varies based on physician preference. Needle sizes may vary from 14-18 gauge. Care is taken not to enter the collecting system (as it would result in hematuria) or to go near the renal hilum (to prevent injury to the vessels).[14] An illustration of ultrasound-guided percutaneous renal biopsy is depicted below.
A study by Kriegshauser et al found that operator experience, taking more than 1 specimen, and the use of the cortical tangential approach significantly improved the pathologic material obtained during native renal biopsies.[15]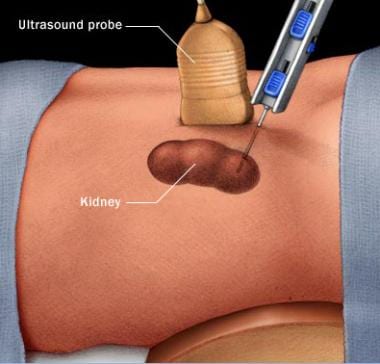 Ultrasound guided percutaneous renal biopsy to obtain kidney tissue for diagnosis
In other cases, renal biopsy can be performed with CT guidance (see image below) done in order to localize the needle in a very specific portion of the kidney which can only be visualized on a CT scan.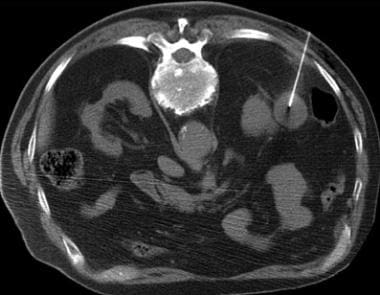 CT guided biopsy of a renal mass
If no imaging is used to guide the biopsy, the patient may be asked to take several deep breaths to ensure proper needle placement before taking the biopsy.
In some cases a urologist may obtain a piece of renal tissue to determine whether it is benign or malignant tissue and to determine if the margins are negative. For instance, a urologist performing a partial nephrectomy may take a renal biopsy at the surgical bed to ensure that no tumor is left behind before continuing with the renorrhaphy. This can be approached in the same manner as the partial nephrectomy—robotic, purely laparoscopic, or the traditional open approach.
References
Paripovic D, Kostic M, Kruscic D, et al. Indications and results of renal biopsy in children: a 10-year review from a single center in Serbia. J Nephrol. 2012 Feb 27. [Medline].

Printza N, Bosdou J, Pantzaki A, et al. Percutaneous ultrasound-guided renal biopsy in children: a single centre experience. Hippokratia. 2011 Jul. 15(3):258-61. [Medline]. [Full Text].

Rush DN, Henry SF, Jeffery JR, Schroeder TJ, Gough J. Histological findings in early routine biopsies of stable renal allograft recipients. Transplantation. 1994 Jan. 57(2):208-11. [Medline].

Rush D. Protocol transplant biopsies: an underutilized tool in kidney transplantation. Clin J Am Soc Nephrol. 2006 Jan. 1(1):138-43. [Medline].

Choi BS, Shin MJ, Shin SJ, et al. Clinical significance of an early protocol biopsy in living-donor renal transplantation: ten-year experience at a single center. Am J Transplant. 2005 Jun. 5(6):1354-60. [Medline].

Rush D, Nickerson P, Gough J, et al. Beneficial effects of treatment of early subclinical rejection: a randomized study. J Am Soc Nephrol. 1998 Nov. 9(11):2129-34. [Medline].

Ahmad I. Biopsy of the transplanted kidney. Semin Intervent Radiol. 2004 Dec. 21(4):275-81. [Medline]. [Full Text].

Al-Awwa IA, Hariharan S, First MR. Importance of allograft biopsy in renal transplant recipients: correlation between clinical and histological diagnosis. Am J Kidney Dis. 1998 Jun. 31(6 Suppl 1):S15-8. [Medline].

Renal Biopsy. Medline Plus. Available at http://www.nlm.nih.gov/medlineplus/ency/article/003907.htm. Accessed: June 18, 2012.

Rose, MD, Burton, and Theodore Post MD. Chapter 2B: Renin-angiotensin system." UpToDate. (2004). 1 Mar 2012.

McCune TR, Stone WJ, Breyer JA. Page kidney: case report and review of the literature. Am J Kidney Dis. 1991 Nov. 18(5):593-9. [Medline].

Harrison, K L. Renal dysfunction due to an arteriovenous fistula in a transplant recipient. Journal of the American Society of Nephrology 5.6 Dec 1994. Williams & Wilkins; 01 Mar 2012. 1300-6.

Kitterer D, Gürzing K, Segerer S, Alscher MD, Amann K, Braun N, et al. Diagnostic impact of percutaneous renal biopsy. Clin Nephrol. 2015 Dec. 84 (12):311-22. [Medline].

Whittier MD, William and Stephen Korbet MD. Indications for and complications of renal biopsy." UpToDate. (2011). 26 Feb 2012.

Kriegshauser JS, Patel MD, Young SW, Chen F, Eversman WG, Chang YH, et al. Factors Contributing to the Success of Ultrasound-Guided Native Renal Biopsy. J Ultrasound Med. 2016 Feb. 35 (2):381-7. [Medline].
Medscape Reference © 2011 WebMD, LLC