Central Venous Access Via External Jugular Vein Periprocedural Care
Author: Rick McPheeters, DO, FAAEM; Chief Editor: Vincent Lopez Rowe, MD more...
Updated: Feb 26, 2015
What would you like to print?
Equipment
The equipment needed for central venous cannulation is widely available as a prepackaged kit (see the image below).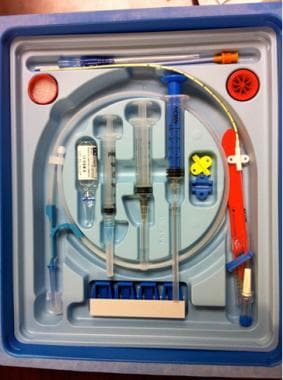 Central venous access kit.
The basic materials include the following:
Povidone or chlorhexidine solutions to swab and prepare the venipuncture site

Sterile drapes and towels

Sterile gloves

Gown, mask, and cap

Lidocaine 1%

27-gauge needle with 2- to 5-mL syringe for injecting local anesthetic

20- to 22-gauge needle with 10-mL syringe to access the external jugular vein (EJV)

16-gauge Angiocath to cannulate the EJV

Flexible guide wire with a maximum diameter of max 0.35 mm and with a 3 mm or less radius J-tip

No. 11 scalpel

Dilator device for the skin and soft tissue overlying the vein

Single or multilumen catheterization

Silk or nylon sutures

Needle holder

Suture scissors

Dressings to include plastic tape, antibiotic patch, gauze pads
Patient Preparation
Anesthesia
Because this is initially peripheral venous access, local anesthesia by infiltration is generally unnecessary and is not recommended, because it can obscure the surface anatomy and thereby render the venipuncture more difficult. If time permits, a topical anesthetic can be applied prior to puncturing the skin. However, local anesthetic should be used prior to use of incision and dilator.
Sedation or analgesia may be necessary for certain patients, such as those with procedural anxiety or differing levels of anxiolysis. Of note, 10-20 mg of preservative free lidocaine can be slowly infused to diminish discomfort associated with passing the guide wire and catheter.
Positioning
The patient should be positioned so as to optimize venous distention and thus allow easier cannulation.[5] Have the patient lay supine, with 10-30° of Trendelenburg. Tilt the head contralaterally from the vein being cannulated. Stand at the head of the bed.
Monitoring and Follow-up
A cardiac monitor should be used to observe for cardiac dysrhythmia that could arise if catheter enters the right atrium.
Medscape Reference © 2011 WebMD, LLC