End-Tidal Capnography
Author: Christopher D Press, MD; Chief Editor: Zab Mosenifar, MD, FACP, FCCP more...
Updated: Dec 15, 2015
What would you like to print?
Background
End-tidal capnography (end-tidal CO2, PETCO2, ET CO2) refers to the graphical measurement of carbon dioxide partial pressure (mm Hg) during expiration. First established in the 1930s, clinical use of end-tidal carbon dioxide measurement became accessible in the 1950s with the production and distribution of capnograph monitors.[1, 2] With continuous technological advancements, end-tidal carbon dioxide monitoring has become a key component in the advancement of patient safety within anesthesiology.
The American Society of Anesthesiologists (ASA) endorses end-tidal capnography as a standard of care for general anesthesia, moderate sedation, and deep sedation.[3, 4, 5, 6] Accordingly, other specialties, including critical care and emergency medicine, are more frequently implementing end-tidal capnography monitoring.
Indications
Monitoring
See the list below:
General anesthesia

Monitored anesthesia care

Procedural sedation and analgesia

Cardiac arrest (confirm tracheal intubation)

Cardiopulmonary arrest (determine adequate chest compression)

Analysis of ventilation
Diagnose
See the list below:
Patient pathophysiology

Equipment failure
Technical Considerations
Reading the capnogram
Cellular metabolism produces carbon dioxide, while the lungs work to eliminate it from the body. The balance between production and elimination can be followed in the rise and fall of end-tidal carbon dioxide as measured by capnography. More specifically, end-tidal carbon dioxide waveforms provide clinicians with a tool for quick and reliable diagnoses of pulmonary pathophysiology.
Generally, end-tidal carbon dioxide is displayed as a waveform with partial pressure of carbon dioxide on the Y-axis and time on the X-axis. See the images below.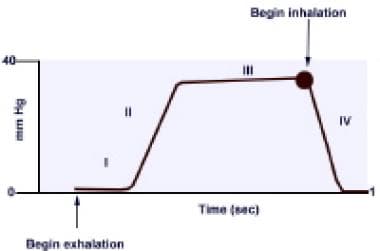 Normal breathing.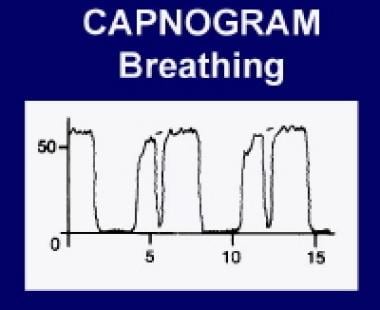 Capnogram breathing. Courtesy Pedro Tanaka, MD.
See the list below:
Phase I of the capnogram represents baseline inspired gas (normally devoid of carbon dioxide).

Phase II represents expired air with an upward sloping curve This phase displays the transition from dead space air flow to alveolar air flow.

Phase III, the plateau, represents the partial pressure of carbon dioxide exchanged at the alveoli. This plateau number represents end-tidal carbon dioxide.

Phase IV, downward deflection, represents the inspiratory point in the ventilatory cycle. This phase displays the transition from alveolar air flow to fresh air inflow, or "scrubbed" air in a closed circuit.

[7]
The information captured by end-tidal capnography (partial pressure of carbon dioxide) is devoid of volumetric information. Therefore, capnography should be used with end-tidal volume measurements to fully assess ventilation parameters. See the video below.
Normal mechanical ventilation.
Best Practices
In anesthesia and procedural sedation, end-tidal capnography has become the standard of care. Class IA evidence has proven the indications for use with several randomized trials demonstrating reductions in episodic hypoxia during procedural sedation.
Complication Prevention
Continuous end-tidal carbon dioxide monitoring can be an early warning sign to hypoxia. Several studies demonstrate that respiratory depression is detected via end-tidal capnography 30-60 seconds prior to detection via oxygen saturation (SpO2).[8]
References
Westhorpe RN, Ball C. The history of capnography. Anaesth Intensive Care. 2010 Jul. 38(4):611. [Medline].

Jaffe M. Infaredmeasurement of Carbon Dioxide inthe Human Breath: "Breathe-Through" Devices from tyndall to the Present Day. Anesthesia and Analgesia. 2008/09. 107(3):890-904.

[Guideline] American Society of Anesthesiologists: Standards, Guidelines, Statements and Other Documents - Standards for Basic Anesthetic Monitoring. Available at http://www.asahq.org/For-Members/Standards-Guidelines-and-Statements.aspx. Accessed: June 2012.

Paruthi S, Rosen CL, Wang R, Weng J, Marcus CL, Chervin RD, et al. End-Tidal Carbon Dioxide Measurement During Pediatric Polysomnography: Signal Quality, Association With Apnea Severity, and Prediction of Neurobehavioral Outcomes. Sleep. 2015 Aug 31. [Medline].

Pishbin E, Ahmadi GD, Sharifi MD, Deloei MT, Shamloo AS, Reihani H. The correlation between end-tidal carbon dioxide and arterial blood gas parameters in patients evaluated for metabolic acid-base disorders. Electron Physician. 2015 Jul. 7 (3):1095-101. [Medline].

Pearce AK, Davis DP, Minokadeh A, Sell RE. Initial end-tidal carbon dioxide as a prognostic indicator for inpatient PEA arrest. Resuscitation. 2015 Jul. 92:77-81. [Medline].

Miller R, Eriksson L, Fleisher L, Wiener-Kronish J, Young W. Respiratory monitoring. Miller's Anesthesia. 7th. Chruchhill Livingston; 2009. 1425-1429.

Anderson CT, Breen PH. Carbon dioxide kinetics and capnography during critical care. Crit Care. 2000. 4(4):207-15. [Medline]. [Full Text].

Einav S, Bromiker R, Weiniger CF, Matot I. Mathematical modeling for prediction of survival from resuscitation based on computerized continuous capnography: proof of concept. Acad Emerg Med. 2011 May. 18(5):468-75. [Medline].
Medscape Reference © 2011 WebMD, LLC