Balantidiasis
Author: Valda M Chijide, MD; Chief Editor: Pranatharthi Haran Chandrasekar, MBBS, MD more...
Updated: Oct 05, 2015
What would you like to print?
Background
Balantidiasis (also known as balantidiosis) is defined as large-intestinal infection with Balantidium coli, which is a ciliated protozoan (and the largest protozoan that infects humans). B coli is known to parasitize the colon, and pigs may be its primary reservoir. See the image below.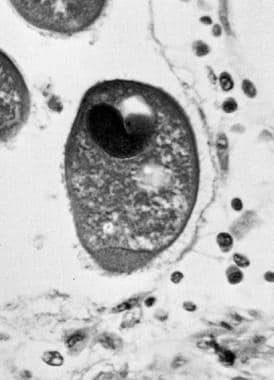 Trophozoite of Balantidium coli in colon. This photograph shows the large macronucleus and the thin cell membrane covered with cilia (X820). Courtesy of Armed Forces Institute of Pathology (AFIP 75-9300).
See Common Intestinal Parasites, a Critical Images slideshow, to help make an accurate diagnosis.
Pathophysiology
B coli exists as a trophozoite and a cyst and usually affects the large intestine, from the caecum to the rectum. The trophozoites replicate by binary fission and conjugation, and they subsist on bacteria. Humans ingest infective cysts, which then migrate to the large intestine, cecum, and terminal ileum. The organisms primarily dwell in the lumen but can also penetrate the mucosa and cause ulcers. B coli produces hyaluronidase, potentially enhancing its ability to invade the mucosa.[1]
Epidemiology
Frequency
United States
Balantidiasis is found worldwide and has an overall estimated prevalence of 1%. Balantidiasis epidemics have occurred in psychiatric hospitals in the United States.
International
Balantidiasis tends to be more common among persons who handle pigs. The disease is reported most commonly in Latin America; Southeast Asia; and Papua, New Guinea. In 1971, a balantidiasis outbreak involving 100 people occurred in Truk following a typhoon.[2] In France, a pork butcher with immunosuppression due to alcohol use developed occupational balantidiasis.[3]
Mortality/Morbidity
Most cases of balantidiasis in immunocompetent individuals are asymptomatic. Mortality rates associated with acute and fulminating types of balantidiasis were as high as 30% in untreated patients prior to the introduction of antibiotics. Pneumonia has been described in patients with cancer-related immunosuppression[4] and has not always been associated with direct contact with pigs.
References
Pomajbíková K, Oborník M, Horák A, Petrželková KJ, Grim JN, Levecke B, et al. Novel insights into the genetic diversity of Balantidium and Balantidium-like cyst-forming ciliates. PLoS Negl Trop Dis. 2013. 7(3):e2140. [Medline]. [Full Text].

Walzer PD, Judson FN, Murphy KB, et al. Balantidiasis outbreak in Truk. Am J Trop Med Hyg. 1973 Jan. 22(1):33-41. [Medline].

Ferry T, Bouhour D, De Monbrison F, et al. Severe peritonitis due to Balantidium coli acquired in France. Eur J Clin Microbiol Infect Dis. 2004 May. 23(5):393-5. [Medline].

Vasilakopoulou A, Dimarongona K, Samakovli A, et al. Balantidium coli pneumonia in an immunocompromised patient. Scand J Infect Dis. 2003. 35(2):144-6. [Medline].

Yazar S, Altuntas F, Sahin I, et al. Dysentery caused by Balantidium coli in a patient with non-Hodgkin's lymphoma from Turkey. World J Gastroenterol. 2004 Feb 1. 10(3):458-9. [Medline].

Bellanger AP, Scherer E, Cazorla A, Grenouillet F. Dysenteric syndrome due to Balantidium coli: a case report. New Microbiol. 2013 Apr. 36(2):203-5. [Medline].

Dodd LG. Balantidium coli infestation as a cause of acute appendicitis. J Infect Dis. 1991 Jun. 163(6):1392. [Medline].

Anargyrou K, Petrikkos GL, Suller MT, et al. Pulmonary Balantidium coli infection in a leukemic patient. Am J Hematol. 2003 Jul. 73(3):180-3. [Medline].

Arean VM, Koppisch E. Balantidiasis; a review and report of cases. Am J Pathol. 1956 Nov-Dec. 32(6):1089-115. [Medline].

Aucott JN, Ravdin JI. Amebiasis and "nonpathogenic" intestinal protozoa. Infect Dis Clin North Am. 1993 Sep. 7(3):467-85. [Medline].

Canadian Pharmacists Association. Compendium of Pharmaceuticals and Specialties (CPS). 2006. 2182-2183.

Dhawan S, Jain D, Mehta VS. Balantidium coli: an unrecognized cause of vertebral osteomyelitis and myelopathy. J Neurosurg Spine. 2013 Mar. 18(3):310-3. [Medline].

Esteban JG, Aguirre C, Angles R, et al. Balantidiasis in Aymara children from the northern Bolivian Altiplano. Am J Trop Med Hyg. 1998 Dec. 59(6):922-7. [Medline].

Fisk T, Keystone J, Kozarsky P. Cyclospora cayetanensis, Isospora belli, Sarcocystis Species, Balantidium coli, and Blastocystis hominis. Mandell GL, Bennet JE, Dolin R, eds. Principles and Practice of Infectious Diseases. 6th ed. Philadelphia, Pa: Elsevier Churchill Livingstone; 2005. 2: 3228-37.

Garcia L, Bruckner D. Intestinal Protozoa: Flagellates and Ciliates. Diagnostic Medical Parasitology. 3rd ed. Washington, DC: ASM Press; 1997. 34-53.

Markell E. Lumen-Dwelling Protozoa. Markell and Voge's Medical Parasitology. 8th ed. Philadelphia, Pa: WB Saunders Co; 1999. 24-89.

Micromedex. Tetracycline. Drugdex Drug Evaluations. micromedex. Available at http://www.micromedex.com. Accessed: 2000.

Neafie R. Balantidiasis. Pathology of Tropical and Extraordinary Diseases. Washington, DC: Armed Forces Institute of Pathology; 1976. Vol 1: 325-7.

PDR. Physicians' Desk Reference. Montvale, NJ: Medical Economics Company, Inc; 2000.

Rosenblatt JE. Antiparasitic agents. Mayo Clin Proc. 1999 Nov. 74(11):1161-75. [Medline].

The Medical letter on drugs and therapeutics. Drugs for parasitic infections. Med Lett Drugs Ther. 1998 Jan 2. 40(1017):1-12. [Medline].

Young MD. Attempts to transmit human Balantidium coli. Am J Trop Med Hyg. 1950 Jan. 30(1):71. [Medline].
Medscape Reference © 2011 WebMD, LLC