Balantidiasis Workup
Author: Valda M Chijide, MD; Chief Editor: Pranatharthi Haran Chandrasekar, MBBS, MD more...
Updated: Oct 05, 2015
What would you like to print?
Laboratory Studies
Wet smear stool specimens
B coli does not stain well on permanent stained smears, complicating diagnosis of balantidiasis; however, the diagnosis can be made by examining wet smears of stool specimens or scrapings from the periphery of ulcers during an endoscopic examination.
On unstained specimens, the trophozoite is recognized by its large size (approximately 50-100 µm in length and 40-70 µm in width), a short ciliary covering, and its spiraling motility. It is frequently observed under low power. On stained preparations, the trophozoite characteristically shows 2 nuclei: the macronucleus, which is kidney-shaped, and the micronucleus, which is spherical and lies close to the macronucleus.
Cysts may be spherical or ellipsoid and are approximately 50-70 µm long. Newly encysted organisms observed on unstained specimens may still have cilia, but cilia disappear after a longer period of encystment. Observation of a macronucleus and a micronucleus is diagnostic if observed in a cyst on a stained specimen. See the images below.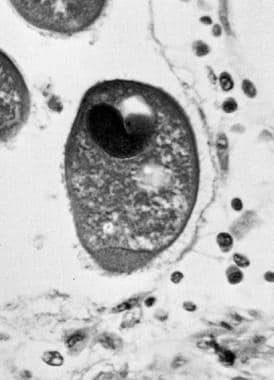 Trophozoite of Balantidium coli in colon. This photograph shows the large macronucleus and the thin cell membrane covered with cilia (X820). Courtesy of Armed Forces Institute of Pathology (AFIP 75-9300).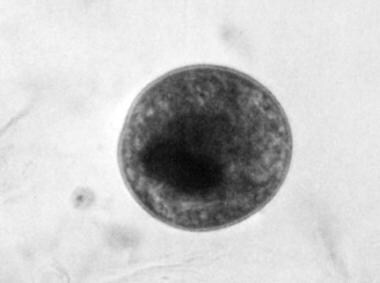 Cyst of Balantidium coli in feces. This photograph demonstrates a thick cyst wall and a large macronucleus (X820). Courtesy Armed Forces Institute of Pathology (AFIP 75-9301).
Imaging Studies
Chest radiography may show pulmonary parenchymal involvement in patients with balantidiasis.
Computed tomography (CT) scanning may reveal pulmonary parenchymal and lymph node involvement, as well as involvement of other organ systems.
Procedures
Colonoscopy: Perform an endoscopic examination of the colon to obtain a biopsy of ulcers, thereby aiding in diagnosis of balantidiasis. Obtain the specimens from the periphery of ulcers.
Bronchoalveolar lavage (BAL) can identify organisms on wet mount of bronchial secretions.
Histologic Findings
B coli can invade the mucosa and submucosa, causing ulceration and infiltration with polymorphonuclear cells, lymphocytes, and eosinophils. Trophozoites can be observed at the invading edge of ulcers or at the periphery of submucosal abscesses.
References
Pomajbíková K, Oborník M, Horák A, Petrželková KJ, Grim JN, Levecke B, et al. Novel insights into the genetic diversity of Balantidium and Balantidium-like cyst-forming ciliates. PLoS Negl Trop Dis. 2013. 7(3):e2140. [Medline]. [Full Text].

Walzer PD, Judson FN, Murphy KB, et al. Balantidiasis outbreak in Truk. Am J Trop Med Hyg. 1973 Jan. 22(1):33-41. [Medline].

Ferry T, Bouhour D, De Monbrison F, et al. Severe peritonitis due to Balantidium coli acquired in France. Eur J Clin Microbiol Infect Dis. 2004 May. 23(5):393-5. [Medline].

Vasilakopoulou A, Dimarongona K, Samakovli A, et al. Balantidium coli pneumonia in an immunocompromised patient. Scand J Infect Dis. 2003. 35(2):144-6. [Medline].

Yazar S, Altuntas F, Sahin I, et al. Dysentery caused by Balantidium coli in a patient with non-Hodgkin's lymphoma from Turkey. World J Gastroenterol. 2004 Feb 1. 10(3):458-9. [Medline].

Bellanger AP, Scherer E, Cazorla A, Grenouillet F. Dysenteric syndrome due to Balantidium coli: a case report. New Microbiol. 2013 Apr. 36(2):203-5. [Medline].

Dodd LG. Balantidium coli infestation as a cause of acute appendicitis. J Infect Dis. 1991 Jun. 163(6):1392. [Medline].

Anargyrou K, Petrikkos GL, Suller MT, et al. Pulmonary Balantidium coli infection in a leukemic patient. Am J Hematol. 2003 Jul. 73(3):180-3. [Medline].

Arean VM, Koppisch E. Balantidiasis; a review and report of cases. Am J Pathol. 1956 Nov-Dec. 32(6):1089-115. [Medline].

Aucott JN, Ravdin JI. Amebiasis and "nonpathogenic" intestinal protozoa. Infect Dis Clin North Am. 1993 Sep. 7(3):467-85. [Medline].

Canadian Pharmacists Association. Compendium of Pharmaceuticals and Specialties (CPS). 2006. 2182-2183.

Dhawan S, Jain D, Mehta VS. Balantidium coli: an unrecognized cause of vertebral osteomyelitis and myelopathy. J Neurosurg Spine. 2013 Mar. 18(3):310-3. [Medline].

Esteban JG, Aguirre C, Angles R, et al. Balantidiasis in Aymara children from the northern Bolivian Altiplano. Am J Trop Med Hyg. 1998 Dec. 59(6):922-7. [Medline].

Fisk T, Keystone J, Kozarsky P. Cyclospora cayetanensis, Isospora belli, Sarcocystis Species, Balantidium coli, and Blastocystis hominis. Mandell GL, Bennet JE, Dolin R, eds. Principles and Practice of Infectious Diseases. 6th ed. Philadelphia, Pa: Elsevier Churchill Livingstone; 2005. 2: 3228-37.

Garcia L, Bruckner D. Intestinal Protozoa: Flagellates and Ciliates. Diagnostic Medical Parasitology. 3rd ed. Washington, DC: ASM Press; 1997. 34-53.

Markell E. Lumen-Dwelling Protozoa. Markell and Voge's Medical Parasitology. 8th ed. Philadelphia, Pa: WB Saunders Co; 1999. 24-89.

Micromedex. Tetracycline. Drugdex Drug Evaluations. micromedex. Available at http://www.micromedex.com. Accessed: 2000.

Neafie R. Balantidiasis. Pathology of Tropical and Extraordinary Diseases. Washington, DC: Armed Forces Institute of Pathology; 1976. Vol 1: 325-7.

PDR. Physicians' Desk Reference. Montvale, NJ: Medical Economics Company, Inc; 2000.

Rosenblatt JE. Antiparasitic agents. Mayo Clin Proc. 1999 Nov. 74(11):1161-75. [Medline].

The Medical letter on drugs and therapeutics. Drugs for parasitic infections. Med Lett Drugs Ther. 1998 Jan 2. 40(1017):1-12. [Medline].

Young MD. Attempts to transmit human Balantidium coli. Am J Trop Med Hyg. 1950 Jan. 30(1):71. [Medline].
Medscape Reference © 2011 WebMD, LLC