Bursitis Clinical Presentation
Author: Kristine M Lohr, MD, MS; Chief Editor: Harris Gellman, MD more...
Updated: Oct 13, 2015
What would you like to print?
History
Patients with bursitis have a history that may include the following:
Localized tenderness

Decreased range of motion or pain with movement

Erythema or edema (seen in superficial bursitis)

History of repetitive movement (eg, frequent kneeling leading to prepatellar or infrapatellar bursitis)

History of trauma
Physical Examination
On physical examination, patients have tenderness at the site of the inflamed bursa. If the bursa is superficial, physical examination findings are significant for localized tenderness, warmth, edema, and erythema of the skin.
Reduced active range of motion with preserved passive range of motion is suggestive of bursitis, but the differential diagnosis includes tendinitis and muscle injury. A decrease in both active and passive range of motion is more suggestive of other musculoskeletal disorders. In patients with chronic bursitis, the affected limb may show disuse atrophy and weakness. Tendons may also be weakened and tender.
Although septic bursitis is not diagnosed solely on the basis of clinical signs, certain signs tend to favor the diagnosis of septic over sterile inflammatory bursitis. In particular, patients with septic bursitis may have fever, bursal warmth, tenderness that is more severe than in nonseptic bursitis, and associated peribursal cellulitis. Joint motion is typically preserved in septic bursitis, whereas other types of bursitis are associated with limited range of motion.
Subacromial bursitis
Subacromial bursitis is frequently associated with supraspinatus tendinitis because inflammation extends from one structure to the other. Repetitive activities with an elevated arm most frequently cause inflammation of the bursae. Examples of this include frequent pitching of a baseball or lifting luggage overhead. Less commonly, a primary process, such as rheumatoid arthritis, gout, or tuberculosis, may lead to bursitis.
Patients often exhibit tenderness over the greater tuberosity. Difficulty in abduction may occur, specifically from 70° to 100°.
Olecranon bursitis
Trauma of the skin and surrounding tissues makes the olecranon a frequent location for infectious bursitis. The risk of septic bursitis increases in those who have a history of chronic disease. Because of the higher likelihood of infection, some physicians encourage aspiration and analysis of the bursa even when tenderness and erythema are minimal.
Chronic stress from repetitive forward-leaning positions with pressure on the elbows is seen in patients on long-term hemodialysis (so-called dialysis elbow), in patients with chronic obstructive lung disease, in students, and in those whose occupation involves laying down carpet. The term lunger elbow has been suggested to describe this affliction.
The most common nontraumatic cause of olecranon bursitis is gout, followed by pseudogout, rheumatoid arthritis, and uremia.
When inflamed, the bursa is evident as a fluctuant bulge posterior to the olecranon process (see the images below). Pain and tenderness over the bursa may be increased in extreme flexion as tension increases.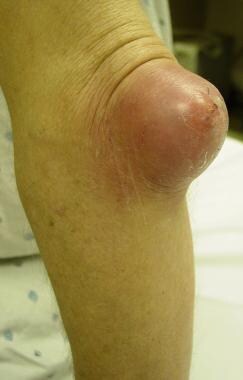 Acute infectious bursitis upon presentation to emergency department. Image courtesy of Christopher Kabrhel, MD.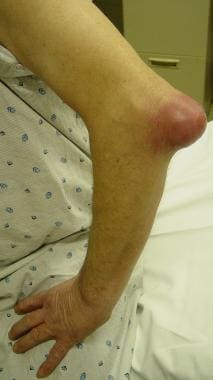 Infectious bursitis. Image courtesy of Christopher Kabrhel, MD.
Iliopsoas bursitis
Pain from iliopsoas bursitis radiates down the anteromedial side of the thigh to the knee and is increased on extension, adduction, and internal rotation of the hip. Typically, the pain worsens slowly over weeks or months; it may be the only symptom present. Tenderness may occur anteriorly below the middle of the inguinal ligament and lateral to the femoral artery. Occasionally, a palpable mass or visible edema may be found lateral to the femoral vessels. Pulsations from the femoral artery are sometimes transmitted through this mass.
Retroperitoneal extension can cause an abdominal or pelvic mass that gives rise to compressive syndromes in the groin (eg, femoral vein compression or femoral neuropathy) or pelvis (eg, medial displacement of pelvic structures or superior displacement of abdominal structures). A classic triad of a palpable mass, extrinsic pressure on adjacent structures, and radiographic changes of advanced arthritis was described, but this triad has been determined not to be sensitive for early disease. Diagnostic imaging may assist with diagnosis.
Greater trochanter bursitis
Patients with greater trochanter bursitis are predominately women (male-to-female ratio, 1:2-4) in their fourth to sixth decade of life. Runners and ballet dancers may develop deep trochanteric bursitis from overuse injury. The disease is also associated with rheumatoid arthritis of the hips, osteoarthritis of the hips, lumbosacral disease, and leg-length discrepancies.
Patients experience chronic, intermittent, aching pain over the lateral hip. In 40% of cases, this radiates down to the lateral thigh. Walking or lying on the affected side exacerbates the pain. In the seated position, local tenderness is present over the greater trochanter or more posteriorly for deep bursa.
Pain can be reproduced by hip adduction (superficial bursitis) or resisted active abduction (deep bursitis). More than one half of patients have pain on Patrick-Fabere testing (sequential flexion, abduction, external rotation, extension of the hip with the contralateral knee flexed). Range of motion of the hip joint itself should not be affected.
Ischiogluteal bursitis
In ischiogluteal bursitis, inflammation commonly arises as a result of trauma, prolonged sitting on a hard surface (so-called weaver's bottom), or prolonged sitting in the same position (spinal cord injury). Pain may radiate down the back of the thigh and mimic sciatic nerve inflammation. However, in ischiogluteal bursitis, pain can be reproduced by applying pressure over the ischial tuberosity.
Prepatellar bursitis
In prepatellar bursitis, inflammation arises secondary to trauma or constant friction between the skin and the patella, most commonly when frequent forward kneeling is performed. Previously referred to as housemaid knee, it now is seen regularly in many other occupations, including carpet laying (carpet-layer knee), coal mining (beat knee), roofing, gardening, and plumbing. Bursitis may also develop 7-10 days after a single blow, such as a fall. Rheumatoid arthritis and gout may also be the cause of bursitis.
Prepatellar bursitis is often visualized as fluctuant, well-circumscribed warm edema over the lower pole of the patella. Knee flexion causes increased tension over the bursa and increased pain. The knee joint itself, however, is normal.
The superficial location of the prepatellar bursa allows easy introduction of microorganisms and predisposes to septic arthritis. Therefore, aspiration of fluid to rule out infection is highly recommended if any clinical suspicion is present.
Infrapatellar bursitis
Superficial infrapatellar bursitis (clergyman knee) is located more distally than prepatellar bursitis and is often caused by frequent kneeling in an upright position. It can also be seen in gout or syphilis. The differential diagnosis includes Osgood-Schlatter disease. The deep infrapatellar bursa is less frequently inflamed.
Clinically, the patient exhibits pain with flexion and extension at the extremes of the range of motion. Edema is located on both sides of the patellar tendon and is associated with tenderness.
Anserine (pes anserinus) bursitis
The anserine bursa separates the insertions of the sartorius, gracilis, and semitendinosus tendons from the tibial plateau. It is so named because the edematous bursa, restrained by these three tendons, gives the appearance of a goose's foot (pes anserinus). See the image below.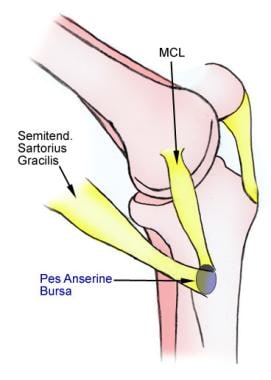 Location of anserine (pes anserinus) bursa on medial knee. MCL=medial collateral ligament.
An abnormal pull on any of the 3 tendons or an abnormal gait predisposes to repetitive friction and to bursitis. Patients with anserine bursitis are commonly obese older women with a history of osteoarthritis of the knees. An association has also been described between this bursitis and diabetes mellitus type 2. Other risk factors include long-distance running, valgus knee alignment, and excess external rotation of the lower leg.
Unlike prepatellar bursitis, anserine bursitis is almost never septic. The differential diagnosis includes medial collateral ligament strain and osteoarthritis of the medial compartment of the knee. It is helpful to ensure that the medial collateral ligament is intact by performing a valgus stress maneuver.
Tenderness is present on the medial aspect of the knee 5 cm below the joint margin at the site of the tibial tubercle. Neither swelling nor warmth is present. Pain radiates along the medial joint line to the inner thigh and calf. Pain is exacerbated with stair climbing and extremes of flexion or extension. Anserine bursitis may occur bilaterally.
Calcaneal bursitis
The calcaneal bursa can become inflamed in patients with heel spurs or in patients with poor-fitting shoes (eg, high heels). Inflammation can occur secondarily from Achilles tendinitis, especially in young athletes.
Patients exhibit tenderness to palpation of the bursa anterior to the Achilles tendon on both the medial and lateral aspects. They have pain with movement, which is worsened with dorsiflexion.
References
Crenshaw AH, Canale ST. Nontraumatic disorders. Canale ST, ed. Campbell's Operative Orthopaedics. 9th ed. St Louis: Mosby; 1998. 776-85.

DeLee JC, Drez D. Imaging effusions, cysts, and ganglia. DeLee JC, Drez D, Miller MD, eds. DeLee and Drez's Orthopaedic Sports Medicine: Principles and Practice. Philadelphia: WB Saunders; 2003. 1646-8.

Sheon RP, Moskowitz RW, Goldberg VM. Soft Tissue Rheumatic Pain: Recognition, Management, Prevention. 3rd ed. Baltimore: Williams and Wilkins; 1996.

Salzman KL, Lillegard WA, Butcher JD. Upper extremity bursitis. Am Fam Physician. 1997 Nov 1. 56(7):1797-806, 1811-2. [Medline].

Butcher JD, Salzman KL, Lillegard WA. Lower extremity bursitis. Am Fam Physician. 1996 May 15. 53(7):2317-24. [Medline].

Keplinger FS, Gupta N. :. Knee bursitis. Frontera WR, Silver JK, eds. Essentials of Physical Medicine and Rehabilitation. 340-4. Philadelphia: Hanley & Belfus; 2002.

McAfee JH, Smith DL. Olecranon and prepatellar bursitis. Diagnosis and treatment. West J Med. 1988 Nov. 149(5):607-10. [Medline]. [Full Text].

Hirji Z, Hunjun JS, Choudur HN. Imaging of the bursae. J Clin Imaging Sci. 2011. 1:22. [Medline]. [Full Text].

Reilly JP, Nicholas JA. The chronically inflamed bursa. Clin Sports Med. 1987 Apr. 6(2):345-70. [Medline].

Chen MJ, Lew HL, Hsu TC, Tsai WC, Lin WC, Tang SF, et al. Ultrasound-guided shoulder injections in the treatment of subacromial bursitis. Am J Phys Med Rehabil. 2006 Jan. 85(1):31-5. [Medline].

Blankstein A, Ganel A, Givon U, Mirovski Y, Chechick A. Ultrasonographic findings in patients with olecranon bursitis. Ultraschall Med. 2006 Dec. 27(6):568-71. [Medline].

Turan H, Serefhanoglu K, Karadeli E, Timurkaynak F, Arslan H. A case of brucellosis with abscess of the iliacus muscle, olecranon bursitis, and sacroiliitis. Int J Infect Dis. 2009 Nov. 13(6):e485-7. [Medline].

Malkin J, Shrimpton A, Wiselka M, Barer MR, Duddridge M, Perera N. Olecranon bursitis secondary to Mycobacterium kansasii infection in a patient receiving infliximab for Behcet's disease. J Med Microbiol. 2009 Mar. 58:371-3. [Medline].

Brinks A, van Rijn RM, Bohnen AM, Slee GL, Verhaar JA, Koes BW, et al. Effect of corticosteroid injection for trochanter pain syndrome: design of a randomised clinical trial in general practice. BMC Musculoskelet Disord. 2007 Sep 19. 8:95. [Medline]. [Full Text].

Alvarez-Nemegyei J, Canoso JJ. Evidence-based soft tissue rheumatology: III: trochanteric bursitis. J Clin Rheumatol. 2004 Jun. 10(3):123-4. [Medline].

Rowand M, Chambliss ML, Mackler L. Clinical inquiries. How should you treat trochanteric bursitis?. J Fam Pract. 2009 Sep. 58(9):494-500. [Medline].

Viradia NK, Berger AA, Dahners LE. Relationship between width of greater trochanters and width of iliac wings in tronchanteric bursitis. Am J Orthop (Belle Mead NJ). 2011 Sep. 40(9):E159-62. [Medline].

Alvarez-Nemegyei J. Risk factors for pes anserinus tendinitis/bursitis syndrome: a case control study. J Clin Rheumatol. 2007 Apr. 13(2):63-5. [Medline].

Alvarez-Nemegyei J, Canoso JJ. Evidence-Based Soft Tissue Rheumatology IV: Anserine Bursitis. J Clin Rheumatol. 2004 Aug. 10(4):205-6. [Medline].

Wiegerinck JI, Kok AC, van Dijk CN. Surgical treatment of chronic retrocalcaneal bursitis. Arthroscopy. 2012 Feb. 28(2):283-93. [Medline].

Torralba KD, Quismorio FP Jr. Soft tissue infections. Rheum Dis Clin North Am. 2009 Feb. 35(1):45-62. [Medline].

Le Manac'h AP, Ha C, Descatha A, Imbernon E, Roquelaure Y. Prevalence of knee bursitis in the workforce. Occup Med (Lond). 2012 Jul 9. [Medline].

Guanche CA. Clinical update: MR imaging of the hip. Sports Med Arthrosc. 2009 Mar. 17(1):49-55. [Medline].

D'Agostino MA, Schmidt WA. Ultrasound-guided injections in rheumatology: actual knowledge on efficacy and procedures. Best Pract Res Clin Rheumatol. 2013 Apr. 27(2):283-94. [Medline].

Tsai YH, Huang TJ, Hsu WH, Huang KC, Li YY, Peng KT, et al. Detection of subacromial bursa thickening by sonography in shoulder impingement syndrome. Chang Gung Med J. 2007 Mar-Apr. 30(2):135-41. [Medline].

Zuinen C. Diclofenac/misoprostol vs diclofenac/placebo in treating acute episodes of tendinitis/bursitis of the shoulder. Drugs. 1993. 45 Suppl 1:17-23. [Medline].

Wittich CM, Ficalora RD, Mason TG, Beckman TJ. Musculoskeletal injection. Mayo Clin Proc. 2009 Sep. 84(9):831-6; quiz 837. [Medline]. [Full Text].

Jacobs JW. How to perform local soft-tissue glucocorticoid injections. Best Pract Res Clin Rheumatol. 2009 Apr. 23(2):193-219. [Medline].

Buchbinder R, Green S, Youd JM, Johnston RV. Oral steroids for adhesive capsulitis. Cochrane Database Syst Rev. 2006 Oct 18. CD006189. [Medline].

Smith DL, McAfee JH, Lucas LM, Kumar KL, Romney DM. Treatment of nonseptic olecranon bursitis. A controlled, blinded prospective trial. Arch Intern Med. 1989 Nov. 149(11):2527-30. [Medline].

Sayegh ET, Strauch RJ. Treatment of olecranon bursitis: a systematic review. Arch Orthop Trauma Surg. 2014 Nov. 134 (11):1517-36. [Medline].

Shbeeb MI, O'Duffy JD, Michet CJ Jr, O'Fallon WM, Matteson EL. Evaluation of glucocorticosteroid injection for the treatment of trochanteric bursitis. J Rheumatol. 1996 Dec. 23(12):2104-6. [Medline].

Costantino TG, Roemer B, Leber EH. Septic arthritis and bursitis: emergency ultrasound can facilitate diagnosis. J Emerg Med. 2007 Apr. 32(3):295-7. [Medline].

Farmer KW, Jones LC, Brownson KE, Khanuja HS, Hungerford MW. Trochanteric bursitis after total hip arthroplasty: incidence and evaluation of response to treatment. J Arthroplasty. 2010 Feb. 25(2):208-12. [Medline].

Hong JY, Yoon SH, Moon do J, Kwack KS, Joen B, Lee HY. Comparison of high- and low-dose corticosteroid in subacromial injection for periarticular shoulder disorder: a randomized, triple-blind, placebo-controlled trial. Arch Phys Med Rehabil. 2011 Dec. 92(12):1951-60. [Medline].

Moraes VY, Lenza M, Tamaoki MJ, Faloppa F, Belloti JC. Platelet-rich therapies for musculoskeletal soft tissue injuries. Cochrane Database Syst Rev. 2013 Dec 23. 12:CD010071. [Medline].

Martinez-Taboada VM, Cabeza R, Cacho PM, Blanco R, Rodriguez-Valverde V. Cloxacillin-based therapy in severe septic bursitis: retrospective study of 82 cases. Joint Bone Spine. 2009 Dec. 76(6):665-9. [Medline].

Zimmermann B 3rd, Mikolich DJ, Ho G Jr. Septic bursitis. Semin Arthritis Rheum. 1995 Jun. 24(6):391-410. [Medline].

Slawski DP, Howard RF. Surgical management of refractory trochanteric bursitis. Am J Sports Med. 1997 Jan-Feb. 25(1):86-9. [Medline].

Baker CL Jr, Massie RV, Hurt WG, Savory CG. Arthroscopic bursectomy for recalcitrant trochanteric bursitis. Arthroscopy. 2007 Aug. 23(8):827-32. [Medline].

Baums MH, Spahn G, Nozaki M, Steckel H, Schultz W, Klinger HM. Functional outcome and general health status in patients after arthroscopic release in adhesive capsulitis. Knee Surg Sports Traumatol Arthrosc. 2007 May. 15(5):638-44. [Medline].

Le Lievre HM, Murrell GA. Long-term outcomes after arthroscopic capsular release for idiopathic adhesive capsulitis. J Bone Joint Surg Am. 2012 Jul 3. 94(13):1208-16. [Medline].

Pretell J, Ortega J, García-Rayo R, Resines C. Distal fascia lata lengthening: an alternative surgical technique for recalcitrant trochanteric bursitis. Int Orthop. 2009 Oct. 33(5):1223-7. [Medline]. [Full Text].

Dillon JP, Freedman I, Tan JS, Mitchell D, English S. Endoscopic bursectomy for the treatment of septic pre-patellar bursitis: a case series. Arch Orthop Trauma Surg. 2012 Jul. 132(7):921-5. [Medline].

Lohrer H, Nauck T. Results of operative treatment for recalcitrant retrocalcaneal bursitis and midportion Achilles tendinopathy in athletes. Arch Orthop Trauma Surg. 2014 Aug. 134 (8):1073-81. [Medline].

Derry S, Moore RA, Rabbie R. Topical NSAIDs for chronic musculoskeletal pain in adults. Cochrane Database Syst Rev. 2012 Sep 12. 9:CD007400. [Medline].
Medscape Reference © 2011 WebMD, LLC