Corynebacterium Infections Clinical Presentation
Author: Lynda A Frassetto, MD; Chief Editor: Pranatharthi Haran Chandrasekar, MBBS, MD more...
Updated: Mar 15, 2016
What would you like to print?
History
C diphtheriae
Respiratory: Following an incubation period of 2-4 days, patients typically report upper respiratory tract symptoms (eg, nasal discharge, sore throat). The posterior pharynx and tonsillar pillars are most often involved. Onset is often sudden, with low-grade fevers, malaise, and membrane development on one or both tonsils, with extension to other parts of the respiratory system.
Cardiac: The toxic effect in the myocardium characteristically occurs within 1-2 weeks following onset of infection, often when the upper respiratory tract symptoms are improving. Manifestations are due to arrhythmias and congestive heart failure (CHF).
Neurologic: Neurological symptoms can occur immediately or after several weeks. Bulbar symptoms generally occur within the first 2 weeks after disease onset and can range from mild symptoms (eg, difficulty swallowing) to bilateral symmetric paresis of the palatal and ocular muscles. The bulbar symptoms may remit or progress to paralysis of the proximal and then distal skeletal muscles over the next 30-90 days. Although recovery can be very slow, patients generally regain complete neurologic function. Secondary complications include aspiration from bulbar paralysis and bronchopneumonia from respiratory muscle dysfunction.
Skin: Cutaneous infections can occur, often in more tropical climates, presenting as nonhealing ulcers. A recent surveillance study of Native Americans presenting to the Indian Health Service clinics in South Dakota recovered C diphtheriae from 6 (5%) of the 133 patients, 1 of whom had skin ulcers.
Diphtheroids
Because these corynebacteria are also pathogenic in animals (eg, C ulcerans, C pseudotuberculosis, C ovis), a history of exposure to sick animals or to animal products (eg, milk, offal, hides) is common. C ulcerans generally causes respiratory symptoms, while C ovis produces a suppurative lymphadenitis.
In hosts colonized with diphtheroids (eg, groups D2, JK), bacteria can be recovered from both skin and mucosal surfaces. Corynebacterium striatum and C pseudodiphtheriticum (or C hofmannii) are normal inhabitants of the anterior nares and skin. Symptoms relate to the organ system affected. Immunocompromised patients appear to have higher colonization rates than healthy persons and may be at a greater risk of developing an infection after being colonized. Bittar et al demonstrated that children with cystic fibrosis in France were often colonized by C pseudodiphtheriticum, while healthy children were not.[8] Antimicrobial resistance is also more common in isolates from immunosuppressed patients.
The methods of transmission for nondiphtherial corynebacteria are incompletely understood. Transmission from patient to patient, from colonized hospital staff to patients, and from environmental contamination to patients have all been suggested. In antibiotic-resistant corynebacteria, transmission of the plasmid responsible for the resistance may be important.
Physical
C diphtheriae - Respiratory signs
Nasal infection may present as serosanguineous or seropurulent drainage.
With tonsillar and pharyngeal infection, exudates coalesce to form the characteristic pseudomembrane of diphtheria.
The membrane usually is grayish-white, although it can become blackish or greenish with necrosis (see the photograph below).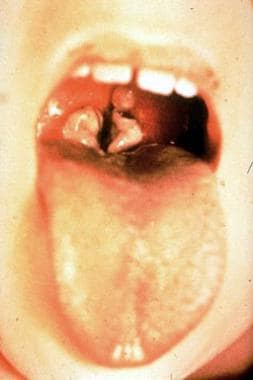 The characteristic thick membrane of diphtheria infection in the posterior pharynx.
The extent of disease correlates with the severity of symptoms. Extension of the membrane to the posterior pharyngeal wall, soft palate, or nasopharynx is associated with profound malaise, weakness, cervical adenopathy, and swelling (see the photograph below), which can distort the airway and cause stridor.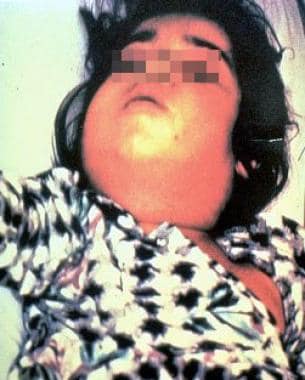 Cervical edema and cervical lymphadenopathy from diphtheria infection produce a bullneck appearance in this child. (Source: Public Domain www.immunize.org/images/ca.d/ipcd1861/img0002.htm)
Symptoms of hoarseness, dyspnea, stridor, and a loud brassy cough are associated with extension into the larynx and bronchial tree.
Edema and membrane formation can cause further respiratory distress and respiratory muscle fatigue, requiring intubation.
In fatal diphtheria, the airways are edematous, with necrosis of the epithelium covered by the pseudomembrane, and the lungs are hemorrhagic.
C diphtheriae - Cardiac signs
Subtle evidence of myocarditis may occur in many patients, but 10-25% of patients develop clinical cardiac dysfunction.
Signs of CHF (eg, cardiomegaly, volume overload) are not uncommon.
C diphtheriae - Nervous system signs
Signs of cranial nerve dysfunction can occur within a few days of disease onset, with paralysis of the soft palate and posterior pharyngeal wall causing dysphagia and regurgitation.
Although the motor component is usually affected most severely, both sensory and motor nerves are affected by the peripheral neuritis that occurs later.
The symptoms start in the proximal muscle groups of the extremities and spread distally.
In mild cases, only the hip girdle muscles may be affected; these patients have trouble getting out of a chair unassisted. In these patients, the motor reflexes of the lower extremities may be normal.
In the most extreme cases, respiratory muscle dysfunction occurs and patients may require respiratory support.
Interestingly, reports show that the paralysis disappears at the same rate that it appears.
Even in extremely serious cases, the neuropathy is reversible with few or no sequelae.
In severe cases, the paralysis can spread to the trunk and cause temporary bowel and bladder dysfunction.
Paresthesias, which mainly occur distally, are the most commonly reported sensory abnormalities.
C diphtheriae - Skin signs
C diphtheriae can cause skin infections with nonhealing ulcers.
A vesicle or pustule develops initially and progresses to one or more punched-out lesions that measure from a few millimeters to several centimeters, with curved elevated margins.
The lesions are initially painful and may be covered with eschar.
After a few weeks, the lesions become painless and often have a serosanguineous exudate.
Diphtheroids
Signs of diphtheroid-associated infection relate to the affected organ systems. Species of corynebacteria recovered from skin ulcers include C ulcerans, C bovis, and A haemolyticum. Those associated with bacteremia and sepsis include C pyogenes; C bovis; Corynebacterium xerosis; and groups D2, E, and JK. Case reports depict that these organisms are associated with endocarditis, prosthetic device infection, pneumonia, septic arthritis, and osteomyelitis.
Type D2 was originally identified as a pathogen causing chronic or recurrent cystitis, bladder stones, and pyelonephritis. People with prior urinary tract abnormalities or who have recently undergone urologic procedures are at highest risk for this disease. C urealyticum has been associated with chronic nephrolithiasis and renal failure.[26]
A haemolyticum is reported to cause as many as 10% of all pharyngitis cases in patients aged 10-30 years. These bacteria are capable of producing an extracellular toxin that can cause an erythrogenic rash associated with the pharyngitis.
C ulcerans usually causes skin infections but is occasionally associated with pharyngitis and respiratory disease. In 1996, a 54-year-old, otherwise healthy woman in Indiana who had never received diphtheria immunization developed a membranous pharyngitis with a toxin-producing strain of these bacteria.[27] More recently, a review of clinical samples from the National Microbiology Laboratory in Canada has demonstrated C ulcerans isolates from blood cultures.[28]
C striatum is found on catheters in patients who are neutropenic and have malignancies and has been recovered from the blood of patients with pleuropulmonary infections, endocarditis, and peritonitis. In one heart transplant patient, C striatum was repeatedly cultured from sputum and bronchial lavage fluid.[29] One case of C striatum meningitis was also reported recently.[30]
C pseudodiphtheriticum infection is also found in immunocompromised hosts, associated with both native and prosthetic valve endocarditis, pneumonia, lung abscesses, tracheobronchitis, and suppurative lymphadenitis. In 1995, Manzella and colleagues reviewed the clinical and microbiological features of 17 cases of bronchitis and pneumonia due to C pseudodiphtheriticum that required hospitalization.[31] A more recent study from Brazil found C pseudodiphtheriticum caused urinary tract infections in 29%, respiratory infections in 27%, and intravenous access site infections in 19%.[32]
Group JK can be found on the skin of healthy people. Patients with prolonged hospitalization, neutropenia, or on a prolonged course of antibiotics have a high prevalence for highly resistant JK bacteria. The most common manifestation is endocarditis with bacteremia, often associated with indwelling catheters. Removal of the indwelling catheter is often necessary.
Corynebacteria is often found in the semen of men with inflammatory prostatitis; Türk et al found that more than half of these were isolates were Corynebacterium seminale.[33] However, diphtheroids can be found in the semen of both healthy men and those with chronic prostatitis syndrome.[34]
Moazzez et al (2007) found that 16% of breast abscesses in an urban county hospital were due to diphtheroids.[13] Granulomatous mastitis due to Corynebacterium group G, diagnosed by fine-needle aspirate and culture, was reported by Mathelin et al (2005).[35]
Cases of Corynebacterium macginleyikeratitis following eye surgery have been reported.[36] In these cases, the bacteria was relatively resistant to extended-spectrum penicillins and fluoroquinolones.
Corynebacterium resistens is a newly described, multidrug-resistant species associated with fatal bacteremia in immunocompromised patients in Japan.[37]
References
Coyle MB, Lipsky BA. Coryneform bacteria in infectious diseases: clinical and laboratory aspects. Clin Microbiol Rev. 1990 Jul. 3(3):227-46. [Medline].

Van den Velde S, Lagrou K, Desmet K, et al. Species identification of corynebacteria by cellular fatty acid analysis. Diagn Microbiol Infect Dis. 2006 Feb. 54(2):99-104. [Medline].

Baumbach J. CoryneRegNet 4.0 - A reference database for corynebacterial gene regulatory networks. BMC Bioinformatics. 2007 Nov 6. 8:429. [Medline].

Neuweger H, Baumbach J, Albaum S, et al. CoryneCenter - an online resource for the integrated analysis of corynebacterial genome and transcriptome data. BMC Syst Biol. 2007 Nov 22. 1:55. [Medline].

Sharma NC, Banavaliker JN, Ranjan R, et al. Bacteriological & epidemiological characteristics of diphtheria cases in & around Delhi -a retrospective study. Indian J Med Res. 2007 Dec. 126(6):545-52. [Medline].

Baird GJ, Fontaine MC. Corynebacterium pseudotuberculosis and its role in ovine caseous lymphadenitis. J Comp Pathol. 2007 Nov. 137(4):179-210. [Medline].

Yeruham I, Elad D, Avidar Y, et al. A herd level analysis of urinary tract infection in dairy cattle. Vet J. 2006 Jan. 171(1):172-6. [Medline].

Rogers EA, Das A, Ton-That H. Adhesion by pathogenic corynebacteria. Adv Exp Med Biol. 2011. 715:91-103. [Medline].

Moreira Lde O, Andrade AF, Vale MD, et al. Effects of iron limitation on adherence and cell surface carbohydrates of Corynebacterium diphtheriae strains. Appl Environ Microbiol. 2003 Oct. 69(10):5907-13. [Medline].

Mandlik A, Swierczynski A, Das A, et al. Corynebacterium diphtheriae employs specific minor pilins to target human pharyngeal epithelial cells. Mol Microbiol. 2007 Apr. 64(1):111-24. [Medline].

Mel'nikov VG, Kombarova SIu, Borisova OIu, et al. [Corynebacterium diphtheriae nontoxigenic strain carrying the gene of diphtheria toxin]. Zh Mikrobiol Epidemiol Immunobiol. 2004 Jan-Feb. 3-7. [Medline].

De Zoysa A, Efstratiou A, Hawkey PM. Molecular characterization of diphtheria toxin repressor (dtxR) genes present in nontoxigenic Corynebacterium diphtheriae strains isolated in the United Kingdom. J Clin Microbiol. 2005 Jan. 43(1):223-8. [Medline].

Moazzez A, Kelso RL, Towfigh S, Sohn H, Berne TV, Mason RJ. Breast abscess bacteriologic features in the era of community-acquired methicillin-resistant Staphylococcus aureus epidemics. Arch Surg. 2007 Sep. 142(9):881-4. [Medline].

Efstratiou A, Engler KH, Mazurova IK, et al. Current approaches to the laboratory diagnosis of diphtheria. J Infect Dis. 2000 Feb. 181 Suppl 1:S138-45. [Medline].

Kadirova R, Kartoglu HU, Strebel PM. Clinical characteristics and management of 676 hospitalized diphtheria cases, Kyrgyz Republic, 1995. J Infect Dis. 2000 Feb. 181 Suppl 1:S110-5. [Medline].

Quick ML, Sutter RW, Kobaidze K, et al. Epidemic diphtheria in the Republic of Georgia, 1993-1996: risk factors for fatal outcome among hospitalized patients. J Infect Dis. 2000 Feb. 181 Suppl 1:S130-7. [Medline].

Wagner KS, White JM, Neal S, Crowcroft NS, Kupreviciene N, Paberza R, et al. Screening for Corynebacterium diphtheriae and Corynebacterium ulcerans in patients with upper respiratory tract infections 2007-2008: a multicentre European study. Clin Microbiol Infect. 2011 Apr. 17(4):519-25. [Medline].

Wren MW, Shetty N. Infections with Corynebacterium diphtheriae: six years' experience at an inner London teaching hospital. Br J Biomed Sci. 2005. 62(1):1-4. [Medline].

Mattos-Guaraldi AL, Moreira LO, Damasco PV, et al. Diphtheria remains a threat to health in the developing world--an overview. Mem Inst Oswaldo Cruz. 2003 Dec. 98(8):987-93. [Medline].

Webb R, Voss L, Roberts S, Hornung T, Rumball E, Lennon D. Infective endocarditis in new zealand children 1994-2012. Pediatr Infect Dis J. 2014 May. 33(5):437-42. [Medline].

Zakikhany K, Efstratiou A. Diphtheria in Europe: current problems and new challenges. Future Microbiol. 2012 May. 7(5):595-607. [Medline].

Egwari LO, Nwokoye NN, Obisesan B, Coker AO, Nwaokorie FO, Savage KO. Bacteriological and clinical evaluation of twelve cases of post-surgical sepsis of odontogenic tumours at a referral centre. East Afr Med J. 2008 Jun. 85(6):269-74. [Medline].

Wagner KS, White JM, Crowcroft NS, De Martin S, Mann G, Efstratiou A. Diphtheria in the United Kingdom, 1986-2008: the increasing role of Corynebacterium ulcerans. Epidemiol Infect. 2010 Nov. 138(11):1519-30. [Medline].

Dias AA, Santos LS, Sabbadini PS, Santos CS, Silva Junior FC, Napoleão F, et al. Corynebacterium ulcerans diphtheria: an emerging zoonosis in Brazil and worldwide. Rev Saude Publica. 2011 Dec. 45(6):1176-91. [Medline].

Harnisch JP, Tronca E, Nolan CM, et al. Diphtheria among alcoholic urban adults. A decade of experience in Seattle. Ann Intern Med. 1989 Jul 1. 111(1):71-82. [Medline].

Cappuccino L, Bottino P, Torricella A, Pontremoli R. Nephrolithiasis by Corynebacterium urealyticum infection: literature review and case report. J Nephrol. 2014 Apr. 27(2):117-25. [Medline].

From the Centers for Disease Control and Prevention. Respiratory diphtheria caused by Corynebacterium ulcerans--Terre Haute, Indiana, 1996. JAMA. 1997 Jun 4. 277(21):1665-6. [Medline].

Dewinter LM, Bernard KA, Romney MG. Human clinical isolates of Corynebacterium diphtheriae and Corynebacterium ulcerans collected in Canada from 1999 to 2003 but not fitting reporting criteria for cases of diphtheria. J Clin Microbiol. 2005 Jul. 43(7):3447-9. [Medline].

Tarr PE, Stock F, Cooke RH, Fedorko DP, Lucey DR. Multidrug-resistant Corynebacterium striatum pneumonia in a heart transplant recipient. Transpl Infect Dis. 2003 Mar. 5(1):53-8. [Medline].

Lee PP, Ferguson DA Jr, Sarubbi FA. Corynebacterium striatum: an underappreciated community and nosocomial pathogen. J Infect. 2005 May. 50(4):338-43. [Medline].

Manzella JP, Kellogg JA, Parsey KS. Corynebacterium pseudodiphtheriticum: a respiratory tract pathogen in adults. Clin Infect Dis. 1995 Jan. 20(1):37-40. [Medline].

Camello TC, Souza MC, Martins CA, Damasco PV, Marques EA, Pimenta FP, et al. Corynebacterium pseudodiphtheriticum isolated from relevant clinical sites of infection: a human pathogen overlooked in emerging countries. Lett Appl Microbiol. 2009 Apr. 48(4):458-64. [Medline].

Turk S, Korrovits P, Punab M, et al. Coryneform bacteria in semen of chronic prostatitis patients. Int J Androl. 2007 Apr. 30(2):123-8. [Medline].

Ivanov IB, Kuzmin MD, Gritsenko VA. Microflora of the seminal fluid of healthy men and men suffering from chronic prostatitis syndrome. Int J Androl. 2009 Oct. 32(5):462-7. [Medline].

Mathelin C, Riegel P, Chenard MP, Tomasetto C, Brettes JP. Granulomatous mastitis and corynebacteria: clinical and pathologic correlations. Breast J. 2005 Sep-Oct. 11(5):357. [Medline].

Suzuki T, Iihara H, Uno T, et al. Suture-related keratitis caused by Corynebacterium macginleyi. J Clin Microbiol. 2007 Nov. 45(11):3833-6. [Medline].

Otsuka Y, Kawamura Y, Koyama T, et al. Corynebacterium resistens sp. nov., a new multidrug-resistant coryneform bacterium isolated from human infections. J Clin Microbiol. 2005 Aug. 43(8):3713-7. [Medline].

Mokrousov I. Corynebacterium diphtheriae: genome diversity, population structure and genotyping perspectives. Infect Genet Evol. 2009 Jan. 9(1):1-15. [Medline].

[Guideline] Bernard K. The genus corynebacterium and other medically relevant coryneform-like bacteria. J Clin Microbiol. 2012 Oct. 50(10):3152-8. [Medline]. [Full Text].

Torres Lde F, Ribeiro D, Hirata Jr R, Pacheco LG, Souza MC, dos Santos LS, et al. Multiplex polymerase chain reaction to identify and determine the toxigenicity of Corynebacterium spp with zoonotic potential and an overview of human and animal infections. Mem Inst Oswaldo Cruz. 2013 May. 108(3):[Medline].

Riegel P, Ruimy R, Christen R, et al. Species identities and antimicrobial susceptibilities of corynebacteria isolated from various clinical sources. Eur J Clin Microbiol Infect Dis. 1996 Aug. 15(8):657-62. [Medline].

Spanik S, Trupl J, Kunova A, et al. Risk factors, aetiology, therapy and outcome in 123 episodes of breakthrough bacteraemia and fungaemia during antimicrobial prophylaxis and therapy in cancer patients. J Med Microbiol. 1997 Jun. 46(6):517-23. [Medline].

Join-Lambert OF, Ouache M, Canioni D, et al. Corynebacterium pseudotuberculosis necrotizing lymphadenitis in a twelve-year-old patient. Pediatr Infect Dis J. 2006 Sep. 25(9):848-51. [Medline].

Ghide S, Jiang Y, Hachem R, Chaftari AM, Raad I. Catheter-related Corynebacterium bacteremia: should the catheter be removed and vancomycin administered?. Eur J Clin Microbiol Infect Dis. 2010 Feb. 29(2):153-6. [Medline].

Reddy BS, Chaudhury A, Kalawat U, Jayaprada R, Reddy G, Ramana BV. Isolation, speciation, and antibiogram of clinically relevant non-diphtherial Corynebacteria (Diphtheroids). Indian J Med Microbiol. 2012 Jan. 30(1):52-7. [Medline].

von Hunolstein C, Scopetti F, Efstratiou A, et al. Penicillin tolerance amongst non-toxigenic Corynebacterium diphtheriae isolated from cases of pharyngitis. J Antimicrob Chemother. 2002 Jul. 50(1):125-8. [Medline].

McCormack PL. Reduced-antigen, combined diphtheria, tetanus and acellular pertussis vaccine, adsorbed (Boostrix®): a review of its properties and use as a single-dose booster immunization. Drugs. 2012 Sep 10. 72(13):1765-91. [Medline].

Garcia-Corbeira P, Dal-Re R, Garcia-de-Lomas J, et al. Low prevalence of diphtheria immunity in the Spanish population: results of a cross-sectional study. Vaccine. 1999 Apr 9. 17(15-16):1978-82. [Medline].

Cameron C, White J, Power D, et al. Diphtheria boosters for adults: balancing risks. Travel Med Infect Dis. 2007 Jan. 5(1):35-9. [Medline].

Committee opinion no. 521: update on immunization and pregnancy: tetanus, diphtheria, and pertussis vaccination. Obstet Gynecol. 2012 Mar. 119(3):690-1. [Medline].

Advisory Committee on Immunization Practices, American Academy of Pediatrics, American Academy of Family Physicians. Recommended childhood immunization schedule--United States, 1997. MMWR Morb Mortal Wkly Rep. 1997 Jan 17. 46(2):35-40. [Medline].

Ballereau F, Schrive I, Fisch A, et al. A multicentre serosurvey on diphtheria immunity in a French population of 1004 subjects. Eur J Epidemiol. 1998 Jul. 14(5):499-503. [Medline].

Brown AE. Other corynebacteria and rhodococcus. Mandell GL, Dolin R, Douglas RG, et al, eds. Mandell, Douglas, and Bennett's Principles and Practice of Infectious Diseases. Philadelphia, Pa: Churchill Livingstone; 1995. 1872-80.

Burch GE, Sun SC, Sohal RS, et al. Diphtheritic myocarditis. A histochemical and electron microscopic study. Am J Cardiol. 1968 Feb. 21(2):261-8. [Medline].

Centers for Disease Control and Prevention. Diphtheria, tetanus, and pertussis: Health information for international travel, 1999-2000. 2000. [Full Text].

Centers for Disease Control and Prevention. Status report on the Childhood Immunization Initiative: national, state, and urban area vaccination coverage levels among children aged 19-35 months--United States, 1996. MMWR Morb Mortal Wkly Rep. 1997 Jul 25. 46(29):657-64. [Medline].

Centers for Disease Control and Prevention. Toxigenic Corynebacterium diphtheriae--Northern Plains Indian Community, August-October 1996. MMWR Morb Mortal Wkly Rep. 1997 Jun 6. 46(22):506-10. [Medline]. [Full Text].

Engler KH, Efstratiou A. Rapid enzyme immunoassay for determination of toxigenicity among clinical isolates of corynebacteria. J Clin Microbiol. 2000 Apr. 38(4):1385-9. [Medline].

Favara BE, Franciosi RA. Diphtherial myocardiopathy. Am J Cardiol. 1972 Sep. 30(4):423-6. [Medline].

Hadfield TL, McEvoy P, Polotsky Y, et al. The pathology of diphtheria. J Infect Dis. 2000 Feb. 181 Suppl 1:S116-20. [Medline].

Hou XG, Kawamura Y, Sultana F, et al. Genetic identification of members of the genus Corynebacterium at genus and species levels with 16S rDNA-targeted probes. Microbiol Immunol. 1997. 41(6):453-60. [Medline].

Immunization during pregnancy. ACOG technical bulletin number 160--October 1991. Int J Gynaecol Obstet. 1993 Jan. 40(1):69-79. [Medline].

Khetsuriani N, Music S, Deforest A, et al. Evaluation of a single dose of diphtheria toxoid among adults in the Republic of Georgia, 1995: immunogenicity and adverse reactions. J Infect Dis. 2000 Feb. 181 Suppl 1:S208-12. [Medline].

Lumio JT, Groundstroem KW, Melnick OB, et al. Electrocardiographic abnormalities in patients with diphtheria: a prospective study. Am J Med. 2004 Jan 15. 116(2):78-83. [Medline].

MacGregor RR. Corynebacterium diphtheriae. Mandell GL, Dolin R, Douglas RG, et al, eds. Mandell, Douglas, and Bennett's Principles and Practice of Infectious Diseases. Philadelphia, Pa: Churchill Livingstone; 1995. 1865-72.

Mothershed EA, Cassiday PK, Pierson K, et al. Development of a real-time fluorescence PCR assay for rapid detection of the diphtheria toxin gene. J Clin Microbiol. 2002 Dec. 40(12):4713-9. [Medline].

Naiditch MJ, Bower AG. Diphtheria; a study of 1,433 cases observed during a ten-year period at the Los Angeles County Hospital. Am J Med. 1954 Aug. 17(2):229-45. [Medline].

Saba MK, Saba PZ. Diphtheria. Medscape Reference Journal [serial online]. 2001. Available at: emedicine.medscape.com/article/782051-overview. [Full Text].

Scheid W. Diphtherial paralysis; an analysis of 2,292 cases of diphtheria in adults, which included 174 cases of polyneuritis. J Nerv Ment Dis. 1952 Dec. 116(6):1095-1101. [Medline].

Spiering MM. Diphtheria toxin repressor protein. Available at: http://www.umich.edu. [Full Text].

Stark K, Schonfeld C, Barg J, et al. Seroprevalence and determinants of diphtheria, tetanus and poliomyelitis antibodies among adults in Berlin, Germany. Vaccine. 1999 Feb 26. 17(7-8):844-50. [Medline].

Svensson A, Böttiger M, Gustavsson O. Immunity in the Swedish population: diphtheria, tetanus and poliomyelitis. Int J Epidemiol. 1998 Oct. 27(5):909-15. [Medline].

Todar K. Diphtheria (Corynebacterium diphtheriae). 1999. [Full Text].
Medscape Reference © 2011 WebMD, LLC