Cryptosporidiosis Workup
Author: Miguel M Cabada, MD, MSc; Chief Editor: Michael Stuart Bronze, MD more...
Updated: Apr 11, 2016
What would you like to print?
Approach Considerations
Many laboratories do not routinely test for Cryptosporidium, and in many instances, the tests used to look for this organism are insensitive.[1] Studies in the United States have documented cryptosporidiosis in about 4% of stools sent for parasitologic examination, while overall, about 13% of stool studies submitted for parasitologic studies in developing countries reveal Cryptosporidium oocysts. However, these numbers likely underrepresent the true number of infections, owing to the poor sensitivity of commonly used techniques.
Cryptosporidium can be difficult to diagnose and usually is missed unless specific tests are performed. Most often, stool specimens are examined microscopically using different techniques (eg, acid-fast staining, direct fluorescent antibody [DFA], enzyme immunoassays, or immunochromatographic tests for detection of Cryptosporidium species' antigens). (See the image below.)[23]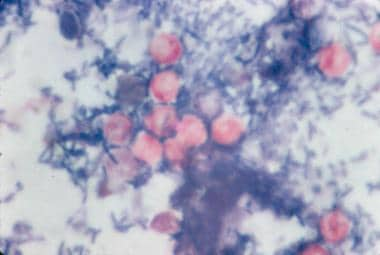 Modified acid-fast stain of stool shows red oocysts of Cryptosporidium parvum against the blue background of coliforms and debris.
Urea, electrolyte, and liver function tests
Urea and electrolyte tests are used to assess electrolyte replacement requirements and the presence of prerenal uremia.
Elevated alkaline phosphatase and glutamyl transpeptidase without hyperbilirubinemia are typical signs of biliary infection.
Imaging studies
Imaging studies are not indicated as a first-line diagnostic approach in cryptosporidiosis. Abdominal radiography and computed tomography (CT) scanning are nonspecific but may reveal distended loops of bowel, air-fluid levels, and disrupted bowel motility.
When indicated, as guided by symptoms, ultrasonography or CT scanning may reveal an enlarged gallbladder with a thickened wall, dilated or irregular intrahepatic and extrahepatic biliary ducts, and a normal or stenotic distal common bile duct. Cholangiography may reveal beading of the common bile duct or papillary stenosis.
In cases of respiratory involvement, chest radiography is unremarkable, with modest infiltrates or increased bronchial markings.
Stool Tests
Processing
Unconcentrated, fresh specimens can be examined by wet mount preparations. Concentration by the formalin ethyl acetate method is preferable. Optimal centrifugation time and speed, 10 minutes at 500 X, are critical for concentrating Cryptosporidium oocysts.
Commercial fecal concentration tubes are available that decrease processing time and supplies needed for concentrating specimens (eg, Fecal Parasite Concentrator, Evergreen Scientific). Polyvinyl alcohol (PVA)-preserved specimens are not acceptable for modified acid-fast staining or antigen-detection assays for detection of Cryptosporidium.
Types of tests
Modified acid-fast staining procedure is useful for the identification of oocysts of the coccidian species, including those of Cryptosporidium (which may be difficult to detect with routine stains, such as trichrome). Cryptosporidium species stain a pinkish-red color. The background should stain uniformly green. Unlike the modified Ziehl-Neelsen acid-fast (MZN-AF) stain, this stain does not require the heating of reagents for staining. (See the images below.)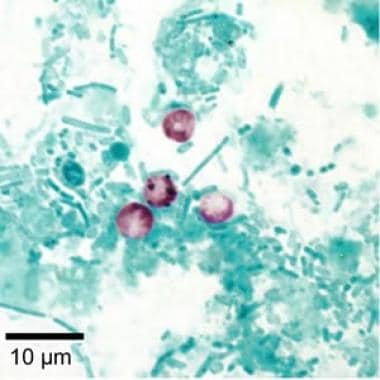 Cryptosporidium parvum oocysts revealed with modified acid-fast stain. Against a blue-green background, the oocysts stand out with a bright red stain. Image courtesy of CDC DPDx parasite image library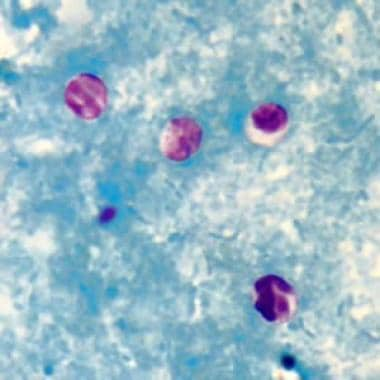 Cryptosporidium oocysts revealed with modified acid-fast stain
Chalmers et al demonstrated that enzyme-linked immunosorbent assays and immunofluorescent tests have sensitivities above 90% and were significantly higher than that of modified Ziehl-Neelsen stains (75%).[23] Molecular tests such as PCR are even more sensitive and are increasingly being used for diagnosis. Immunochromatographic tests are less sensitive, especially for zoonotic species.
Specimen examination
Concentrated sediment of fresh (within 30 min after passage of stools) or formalin-preserved stool may be used. Other types of clinical specimens, such as duodenal fluid, bile, and pulmonary samples (induced sputum, bronchial wash, biopsies) may also be stained.
The formalin ethyl acetate method is used to concentrate stool before staining with a modified acid-fast stain, because routine laboratory examination of stool for ova and parasites does not detect Cryptosporidium.[1, 24] This technique stains oocysts pink or red, whereas fecal debris or yeast assumes the color of blue or green counterstain. Oocysts are small (4-6 μm in diameter) and can be missed without a very careful examination of the slide.
Because shedding may be intermittent, examine at least 3 stool specimens collected on separate days before considering the test results negative. Fecal leukocytes are not found in stool specimens, because invasion does not occur below the epithelial layer of the mucosa. Other testing strategies include the following:
GI biopsy specimens can be used instead of stool specimens; a high concentration of oocysts is seen in the jejunum

Electron microscopy of stool or biopsy specimens can also be performed for direct visualization of oocysts

For research purposes and for species identification, PCR assays are used

Serologic detection of specific anti- Cryptosporidium antibodies is primarily used as a research or epidemiologic tool
Evaluation of Immune Function
Lymphocyte subset analysis
CD4+ lymphocyte counts predict the duration of disease in patients infected with HIV. When the counts are greater than 150 cells/μL, the diarrhea is likely to resolve spontaneously. With lower counts, however, the diarrhea may be chronic. Counts are typically less than 50 cells/μL in patients with either biliary involvement or choleralike syndromes.
HIV testing
Prolonged diarrhea caused by cryptosporidiosis may warrant HIV testing.
Primary immunodeficiencies
Children with chronic diarrhea from cryptosporidiosis should be screened for primary immunodeficiencies associated with depressed cellular immune function. The most commonly identified immunodeficiency is hyper-IgM syndrome, which can be identified by antibody screening. T-cell deficiencies can be identified by examining lymphocyte numbers and subsets.[25]
Abdominal Ultrasonography and ERCP
Dilated or irregular intrahepatic and extrahepatic bile ducts, along with a thickened gallbladder, as detected with abdominal ultrasonography, indicate biliary involvement.
Endoscopic retrograde cholangiopancreatography (ERCP) is often needed to diagnose sclerosing cholangitis or papillary stenosis.
ERCP identification of Cryptosporidium oocysts in bile or intracellular forms on biopsy confirms the diagnosis of biliary cryptosporidiosis. Papillary stenosis may be present and responds symptomatically to endoscopic sphincterotomy, often with stent placement.
Biopsy and Lavage
GI or liver biopsy
GI or liver biopsy may be indicated in cases of diagnostic uncertainty. Different parts of the intestinal tract may be affected. Liver biopsy findings may reveal the organism attached to bile duct epithelial cells. Concurrent infection with cytomegalovirus (CMV), Enterobacter cloacae, and microsporidia is common.
Bronchoalveolar lavage and lung biopsy
In patients with related symptoms, bronchoscopy may reveal the parasite in lavage fluid, in brushing specimens, and in biopsy specimens, attached to the surface of bronchial mucosal cells, or in macrophages. In most instances, another pulmonary pathogen, such as CMV or Pneumocystis (carinii) jiroveci, is concurrently detected; however, in a series of 4 patients infected with HIV, Cryptosporidium was the only pathogen identified in the respiratory tract. Clear association with intestinal cryptosporidiosis or diarrhea has not been shown in these cases.
Histologic Findings
Histologic examination of the small intestine is not required to confirm the diagnosis of cryptosporidiosis, although the small intestine does show the parasite projecting from the brush border of the mucosal surface. Parasites may also be identified in bile or biliary tract biopsies.
Villous atrophy with blunting, epithelial flattening, and an increase in lamina propria lymphocytes are seen in patients with persistent cryptosporidiosis. In patients with heavier infection, crypt hyperplasia and marked infiltration with lymphocytes, plasma cells, and neutrophils are also noted.
References
White AC Jr. Cryptosporidiosis (Cryptosporidium species). Bennett JE, Dolin R, Blaser MK, eds. Principles and Practice of Infectious Diseases. 8th ed. Philadelphia, Pa: Elsevier Churchill Livingstone; 2015. Chapter 284, pages 3173-83.

Checkley W, White AC Jr, Jaganath D, Arrowood MJ, Chalmers RM, Chen XM, et al. A review of the global burden, novel diagnostics, therapeutics, and vaccine targets for cryptosporidium. Lancet Infect Dis. 2015 Jan. 15 (1):85-94. [Medline].

Bouzid M, Hunter PR, Chalmers RM, Tyler KM. Cryptosporidium pathogenicity and virulence. Clin Microbiol Rev. 2013 Jan. 26(1):115-34. [Medline]. [Full Text].

Yoder JS, Beach MJ. Cryptosporidium surveillance and risk factors in the United States. Exp Parasitol. 2010 Jan. 124(1):31-9. [Medline].

Painter JE, Hlavsa MC, Collier SA, Xiao L, Yoder JS, Centers for Disease Control and Prevention. Cryptosporidiosis surveillance -- United States, 2011-2012. MMWR Suppl. 2015 May 1. 64 (3):1-14. [Medline].

Chalmers RM, Smith R, Elwin K, Clifton-Hadley FA, Giles M. Epidemiology of anthroponotic and zoonotic human cryptosporidiosis in England and Wales, 2004-2006. Epidemiol Infect. 2011 May. 139(5):700-12. [Medline].

Scallan E, Hoekstra RM, Angulo FJ, Tauxe RV, Widdowson MA, Roy SL, et al. Foodborne illness acquired in the United States--major pathogens. Emerg Infect Dis. 2011 Jan. 17(1):7-15. [Medline]. [Full Text].

Mac Kenzie WR, Hoxie NJ, Proctor ME, Gradus MS, Blair KA, Peterson DE, et al. A massive outbreak in Milwaukee of cryptosporidium infection transmitted through the public water supply. N Engl J Med. 1994 Jul 21. 331(3):161-7. [Medline].

Chalmers RM. Waterborne outbreaks of cryptosporidiosis. Ann Ist Super Sanita. 2012. 48 (4):429-46. [Medline].

Semenza JC, Nichols G. Cryptosporidiosis surveillance and water-borne outbreaks in Europe. Euro Surveill. 2007 May 1. 12(5):E13-4. [Medline].

Cooper DL, Verlander NQ, Smith GE, Charlett A, Gerard E, Willocks L, et al. Can syndromic surveillance data detect local outbreaks of communicable disease? A model using a historical cryptosporidiosis outbreak. Epidemiol Infect. 2006 Feb. 134(1):13-20. [Medline]. [Full Text].

Fournet N, Deege MP, Urbanus AT, Nichols G, Rosner BM, Chalmers RM, et al. Simultaneous increase of Cryptosporidium infections in the Netherlands, the United Kingdom and Germany in late summer season, 2012. Euro Surveill. 2013 Jan 10. 18(2):[Medline].

Ajjampur SS, Rajendran P, Ramani S, Banerjee I, Monica B, Sankaran P, et al. Closing the diarrhoea diagnostic gap in Indian children by the application of molecular techniques. J Med Microbiol. 2008 Nov. 57:1364-8. [Medline].

Shirley DA, Moonah SN, Kotloff KL. Burden of disease from cryptosporidiosis. Curr Opin Infect Dis. 2012 Oct. 25(5):555-63. [Medline].

Nair P, Mohamed JA, DuPont HL, Figueroa JF, Carlin LG, Jiang ZD, et al. Epidemiology of cryptosporidiosis in North American travelers to Mexico. Am J Trop Med Hyg. 2008 Aug. 79(2):210-4. [Medline]. [Full Text].

O'connor RM, Shaffie R, Kang G, Ward HD. Cryptosporidiosis in patients with HIV/AIDS. AIDS. 2011 Mar 13. 25(5):549-60. [Medline].

Wang L, Zhang H, Zhao X, Zhang L, Zhang G, Guo M, et al. Zoonotic Cryptosporidium species and Enterocytozoon bieneusi genotypes in HIV-positive patients on antiretroviral therapy. J Clin Microbiol. 2013 Feb. 51(2):557-63. [Medline]. [Full Text].

Wumba R, Longo-Mbenza B, Mandina M, Odio WT, Biligui S, Sala J, et al. Intestinal parasites infections in hospitalized AIDS patients in Kinshasa, Democratic Republic of Congo. Parasite. 2010 Dec. 17(4):321-8. [Medline].

Mondal D, Haque R, Sack RB, Kirkpatrick BD, Petri WA Jr. Attribution of malnutrition to cause-specific diarrheal illness: evidence from a prospective study of preschool children in Mirpur, Dhaka, Bangladesh. Am J Trop Med Hyg. 2009 May. 80(5):824-6. [Medline]. [Full Text].

Guerrant DI, Moore SR, Lima AA, Patrick PD, Schorling JB, Guerrant RL. Association of early childhood diarrhea and cryptosporidiosis with impaired physical fitness and cognitive function four-seven years later in a poor urban community in northeast Brazil. Am J Trop Med Hyg. 1999 Nov. 61(5):707-13. [Medline].

Amadi B, Mwiya M, Musuku J, Watuka A, Sianongo S, Ayoub A, et al. Effect of nitazoxanide on morbidity and mortality in Zambian children with cryptosporidiosis: a randomised controlled trial. Lancet. 2002 Nov 2. 360(9343):1375-80. [Medline].

Vakil NB, Schwartz SM, Buggy BP, Brummitt CF, Kherellah M, Letzer DM, et al. Biliary cryptosporidiosis in HIV-infected people after the waterborne outbreak of cryptosporidiosis in Milwaukee. N Engl J Med. 1996 Jan 4. 334(1):19-23. [Medline].

Chalmers RM, Campbell BM, Crouch N, Charlett A, Davies AP. Comparison of diagnostic sensitivity and specificity of seven Cryptosporidium assays used in the UK. J Med Microbiol. 2011 Nov. 60:1598-604. [Medline].

Committee on Infectious Diseases, American Academy of Pediatrics. Cryptosporidiosis. Kimberlin DW, Brady MT, Jackson MA, Long Ss, eds. Red Book. 30th ed. Elk Grove Village, Ill: American Academy of Pediatrics; 2015. 312-18.

Hunter PR, Nichols G. Epidemiology and clinical features of Cryptosporidium infection in immunocompromised patients. Clin Microbiol Rev. 2002 Jan. 15(1):145-54. [Medline]. [Full Text].

Rossignol JF, Kabil SM, el-Gohary Y, Younis AM. Effect of nitazoxanide in diarrhea and enteritis caused by Cryptosporidium species. Clin Gastroenterol Hepatol. 2006 Mar. 4(3):320-4. [Medline].

Rossignol JF, Ayoub A, Ayers MS. Treatment of diarrhea caused by Cryptosporidium parvum: a prospective randomized, double-blind, placebo-controlled study of Nitazoxanide. J Infect Dis. 2001 Jul 1. 184(1):103-6. [Medline].

Cabada MM, White AC Jr. Treatment of cryptosporidiosis: do we know what we think we know?. Curr Opin Infect Dis. 2010 Oct. 23(5):494-9. [Medline].

Pantenburg B, White AC Jr. Nitazoxanide. In: Grayson ML, ed. Kucer's The Use of Antibiotics. 6th ed. London, United Kingdom: Hodder Arnold; 2010:2132-9.

Smith NH, Cron S, Valdez LM, Chappell CL, White AC Jr. Combination drug therapy for cryptosporidiosis in AIDS. J Infect Dis. 1998 Sep. 178(3):900-3. [Medline].

Masur H, Brooks JT, Benson CA, Holmes KK, Pau AK, Kaplan JE, et al. Prevention and treatment of opportunistic infections in HIV-infected adults and adolescents: Updated Guidelines from the Centers for Disease Control and Prevention, National Institutes of Health, and HIV Medicine Association of the Infectious Diseases Society of America. Clin Infect Dis. 2014 May. 58 (9):1308-11. [Medline]. [Full Text].

Hicks P, Zwiener RJ, Squires J, Savell V. Azithromycin therapy for Cryptosporidium parvum infection in four children infected with human immunodeficiency virus. J Pediatr. 1996 Aug. 129(2):297-300. [Medline].

Centers for Disease Control and Prevention. Parasites – Cryptosporidium (also knows as "Crypto"). Cdc.com. Available at http://www.cdc.gov/parasites/crypto/. Accessed: April 9, 2013.

Amadi B, Mwiya M, Sianongo S, Payne L, Watuka A, Katubulushi M, et al. High dose prolonged treatment with nitazoxanide is not effective for cryptosporidiosis in HIV positive Zambian children: a randomised controlled trial. BMC Infect Dis. 2009 Dec 2. 9:195. [Medline]. [Full Text].

Cama VA, Bern C, Roberts J, Cabrera L, Sterling CR, Ortega Y, et al. Cryptosporidium species and subtypes and clinical manifestations in children, Peru. Emerg Infect Dis. 2008 Oct. 14(10):1567-74. [Medline]. [Full Text].
Medscape Reference © 2011 WebMD, LLC