Escherichia Coli Infections
Author: Tarun Madappa, MD, MPH; Chief Editor: Michael Stuart Bronze, MD more...
Updated: Jan 11, 2016
What would you like to print?
Background
Escherichia coli is one of the most frequent causes of many common bacterial infections, including cholecystitis, bacteremia, cholangitis, urinary tract infection (UTI), and traveler's diarrhea, and other clinical infections such as neonatal meningitis and pneumonia.
The genus Escherichia is named after Theodor Escherich, who isolated the type species of the genus. Escherichia organisms are gram-negative bacilli that exist singly or in pairs. E coli is facultatively anaerobic with a type of metabolism that is both fermentative and respiratory. They are either nonmotile or motile by peritrichous flagella. E coli is a major facultative inhabitant of the large intestine.
Pathophysiology
Acute bacterial meningitis
The vast majority of neonatal meningitis cases are caused by E coli and group B streptococcal infections (28.5% and 34.1% overall, respectively). Pregnant women are at a higher risk of colonization with the K1 capsular antigen strain of E coli. This strain is also commonly observed in neonatal sepsis, which carries a mortality rate of 8%; most survivors have subsequent neurologic or developmental abnormalities. Low birth weight and a positive cerebrospinal fluid (CSF) culture result portend a poor outcome. In adults, E colimeningitis is rare but may occur following neurosurgical trauma or procedures or complicating Strongyloides stercoralis hyperinfection involving the CNS.
Pneumonia
E coli respiratory tract infections are uncommon and are almost always associated with E coli UTI. No virulence factors have been implicated. E coli pneumonia may also result from microaspiration of upper airway secretions that have been previously colonized with this organism in severely ill patients; hence, it is a cause of nosocomial pneumonia. However, E coli pneumonia may also be community-acquired in patients who have underlying disease such as diabetes mellitus, alcoholism, chronic obstructive pulmonary disease, and E coli UTI. E coli pneumonia usually manifests as a bronchopneumonia of the lower lobes and may be complicated by empyema. E coli bacteremia precedes pneumonia and is usually due to another focus of E coli infection in the urinary or GI tract.
Intra-abdominal infections
E coli intra-abdominal infections often result from a perforated viscus (eg, appendix, diverticulum) or may be associated with intra-abdominal abscess, cholecystitis, and ascending cholangitis. Patients with diabetes mellitus are also at high risk of developing pylephlebitis of the portal vein and liver abscesses. Escherichia coli liver abscess is seen in the image below.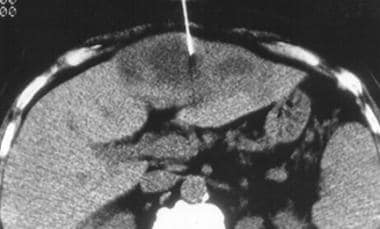 Escherichia coli liver abscess.
Intra-abdominal abscesses are usually polymicrobial and can be caused by spontaneous or traumatic GI tract perforation or after anastomotic disruption with spillage of colon contents and subsequent peritonitis. They can be observed in the postoperative period after anastomotic disruption. Abscesses are often polymicrobial, and E coli is one of the more common gram-negative bacilli observed together with anaerobes.
Cholecystitis and cholangitis result from obstruction of the biliary system from biliary stone or sludge, leading to stagnation and bacterial growth from the papilla or portal circulation. When bile flow is obstructed, colonic organisms, including E coli, colonize the jejunum and duodenum. Interestingly, partial obstruction is more likely than complete obstruction to result in infection, bacteremia, bactibilia, and gallstones.
Enteric infections
As a cause of enteric infections, 6 different mechanisms of action of 6 different varieties of E coli have been reported. Enterotoxigenic E coli (ETEC) is a cause of traveler's diarrhea. Enteropathogenic E coli (EPEC) is a cause of childhood diarrhea. Enteroinvasive E coli (EIEC) causes a Shigella -like dysentery. Enterohemorrhagic E coli (EHEC) causes hemorrhagic colitis or hemolytic-uremic syndrome (HUS). Enteroaggregative E coli (EAggEC) is primarily associated with persistent diarrhea in children in developing countries, and enteroadherent E coli (EAEC) is a cause of childhood diarrhea and traveler's diarrhea in Mexico and North Africa. ETEC, EPEC, EAggEC, and EAEC colonize the small bowel, and EIEC and EHEC preferentially colonize the large bowel prior to causing diarrhea.
Shiga toxin–producing E coli (STEC) is among the most common causes of foodborne diseases. This organism is responsible for several GI illnesses, including nonbloody and bloody diarrhea. Patients with these diseases, especially children, may be affected by neurologic and renal complications, including HUS. Strains of STEC serotype O157-H7 have caused numerous outbreaks and sporadic cases of bloody diarrhea and HUS.
Kappeli et al looked at 97 non-O157 STECstrains in patients with diarrhea and found that HUS developed in 40% of patients; serotype O26:H11/H was most often associated with this syndrome.[1] Although strains associated with HUS were more likely to harbor STX 2 and EAE compared with those associated with bloody diarrhea , only 5 of the 8 patients with HUS had the STX2 gene; among the 3 patients with EAE -negative, STX2 -negative strains, only STX1 or STX1 and EHXA caused the HUS.
Urinary tract infections
The urinary tract is the most common site of E coli infection, and more than 90% of all uncomplicated UTIs are caused by E coli infection. The recurrence rate after a first E coli infection is 44% over 12 months. E coli UTIs are caused by uropathogenic strains of E coli. E coli causes a wide range of UTIs, including uncomplicated urethritis/cystitis, symptomatic cystitis, pyelonephritis, acute prostatitis, prostatic abscess, and urosepsis. Uncomplicated cystitis occurs primarily in females who are sexually active and are colonized by a uropathogenic strain of E coli. Subsequently, the periurethral region is colonized from contamination of the colon, and the organism reaches the bladder during sexual intercourse.
Uropathogenic strains of E coli have an adherence factor called P fimbriae, or pili, which binds to the P blood group antigen. These P fimbriae mediate the attachment of E coli to uroepithelial cells. Thus, patients with intestinal carriage of E coli that contains P fimbriae are at greater risk of developing UTI than the general population. Complicated UTI and pyelonephritis are observed in elderly patients with structural abnormalities or obstruction such as prostatic hypertrophy or neurogenic bladders or in patients with urinary catheters. Escherichia coli right pyelonephritis is seen in the image below.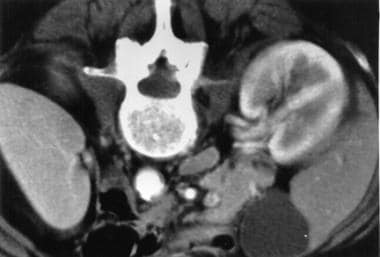 Escherichia coli right pyelonephritis.
E coli bacteremia is usually associated with UTIs, especially in cases of urinary tract obstruction of any cause. The systemic reaction to endotoxin (cytokines) or lipopolysaccharides can lead to disseminated intravascular coagulation and death. E coli is a leading cause of nosocomial bacteremia from a GI or genitourinary source.
Other infections
Other miscellaneous E coli infections include septic arthritis, endophthalmitis, suppurative thyroiditis, sinusitis, osteomyelitis, endocarditis, and skin and soft-tissue infections (especially in patients with diabetes).
Epidemiology
Frequency
United States
E coli is the leading cause of both community-acquired and nosocomial UTI. Up to 50% of females eventually experience at least one episode of UTI. E coli causes 12-50% of nosocomial infections and 4% of cases of diarrheal disease.
International
In tropical countries, EPEC is an important cause of childhood diarrhea. ETEC causes 11-15% of cases of traveler's diarrhea in persons visiting developing countries and 30-45% of cases of traveler's diarrhea among those visiting Mexico. EAggEC causes 30% of cases of traveler's diarrhea.
Mortality/Morbidity
E coli neonatal meningitis carries a mortality rate of 8%, and most survivors have neurological or developmental abnormalities.
The mortality and morbidity associated with E coli bacteremia is the same as that for other aerobic gram-negative bacilli.
Race
E coli infections have no recognized racial predilection.
Sex
E coli UTI is more common in females than in males because of differences in anatomic structure and changes during sexual maturation, pregnancy, and childbirth.
Men older than 45 years with prostatic hypertrophy are at an increased risk of UTI due to related bladder stasis.
Among neonates, E coli UTI is more common in boys than in girls, but circumcision reduces the risk.
Age
E coli is an important cause of meningitis in neonates. In adults, E coli meningitis is due only to open CNS trauma or neurosurgical procedures.
References
Kappeli U, Hachler H, Giezendanner N, Beutin L, Stephan R. Human Infections with Non-O157 Shiga Toxin-producing Escherichia coli, Switzerland, 2000-2009. Emerg Infect Dis. 2011 Feb. 17(2):180-5. [Medline].

Frank C, Werber D, Cramer JP, Askar M, Faber M, an der Heiden M, et al. Epidemic profile of Shiga-toxin-producing Escherichia coli O104:H4 outbreak in Germany. N Engl J Med. 2011 Nov 10. 365(19):1771-80. [Medline].

Buchholz U, Bernard H, Werber D, Böhmer MM, Remschmidt C, Wilking H, et al. German outbreak of Escherichia coli O104:H4 associated with sprouts. N Engl J Med. 2011 Nov 10. 365(19):1763-70. [Medline].

Camins BC, Marschall J, De Vader SR, Maker DE, Hoffman MW, Fraser VJ. The clinical impact of fluoroquinolone resistance in patients with E coli bacteremia. J Hosp Med. 2011 Jul. 6(6):344-9. [Medline]. [Full Text].

Walmsley RS, David DB, Allan RN, Kirkby GR. Bilateral endogenous Escherichia coli endophthalmitis: a devastating complication in an insulin-dependent diabetic. Postgrad Med J. 1996 Jun. 72(848):361-3. [Medline].

McGannon CM, Fuller CA, Weiss AA. Different classes of antibiotics differentially influence shiga toxin production. Antimicrob Agents Chemother. 2010 Sep. 54(9):3790-8. [Medline].

Pitout JD, Laupland KB. Extended-spectrum beta-lactamase-producing Enterobacteriaceae: an emerging public-health concern. Lancet Infect Dis. 2008 Mar. 8(3):159-66. [Medline].

Melzer M, Petersen I. Mortality following bacteraemic infection caused by extended spectrum beta-lactamase (ESBL) producing E. coli compared to non-ESBL producing E. coli. J Infect. 2007 Sep. 55(3):254-9. [Medline].

Doi Y, Park YS, Rivera JI, Adams-Haduch JM, Hingwe A, Sordillo EM, et al. Community-associated extended-spectrum ß-lactamase-producing Escherichia coli infection in the United States. Clin Infect Dis. 2013 Mar. 56(5):641-8. [Medline]. [Full Text].

Batard E, Ollivier F, Boutoille D, Hardouin JB, Montassier E, Caillon J, et al. Relationship between hospital antibiotic use and quinolone resistance in Escherichia coli. Int J Infect Dis. 2012 Nov 22. [Medline].

Karlowsky JA, Denisuik AJ, Lagacé-Wiens PR, Adam HJ, Baxter MR, Hoban DJ, et al. In Vitro Activity of Fosfomycin against Escherichia coli Isolated from Patients with Urinary Tract Infections in Canada; CANWARD Surveillance Study. Antimicrob Agents Chemother. 2013 Dec 9. [Medline].

Agustin ET, Gill V, Domenico P. CSF gram stain in meningitis. Intern Med. 1994. 15:14-24.

Barnett BJ, Stephens DS. Urinary tract infection: an overview. Am J Med Sci. 1997 Oct. 314(4):245-9. [Medline].

Boam WD, Miser WF. Acute focal bacterial pyelonephritis. Am Fam Physician. 1995 Sep 1. 52(3):919-24. [Medline].

Bohnen JM. Antibiotic therapy for abdominal infection. World J Surg. 1998 Feb. 22(2):152-7. [Medline].

Bonoan JT, Mehra S, Cunha BA. Emphysematous pyelonephritis. Heart Lung. 1997 Nov-Dec. 26(6):501-3. [Medline].

Carpenter HA. Bacterial and parasitic cholangitis. Mayo Clin Proc. 1998 May. 73(5):473-8. [Medline].

Childs SJ. Current concepts in the treatment of urinary tract infections and prostatitis. Am J Med. 1991 Dec 30. 91(6A):120S-123S. [Medline].

Cunha BA. Abdominal pain in patients with diabetis mellitus. Infect Dis Prac. 1997. 21:14-5.

Cunha BA. Acute acalculous cholecystitis. Infect Dis Prac. 1997. 21:70-1.

Cunha BA. Acute and chronic bacterial prostatitis. Infect Dis Prac. 1994. 18:78-9.

Cunha BA. Antibiotic concentration dependent susceptibility of urinary tract isolates. Antib Clinician. 1999. 3:57-8.

Cunha BA. Quinolones: Clinical aspects. Antib Clinician. 1998. 2:129-35.

Cunha BA. The fluoroquinolones for urinary tract infections: a review. Adv Ther. 1994 Nov-Dec. 11(6):277-96. [Medline].

Cunha BA. Therapeutic approach in treating UTIs. Antib Clinician. 1998. 2(S2):35-40.

Cunha BA. Urine gram stain in urosepsis. Intern Med. 1997. 18:75-8.

Cunha BA. Urosepsis. J Crit Ill. 1997. 12:616-25.

Donnenberg MS, Kaper JB. Enteropathogenic Escherichia coli. Infect Immun. 1992 Oct. 60(10):3953-61. [Medline].

DuPont HL. Travellers' diarrhoea: contemporary approaches to therapy and prevention. Drugs. 2006. 66(3):303-14. [Medline].

Eisenstein BI, Jones GW. The spectrum of infections and pathogenic mechanisms of Escherichia coli. Adv Intern Med. 1988. 33:231-52. [Medline].

Glandt M, Adachi JA, Mathewson JJ, Jiang ZD, DiCesare D, Ashley D. Enteroaggregative Escherichia coli as a cause of traveler's diarrhea: clinical response to ciprofloxacin. Clin Infect Dis. 1999 Aug. 29(2):335-8. [Medline].

Gold R. Bacterial meningitis--1982. Am J Med. 1983 Jul 28. 75(1B):98-101. [Medline].

Hansing CE, Allen VD, Cherry JD. Escherichia coli endocarditis. A review of the literature and a case study. Arch Intern Med. 1967 Oct. 120(4):472-7. [Medline].

Harrington SM, Dudley EG, Nataro JP. Pathogenesis of enteroaggregative Escherichia coli infection. FEMS Microbiol Lett. 2006 Jan. 254(1):12-8. [Medline].

Harvey D, Holt DE, Bedford H. Bacterial meningitis in the newborn: a prospective study of mortality and morbidity. Semin Perinatol. 1999 Jun. 23(3):218-25. [Medline].

Johnson JR. Virulence factors in Escherichia coli urinary tract infection. Clin Microbiol Rev. 1991 Jan. 4(1):80-128. [Medline].

Jonas M, Cunha BA. Bacteremic Escherichia coli pneumonia. Arch Intern Med. 1982 Nov. 142(12):2157-9. [Medline].

Klein NC, Cunha BA. Third-generation cephalosporins. Med Clin North Am. 1995 Jul. 79(4):705-19. [Medline].

Koutkia P, Mylonakis E, Flanigan T. Enterohemorrhagic Escherichia coli O157:H7--an emerging pathogen. Am Fam Physician. 1997 Sep 1. 56(3):853-6, 859-61. [Medline].

Lepelletier D, Caroff N, Reynaud A, Richet H. Escherichia coli: epidemiology and analysis of risk factors for infections caused by resistant strains. Clin Infect Dis. 1999 Sep. 29(3):548-52. [Medline].

Lerner AM. The gram-negative bacillary pneumonias. Dis Mon. 1980 Nov. 27(2):1-56. [Medline].

McDonald MI. Pyogenic liver abscess: diagnosis, bacteriology and treatment. Eur J Clin Microbiol. 1984 Dec. 3(6):506-9. [Medline].

Mead PS, Griffin PM. Escherichia coli O157:H7. Lancet. 1998 Oct 10. 352(9135):1207-12. [Medline].

Moon HW. Pathogenesis of enteric diseases caused by Escherichia coli. Adv Vet Sci Comp Med. 1974. 18(0):179-211. [Medline].

Neu HC. Infections due to gram-negative bacteria: an overview. Rev Infect Dis. 1985 Nov-Dec. 7 Suppl 4:S778-82. [Medline].

Nordmann P. Trends in beta-lactam resistance among Enterobacteriaceae. Clin Infect Dis. 1998 Aug. 27 Suppl 1:S100-6. [Medline].

Ortega AM, Cunha BA. Acute prostatitis. Contemp Urol. 1997. 18:73-80.

Palmer DL. Microbiology of pneumonia in the patient at risk. Am J Med. 1984 May 15. 76(5A):53-60. [Medline].

Phillips AD, Frankel G. Mechanisms of gut damage by Escherichia coli. Baillieres Clin Gastroenterol. 1997 Sep. 11(3):465-83. [Medline].

Roberts JA. Pyelonephritis, cortical abscess, and perinephric abscess. Urol Clin North Am. 1986 Nov. 13(4):637-45. [Medline].

Savatta D, Cunha BA. Acute pyelonephritis and its mimics: Xanthogranulomaotus pyelonephritis and malacoplakia. Infect Dis Prac. 1996. 20:86-8.

Schimpff SC. Gram-negative bacteremia. Support Care Cancer. 1993 Jan. 1(1):5-18. [Medline].

Schindzielorz A, Edberg SC, Bia FJ. Strongyloides stercoralis hyperinfection and central nervous system involvement in a patient with relapsing polychondritis. South Med J. 1991 Aug. 84(8):1055-7. [Medline].

Shea KW, Cunha BA. Escherichia coli sternal osteomyelitis after open heart surgery. Heart Lung. 1995 Mar-Apr. 24(2):177-8. [Medline].

Tabacof J, Feher O, Katz A, et al. Strongyloides hyperinfection in two patients with lymphoma, purulent meningitis, and sepsis. Cancer. 1991 Oct 15. 68(8):1821-3. [Medline].

Tan JS, File TM. Urinary tract infections in obstetrics and gynecology. J Reprod Med. 1990 Mar. 35(3 Suppl):339-42. [Medline].

Tenner SM, Yadven MW, Kimmel PL. Acute pyelonephritis. Preventing complications through prompt diagnosis and proper therapy. Postgrad Med. 1992 Feb 1. 91(2):261-8. [Medline].

Tice AD. Short-course therapy of acute cystitis: a brief review of therapeutic strategies. J Antimicrob Chemother. 1999 Mar. 43 Suppl A:85-93. [Medline].

Wanke CA. Escherichia coli. J Diarrhoeal Dis Res. 1988 Mar. 6(1):1-5. [Medline].

Weinberger M, Cytron S, Servadio C, et al. Prostatic abscess in the antibiotic era. Rev Infect Dis. 1988 Mar-Apr. 10(2):239-49. [Medline].

Westphal JF, Brogard JM. Biliary tract infections: a guide to drug treatment. Drugs. 1999 Jan. 57(1):81-91. [Medline].

Whipp SC, Rasmussen MA, Cray WC Jr. Animals as a source of Escherichia coli pathogenic for human beings. J Am Vet Med Assoc. 1994 Apr 15. 204(8):1168-75. [Medline].
Table. Differential Diagnoses of E coli Infection
Organism
Ind*
Urease
Motility
Glu Ferm†
Lact Ferm‡
Sucr Ferm§
Malt Ferm||
Esc Hyd¶
Hyd Sulf TSI#
Oxidase
Orn Dec**
Lys Dec††
E coli
+
-
+
+
+
+/-
+
-
-
-
+/-
+
Klebsiella pneumoniae
-
+/-
-
+
+
+
+
+
-
-
-
+
P mirabilis
-
+
+
+
-
-
-
-
+
-
+
-
Proteus vulgaris
+
+
+
+
-
+
+
+/-
+
-
-
-
Pseudomonas aeruginosa
-
+/-
+
+



(ox)‡‡




-
-
-
-
-
+
-
-
Enterobacter aerogenes
-
-
+
+
+
+
+
+
-
-
+
+
Enterobacter cloacae
-
-
+
+
+
+
+
-
-
-
+
-
Salmonella typhi
-
-
+
+
-
-
+
-
+
-
-
+
Citrobacter freundii
+/-
-
+
+
+
+
+
-
+/-
-
-
-
Serratia marcescens
-
+/-
+
+
-
+
+
+
-
-
+
+
*Indole



†Glucose fermentation



‡Lactose fermentation



§Sucrose fermentation



||Maltose fermentation



¶Esculin hydrolysis



#Hydrogen sulfite on TSI



**Ornithine decarboxylase



††Lysine decarboxylase



‡‡Oxidative




Medscape Reference © 2011 WebMD, LLC