Escherichia Coli Infections Workup
Author: Tarun Madappa, MD, MPH; Chief Editor: Michael Stuart Bronze, MD more...
Updated: Jan 11, 2016
What would you like to print?
Laboratory Studies
All patients with suspected E coli infection should undergo routine CBC count with differential to evaluate for leukocytosis or a left shift.
Gram stain results determine if the organism is gram-negative, but findings do not distinguish among the other aerobic gram-negative bacilli that cause similar infectious diseases.
E coli is a gram-negative bacillus that grows well on commonly used media. It is lactose-fermenting and beta-hemolytic on blood agar. Most E coli strains are nonpigmented. The image below shows Escherichia coli on Gram staining.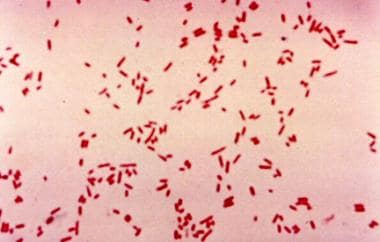 Escherichia coli on Gram stain. Gram-negative bacilli.
In the image below Escherichia coli can be seen growing on MacConkey agar.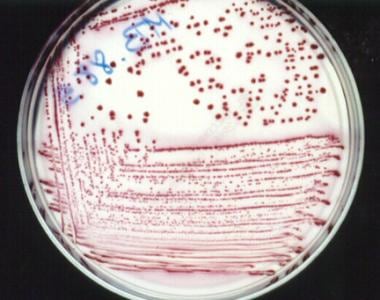 Escherichia coli culture on MacConkey agar.
Definitive diagnosis is based on the isolation of the organism in the microbiology laboratory from clinical specimens. Specimens may be blood, urine, sputum, or other fluids such as cerebrospinal, biliary, abscess, and peritoneal.
Recovery of the organism in contaminated sites, such as sputum and wounds, must be analyzed in the context of the patient's clinical state to determine if it represents colonization or infection. Recovery from sterile sites, such as the CSF, should be considered diagnostic of infection.
Lumbar puncture and a CSF culture positive for E coli establish the diagnosis of acute E coli meningitis; however, lumbar puncture is not justified in all babies presenting with sepsis. Indications for lumbar puncture include positive blood culture results, abnormal neurological signs, and detection of bacterial antigens in the urine.
Patients with pneumonia should undergo blood cultures and sputum Gram stain and culture. The results of a Gram stain of the sputum help to differentiate a good specimen (many PMN leukocytes, few squamous epithelial cells) from a bad specimen (few PMN leukocytes, many squamous epithelial cells). In addition, obtain the sputum culture before antibiotic therapy is initiated.
In enteric infections, the causative organism is suggested based on the clinical presentation and the characteristic of the patient's stool. Enterotoxigenic E coli (ETEC), enteropathogenic E coli (EPEC), enteroaggregative E coli (EAggEC), and enteroadherent E coli (EAEC) infections produce watery stools without inflammatory cells. Enteroinvasive E coli (EIEC) infection produces dysentery-type stools, and enterohemorrhagic E coli (EHEC) infection produces hemorrhagic-type stools.
In urinary tract infections, a urine dipstick test may be performed to rapidly determine if the patient has pyuria or bacteriuria based on the detection of leukocyte esterase and nitrites, respectively. Definitive diagnosis is based on urine culture results. Collect the specimen from a midstream clean void or from the catheter in patients with an indwelling Foley catheter. Colonization must be differentiated from infection based on urinalysis results. In cases of infection, pyuria is usually present.
Imaging Studies
In pneumonia, chest radiography or CT scanning is indicated.
In cholecystitis/cholangitis, ultrasonography or CT scanning of the RUQ is indicated.
In intra-abdominal abscess, abdominal and pelvic CT scanning is indicated; abscesses may be missed on sonograms.
In UTI, ultrasonography or CT scanning may be performed to help evaluate the kidneys and to look for any other source of abscess, stones, or obstruction.
Other Tests
E coli strains that cause diarrhea can be differentiated based on results from tests that are not widely used, such as DNA probes and polymerase chain reaction.
EPEC can be identified based on findings from serotyping, assays of adherence, and DNA probes. These tests are difficult to perform and not available widely. Also, results are difficult to interpret.
EIEC can be identified based on results from animal pathogenicity tests such as the Sereny test.
EHEC can be identified by looking for the major serotype involved, 0157:H7.
EHEC strains are cultured in a sorbitol MacConkey agar. Strains that are sorbitol-negative are then serotyped with 0157:H7 antisera.
EAEC and EAggEC are identified based on their adherence pattern on tissue culture cells. Serotyping is not useful.
Procedures
The following procedures may be indicated:
Pneumonia - Bronchoscopy, blood and urine cultures

Cholecystitis/cholangitis - Decompression of biliary system through endoscopic drainage, sphincterotomy for stone extraction, or endoscopic cholangiography

Intra-abdominal abscess - Aspiration and drainage

UTI - In cases of ureteral obstruction, placement of stent or stone extraction

Prostatic abscess - Drainage
References
Kappeli U, Hachler H, Giezendanner N, Beutin L, Stephan R. Human Infections with Non-O157 Shiga Toxin-producing Escherichia coli, Switzerland, 2000-2009. Emerg Infect Dis. 2011 Feb. 17(2):180-5. [Medline].

Frank C, Werber D, Cramer JP, Askar M, Faber M, an der Heiden M, et al. Epidemic profile of Shiga-toxin-producing Escherichia coli O104:H4 outbreak in Germany. N Engl J Med. 2011 Nov 10. 365(19):1771-80. [Medline].

Buchholz U, Bernard H, Werber D, Böhmer MM, Remschmidt C, Wilking H, et al. German outbreak of Escherichia coli O104:H4 associated with sprouts. N Engl J Med. 2011 Nov 10. 365(19):1763-70. [Medline].

Camins BC, Marschall J, De Vader SR, Maker DE, Hoffman MW, Fraser VJ. The clinical impact of fluoroquinolone resistance in patients with E coli bacteremia. J Hosp Med. 2011 Jul. 6(6):344-9. [Medline]. [Full Text].

Walmsley RS, David DB, Allan RN, Kirkby GR. Bilateral endogenous Escherichia coli endophthalmitis: a devastating complication in an insulin-dependent diabetic. Postgrad Med J. 1996 Jun. 72(848):361-3. [Medline].

McGannon CM, Fuller CA, Weiss AA. Different classes of antibiotics differentially influence shiga toxin production. Antimicrob Agents Chemother. 2010 Sep. 54(9):3790-8. [Medline].

Pitout JD, Laupland KB. Extended-spectrum beta-lactamase-producing Enterobacteriaceae: an emerging public-health concern. Lancet Infect Dis. 2008 Mar. 8(3):159-66. [Medline].

Melzer M, Petersen I. Mortality following bacteraemic infection caused by extended spectrum beta-lactamase (ESBL) producing E. coli compared to non-ESBL producing E. coli. J Infect. 2007 Sep. 55(3):254-9. [Medline].

Doi Y, Park YS, Rivera JI, Adams-Haduch JM, Hingwe A, Sordillo EM, et al. Community-associated extended-spectrum ß-lactamase-producing Escherichia coli infection in the United States. Clin Infect Dis. 2013 Mar. 56(5):641-8. [Medline]. [Full Text].

Batard E, Ollivier F, Boutoille D, Hardouin JB, Montassier E, Caillon J, et al. Relationship between hospital antibiotic use and quinolone resistance in Escherichia coli. Int J Infect Dis. 2012 Nov 22. [Medline].

Karlowsky JA, Denisuik AJ, Lagacé-Wiens PR, Adam HJ, Baxter MR, Hoban DJ, et al. In Vitro Activity of Fosfomycin against Escherichia coli Isolated from Patients with Urinary Tract Infections in Canada; CANWARD Surveillance Study. Antimicrob Agents Chemother. 2013 Dec 9. [Medline].

Agustin ET, Gill V, Domenico P. CSF gram stain in meningitis. Intern Med. 1994. 15:14-24.

Barnett BJ, Stephens DS. Urinary tract infection: an overview. Am J Med Sci. 1997 Oct. 314(4):245-9. [Medline].

Boam WD, Miser WF. Acute focal bacterial pyelonephritis. Am Fam Physician. 1995 Sep 1. 52(3):919-24. [Medline].

Bohnen JM. Antibiotic therapy for abdominal infection. World J Surg. 1998 Feb. 22(2):152-7. [Medline].

Bonoan JT, Mehra S, Cunha BA. Emphysematous pyelonephritis. Heart Lung. 1997 Nov-Dec. 26(6):501-3. [Medline].

Carpenter HA. Bacterial and parasitic cholangitis. Mayo Clin Proc. 1998 May. 73(5):473-8. [Medline].

Childs SJ. Current concepts in the treatment of urinary tract infections and prostatitis. Am J Med. 1991 Dec 30. 91(6A):120S-123S. [Medline].

Cunha BA. Abdominal pain in patients with diabetis mellitus. Infect Dis Prac. 1997. 21:14-5.

Cunha BA. Acute acalculous cholecystitis. Infect Dis Prac. 1997. 21:70-1.

Cunha BA. Acute and chronic bacterial prostatitis. Infect Dis Prac. 1994. 18:78-9.

Cunha BA. Antibiotic concentration dependent susceptibility of urinary tract isolates. Antib Clinician. 1999. 3:57-8.

Cunha BA. Quinolones: Clinical aspects. Antib Clinician. 1998. 2:129-35.

Cunha BA. The fluoroquinolones for urinary tract infections: a review. Adv Ther. 1994 Nov-Dec. 11(6):277-96. [Medline].

Cunha BA. Therapeutic approach in treating UTIs. Antib Clinician. 1998. 2(S2):35-40.

Cunha BA. Urine gram stain in urosepsis. Intern Med. 1997. 18:75-8.

Cunha BA. Urosepsis. J Crit Ill. 1997. 12:616-25.

Donnenberg MS, Kaper JB. Enteropathogenic Escherichia coli. Infect Immun. 1992 Oct. 60(10):3953-61. [Medline].

DuPont HL. Travellers' diarrhoea: contemporary approaches to therapy and prevention. Drugs. 2006. 66(3):303-14. [Medline].

Eisenstein BI, Jones GW. The spectrum of infections and pathogenic mechanisms of Escherichia coli. Adv Intern Med. 1988. 33:231-52. [Medline].

Glandt M, Adachi JA, Mathewson JJ, Jiang ZD, DiCesare D, Ashley D. Enteroaggregative Escherichia coli as a cause of traveler's diarrhea: clinical response to ciprofloxacin. Clin Infect Dis. 1999 Aug. 29(2):335-8. [Medline].

Gold R. Bacterial meningitis--1982. Am J Med. 1983 Jul 28. 75(1B):98-101. [Medline].

Hansing CE, Allen VD, Cherry JD. Escherichia coli endocarditis. A review of the literature and a case study. Arch Intern Med. 1967 Oct. 120(4):472-7. [Medline].

Harrington SM, Dudley EG, Nataro JP. Pathogenesis of enteroaggregative Escherichia coli infection. FEMS Microbiol Lett. 2006 Jan. 254(1):12-8. [Medline].

Harvey D, Holt DE, Bedford H. Bacterial meningitis in the newborn: a prospective study of mortality and morbidity. Semin Perinatol. 1999 Jun. 23(3):218-25. [Medline].

Johnson JR. Virulence factors in Escherichia coli urinary tract infection. Clin Microbiol Rev. 1991 Jan. 4(1):80-128. [Medline].

Jonas M, Cunha BA. Bacteremic Escherichia coli pneumonia. Arch Intern Med. 1982 Nov. 142(12):2157-9. [Medline].

Klein NC, Cunha BA. Third-generation cephalosporins. Med Clin North Am. 1995 Jul. 79(4):705-19. [Medline].

Koutkia P, Mylonakis E, Flanigan T. Enterohemorrhagic Escherichia coli O157:H7--an emerging pathogen. Am Fam Physician. 1997 Sep 1. 56(3):853-6, 859-61. [Medline].

Lepelletier D, Caroff N, Reynaud A, Richet H. Escherichia coli: epidemiology and analysis of risk factors for infections caused by resistant strains. Clin Infect Dis. 1999 Sep. 29(3):548-52. [Medline].

Lerner AM. The gram-negative bacillary pneumonias. Dis Mon. 1980 Nov. 27(2):1-56. [Medline].

McDonald MI. Pyogenic liver abscess: diagnosis, bacteriology and treatment. Eur J Clin Microbiol. 1984 Dec. 3(6):506-9. [Medline].

Mead PS, Griffin PM. Escherichia coli O157:H7. Lancet. 1998 Oct 10. 352(9135):1207-12. [Medline].

Moon HW. Pathogenesis of enteric diseases caused by Escherichia coli. Adv Vet Sci Comp Med. 1974. 18(0):179-211. [Medline].

Neu HC. Infections due to gram-negative bacteria: an overview. Rev Infect Dis. 1985 Nov-Dec. 7 Suppl 4:S778-82. [Medline].

Nordmann P. Trends in beta-lactam resistance among Enterobacteriaceae. Clin Infect Dis. 1998 Aug. 27 Suppl 1:S100-6. [Medline].

Ortega AM, Cunha BA. Acute prostatitis. Contemp Urol. 1997. 18:73-80.

Palmer DL. Microbiology of pneumonia in the patient at risk. Am J Med. 1984 May 15. 76(5A):53-60. [Medline].

Phillips AD, Frankel G. Mechanisms of gut damage by Escherichia coli. Baillieres Clin Gastroenterol. 1997 Sep. 11(3):465-83. [Medline].

Roberts JA. Pyelonephritis, cortical abscess, and perinephric abscess. Urol Clin North Am. 1986 Nov. 13(4):637-45. [Medline].

Savatta D, Cunha BA. Acute pyelonephritis and its mimics: Xanthogranulomaotus pyelonephritis and malacoplakia. Infect Dis Prac. 1996. 20:86-8.

Schimpff SC. Gram-negative bacteremia. Support Care Cancer. 1993 Jan. 1(1):5-18. [Medline].

Schindzielorz A, Edberg SC, Bia FJ. Strongyloides stercoralis hyperinfection and central nervous system involvement in a patient with relapsing polychondritis. South Med J. 1991 Aug. 84(8):1055-7. [Medline].

Shea KW, Cunha BA. Escherichia coli sternal osteomyelitis after open heart surgery. Heart Lung. 1995 Mar-Apr. 24(2):177-8. [Medline].

Tabacof J, Feher O, Katz A, et al. Strongyloides hyperinfection in two patients with lymphoma, purulent meningitis, and sepsis. Cancer. 1991 Oct 15. 68(8):1821-3. [Medline].

Tan JS, File TM. Urinary tract infections in obstetrics and gynecology. J Reprod Med. 1990 Mar. 35(3 Suppl):339-42. [Medline].

Tenner SM, Yadven MW, Kimmel PL. Acute pyelonephritis. Preventing complications through prompt diagnosis and proper therapy. Postgrad Med. 1992 Feb 1. 91(2):261-8. [Medline].

Tice AD. Short-course therapy of acute cystitis: a brief review of therapeutic strategies. J Antimicrob Chemother. 1999 Mar. 43 Suppl A:85-93. [Medline].

Wanke CA. Escherichia coli. J Diarrhoeal Dis Res. 1988 Mar. 6(1):1-5. [Medline].

Weinberger M, Cytron S, Servadio C, et al. Prostatic abscess in the antibiotic era. Rev Infect Dis. 1988 Mar-Apr. 10(2):239-49. [Medline].

Westphal JF, Brogard JM. Biliary tract infections: a guide to drug treatment. Drugs. 1999 Jan. 57(1):81-91. [Medline].

Whipp SC, Rasmussen MA, Cray WC Jr. Animals as a source of Escherichia coli pathogenic for human beings. J Am Vet Med Assoc. 1994 Apr 15. 204(8):1168-75. [Medline].
Table. Differential Diagnoses of E coli Infection
Organism
Ind*
Urease
Motility
Glu Ferm†
Lact Ferm‡
Sucr Ferm§
Malt Ferm||
Esc Hyd¶
Hyd Sulf TSI#
Oxidase
Orn Dec**
Lys Dec††
E coli
+
-
+
+
+
+/-
+
-
-
-
+/-
+
Klebsiella pneumoniae
-
+/-
-
+
+
+
+
+
-
-
-
+
P mirabilis
-
+
+
+
-
-
-
-
+
-
+
-
Proteus vulgaris
+
+
+
+
-
+
+
+/-
+
-
-
-
Pseudomonas aeruginosa
-
+/-
+
+



(ox)‡‡




-
-
-
-
-
+
-
-
Enterobacter aerogenes
-
-
+
+
+
+
+
+
-
-
+
+
Enterobacter cloacae
-
-
+
+
+
+
+
-
-
-
+
-
Salmonella typhi
-
-
+
+
-
-
+
-
+
-
-
+
Citrobacter freundii
+/-
-
+
+
+
+
+
-
+/-
-
-
-
Serratia marcescens
-
+/-
+
+
-
+
+
+
-
-
+
+
*Indole



†Glucose fermentation



‡Lactose fermentation



§Sucrose fermentation



||Maltose fermentation



¶Esculin hydrolysis



#Hydrogen sulfite on TSI



**Ornithine decarboxylase



††Lysine decarboxylase



‡‡Oxidative




Medscape Reference © 2011 WebMD, LLC