Herpes Simplex
Author: Michelle R Salvaggio, MD, FACP; Chief Editor: Michael Stuart Bronze, MD more...
Updated: Sep 18, 2015
What would you like to print?
Background
Herpes simplex viruses are ubiquitous, host-adapted pathogens that cause a wide variety of disease states. Two types exist: herpes simplex virus type 1 (HSV-1) and type 2 (HSV-2). Both are closely related but differ in epidemiology. HSV-1 is traditionally associated with orofacial disease (see the image below), while HSV-2 is traditionally associated with genital disease; however, lesion location is not necessarily indicative of viral type.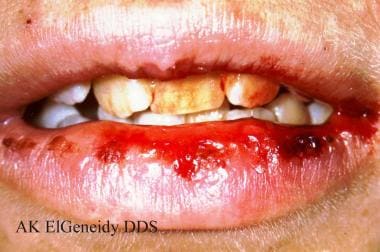 Herpes simplex virus type 1. Primary herpes can affect the lips, and the ruptured vesicles may appear as bleeding of the lips. Courtesy of A.K. ElGeneidy, DDS.
See Herpes Simplex Viruses: Test Your Knowledge, a Critical Images slideshow, for more information on clinical, histologic, and radiographic imaging findings in HSV-1 and HSV-2.
Also, see the 20 Signs of Sexually Transmitted Infections and Clues in the Oral Cavity: Are You Missing the Diagnosis? slideshows to help make an accurate diagnosis.
Up to 80% of herpes simplex infections are asymptomatic. Symptomatic infections can be characterized by significant morbidity and recurrence. In immunocompromised hosts, infections can cause life-threatening complications.
The prevalence of HSV infection worldwide has increased over the last several decades, making it a major public health concern. Prompt recognition of herpes simplex infection and early initiation of therapy are of utmost importance in the management of the disease.
Pathophysiology
HSV (both types 1 and 2) belongs to the family Herpesviridae and to the subfamily Alphaherpesvirinae. It is a double-stranded DNA virus characterized by the following unique biological properties:[1]
Neurovirulence (the capacity to invade and replicate in the nervous system)

Latency (the establishment and maintenance of latent infection in nerve cell ganglia proximal to the site of infection): In orofacial HSV infections, the trigeminal ganglia are most commonly involved, while, in genital HSV infection, the sacral nerve root ganglia (S2-S5) are involved.

Reactivation: The reactivation and replication of latent HSV, always in the area supplied by the ganglia in which latency was established, can be induced by various stimuli (eg, fever, trauma, emotional stress, sunlight, menstruation), resulting in overt or covert recurrent infection and shedding of HSV. In immunocompetent persons who are at an equal risk of acquiring HSV-1 and HSV-2 both orally and genitally, HSV-1 reactivates more frequently in the oral rather than the genital region. Similarly, HSV-2 reactivates 8-10 times more commonly in the genital region than in the orolabial regions. Reactivation is more common and severe in immunocompromised individuals.

[2]
Dissemination of herpes simplex infection can occur in people with impaired T-cell immunity, such as in organ transplant recipients and in individuals with AIDS.
HSV is distributed worldwide. Humans are the only natural reservoirs, and no vectors are involved in transmission. Endemicity is easily maintained in most human communities owing to latent infection, periodic reactivation, and asymptomatic virus shedding.[3]
HSV is transmitted by close personal contact, and infection occurs via inoculation of virus into susceptible mucosal surfaces (eg, oropharynx, cervix, conjunctiva) or through small cracks in the skin. The virus is readily inactivated at room temperature and by drying; hence, aerosol and fomitic spread are rare.
Epidemiology
Frequency
United States
HSV is ubiquitous, and most individuals show some evidence of HSV infection. HSV-1 is usually acquired in childhood by contact with oral secretions that contain the virus. The presence of HSV-2 can be used as an indirect measure of sexual activity in some cases. Seroprevalence rates do not reflect how many of these individuals have or will have symptomatic episodes of HSV recurrence.
Seroprevalence: Antibodies to HSV-1 increase with age starting in childhood and correlate with socioeconomic status, race, and cultural group. By age 30 years, 50% of individuals in a high socioeconomic status and 80% in a lower socioeconomic status are seropositive. Antibodies to HSV-2 begin to emerge at puberty, correlating with the degree of sexual activity. The lifetime seroprevalence can be 20%-80%.[4]
International
HSV is well distributed worldwide. An increase in seroprevalence of antibodies to HSV-2 has been documented throughout the world (including the United States) over the last 20 years.[1]
Mortality/Morbidity
Morbidity and mortality rates associated with HSV infections are discussed in Complications. Overall, the mortality rate associated with herpes simplex infections is related to 3 situations: perinatal infection, encephalitis, and infection in the immunocompromised host.
Race
The most recent national health survey conducted in the United States revealed a seroprevalence of HSV-2 antibodies in 45% of blacks, 22% of Mexican-Americans, and 17% of whites.[4]
Sex
Seropositivity to antibodies to HSV-2 is more common in women (25%) than in men (17%).[4]
Age
HSV-1 infections transmitted via saliva are common in children, although primary herpes gingivostomatitis can be observed at any age. HSV-2 infections are clustered perinatally (from a maternal episode at delivery) and primarily once sexual activity begins. HSV-2 genital infections in children can be an indication of sexual abuse. Increased age (after onset of sexual activity) and total number of sexual partners are independent factors associated with increased seroprevalence of HSV-2 antibodies.[4]
References
Corey L. Herpes Simplex Virus. Mandell Gl, Bennett JE, Dolin R, eds. Principles and Practice of Infectious Diseases. 6th ed. Pennsylvania: Elsevier; 2005. Vol 2: 1762-80.

Kimberlin DW, Rouse DJ. Clinical practice. Genital herpes. N Engl J Med. 2004 May 6. 350(19):1970-7. [Medline].

Mark KE, Wald A, Magaret AS, Selke S, Olin L, Huang ML. Rapidly cleared episodes of herpes simplex virus reactivation in immunocompetent adults. J Infect Dis. 2008 Oct 15. 198(8):1141-9. [Medline].

Fleming DT, McQuillan GM, Johnson RE, et al. Herpes simplex virus type 2 in the United States, 1976 to 1994. N Engl J Med. 1997 Oct 16. 337(16):1105-11. [Medline].

Arduino PG, Porter SR. Oral and perioral herpes simplex virus type 1 (HSV-1) infection: review of its management. Oral Dis. 2006 May. 12(3):254-70. [Medline].

Spruance SL, Overall JC Jr, Kern ER, Krueger GG, Pliam V, Miller W. The natural history of recurrent herpes simplex labialis: implications for antiviral therapy. N Engl J Med. 1977 Jul 14. 297(2):69-75. [Medline].

Corey L, Adams HG, Brown ZA, Holmes KK. Genital herpes simplex virus infections: clinical manifestations, course, and complications. Ann Intern Med. 1983 Jun. 98(6):958-72. [Medline].

Wald A, Zeh J, Selke S, Ashley RL, Corey L. Virologic characteristics of subclinical and symptomatic genital herpes infections. N Engl J Med. 1995 Sep 21. 333(12):770-5. [Medline].

Benedetti JK, Zeh J, Corey L. Clinical reactivation of genital herpes simplex virus infection decreases in frequency over time. Ann Intern Med. 1999 Jul 6. 131(1):14-20. [Medline].

Sköldenberg B, Jeansson S, Wolontis S. Herpes simplex virus type 2 and acute aseptic meningitis. Clinical features of cases with isolation of herpes simplex virus from cerebrospinal fluids. Scand J Infect Dis. 1975. 7(4):227-32. [Medline].

Aurelius E, Johansson B, Skoldenberg B, Staland A, Forsgren M. Rapid diagnosis of herpes simplex encephalitis by nested polymerase chain reaction assay of cerebrospinal fluid. Lancet. 1991 Jan 26. 337(8735):189-92. [Medline].

Liang QN, Zhou JW, Liu TC, Lin GF, Dong ZN, Chen ZH, et al. Development of a time-resolved fluorescence immunoassay for herpes simplex virus type 1 and type 2 IgG antibodies. Luminescence. 2014 Nov 5. [Medline].

Gnann JW, Salvaggio MR. Drugs for Herpesvirus Infections. Cohen J, Powderly W, eds. Infectious Diseases. 2nd ed. New York: Mosby; 2004. Vol 2: 1895-909.

Johnston C, et al. Standard-dose and high-dose daily antiviral therapy for short episodes of genital HSV-2 reactivation: three randomized, open-label, cross-over trials [published online ahead of print January 5, 2012]. Lancet. doi:10.1016/S0140-6736(11)61750-9.

Belshe RB, et al. Efficacy Results of a trial of a herpes simplex vaccine. N Engl J Med. 2012. 366:34-43.

Green LK, Pavan-Langston D. Herpes simplex ocular inflammatory disease. Int Ophthalmol Clin. 2006 Spring. 46(2):27-37. [Medline].

Bedoui S, Greyer M. The role of dendritic cells in immunity against primary herpes simplex virus infections. Front Microbiol. 2014. 5:533. [Medline]. [Full Text].

Whitley RJ. Herpes simplex virus infections of the central nervous system. A review. Am J Med. 1988 Aug 29. 85(2A):61-7. [Medline].

Gardella C, Brown ZA, Wald A, Morrow RA, Selke S, Krantz E. Poor correlation between genital lesions and detection of herpes simplex virus in women in labor. Obstet Gynecol. 2005 Aug. 106(2):268-74. [Medline].

American College Obstetricians and Gynecologists. Management of herpes in pregnancy. ACOG Practice Bulletin. October 1999. Number 8:644-652.

Pasternak B, Hviid A. Use of acyclovir, valacyclovir, and famciclovir in the first trimester of pregnancy and the risk of birth defects. JAMA. 2010 Aug 25. 304(8):859-66. [Medline].

Brown ZA, Wald A, Morrow RA, Selke S, Zeh J, Corey L. Effect of serologic status and cesarean delivery on transmission rates of herpes simplex virus from mother to infant. JAMA. 2003 Jan 8. 289(2):203-9. [Medline].

Corey L, Wald A, Celum CL, Quinn TC. The effects of herpes simplex virus-2 on HIV-1 acquisition and transmission: a review of two overlapping epidemics. J Acquir Immune Defic Syndr. 2004 Apr 15. 35(5):435-45. [Medline].

Nagot N, Ouedraogo A, Foulongne V, Konate I, Weiss HA, Vergne L. Reduction of HIV-1 RNA levels with therapy to suppress herpes simplex virus. N Engl J Med. 2007 Feb 22. 356(8):790-9. [Medline].

Baeten JM, Strick LB, Lucchetti A, Whittington WL, Sanchez J, Coombs RW, et al. Herpes simplex virus (HSV)-suppressive therapy decreases plasma and genital HIV-1 levels in HSV-2/HIV-1 coinfected women: a randomized, placebo-controlled, cross-over trial. J Infect Dis. 2008 Dec 15. 198(12):1804-8. [Medline]. [Full Text].

Andrews WW, Kimberlin DF, Whitley R, Cliver S, Ramsey PS, Deeter R. Valacyclovir therapy to reduce recurrent genital herpes in pregnant women. Am J Obstet Gynecol. 2006 Mar. 194(3):774-81. [Medline].

Sheffield JS, Hill JB, Hollier LM, Laibl VR, Roberts SW, Sanchez PJ. Valacyclovir prophylaxis to prevent recurrent herpes at delivery: a randomized clinical trial. Obstet Gynecol. 2006 Jul. 108(1):141-7. [Medline].

Hasegawa T, Kawana T, Okuda T, Horii M, Tsukada T, Shiraki K. Susceptibility to acyclovir of herpes simplex virus isolates obtained between 1977 and 1996 in Japan. J Med Virol. 2001 Jan. 63(1):57-63. [Medline].

Rabella N, Otegui M, Labeaga R, et al. Antiviral susceptibility of Herpes simplex viruses and its clinical correlates: a single center's experience. Clin Infect Dis. 2002 Apr 15. 34(8):1055-60. [Medline].

Cunha BA, Eisenstein LE, Dillard T, Krol V. Herpes simplex virus (HSV) pneumonia in a heart transplant: diagnosis and therapy. Heart Lung. 2007 Jan-Feb. 36(1):72-8. [Medline].

Cunha BA, Fatehpuria R, Eisenstein LE. Listeria monocytogenes encephalitis mimicking Herpes Simplex virus encephalitis: the differential diagnostic importance of cerebrospinal fluid lactic acid levels. Heart Lung. 2007 May-Jun. 36(3):226-31. [Medline].

Eisenstein LE, Calio AJ, Cunha BA. Herpes simplex (HSV-1) aseptic meningitis. Heart Lung. 2004 May-Jun. 33(3):196-7. [Medline].

Eisenstein LE, Cunha BA. Herpes simplex virus pneumonia presenting as failure to wean from a ventilator. Heart Lung. 2003 Jan-Feb. 32(1):65-6. [Medline].

Mohan S, Hamid NS, Cunha BA. A cluster of nosocomial herpes simplex virus type 1 pneumonia in a medical intensive care unit. Infect Control Hosp Epidemiol. 2006 Nov. 27(11):1255-7. [Medline].
Medscape Reference © 2011 WebMD, LLC