Leprosy Clinical Presentation
Author: Darvin Scott Smith, MD, MSc, DTM&H; Chief Editor: Michael Stuart Bronze, MD more...
Updated: May 09, 2016
What would you like to print?
History
Symptoms
Symptoms are as follows:
Painless skin patch accompanied by loss of sensation but not itchiness (Loss of sensation is a feature of tuberculoid leprosy, unlike lepromatous leprosy, in which sensation is preserved.) Chronic insensate patch is seen in the image below.

Loss of sensation or paresthesias where the affected peripheral nerves are distributed

Wasting and muscle weakness

Foot drop or clawed hands (may result from neuritic pain and rapid peripheral nerve damage; as seen in the image below)

Ulcerations on hands or feet (ulcer at the metatarsal head is seen in the image below)

Lagophthalmos, iridocyclitis, corneal ulceration, and/or secondary cataract due to nerve damage and direct bacillary skin or eye invasion

[12]
Symptoms in reactions
Symptoms in reactions are as follows:
Type 1 (reversal) - Sudden onset of skin redness and new lesions

Type 2 (erythema nodosum leprosum [ENL]; as seen in the image below) - Many skin nodules, fever, redness of eyes, muscle pain, and joint pain

Patient with erythema nodosum leprosum type 2 reaction several weeks after initiation of drug therapy. This photograph was taken after tendon release. Redwood City, California. Courtesy of D. Scott Smith, MD.
Travel
Leprosy should be considered in anyone who has lived in the tropics or who has traveled for prolonged periods to endemic areas.
Exposure
The incubation period of leprosy is long, ranging from a few months to 20-50 years. The mean incubation time is estimated to be 10 years for lepromatous leprosy and 4 years for tuberculoid leprosy. The organism's slow dividing time (once every 2 wk) contributes to the challenge of epidemiologically linking exposures to the development of disease.
Because of immunologic reasons, only around 5-10% of the population is estimated to be susceptible to infection.
Physical
The cardinal signs of leprosy include hypoesthesia, skin lesions, and peripheral neuropathy. The first physical signs of leprosy are usually cutaneous. The subtype of leprosy often determines the degree of skin involvement.
Physical examination
Physical examination should include the following:
Evaluation of skin lesions

Careful sensory and motor examination

Palpation of peripheral nerves for pain or enlargement, with particular attention paid to the following locations:

Elbows - Ulnar nerve
Wrist - Superficial radial cutaneous and median nerves
Popliteal fossa - Common peroneal nerve
Neck - Great auricular nerve
Physical findings in specific leprosy subtypes
​Tuberculoid leprosy
The initial lesion is often a sharply demarcated hypopigmented macule that is ovoid, circular, or serpiginous. The lesions may be somewhat elevated with a dry scaly center and erythematous borders.
Common lesion sites include the buttocks, face, and extensor surfaces of limbs. The perineum, scalp, and axilla are not normally involved because of the temperature differential in these zones, as predilection is toward cooler zones.
As the disease progresses, lesions tend to destroy the normal skin organs such as sweat glands and hair follicles.
Superficial nerves that lead from the lesions tend to enlarge and are sometimes palpable. The patient may experience severe neuropathic pain. Nerve involvement can also lead to trauma and muscle atrophy.
Lepromatous leprosy
This form is characterized by extensive bilaterally symmetric cutaneous involvement, which can include macules, nodules, plaques, or papules. Multiple flat hypopigmented lesions are seen in the image below.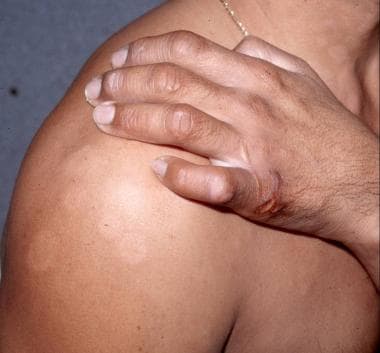 Multiple flat hypopigmented lesions on shoulder and neck, suggestive of multibacillary leprosy. Note ulceration of hypothenar area of hand, indicative of ulnar neuropathy. Redwood City, California, United States. Courtesy of D. Scott Smith, MD.
Unlike lesions in tuberculoid leprosy, those in lepromatous leprosy have poorly defined borders and raised and indurated centers. As in all forms of leprosy, lepromatous lesions are worst on cooler parts of the body. Common areas of involvement include the face, ears, wrists, elbows, buttocks, and knees.
Hoarseness, loss of eyebrows and eyelashes, and nasal collapse secondary to septa perforation may occur in advanced cases of disease. Involvement of the eye may include keratitis, glaucoma, or iridocyclitis as seen in the image below.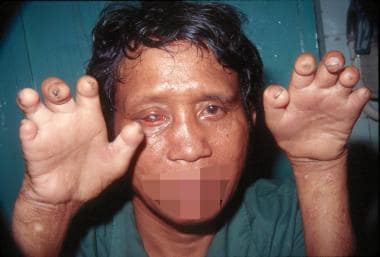 Man with advanced deformities caused by unmanaged leprosy. Keratitis, loss of eyebrow, thickened skin, and typical hand impairments. Ho Chi Minh City, Vietnam. Courtesy of D. Scott Smith, MD.
The leonine facies associated with leprosy develop as the disease progresses, and the facial skin becomes thickened and corrugated.
Axillary and inguinal adenopathy may develop, in addition to scarring of the testes and subsequent gynecomastia and sterility.
Nerve involvement in lepromatous leprosy is not as severe as in tuberculoid leprosy, since nerves, although visibly thickened and highly infected, still function reasonably well in early stages of the disease.
Borderline tuberculoid leprosy
The lesions are few or moderate and asymmetric with almost complete anesthesia. Peripheral nerves are often involved and thickened asymmetrically, and cutaneous nerves are sometimes enlarged.
Midborderline leprosy
The number of skin lesions is moderate, and they are asymmetrical and somewhat anesthetic. Peripheral nerves may be somewhat symmetrically enlarged, but cutaneous nerves are not.
Borderline lepromatous leprosy
Moderate to numerous slightly asymmetrical skin lesions appear with minor or no anesthesia. Peripheral nerves are often enlarged symmetrically, but cutaneous nerves are not.
Indeterminate leprosy
Skin lesions are typically either hypopigmented or hyperpigmented macules or plaques. Patients may note that these lesions are anesthetic or paresthetic.
Causes
M leprae is the causative agent associated with leprosy, which has been recognized as an infectious disease for the last 2 millennia. M leprae was discovered as the causative agent in 1873. The acid fast, gram-positive bacillus is an obligate intracellular organism with a predilection for Schwann cells and macrophages. M leprae has not been successfully grown using artificial media.
The route of transmission has not been definitively established, although human-to-human aerosol spread of nasal secretions is thought to be the most likely mode of transmission in most cases. Leprosy is not spread by touch, since the mycobacteria are incapable of crossing intact skin. Living near people with leprosy is associated with increased transmission. Among household contacts, the relative risk for leprosy is increased 8- to 10-fold in multibacillary and 2- to 4-fold in paucibacillary forms. Animal reservoirs do exist (armadillos, certain nonhuman primates), and cases of suspected zoonotic transmission have been reported.
References
Reibel F, Cambau E, Aubry A. Update on the epidemiology, diagnosis, and treatment of leprosy. Médecine et Maladies Infectieuses. 2015 Sept 02. Volume 45, Issue 9:383–393.

Scollard DM, Adams LB, Gillis TP, Krahenbuhl JL, Truman RW, Williams DL. The continuing challenges of leprosy. Clin Microbiol Rev. 2006 Apr. 19(2):338-81. [Medline]. [Full Text].

Schreuder PAM, Noto S, Richardus JH. Epidemiologic trends of leprosy for the 21st century. Clinics in Dermatology. 2015 Nov 04. Volume 34, Issue 1:24-31.

The World Health Organization. Diagnosis of Leprosy. Leprosy Elimination. Available at http://www.who.int/lep/diagnosis/en/. Accessed: April 15, 2016.

U.S. Department of Health and Human Services. National Hansen's Disease (Leprosy) Program. Health Resources and Services Administration. Available at http://www.hrsa.gov/hansensdisease/. Accessed: March 23, 2016.

Fred F. Ferri. Leprosy. Ferri's Clinical Advisor 2015: 5 books in 1. Philadelphia, PA: Elsevier/Mosby; 2015. 687.e4-687.e5.

Truman RW, Singh P, Sharma R, et al. Probable zoonotic leprosy in the southern United States. N Engl J Med. 2011 Apr 28. 364(17):1626-33. [Medline].

Joyce MP, Scollard DM. Leprosy (Hansen's Disease). Conn's Current Therapy. 2004. 100-105.

Ustianowski AP, Lockwood DN. Leprosy: current diagnostic and treatment approaches. Curr Opin Infect Dis. 2003 Oct. 16(5):421-7. [Medline].

Anderson GA. The surgical management of deformities of the hand in leprosy. J Bone Joint Surg Br. 2006 Mar. 88(3):290-4. [Medline].

The World Health Organization. Transmission of Leprosy. Leprosy Elimination. Available at http://www.who.int/lep/transmission/en/. Accessed: April 15, 2016.

Walker SL, Lockwood DN. Leprosy. Clin Dermatol. 2007 Mar-Apr. 25(2):165-72. [Medline].

Anderson H, Stryjewska B, Boyanton BL, et al. Hansen disease in the United States in the 21st century: a review of the literature. Arch Pathol Lab Med. 2007 Jun. 131(6):982-6. [Medline].

Martinez AN, Talhari C, Moraes MO, Talhari S. PCR-based techniques for leprosy diagnosis: from the laboratory to the clinic. PLoS Negl Trop Dis. 2014 Apr. 8 (4):e2655. [Medline].

Health and Human Resources Administration. Hansens Disease. National Hansen's Disease (Leprosy) Clinical Center. Available at http://www.hrsa.gov/hansensdisease/clinicalcenter.html. Accessed: April 15, 2016.

Van Veen NH, Nicholls PG, Smith WC, Richardus JH. Corticosteroids for treating nerve damage in leprosy. Cochrane Database Syst Rev. 2007 Apr 18. CD005491. [Medline].

Kai M, Nguyen Phuc NH, et al. Analysis of Drug-Resistant Strains of Mycobacterium leprae in an Endemic Area of Vietnam. Clin Infect Dis. Mar 2011;52(5):e127-32.

Singh P, Busso P, Paniz-Mondolfi A, et al. Molecular Drug Susceptibility Testing and Genotyping of Mycobacterium leprae Strains from South America. Antimicrob Agents Chemother. 2011 Jun. 55(6):2971-3. [Medline]. [Full Text].

Bakker MI, Hatta M, Kwenang A, et al. Risk factors for developing leprosy--a population-based cohort study in Indonesia. Lepr Rev. 2006 Mar. 77(1):48-61. [Medline].

Britton WJ, Lockwood DN. Leprosy. Lancet. 2004 Apr 10. 363(9416):1209-19. [Medline].

Deps PD, Guedes BV, Bucker Filho J, Andreatta MK, Marcari RS, Rodrigues LC. Characteristics of known leprosy contact in a high endemic area in Brazil. Lepr Rev. 2006 Mar. 77(1):34-40. [Medline].

Jacobson RR, Krahenbuhl JL, Yoder L. Overview of Leprosy. UpToDate. 2006.

Leprosy. World Health Organization. Available at www.who.org.

Moschella SL. An update on the diagnosis and treatment of leprosy. J Am Acad Dermatol. 2004 Sep. 51(3):417-26. [Medline].

National Hansen's Disease (Leprosy) Program. U.S. Department of Health and Human Services. Available at http://www.hrsa.gov/hansensdisease/index.html. Accessed: July 21, 2014.

Rao PS, Sugamaran DS, Richard J, et al. Multi-centre, double blind, randomized trial of three steroid regimens in the treatment of type-1 reactions in leprosy. Lepr Rev. 2006 Mar. 77(1):25-33. [Medline].

Sridharan R, Lorenzo N, Narasimhan L. Leprosy. Medscape Reference. 2005.

van Beers SM, Hatta M, Klatser PR. Patient contact is the major determinant in incident leprosy: implications for future control. Int J Lepr Other Mycobact Dis. 1999 Jun. 67(2):119-28. [Medline].
Table 1. Multidrug Therapy Plan Recommended by the WHO
Type of Leprosy
Daily, Self-Administered
Monthly Supervised
Months of Treatment
Paucibacillary
Dapsone 100 mg
Rifampicin 600 mg
6
Single-lesion paucibacillary
Rifampicin 600 mg,



Ofloxacin 400 mg,



Minocycline 100 mg




N/A
Single dose
Multibacillary
Dapsone 100 mg,



Clofazimine 50 mg




Rifampicin 600 mg,



Clofazimine 300 mg




12
Pediatric
Dapsone 2 mg/kg,



Clofazimine 1 mg/kg




Rifampicin 10 mg/kg,



Clofazimine 6 mg/kg




Same as in adults
Table 2. US Recommendations for Multidrug Therapy
[15]
Type of Leprosy
Daily, Self-Administered
Monthly Supervised
Months of Treatment
Paucibacillary
Dapsone 100 mg,



Rifampicin 600 mg




N/A
12
Single-lesion paucibacillary
Dapsone 100 mg,



Rifampicin 600 mg




N/A
12
Multibacillary
Dapsone 100 mg,



Rifampicin 600 mg,



Clofazimine 50 mg




N/A
24
Medscape Reference © 2011 WebMD, LLC