Mucormycosis Clinical Presentation
Author: Nancy F Crum-Cianflone, MD, MPH; Chief Editor: Pranatharthi Haran Chandrasekar, MBBS, MD more...
Updated: Apr 03, 2015
What would you like to print?
History and Physical Examination
Based on anatomic localization, mucormycosis can be classified as 1 of 6 forms: (1) rhinocerebral, (2) pulmonary, (3) cutaneous, (4) gastrointestinal, (5) disseminated, and (6) uncommon presentations.[11] Manifestations of mucormycosis depend on the location of involvement.
Rhinocerebral disease
Rhinocerebral disease may manifest as unilateral, retro-orbital headache, facial pain, numbness, fever, hyposmia, and nasal stuffiness, which progresses to black discharge. Initially, mucormycosis may mimic sinusitis.[19, 20]
Late symptoms that indicate invasion of the orbital nerves and vessels include diplopia and visual loss (see the following image). These late symptoms indicate a poor prognosis and are usually followed by reduced consciousness. Most patients with rhinocerebral disease have diabetes (especially with ketoacidosis) or have malignancies in combination with neutropenia and who may be receiving broad-spectrum antibiotics.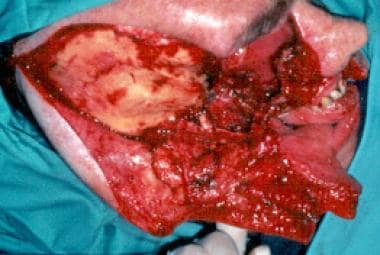 An immunocompetent man who sustained a high-pressure water jet injury, resulting in rhinocerebral mucormycosis. Traumatic inoculation of Apophysomyces elegans was the pathogenetic mechanism. A surgical field of this patient is shown. Excision of the right orbit, maxillary antrum, nasal cavity, sphenoid sinus, and infratemporal fossa has taken place. The tissue was infarcted. (Courtesy of A. Allworth, MD, Brisbane, Australia.)
Orbital swelling and facial cellulitis are progressive. Black pus discharges from the necrotic palatine or nasal eschars. Necrotic eschars can be noted in the nasal cavity, on the hard palate, or as facial lesions; although these lesions are suggestive of mucormycosis, their absence does not exclude the possibility of this disease.
Proptosis, ptosis, chemosis, and ophthalmoplegias indicate retro-orbital extension. Cranial nerves V and VII are the most commonly affected. Loss of vision can occur with retinal artery thrombosis.
A reduced conscious state denotes brain involvement.
Pulmonary disease
Pulmonary mucormycosis manifests nonspecifically as fever, dyspnea, and cough. Hemoptysis may occur in the presence of necrosis. Most patients with pulmonary disease have malignancies and a history of neutropenia. Pulmonary disease frequently occurs with concurrent sinus involvement.
The signs of pulmonary disease are nonspecific. Fevers are often noted. The lung examination may reveal decreased breath sounds and rales. Occasionally, chest wall cellulitis can occur adjacent to the underlying parenchymal disease, given the ability of this infection to cross tissue planes.
Cutaneous disease
Cutaneous disease manifests as cellulitis, which progresses to dermal necrosis and black eschar formation. The progressive black necrotic lesion of cutaneous mucormycosis reflects the vessel invasion characteristic of all forms of the disease.
Patients with skin disease may have had previous trauma or have been exposed to contaminated medical equipment, such as bandages.[5, 6] Rare cases have occurred at catheter sites or insulin or drug-use injection sites.
Gastrointestinal
Gastrointestinal (GI) mucormycosis usually affects severely malnourished individuals. Some case reports have described GI mucormycosis in transplant patients (eg, renal transplant). This infection may occur throughout the GI tract but most commonly affects the stomach, ileum, and colon. Again, the presentation is nonspecific, with abdominal pain, distention, nausea, and vomiting. Hematochezia[21] or obstruction[22] may occur. Some patients have tenderness to palpation or a mass; rupture may lead to signs of peritonitis.
Disseminated disease
Other disseminated forms of mucormycosis may involve the kidneys, bones, heart, and other locations, with symptoms attributed to these organ systems. Peritonitis in the setting of continuous ambulatory peritoneal dialysis has also been described.[23]
Other forms including central nervous system
Central nervous system (CNS) disease manifests as headache, decreasing consciousness, and focal neurologic symptoms/signs, including cranial nerve deficits. Patients with CNS involvement may have a history of open head trauma, intravenous drug use, or malignancy.
References
Kontoyiannis DP, Lewis RE. Agents of mucormycosis and Entomophthoramycosis. Mandell GL, Bennett GE, Dolin R, eds. Mandell, Douglas and Bennett's Principles and Practice of Infectious Diseases. 7th ed. Philadelphia, Pa: Churchill Livingstone; 2010. 3257-69.

Kwon-Chung KJ. Taxonomy of fungi causing mucormycosis and entomophthoramycosis (zygomycosis) and nomenclature of the disease: molecular mycologic perspectives. Clin Infect Dis. 2012 Feb. 54 Suppl 1:S8-S15. [Medline].

Mohindra S, Mohindra S, Gupta R, Bakshi J, Gupta SK. Rhinocerebral mucormycosis: the disease spectrum in 27 patients. Mycoses. 2007 Jul. 50(4):290-6. [Medline].

Rahman A, Akter K, Hossain S, Rashid HU. Rhino-orbital mucourmycosis in a non-immunocompromised patient. BMJ Case Rep. 2. 2013 Feb 6. 013:doi:pii: bcr2012007863.

Lalayanni C, Baliakas P, Xochelli A, Apostolou C, Arabatzis M, Velegraki A. Outbreak of cutaneous zygomycosis associated with the use of adhesive tape in haematology patients. J Hosp Infect. 2012 Jul. 81(3):213-5. [Medline].

Rammaert B, Lanternier F, Zahar JR, Dannaoui E, Bougnoux ME, Lecuit M. Healthcare-associated mucormycosis. Clin Infect Dis. 2012 Feb. 54 Suppl 1:S44-54. [Medline].

Andresen D, Donaldson A, Choo L, et al. Multifocal cutaneous mucormycosis complicating polymicrobial wound infections in a tsunami survivor from Sri Lanka. Lancet. 2005 Mar 5-11. 365(9462):876-8. [Medline].

Neblett Fanfair R, Benedict K, Bos J, Bennett SD, Lo YC, Adebanjo T. Necrotizing cutaneous mucormycosis after a tornado in Joplin, Missouri, in 2011. N Engl J Med. 2012 Dec 6. 367(23):2214-25. [Medline].

Kouadio IK, Aljunid S, Kamigaki T, Hammad K, Oshitani H. Infectious diseases following natural disasters: prevention and control measures. Expert Rev Anti Infect Ther. 2012 Jan. 10(1):95-104. [Medline].

Roilides E, Kontoyiannis DP, Walsh TJ. Host defenses against zygomycetes. Clin Infect Dis. 2012 Feb. 54 Suppl 1:S61-6. [Medline].

Petrikkos G, Skiada A, Lortholary O, Roilides E, Walsh TJ, Kontoyiannis DP. Epidemiology and clinical manifestations of mucormycosis. Clin Infect Dis. 2012 Feb. 54 Suppl 1:S23-34. [Medline].

Kontoyiannis DP, Wessel VC, Bodey GP, Rolston KV. Zygomycosis in the 1990s in a tertiary-care cancer center. Clin Infect Dis. 2000 Jun. 30(6):851-6. [Medline].

Kontoyiannis DP, Marr KA, Park BJ, et al. Prospective surveillance for invasive fungal infections in hematopoietic stem cell transplant recipients, 2001-2006: overview of the Transplant-Associated Infection Surveillance Network (TRANSNET) Database. Clin Infect Dis. 2010 Apr 15. 50(8):1091-100. [Medline].

Fatal fungal soft-tissue infections after a tornado. Center for Disease Control and Prevention. Mortal.Wkly Rep. 2011. 60:992.

Green JP, Karras DJ. Update on emerging infections: news from the Centers for Disease Control and Prevention. Notes from the field: fatal fungal soft-tissue infections after a tornado--Joplin, Missouri, 2011. Ann Emerg Med. 2012 Jan. 59(1):53-5. [Medline].

Bitar D, Van Cauteren D, Lanternier F, Dannaoui E, Che D, Dromer F. Increasing incidence of zygomycosis (mucormycosis), France, 1997-2006. Emerg Infect Dis. 2009 Sep. 15(9):1395-401. [Medline].

Pagano L, Ricci P, Tonso A, et al. Mucormycosis in patients with haematological malignancies: a retrospective clinical study of 37 cases. GIMEMA Infection Program (Gruppo Italiano Malattie Ematologiche Maligne dell'Adulto). Br J Haematol. 1997 Nov. 99(2):331-6. [Medline].

Lee FY, Mossad SB, Adal KA. Pulmonary mucormycosis: the last 30 years. Arch Intern Med. 1999 Jun 28. 159(12):1301-9. [Medline].

Szalai G, Fellegi V, Szabo Z, Vitez LC. Mucormycosis mimicks sinusitis in a diabetic adult. Ann N Y Acad Sci. 2006 Nov. 1084:520-30. [Medline].

Gamaletsou MN, Sipsas NV, Roilides E, Walsh TJ. Rhino-orbital-cerebral mucormycosis. Curr Infect Dis Rep. 2012 Aug. 14(4):423-34. [Medline].

Johnson JB, Affolter KE, Samadder NJ. A Rare Cause of Hematochezia: Colon Mucormycosis. Clin Gastroenterol Hepatol. 2012 Aug 28. [Medline].

Chawla N, Reddy SJ, Agrawal M. Ileocolic mucormycosis causing intestinal obstruction. Indian J Med Microbiol. 2012 Jul-Sep. 30(3):373-4. [Medline].

Polo JR, Luno J, Menarguez C, Gallego E, Robles R, Hernandez P. Peritoneal mucormycosis in a patient receiving continuous ambulatory peritoneal dialysis. Am J Kidney Dis. 1989 Mar. 13(3):237-9. [Medline].

Walsh TJ, Gamaletsou MN, McGinnis MR, Hayden RT, Kontoyiannis DP. Early clinical and laboratory diagnosis of invasive pulmonary, extrapulmonary, and disseminated mucormycosis (zygomycosis). Clin Infect Dis. 2012 Feb. 54 Suppl 1:S55-60. [Medline].

Millon L, Larosa F, Lepiller Q, Legrand F, Rocchi S, Daguindeau E. Quantitative PCR detection of circulating DNA in serum for early diagnosis of mucormycosis in immunocompromised patients. Clin Infect Dis. 2013 Feb 18. [Medline].

Bernal-Martínez L, Buitrago MJ, Castelli MV, Rodriguez-Tudela JL, Cuenca-Estrella M. Development of a single tube multiplex real-time PCR to detect the most clinically relevant Mucormycetes species. Clin Microbiol Infect. 2013 Jan. 19(1):E1-7. [Medline].

Kontoyiannis DP, Lewis RE. How I treat mucormycosis. Blood. 2011 Aug 4. 118(5):1216-24. [Medline].

Gelston CD, Durairaj VD, Simoes EA. Rhino-orbital mucormycosis causing cavernous sinus and internal carotid thrombosis treated with posaconazole. Arch Ophthalmol. 2007 Jun. 125(6):848-9. [Medline].

Wahba H, Truong MT, Lei X, Kontoyiannis DP, Marom EM. Reversed halo sign in invasive pulmonary fungal infections. Clin Infect Dis. 2008 Jun 1. 46(11):1733-7. [Medline].

Skiada A, Lanternier F, Groll AH, Pagano L, Zimmerli S, Herbrecht R. Diagnosis and treatment of mucormycosis in patients with haematological malignancies: guidelines from the 3rd European Conference on Infections in Leukemia (ECIL 3). Haematologica. 2012 Sep 14. [Medline].

Spellberg B, Ibrahim A, Roilides E, et al. Combination therapy for mucormycosis: why, what, and how?. Clin Infect Dis. 2012 Feb. 54 Suppl 1:S73-8. [Medline].

Spellberg B, Walsh TJ, Kontoyiannis DP, Edwards J Jr, Ibrahim AS. Recent advances in the management of mucormycosis: from bench to bedside. Clin Infect Dis. 2009 Jun 15. 48(12):1743-51. [Medline]. [Full Text].

Ibrahim AS, Gebremariam T, Fu Y, Edwards JE Jr, Spellberg B. Combination echinocandin-polyene treatment of murine mucormycosis. Antimicrob Agents Chemother. 2008 Apr. 52(4):1556-8. [Medline]. [Full Text].

Gleissner B, Schilling A, Anagnostopolous I, Siehl I, Thiel E. Improved outcome of zygomycosis in patients with hematological diseases?. Leuk Lymphoma. 2004 Jul. 45(7):1351-60. [Medline].

Walsh TJ, Goodman JL, Pappas P, Bekersky I, Buell DN, Roden M. Safety, tolerance, and pharmacokinetics of high-dose liposomal amphotericin B (AmBisome) in patients infected with Aspergillus species and other filamentous fungi: maximum tolerated dose study. Antimicrob Agents Chemother. 2001 Dec. 45(12):3487-96. [Medline].

Almannai M, Imran H, Estrada B, Siddiqui AH. Successful Treatment of Rhino-Orbital Mucormycosis with Posaconazole and Hyperbaric Oxygen Therapy. Pediatr Hematol Oncol. 2013 Feb 27. [Medline].

Sedlacek M, Cotter JG, Suriawinata AA, et al. Mucormycosis peritonitis: more than 2 years of disease-free follow-up after posaconazole salvage therapy after failure of liposomal amphotericin B. Am J Kidney Dis. 2008 Feb. 51(2):302-6. [Medline].

Vehreschild JJ, Birtel A, Vehreschild MJ, Liss B, Farowski F, Kochanek M. Mucormycosis treated with posaconazole: review of 96 case reports. Crit Rev Microbiol. 2012 Aug 24. [Medline].

Rickerts V, Atta J, Herrmann S, et al. Successful treatment of disseminated mucormycosis with a combination of liposomal amphotericin B and posaconazole in a patient with acute myeloid leukaemia. Mycoses. 2006. 49 Suppl 1:27-30. [Medline].

Ashkenazi-Hoffnung L, Bilavsky E, Avitzur Y, Amir J. Successful treatment of cutaneous zygomycosis with intravenous amphotericin B followed by oral posaconazole in a multivisceral transplant recipient. Transplantation. 2010 Nov 27. 90(10):1133-5. [Medline].

Yoon YK, Kim MJ, Chung YG, Shin IY. Successful treatment of a case with rhino-orbital-cerebral mucormycosis by the combination of neurosurgical intervention and the sequential use of amphotericin B and posaconazole. J Korean Neurosurg Soc. 2010 Jan. 47(1):74-7. [Medline]. [Full Text].

National Institutes of Health. Isavuconazole in the treatment of renally impaired aspergillosis and rare fungi. NLM identifier: NCT00634049. ClinicalTrials.gov. Available at http://clinicaltrials.gov/ct2/show/NCT00634049. Accessed: April 2, 2015.

van Well GT, van Groeningen I, Debets-Ossenkopp YJ, van Furth AM, Zwaan CM. Zygomycete infection following voriconazole prophylaxis. Lancet Infect Dis. 2005 Sep. 5(9):594. [Medline].

Trifilio SM, Bennett CL, Yarnold PR, et al. Breakthrough zygomycosis after voriconazole administration among patients with hematologic malignancies who receive hematopoietic stem-cell transplants or intensive chemotherapy. Bone Marrow Transplant. 2007 Apr. 39(7):425-9. [Medline].

Alastruey-Izquierdo A, Castelli MV, Cuesta I, et al. In vitro activity of antifungals against Zygomycetes. Clin Microbiol Infect. 2009 Oct. 15 Suppl 5:71-6. [Medline].

Spellberg B, Ibrahim AS. Recent advances in the treatment of mucormycosis. Curr Infect Dis Rep. 2010 Nov. 12(6):423-9. [Medline]. [Full Text].

Ogawa T, Takezawa K, Tojima I, et al. Successful treatment of rhino-orbital mucormycosis by a new combination therapy with liposomal amphotericin B and micafungin. Auris Nasus Larynx. 2012 Apr. 39(2):224-8. [Medline].

Reed C, Bryant R, Ibrahim AS, Edwards J Jr, Filler SG, Goldberg R. Combination polyene-caspofungin treatment of rhino-orbital-cerebral mucormycosis. Clin Infect Dis. 2008 Aug 1. 47(3):364-71. [Medline].

Ribeiro EF, Dos Santos VM, Paixao GT, Cruz LR, Danilow MZ, Campos VF. Mucormycosis in a Patient with Acute Myeloid Leukemia Successfully Treated with Liposomal Amphotericin B Associated with Deferasirox and Hyperbaric Oxygen. Mycopathologia. 2013 Feb 27. [Medline].

Ibrahim AS, Spellberg B, Edwards J Jr. Iron acquisition: a novel perspective on mucormycosis pathogenesis and treatment. Curr Opin Infect Dis. 2008 Dec. 21(6):620-5. [Medline].

Donnelly JP, Lahav M. Deferasirox as adjunctive therapy for mucormycosis. J Antimicrob Chemother. 2012 Mar. 67(3):519-20. [Medline].

Spellberg B, Ibrahim AS, Chin-Hong PV, Kontoyiannis DP, Morris MI, Perfect JR. The Deferasirox-AmBisome Therapy for Mucormycosis (DEFEAT Mucor) study: a randomized, double-blinded, placebo-controlled trial. J Antimicrob Chemother. 2012 Mar. 67(3):715-22. [Medline].

Keating GM. Posaconazole. Drugs. 2005. 65(11):1553-67; discussion 1568-9. [Medline].

Greenberg RN, Mullane K, van Burik JA, et al. Posaconazole as salvage therapy for zygomycosis. Antimicrob Agents Chemother. 2006 Jan. 50(1):126-33. [Medline]. [Full Text].
Medscape Reference © 2011 WebMD, LLC