Poxviruses Clinical Presentation
Author: John D Shanley, MD, MPH; Chief Editor: Mark R Wallace, MD, FACP, FIDSA more...
Updated: Oct 07, 2015
What would you like to print?
History
Among poxvirus infections, variola and molluscum contagiosum are diseases of humans. Vaccinia results from either vaccination or accidental laboratory exposure. Other poxvirus infections are zoonoses, resulting from close animal exposure.
Smallpox
Smallpox generally presents in 2 clinical forms, variola major (25-30% fatality rate) and a similar but milder disease known as variola minor (< 1% fatality rate).
Patients with smallpox initially present with nonspecific symptoms, including fever and a toxic appearance. These symptoms are followed by a slow developing maculopapular rash, which generally develops on the face and extremities and spreads to the trunk. The rash evolves rapidly into vesicles, followed by pustules, scabs, and healing.
Some patients present with unusual forms of variola. Flat smallpox is a severe form in which the pustules remain relatively flat. Hemorrhagic variola is a syndrome that appears clinically similar to meningococcemia. This form is invariably fatal.
Molluscum contagiosum
Patients infected with molluscum contagiosum develop small pearly epidermal nodules (1-2 mm in diameter) that have a characteristic central pit known as an umbilication.
This condition generally resolves over time. However, persons with immunodeficiency (eg, HIV infection) who develop molluscum contagiosum may develop chronic and extensive skin lesions.
Vaccinia
Vaccinia infections result from iatrogenic or accidental inoculation of the virus.
Infections have been described at multiple sites, including the eyes. On the skin, the infection initially appears as localized maculopapular lesions that evolve into vesicles and pustules, which then form a scab. Healing may be associated with significant scarring. The CDC has provided an excellent training program on vaccinia vaccination and adverse events (Smallpox Vaccination and Adverse Events Training Module).
Patients with vaccinia infections may have fever and regional lymphadenopathy.
In patients with eczema (ie, active or inactive), vaccinia can cause eczema vaccinatum. Infection involves the eczematous skin, and areas become intensely inflamed. The infection may disseminate. Constitutional symptoms are severe, with high fever and generalized lymphadenopathy. Death is common.
In immunodeficient patients, vaccinia is known to cause progressive vaccinia. The initial site of inoculation develops a progressive unrelenting lesion known as vaccinia gangrenosum. Dissemination of vaccinia can occur with generalized lesions. Death is common in these patients. See the images below.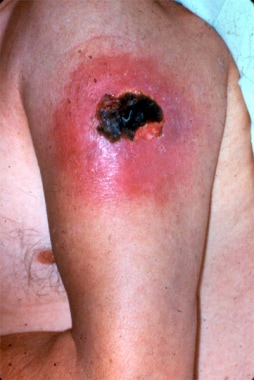 Poxviruses. Following vaccination for smallpox, this patient with chronic lymphocytic leukemia developed vaccinia gangrenosum.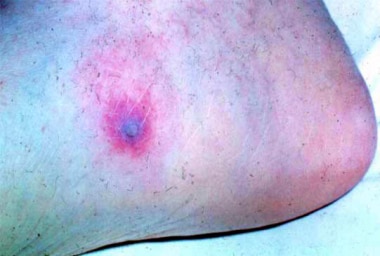 Poxviruses. Following vaccination for smallpox, a patient with chronic lymphocytic leukemia developed vaccinia gangrenosum. The lesion was on the left shoulder. As the lesion progressed, the patient also developed evidence of dissemination. This image shows a vaccinia pustule on the foot.
Monkeypox
Monkeypox infection can produce a disease similar to variola minor characterized by a disseminated rash or relatively localized lesions. Clinically, disseminated monkeypox infection cannot be distinguished from smallpox. Monkeypox infections generally occur in villages in tropical regions of western and central Africa. Most of the monkeypox infections that occurred during the US outbreak in 2003 were characterized by localized lesions (Marshfield Clinic Monkeypox Virus Information).
Other human poxvirus infections
Other human poxvirus infections include cowpox, orf (ie, contagious pustular dermatitis), bovine papular stomatitis, pseudocowpox (milker's nodule), sealpox, tanapox, and yabapox. These are rare zoonotic infections that are caused by cutaneous inoculation due to the close proximity of humans to animals. Cowpox causes a localized pustular skin lesion that follows a course similar to that of uncomplicated vaccinia infection. The remainder of the infections produce a localized nodular lesion that resolves over time.
Physical
Poxvirus infections cause either a localized or a generalized vesicular exanthem. The lesions of smallpox, vaccinia, monkeypox, and cowpox evolve from a papule to a vesicle. The vesicles then form pustules, followed by scabbing and healing. The remaining viruses cause localized nodules at the site of inoculation. Individual viruses cause characteristic clinical syndromes. With the exception of smallpox, regional lymphadenopathy is common.
Causes
Exposure to poxviruses (members of the Poxviridae family) causes these infections.
References
Preston R. The Demon in the Freezer. The New Yorker. July 12, 1999. 44-61. [Full Text].

Kile JC, Fleischauer AT, Beard B, et al. Transmission of monkeypox among persons exposed to infected prairie dogs in Indiana in 2003. Arch Pediatr Adolesc Med. 2005 Nov. 159(11):1022-5. [Medline].

Elde NC, Child SJ, Eickbush MT, Kitzman JO, Rogers KS, Shendure J, et al. Poxviruses deploy genomic accordions to adapt rapidly against host antiviral defenses. Cell. 2012 Aug 17. 150(4):831-41. [Medline]. [Full Text].

Moss B. Poxvirus DNA replication. Cold Spring Harb Perspect Biol. 2013 Sep 1. 5(9):[Medline].

De Clercq E, Neyts J. Therapeutic potential of nucleoside/nucleotide analogues against poxvirus infections. Rev Med Virol. 2004 Sep-Oct. 14(5):289-300. [Medline].

Meadows KP, Tyring SK, Pavia AT, et al. Resolution of recalcitrant molluscum contagiosum virus lesions in human immunodeficiency virus-infected patients treated with cidofovir. Arch Dermatol. 1997 Aug. 133(8):987-90. [Medline].

Ibarra V, Blanco JR, Oteo JA, et al. Efficacy of cidofovir in the treatment of recalcitrant molluscum contagiosum in an AIDS patient. Acta Derm Venereol. 2000 Jul-Aug. 80(4):315-6. [Medline].

Geerinck K, Lukito G, Snoeck R, et al. A case of human orf in an immunocompromised patient treated successfully with cidofovir cream. J Med Virol. 2001 Aug. 64(4):543-9. [Medline].

Baxby D, Bennett M. Poxvirus zoonoses. J Med Microbiol. 1997 Jan. 46(1):17-20, 28-33. [Medline].

Di Giulio DB, Eckburg PB. Human monkeypox: an emerging zoonosis. Lancet Infect Dis. 2004 Jan. 4(1):15-25. [Medline].

Fenner F. Adventures with poxviruses of vertebrates. FEMS Microbiol Rev. 2000 Apr. 24(2):123-33. [Medline].

Fenner F. Poxviruses. Richman D, Whitley RJ, Hayden FG, eds. Clinical Virology. 1st ed. New York, NY: Churchill Livingstone; 1996. 357-74.

Fenner F, Henderson DH, Arita I, et al. Smallpox and its eradication. Geneva, Switzerland: World Health Organization.; 1988.

Henderson DA, Inglesby TV, Bartlett JG, et al. Smallpox as a biological weapon: medical and public health management. Working Group on Civilian Biodefense. JAMA. 1999 Jun 9. 281(22):2127-37. [Medline].

Henderson DH, Moss B. Smallpox and vaccinia. Plotkin S, Orenstein WA, eds. Vaccines. 3rd. Philadelphia, Pa: WB Saunders; 1999. 74-97.

Lewis-Jones S. Zoonotic poxvirus infections in humans. Curr Opin Infect Dis. 2004 Apr. 17(2):81-9. [Medline].

Perna AG, Tyring SK. A review of the dermatologic manifestations of poxvirus infections. Dermatol Clin. 2002 Apr. 20(2):343-6. [Medline].

Slifka MK, Hanifin JM. Smallpox: the basics. Dermatol Clin. 2004 Jul. 22(3):263-74, vi. [Medline].

Bidgood SR, Mercer J. Cloak and Dagger: Alternative Immune Evasion and Modulation Strategies of Poxviruses. Viruses. 2015 Aug 21. 7 (8):4800-25. [Medline].
Medscape Reference © 2011 WebMD, LLC