Proteus Infections Workup
Author: Gus Gonzalez, MD; Chief Editor: Michael Stuart Bronze, MD more...
Updated: Oct 08, 2015
What would you like to print?
Laboratory Studies
Proteus organisms are easily recovered through routine laboratory cultures. Most strains are lactose-negative and demonstrate characteristic swarming motility on agar plates. Any positive culture result from an otherwise sterile area should be considered an acute infection if clinical signs and symptoms are present.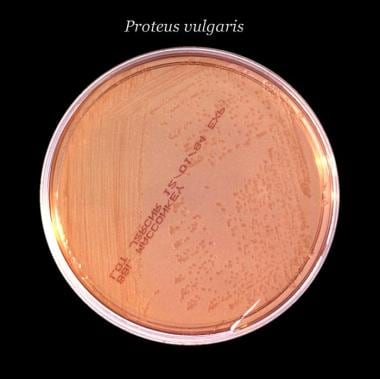 After 24 hours, this inoculated MacConkey agar culture plate cultivated colonial growth of gram-negative, rod-shaped, and facultatively anaerobic Proteus vulgaris bacteria. Courtesy of the CDC.
UTIs in symptomatic patients have traditionally been defined by recovering bacteria in large numbers (ie, >100,000 colony-forming units [CFUs]/mL) on examination. Bacterial counts of less than 100,000 CFUs/mL may indicate infection in urine samples, especially if obtained directly from the ureters or renal pelvis, whereas specimens from suprapubic catheters usually have bacterial counts greater than 100,000 CFUs/mL. However, even small numbers of organisms may be of true clinical significance in symptomatic patients (eg, women with the urethral syndrome).
Microscopic bacteriuria is best evaluated through uncentrifuged Gram staining of the urine. Microscopic bacteriuria is found in 90% of cases when bacterial counts exceed 100,000 CFUs/mL. Detection by microscopy confirms infection, but absence does not exclude infection. Pyuria is demonstrated in nearly all acute bacterial infections, but its absence calls the diagnosis into question. The leukocyte esterase dipstick test is a useful alternative to microscopic examination, but this method is less sensitive than microscopy.
Persistently alkaline urine with a positive Proteus culture finding should prompt an examination for renal calculi.
Although cultures are the most definitive way of confirming an acute Proteus infection, they are often prohibitively expensive and take time for complete identification. Cultures are most effective when patients do not respond to empiric therapy or when they have recurrent symptoms.
Imaging Studies
Ultrasonography of the kidneys or a CT scan should be considered as part of a workup for Proteus infection of the urinary tract that does not resolve quickly with antimicrobial therapy. Calices and/or perinephric abscesses should be excluded.
References
Luzzaro F, Brigante G, D'Andrea MM, Pini B, Giani T, Mantengoli E, et al. Spread of multidrug-resistant Proteus mirabilis isolates producing an AmpC-type beta-lactamase: epidemiology and clinical management. Int J Antimicrob Agents. 2009 Apr. 33(4):328-33. [Medline].

Lewis JS 2nd, Herrera M, Wickes B, Patterson JE, Jorgensen JH. First report of the emergence of CTX-M-type extended-spectrum beta-lactamases (ESBLs) as the predominant ESBL isolated in a U.S. health care system. Antimicrob Agents Chemother. 2007 Nov. 51(11):4015-21. [Medline].

Wang JT, Chen PC, Chang SC, Shiau YR, Wang HY, Lai JF, et al. Antimicrobial susceptibilities of Proteus mirabilis: a longitudinal nationwide study from the Taiwan surveillance of antimicrobial resistance (TSAR) program. BMC Infect Dis. 2014 Sep 5. 14:486. [Medline]. [Full Text].

Helmy MM, Wasfi R. Phenotypic and molecular characterization of plasmid mediated AmpC ß-lactamases among Escherichia coli, Klebsiella spp., and Proteus mirabilis isolated from urinary tract infections in Egyptian hospitals. Biomed Res Int. 2014. 2014:171548. [Medline]. [Full Text].

Tsai HY, Chen YH, Tang HJ, Huang CC, Liao CH, Chu FY, et al. Carbapenems and piperacillin/tazobactam for the treatment of bacteremia caused by extended-spectrum ß-lactamase-producing Proteus mirabilis. Diagn Microbiol Infect Dis. 2014 Jul 26. [Medline].

Williams GJ, Stickler DJ. Effect of triclosan on the formation of crystalline biofilms by mixed communities of urinary tract pathogens on urinary catheters. J Med Microbiol. 2008 Sep. 57:1135-40. [Medline]. [Full Text].

Gaonkar TA, Caraos L, Modak S. Efficacy of a silicone urinary catheter impregnated with chlorhexidine and triclosan against colonization with Proteus mirabilis and other uropathogens. Infect Control Hosp Epidemiol. May 2007. 28:596-8. [Medline].

Beck-Sague C, Villarino E, Giuliano D, et al. Infectious diseases and death among nursing home residents: results of surveillance in 13 nursing homes. Infect Control Hosp Epidemiol. 1994 Jul. 15(7):494-6. [Medline].

Braunwald E, Fauci AS, Kasper DL. Harrison's Principles of Internal Medicine. 15th ed. New York, NY: McGraw Hill, Inc; 2001.

Dembry LM, Andriole VT. Renal and perirenal abscesses. Infect Dis Clin North Am. 1997 Sep. 11(3):663-80. [Medline].

Endimiani A, Luzzaro F, Brigante G, et al. Proteus mirabilis bloodstream infections: risk factors and treatment outcome related to the expression of extended-spectrum beta-lactamases. Antimicrob Agents Chemother. 2005 Jul. 49(7):2598-605. [Medline].

Engel JD, Schaeffer AJ. Evaluation of and antimicrobial therapy for recurrent urinary tract infections in women. Urol Clin North Am. 1998 Nov. 25(4):685-701, x. [Medline].

Kaye D, Tunkel AR, Fournier GR. Stein, ed. Internal Medicine. 5th ed. St Louis, Mo: Mosby-Year Book; 1998.

Li X, Lockatell CV, Johnson DE, et al. Development of an intranasal vaccine to prevent urinary tract infection by Proteus mirabilis. Infect Immun. 2004 Jan. 72(1):66-75. [Medline].

Lipsky BA. Urinary tract infections in men. Epidemiology, pathophysiology, diagnosis, and treatment. Ann Intern Med. 1989 Jan 15. 110(2):138-50. [Medline].

Mandell GL, Bennett JE, Dolin R. Mandell, Douglas, and Bennett's Principles and Practice of Infectious Diseases. 5th ed. Philadelphia, Pa: Churchill Livingstone; 2000.

Pewitt EB, Schaeffer AJ. Urinary tract infection in urology, including acute and chronic prostatitis. Infect Dis Clin North Am. 1997 Sep. 11(3):623-46. [Medline].

Roberts JA. Management of pyelonephritis and upper urinary tract infections. Urol Clin North Am. 1999 Nov. 26(4):753-63. [Medline].

Schwartz BF, Stoller ML. Nonsurgical management of infection-related renal calculi. Urol Clin North Am. 1999 Nov. 26(4):765-78, viii. [Medline].

Walsh PC, Schaeffer AJ. Walsh PC, Schaeffer AJ, eds. Campbell's Urology. 7th ed. Philadelphia, Pa: WB Saunders; 1997.

Warren JW. Catheter-associated urinary tract infections. Infect Dis Clin North Am. 1997 Sep. 11(3):609-22. [Medline].

Wu YL, Liu KS, Yin XT, Fei RM. GlpC gene is responsible for biofilm formation and defense against phagocytes and imparts tolerance to pH and organic solvents in Proteus vulgaris. Genet Mol Res. 2015 Sep 9. 14 (3):10619-29. [Medline].
Medscape Reference © 2011 WebMD, LLC