Rhinosporidiosis Workup
Author: Duane R Hospenthal, MD, PhD, FACP, FIDSA, FASTMH; Chief Editor: Mark R Wallace, MD, FACP, FIDSA more...
Updated: Oct 07, 2015
What would you like to print?
Laboratory Studies
Direct observation
Diagnosis is made by identifying the typical structures of R seeberi directly on microscopic examination. This includes examination of smears of macerated tissue or histology of prepared biopsy sample sections.
The organism can be observed with typical fungal stains (eg, Gomori methenamine silver [GMS], periodic acid-Schiff [PAS]), as well as with standard hematoxylin and eosin (H&E) staining.
Smears can also be observed with potassium chloride (KOH) preparation.
Serologic testing
Serologic testing (immunoblot (dot – enzyme-linked immunosorbent assay [ELISA]) identification of antirhinosporidial antibody) has been developed and used for epidemiologic studies in endemic areas, but this testing is not available for or routinely used in patient diagnosis.[27, 26]
Imaging Studies
Recent evaluation of the use of computed tomography (CT) imaging to delineate the site and extent of disease has been published.[28] Moderate-to-intense enhancement by CT was noted in the majority of lesions in the 16 people included in that study.
Histologic Findings
In 1923, Ashworth described in detail the life cycle of the organism in tissue.[14] This cycle begins with a round endospore that is 6-10 µm in diameter. The endospore grows to become a thick-walled sporangium of 100-350 µm in diameter that contains up to several thousand endospores. These structures are similar to the smaller endospores (2-5 µm in diameter) and spherules (30-60 µm in diameter) of Coccidioides immitis.
The sporangia of R seeberi are observed under the normal epithelium. They are associated with immune cells, including neutrophils, lymphocytes, plasma cells, and multinucleated giant cells, often in scattered granuloma. Papillomatous hyperplasia and hypervascularity are also common. See the images below.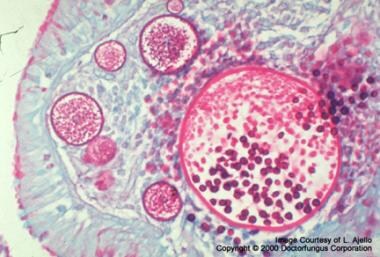 Sporangia of Rhinosporidium seeberi within nasal polyp (periodic acid-Schiff [PAS] stain). Image used with permission from doctorfungus.org.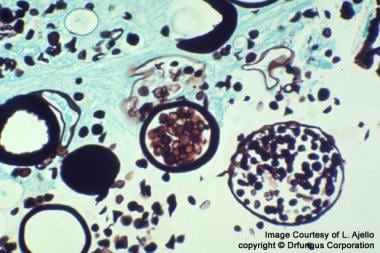 Sporangia of Rhinosporidium seeberi in polyp (Gomori methenamine silver [GMS]) stain. Image used with permission from doctorfungus.org.
References
Seeber GR. Un neuvo esporozoario parasito del hombre: dos casos encontrades en polipos nasales. Thesis, Universidad Nacional de Buenos Aires. 1900.

Capoor MR, Khanna G, Rajni, Batra K, Nair D, Venkatchalam VP, et al. Rhinosporidiosis in Delhi, north India: case series from a non-endemic area and mini-review. Mycopathologia. 2009 Aug. 168(2):89-94. [Medline].

Gaines JJ Jr, Clay JR, Chandler FW, Powell ME, Sheffield PA, Keller AP 3rd. Rhinosporidiosis: three domestic cases. South Med J. 1996 Jan. 89(1):65-7. [Medline].

Hospenthal DR. Uncommon Fungi and Prototheca. Mandell GL, Bennett JE, Dolin R, eds. Mandell, Douglas, and Bennett's Principles and Practice of Infectious Diseases. 7th ed. Philadelphia, Pa: Churchill Livingstone Elsevier; 2010. 3365-3376.

Hospenthal DR. Entomophthoramycosis, Lobomycosis, Rhinosporidiosis, and Sporotrichosis. Guerrant RL, Walker DH, Weller PF, eds. Tropical Infectious Diseases. Principles, Pathogens, & Practice. 3rd. Philadelphia, Pa: Saunders Elsevier; 2011. 603-607.

Karunaratne WAE. Rhinosporidiosis in Man. London, England: The Athlone Press; 1964.

Kwon-Chung KJ, Bennett JE. Rhinosporidiosis. Medical Mycology. Philadelphia, Pa: Lea & Febiger; 1992. 695-706.

Mohan H, Chander J, Dhir R, Singhal U. Rhinosporidiosis in India: a case report and review of literature. Mycoses. 1995 May-Jun. 38(5-6):223-5. [Medline].

Moses JS, Shanmugham A, Kingsly N, et al. Epidemiological survey of rhinosporidiosis in Kanyakumari district of Tamil Nadu. Mycopathologia. 1988 Mar. 101(3):177-9. [Medline].

Rippon JW. Rhinosporidiosis. Medical Mycology. The Pathogenic Fungi and the Pathogenic Actinomycetes. 3rd ed. Philadelphia, Pa: WB Saunders Co; 1988. 362-72.

Satyanarayana C. Rhinosporidiosis with a record of 255 cases. Acta Otolaryngol. 1960 Mar. 51:348-66. [Medline].

Das S, Kashyap B, Barua M, Gupta N, Saha R, Vaid L. Nasal rhinosporidiosis in humans: new interpretations and a review of the literature of this enigmatic disease. Med Mycol. 2011 Apr. 49(3):311-5. [Medline].

Kennedy FA, Buggage RR, Ajello L. Rhinosporidiosis: a description of an unprecedented outbreak in captive swans (Cygnus spp.) and a proposal for revision of the ontogenic nomenclature of Rhinosporidium seeberi. J Med Vet Mycol. 1995 May-Jun. 33(3):157-65. [Medline].

Ashworth JH. On Rhinosporidium seeberi (Wernicke 1903) with special reference to its sporulation and affinities. Trans R Soc Edinburgh. 1923. 53:301-342.

Fredricks DN, Jolley JA, Lepp PW, Kosek JC, Relman DA. Rhinosporidium seeberi: a human pathogen from a novel group of aquatic protistan parasites. Emerg Infect Dis. 2000 May-Jun. 6(3):273-82. [Medline].

Herr RA, Ajello L, Taylor JW, Arseculeratne SN, Mendoza L. Phylogenetic analysis of Rhinosporidium seeberi's 18S small-subunit ribosomal DNA groups this pathogen among members of the protoctistan Mesomycetozoa clade. J Clin Microbiol. 1999 Sep. 37(9):2750-4. [Medline].

Mendoza L, Taylor JW, Ajello L. The class mesomycetozoea: a heterogeneous group of microorganisms at the animal-fungal boundary. Annu Rev Microbiol. 2002. 56:315-44. [Medline].

Ahluwalia KB, Dhaulakhandi DB, Garg LC. Sequence analysis of 16S rRNA gene inRhinosporidium seeberi shows similarity to plant chloroplast DNA. Bioinformation. 2010 Sep 20. 5(3):89-96. [Medline]. [Full Text].

Vilela R, Mendoza L. The taxonomy and phylogenetics of the human and animal pathogen Rhinosporidium seeberi: A critical review. Rev Iberoam Micol. 2012 Apr 12. [Medline].

Silva V, Pereira CN, Ajello L, Mendoza L. Molecular evidence for multiple host-specific strains in the genus Rhinosporidium. J Clin Microbiol. 2005 Apr. 43(4):1865-8. [Medline].

Pushker N, Kashyap S, Bajaj MS, Meel R, Sood A, Sharma S, et al. Primary lacrimal sac rhinosporidiosis with grossly dilated sac and nasolacrimal duct. Ophthal Plast Reconstr Surg. 2009 May-Jun. 25(3):234-5. [Medline].

Deshpande AH, Agarwal S, Kelkar AA. Primary cutaneous rhinosporidiosis diagnosed on FNAC: a case report with review of literature. Diagn Cytopathol. 2009 Feb. 37(2):125-7. [Medline].

Sasidharan K, Subramonian P, Moni VN, Aravindan KP, Chally R. Urethral rhinosporidiosis. Analysis of 27 cases. Br J Urol. 1987 Jan. 59(1):66-9. [Medline].

Agrawal S, Sharma KD, Shrivastava JB. Generalized rhinosporidiosis with visceral involvement; report of a case. AMA Arch Derm. 1959 Jul. 80(1):22-6. [Medline].

Adiga BK, Singh N, Arora VK, Bhatia A, Jain AK. Rhinosporidiosis. Report of a case with an unusual presentation with bony involvement. Acta Cytol. 1997 May-Jun. 41(3):889-91. [Medline].

Arseculeratne SN, Sumathipala S, Eriyagama NB. Patterns of rhinosporidiosis in Sri Lanka: comparison with international data. Southeast Asian J Trop Med Public Health. 2010 Jan. 41(1):175-91. [Medline].

Sudasinghe T, Rajapakse RP, Perera NA, Kumarasiri PV, Eriyagama NB, Arseculeratne SN. The regional sero-epidemiology of rhinosporidiosis in Sri Lankan humans and animals. Acta Trop. 2011 Oct-Nov. 120(1-2):72-81. [Medline].

Prabhu SM, Irodi A, Khiangte HL, Rupa V, Naina P. Imaging features of rhinosporidiosis on contrast CT. Indian J Radiol Imaging. 2013 Jul. 23(3):212-8. [Medline].

Job A, Venkateswaran S, Mathan M, Krishnaswami H, Raman R. Medical therapy of rhinosporidiosis with dapsone. J Laryngol Otol. 1993 Sep. 107(9):809-12. [Medline].

Madke B, Mahajan S, Kharkar V, Chikhalkar S, Khopkar U. Disseminated cutaneous with nasopharyngeal rhinosporidiosis: Light microscopy changes following dapsone therapy. Australas J Dermatol. 2011 May. 52(2):e4-6. [Medline].

Prasad V, Shenoy VS, Rao RA, Kamath PM, Rao KS. Rhinosporidiosis: A Chronic Tropical Disease in Lateral Pharyngeal Wall. J Clin Diagn Res. 2015 May. 9 (5):MD01-2. [Medline].
Medscape Reference © 2011 WebMD, LLC