Tungiasis Clinical Presentation
Author: Darvin Scott Smith, MD, MSc, DTM&H; Chief Editor: Mark R Wallace, MD, FACP, FIDSA  more...
Updated: Oct 21, 2015
What would you like to print?
History
Lesions can range from asymptomatic to pruritic to extremely painful. Note the following history findings:
Travel to areas with

T penetrans,

including Central America, South America, India, and tropical Africa

[41]

Walking along beach areas with bare feet or in sandals

Pain or itching and papular or nodular eruptions, usually on the feet (can occur on any area of the body to which the flea has access)
Physical Examination
Typical areas of involvement include the plantar surface of the foot, the intertriginous regions of the toes, and the periungual regions. However, other ectopic sites of infection have also been reported, including the hands, elbows, thighs, and gluteal region.[42]
Infestation in its simplest form is manifested by the appearance of a white patch with a black dot (see the image below). More advanced infestation manifests as crusted, erythematous papules; painful, pruritic nodules; crateriform lesions; and secondary infections, including lymphangitis and septicemia. A case presenting with a large bullous lesion has also been described.[43]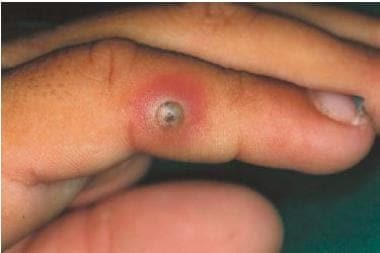 A tungiasis lesion in substage 3a.
Medscape Reference © 2011 WebMD, LLC