Chronic Sinusitis Clinical Presentation
Author: Itzhak Brook, MD, MSc; Chief Editor: John L Brusch, MD, FACP more...
Updated: Mar 04, 2016
What would you like to print?
History
Patient history is extremely important in chronic rhinosinusitis (CRS) because of the broad overlap between sinus symptoms and other disease processes, as well as poor correlation between symptoms and endoscopic and radiographic findings.
Chronic sinusitis manifests more subtly than acute sinusitis. However, it may start suddenly, as an upper respiratory tract infection or acute sinusitis that does not resolve, or emerge slowly and insidiously over months or years. At times, the initial symptoms may be acute in nature. Unless an appropriate history is taken, the diagnosis may be missed. The typical symptoms of acute sinusitis—fever and facial pain—are usually absent in chronic sinusitis. Fever, when present, may be low grade.
Patients with chronic sinusitis may present with the following symptoms:
Nasal obstruction, blockage, congestion, stuffiness

Nasal discharge (of any character from thin to thick and from clear to purulent)

Postnasal drip

Facial fullness, discomfort, pain, and headache (more with nasal polyposis)

Chronic unproductive cough (primarily in children)

Hyposmia or anosmia (more with nasal polyposis)

Sore throat

Fetid breath

Malaise

Easy fatigability

Anorexia

Exacerbation of asthma

Dental pain (upper teeth)

Visual disturbances

Sneezing

Stuffy ears

Unpleasant taste

Fever of unknown origin
In pediatric settings, halitosis is reported more commonly by parents of younger children. Nasal obstruction with mouth breathing and associated sore throat may be present. In some individuals with chronic sinusitis, parents may note occasional and painless morning eye swelling. Older children may complain of loss of taste due to associated nasal obstruction and anosmia. Nocturnal symptoms may include snoring and coughing due to associated postnasal drip.
The patient history should focus on the following key factors, beginning with consideration of major and minor diagnostic criteria:
The presence of major symptoms, including purulent anterior nasal drainage and/or purulent discolored posterior nasal drainage, nasal obstruction or blockage, facial congestion/fullness, facial pain/pressure, and hyposmia or anosmia (diagnosis of chronic sinusitis requires the presence of two of these symptom complexes of more than 3 months' duration, one of which must be either obstruction or discharge

[20]

)

Duration of symptoms

Exacerbating and relieving factors

Current medications

Previous nasal or paranasal sinus surgery

Previous treatments and their duration

Previous imaging studies

Other confounding health problems (including asthma, allergy, and immunocompromising disorders)

Active or passive tobacco smoke

Exposure to allergens
Physical Examination
Physical examination in patients with chronic sinusitis may reveal various findings. It should include a complete head and neck examination (lymphadenopathy) to confirm the diagnosis and to rule out more serious disorders.
Sinus palpation is performed to evaluate tenderness or swelling. Pain or tenderness on palpation over frontal or maxillary sinuses may be noted. Transillumination of maxillary or frontal sinuses may be useful; it lacks sensitivity but may have value in experienced hands.
An oral cavity and oropharynx examination is used to evaluate the integrity of the palate and the condition of dentition and to look for evidence of postnasal drip. Oropharyngeal erythema and purulent secretions may be noted. Dental caries may be present.
Anterior rhinoscopy, with the use of a nasal speculum, is used to evaluate the condition of the nasal mucosa and to look for purulent drainage or evidence of polyps or other nasal masses. Other contributing factors to CRS that can be evaluated are nasal septal deviation and turbinate hypertrophy. The nasal examination should be carried out both before and after the use of a topical decongestant.
The nasal examination can be supplemented with the use of nasal endoscopy (if available) and CT scanning. Endoscopic (rhinoscopic) examination findings include the following:
Nasal mucosal erythema, edema

Purulent secretions within the middle meatus

Nasal obstruction due to deviated nasal septum or hypertrophied turbinates

Nasal polyps
An endoscopic view of the nasal cavity can be seen below.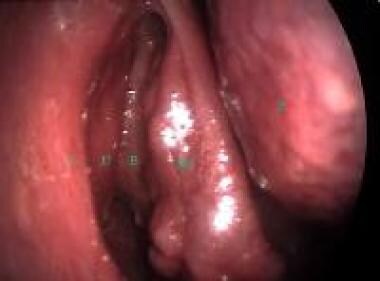 Endoscopic view right nasal cavity; lacrimal bone (L), uncinate process (U), ethmoid bulla (B), middle turbinate (MT), nasal septum (S).
Ear examination for the presence of middle ear fluid that may be the sign of a mass in the nasopharynx is indicated.
Ocular examination for spread of disease to the orbit and function of ocular musculature is indicated. Ophthalmic manifestations include the following:
Conjunctival congestion

Lacrimation

Proptosis, extraocular muscle palsies, and visual disturbances (when complicated by orbital extension)
Laryngeal examination is used to look for other confounding upper airway pathology including laryngeal-pharyngeal reflux (LPR). Lung examination is performed to determine if coexisting lower airway disease is present.
Cranial nerve examination is performed to look for underlying sinus malignancy or neurological disorder.
Manifestations of fungal sinusitis
Fungal sinusitis can manifest in different ways.[21] Unlike acute invasive fungal sinusitis, which is observed in patients who are immunosuppressed or who have diabetes, chronic fungal sinusitis is usually observed in immunocompetent patients. Mycetomas or fungus balls may be asymptomatic or may manifest as chronic sinusitis. Allergic fungal sinusitis usually manifests as nasal polyps and allergic sinusitis. Fungal elements in the sinuses are the inciting allergens.
Diagnostic Criteria
In 1996, the American Academy of Otolaryngology-Head & Neck Surgery convened a multidisciplinary Rhinosinusitis Task Force (RTF). This group defined adult rhinosinusitis diagnostic criteria.[3] These 1996 diagnostic criteria required 2 or more major factors or 1 major factor and 2 minor factors for the diagnosis of rhinosinusitis.
Major factors included facial pain or pressure, nasal obstruction or blockage, nasal discharge or purulence or discolored postnasal discharge, hyposmia or anosmia, purulence in nasal cavity, and fever (for acute rhinosinusitis only).
Minor factors were defined as headache, fever (for CRS), halitosis, fatigue, dental pain, cough, and ear pain, pressure, or fullness. Of note, facial pain requires another major factor associated with it for diagnosis (facial pain plus 2 minor factors is not deemed sufficient for diagnosis of rhinosinusitis).
In 2003, the RTF's definition was amended to require confirmatory radiographic or nasal endoscopic or physical examination findings in addition to suggestive history.[4] The 2003 diagnostic criteria for CRS require the above criteria for longer than 12 weeks or more than 12 weeks of physical findings. In addition, one of the following signs of inflammation must be present:
Discolored nasal drainage from the nasal passages, nasal polyps, or polypoid swelling as identified on physical examination with anterior rhinoscopy after decongestion or nasal endoscopy

Edema or erythema of the middle meatus or ethmoid bulla on nasal endoscopy

Generalized or localized erythema, edema, or granulation tissue (If the middle meatus or ethmoid bulla is not involved, radiologic imaging is required to confirm a diagnosis.)
Imaging modalities confirming the diagnosis include the following:
Computed tomography (CT) scanning demonstrating isolated or diffuse mucosal thickening, bone changes, or air-fluid levels
OR
Plain sinus radiography revealing air-fluid levels or greater than 5 mm of opacification of one or more sinuses

Magnetic resonance imaging (MRI) not recommended for routine diagnosis because of its excessive sensitivity and lack of specificity
In general, plain radiography has low sensitivity and specificity. CT scanning is considered the imaging standard for evaluation of chronic sinusitis.[22]
The latest executive summary on adult sinusitis has altered the definition for CRS to read 12 weeks or longer of 2 or more of the following symptoms:[23]
Anterior or posterior mucopurulent drainage

Nasal obstruction

Facial-pain-pressure-fullness

Decreased sense of smell
In addition, inflammation must be documented by demonstrating one of the following:
Purulent mucus or edema in the middle meatus or ethmoid region

Polyps in the nasal cavity or middle meatus

Imaging showing inflammation of the paranasal sinuses

[20]
This is in contrast to recurrent acute sinusitis, which is present when 4 or more episodes per year of acute bacterial rhinosinusitis without signs and symptoms of rhinosinusitis between episodes.
References
American Academy of Pediatrics - Subcommittee on Management of Sinusitis and Committee on Quality Management. Clinical practice guideline: management of sinusitis. Pediatrics. 2001 Sep. 108(3):798-808. [Medline].

Slavin RG, Spector SL, Bernstein IL, et al. The diagnosis and management of sinusitis: a practice parameter update. J Allergy Clin Immunol. 2005 Dec. 116(6 Suppl):S13-47. [Medline].

Report of the Rhinosinusitis Task Force Committee Meeting. Alexandria, Virginia, August 17, 1996. Otolaryngol Head Neck Surg. 1997 Sep. 117(3 Pt 2):S1-68. [Medline].

Benninger MS, Ferguson BJ, Hadley JA, et al. Adult chronic rhinosinusitis: definitions, diagnosis, epidemiology, and pathophysiology. Otolaryngol Head Neck Surg. 2003 Sep. 129(3 Suppl):S1-32. [Medline].

Meltzer EO, Hamilos DL, Hadley JA, et al. Rhinosinusitis: establishing definitions for clinical research and patient care. J Allergy Clin Immunol. 2004 Dec. 114(6 Suppl):155-212. [Medline].

Biel MA, Brown CA, Levinson RM, Garvis GE, Paisner HM, Sigel ME, et al. Evaluation of the microbiology of chronic maxillary sinusitis. Ann Otol Rhinol Laryngol. 1998 Nov. 107(11 Pt 1):942-5. [Medline].

Brook I, Frazier EH, Foote PA. Microbiology of the transition from acute to chronic maxillary sinusitis. J Med Microbiol. 1996 Nov. 45(5):372-5. [Medline].

Ramakrishnan Y, Shields RC, Elbadawey MR, Wilson JA. Biofilms in chronic rhinosinusitis: what is new and where next?. J Laryngol Otol. 2015 Aug. 129 (8):744-51. [Medline].

Brook I, Foote PA, Hausfeld JN. Increase in the frequency of recovery of meticillin-resistant Staphylococcus aureus in acute and chronic maxillary sinusitis. J Med Microbiol. 2008 Aug. 57:1015-7. [Medline].

Brook I. Acute and chronic bacterial sinusitis. Infect Dis Clin North Am. 2007 Jun. 21(2):427-48, vii. [Medline].

Brook I. Bacteriology of chronic maxillary sinusitis in adults. Ann Otol Rhinol Laryngol. 1989 Jun. 98(6):426-8. [Medline].

Incorvaia C, Leo G. Treatment of rhinosinusitis: other medical options. Int J Immunopathol Pharmacol. 2010 Jan-Mar. 23(1 Suppl):70-3. [Medline].

Brook I, Yocum P. Immune response to Fusobacterium nucleatum and Prevotella intermedia in patients with chronic maxillary sinusitis. Ann Otol Rhinol Laryngol. 1999 Mar. 108(3):293-5. [Medline].

Brook I, Foote PA, Frazier EH. Microbiology of acute exacerbation of chronic sinusitis. Laryngoscope. 2004. 114:129-31.

Nadel DM, Lanza DC, Kennedy DW. Endoscopically guided cultures in chronic sinusitis. Am J Rhinol. 1998 Jul-Aug. 12(4):233-41. [Medline].

Ferguson BJ. Definitions of fungal rhinosinusitis. Otolaryngol Clin North Am. 2000 Apr. 33(2):227-35. [Medline].

Pleis JR, Lucas JW. Summary health statistics for U.S. adults: National Health Interview Survey, 2007. Vital Health Stat 10. 2009 May. 1-159. [Medline].

Shah AR, Hairston JA, Tami TA. Sinusitis in HIV: microbiology and therapy. Curr Allergy Asthma Rep. 2005 Nov. 5(6):495-9. [Medline].

Brook I. Microbiology and antimicrobial treatment of orbital and intracranial complications of sinusitis in children and their management. Int J Pediatr Otorhinolaryngol. 2009 Sep. 73(9):1183-6. [Medline].

Fokkens WJ, Lund VJ, Mullol J, Bachert C, Alobid I, Baroody F, et al. EPOS 2012: European position paper on rhinosinusitis and nasal polyps 2012. A summary for otorhinolaryngologists. Rhinology. 2012 Mar. 50 (1):1-12. [Medline].

Chakrabarti A, Denning DW, Ferguson BJ, et al. Fungal rhinosinusitis: a categorization and definitional schema addressing current controversies. Laryngoscope. 2009 Sep. 119(9):1809-18. [Medline]. [Full Text].

Manes RP, Batra PS. Etiology, diagnosis and management of chronic rhinosinusitis. Expert Rev Anti Infect Ther. 2013 Jan. 11(1):25-35. [Medline].

[Guideline] Rosenfeld RM,Piccirillo JF, Chandrasekhar SS,et al. of. Clinical practice guideline (update) on adult sinusitis. J Otolaryngol Head Neck Surg. 2015. 152(2 suppl):S1-S39. [Medline].

Joshi VM, Sansi R. Imaging in Sinonasal Inflammatory Disease. Neuroimaging Clin N Am. 2015 Nov. 25 (4):549-68. [Medline].

Paz Silva M, Pinto JM, Corey JP, Mhoon EE, Baroody FM, Naclerio RM. Diagnostic algorithm for unilateral sinus disease: a 15-year retrospective review. Int Forum Allergy Rhinol. 2015 Jul. 5 (7):590-6. [Medline].

Benninger MS, Payne SC, Ferguson BJ, Hadley JA, Ahmad N. Endoscopically directed middle meatal cultures versus maxillary sinus taps in acute bacterial maxillary rhinosinusitis: a meta-analysis. Otolaryngol Head Neck Surg. 2006 Jan. 134(1):3-9. [Medline].

Wise SK, Ahn CN, Lathers DM, Mulligan RM, Schlosser RJ. Antigen-specific IgE in sinus mucosa of allergic fungal rhinosinusitis patients. Am J Rhinol. 2008 Sep-Oct. 22(5):451-6. [Medline].

Rosenfeld RM, Piccirillo JF, Chandrasekhar SS, Brook I, Ashok Kumar K, Kramper M, et al. Clinical practice guideline (update): adult sinusitis. Otolaryngol Head Neck Surg. 2015 Apr. 152 (2 Suppl):S1-S39. [Medline].

United States Food and Drug Administration. Zicam cold remedy nasal products (Cold Remedy Nasal Gel, Cold Remedy Nasal Swabs, and Cold Remedy Saws, Kids Size). MedWatch Public Health Advisory. Available at http://www.fda.gov/Safety/MedWatch/SafetyInformation/SafetyAlertsforHumanMedicalProducts/ucm166996.htm. Accessed: June 16, 2009.

Vaidyanathan S, Barnes M, Williamson P, Hopkinson P, Donnan PT, Lipworth B. Treatment of chronic rhinosinusitis with nasal polyposis with oral steroids followed by topical steroids: a randomized trial. Ann Intern Med. 2011 Mar 1. 154(5):293-302. [Medline].

Catalano PJ, Payne SC. Balloon dilation of the frontal recess in patients with chronic frontal sinusitis and advanced sinus disease: an initial report. Ann Otol Rhinol Laryngol. 2009 Feb. 118(2):107-12. [Medline].

Ferguson BJ, Narita M, Yu VL, Wagener MM, Gwaltney JM Jr. Prospective observational study of chronic rhinosinusitis: environmental triggers and antibiotic implications. Clin Infect Dis. 2012 Jan. 54(1):62-8. [Medline].

Piromchai P, Thanaviratananich S, Laopaiboon M. Systemic antibiotics for chronic rhinosinusitis without nasal polyps in adults. Cochrane Database Syst Rev. 2011 May 11. CD008233. [Medline].

Lim M, Citardi MJ, Leong JL. Topical antimicrobials in the management of chronic rhinosinusitis: a systematic review. Am J Rhinol. 2008 Jul-Aug. 22(4):381-9. [Medline].

Ragab S, Parikh A, Darby YC, Scadding GK. An open audit of montelukast, a leukotriene receptor antagonist, in nasal polyposis associated with asthma. Clin Exp Allergy. 2001 Sep. 31(9):1385-91. [Medline].

Van Zele T, Gevaert P, Holtappels G, Beule A, Wormald PJ, Mayr S, et al. Oral steroids and doxycycline: two different approaches to treat nasal polyps. J Allergy Clin Immunol. 2010 May. 125(5):1069-1076.e4. [Medline].

Sreenath SB, Taylor RJ, Miller JD, Ambrose EC, Rawal RB, Ebert CS Jr, et al. A prospective randomized cohort study evaluating 3 weeks vs 6 weeks of oral antibiotic treatment in the setting of "maximal medical therapy" for chronic rhinosinusitis. Int Forum Allergy Rhinol. 2015 May 23. [Medline].

López-Chacón M, Mullol J, Pujols L. Clinical and biological markers of difficult-to-treat severe chronic rhinosinusitis. Curr Allergy Asthma Rep. 2015 May. 15 (5):19. [Medline].

Rudmik L, Soler ZM. Medical Therapies for Adult Chronic Sinusitis: A Systematic Review. JAMA. 2015 Sep 1. 314 (9):926-39. [Medline].

Bhattacharyya N. Radiographic stage fails to predict symptom outcomes after endoscopic sinus surgery for chronic rhinosinusitis. Laryngoscope. 2006 Jan. 116(1):18-22. [Medline].

Welch KC, Stankiewicz JA. A contemporary review of endoscopic sinus surgery: techniques, tools, and outcomes. Laryngoscope. 2009 Nov. 119(11):2258-68. [Medline].

Hox V, Delrue S, Scheers H, Adams E, Keirsbilck S, Jorissen M, et al. Negative impact of occupational exposure on surgical outcome in patients with rhinosinusitis. Allergy. 2012 Jan 9. [Medline].

Purcell PL, Beck S, Davis GE. The impact of endoscopic sinus surgery on total direct healthcare costs among patients with chronic rhinosinusitis. Int Forum Allergy Rhinol. 2015 Jun. 5 (6):498-505. [Medline].

Ponikau JU, Sherris DA, Weaver A, Kita H. Treatment of chronic rhinosinusitis with intranasal amphotericin B: a randomized, placebo-controlled, double-blind pilot trial. J Allergy Clin Immunol. 2005 Jan. 115(1):125-31. [Medline].

Sacks PL, Harvey RJ, Rimmer J, Gallagher RM, Sacks R. Topical and systemic antifungal therapy for the symptomatic treatment of chronic rhinosinusitis. Cochrane Database Syst Rev. 2011 Aug 10. CD008263. [Medline].

Gupta AK, Bansal S, Gupta A, Mathur N. Is fungal infestation of paranasal sinuses more aggressive in pediatric population?. Int J Pediatr Otorhinolaryngol. 2006 Apr. 70(4):603-8. [Medline].

Hakim HE, Malik AC, Aronyk K, Ledi E, Bhargava R. The prevalence of intracranial complications in pediatric frontal sinusitis. Int J Pediatr Otorhinolaryngol. 2006 Aug. 70(8):1383-7. [Medline].

Sharma GD, Doershuk CF, Stern RC. Erosion of the wall of the frontal sinus caused by mucopyocele in cystic fibrosis. J Pediatr. 1994 May. 124(5 Pt 1):745-7. [Medline].

Benninger MS, Sindwani R, Holy CE, Hopkins C. Impact of medically recalcitrant chronic rhinosinusitis on incidence of asthma. Int Forum Allergy Rhinol. 2016 Feb. 6 (2):124-9. [Medline].

Brook I. Treatment modalities for bacterial rhinosinusitis. Expert Opin Pharmacother. 2010 Apr. 11(5):755-69. [Medline].

Huang A, Govindaraj S. Topical therapy in the management of chronic rhinosinusitis. Curr Opin Otolaryngol Head Neck Surg. 2013 Feb. 21(1):31-8. [Medline].
Medscape Reference © 2011 WebMD, LLC