Smallpox Differential Diagnoses
Author: Aneela Naureen Hussain, MD, MBBS, FAAFM; Chief Editor: Mark R Wallace, MD, FACP, FIDSA  more...
Updated: Nov 17, 2015
What would you like to print?
Diagnostic Considerations
The rash of chickenpox was frequently mistaken for that of smallpox during the days of natural infection. Both conditions can result in pustular scarring lesions that involve the face. Varicella typically does not have a prodromal phase, and the evolution of the rash from its appearance to scab separation takes approximately 7 days in varicella. Often, individuals who were previously vaccinated had only a mild prodrome without any rash.
The fever and vesicular rash of herpes zoster and erythema multiforme also were often confused with those of variola major.
Hemorrhagic smallpox, seen in the image below, develops fulminantly and was most often confused with meningococcemia or severe acute leukemia.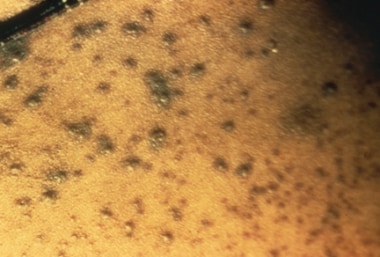 Hemorrhagic-type variola major lesions. Death usually ensued before typical pustules developed. Reprinted with permission from the World Health Organization (WHO). 1988; 10-14, 35-36.
Contact dermatitis, although often vesicular, is distinguishable from smallpox lesions because contact dermatitis is pruritic and is not accompanied by fever or constitutional symptoms.
Conditions to consider in the differential diagnosis of smallpox include the following:
Rocky Mountain spotted fever

Syphilis

Varicella-zoster virus

Drug eruptions

Insect bites

Kawasaki disease

Measles, rubeola

Monkeypox

Rubella

Generalized vaccinia and eczema vaccinatum

Insect bites

Viral hemorrhagic fevers (may be confused with hemorrhagic smallpox)

Varicella virus

Acne

Atypical measles

Coxsackievirus

Acute leukemia

Secondary syphilis

Rat-bite fever

Infectious mononucleosis

Toxic erythemas

Parvovirus B19

Cytomegalovirus

Erythema multiforme (Stevens-Johnson syndrome)

Molluscum contagiosum

Scarlet fever
Differential Diagnoses
References
Duraffour S, Meyer H, Andrei G, Snoeck R. Camelpox virus. Antiviral Res. 2011 Nov. 92(2):167-86. [Medline].

Bera BC, Shanmugasundaram K, Barua S, et al. Zoonotic cases of camelpox infection in India. Vet Microbiol. 2011 Aug 26. 152(1-2):29-38. [Medline].

Carroll DS, Emerson GL, Li Y, et al. Chasing Jenner's vaccine: revisiting cowpox virus classification. PLoS One. 2011. 6(8):e23086. [Medline]. [Full Text].

Wahl-Jensen V, Cann JA, Rubins KH, et al. Progression of pathogenic events in cynomolgus macaques infected with variola virus. PLoS One. 2011. 6(10):e24832. [Medline]. [Full Text].

Medaglia ML, Pereira Ade C, Freitas TR, Damaso CR. Swinepox virus outbreak, Brazil, 2011. Emerg Infect Dis. 2011 Oct. 17(10):1976-8. [Medline].

Mohamed MR, Rahman MM, Lanchbury JS, et al. Proteomic screening of variola virus reveals a unique NF-kappaB inhibitor that is highly conserved among pathogenic orthopoxviruses. Proc Natl Acad Sci U S A. 2009 Jun 2. 106(22):9045-50. [Medline]. [Full Text].

Altmann SE, Jones JC, Schultz-Cherry S, Brandt CR. Inhibition of Vaccinia virus entry by a broad spectrum antiviral peptide. Virology. 2009 Jun 5. 388(2):248-59. [Medline]. [Full Text].

Loveless BM, Mucker EM, Hartmann C, Craw PD, Huggins J, Kulesh DA. Differentiation of Variola major and Variola minor variants by MGB-Eclipse probe melt curves and genotyping analysis. Mol Cell Probes. 2009 Jun-Aug. 23(3-4):166-70. [Medline].

Singh RK, Balamurugan V, Bhanuprakash V, Venkatesan G, Hosamani M. Emergence and reemergence of vaccinia-like viruses: global scenario and perspectives. Indian J Virol. 2012 Jun. 23(1):1-11. [Medline]. [Full Text].

Frey SE, Winokur PL, Salata RA, El-Kamary SS, Turley CB, Walter EB Jr, et al. Safety and immunogenicity of IMVAMUNE® smallpox vaccine using different strategies for a post event scenario. Vaccine. 2013 Jun 24. 31(29):3025-33. [Medline]. [Full Text].

Milton DK. What was the primary mode of smallpox transmission? Implications for biodefense. Front Cell Infect Microbiol. 2012. 2:150. [Medline]. [Full Text].

Breman JG, Henderson DA. Diagnosis and management of smallpox. N Engl J Med. 2002 Apr 25. 346 (17):1300-8. [Medline].

Espy MJ, Cockerill III FR, Meyer RF, et al. Detection of smallpox virus DNA by LightCycler PCR. J Clin Microbiol. 2002 Jun. 40(6):1985-8. [Medline]. [Full Text].

Ropp SL, Jin Q, Knight JC, Massung RF, Esposito JJ. PCR strategy for identification and differentiation of small pox and other orthopoxviruses. J Clin Microbiol. 1995 Aug. 33(8):2069-76. [Medline]. [Full Text].

Peterson BW, Damon IK. Orthopoxviruses: vaccinia (smallpox vaccine), variola (smallpox), monkeypox, and cowpox. Bennett JE, Dolin R, Blaser MJ, eds. Mandell, Douglas, and Bennett's principles and practice of infectious diseases. 8th ed. Philadelphia: Elsevier; 2014.

Bray M, Martinez M, Smee DF, Kefauver D, Thompson E, Huggins JW. Cidofovir protects mice against lethal aerosol or intranasal cowpox virus challenge. J Infect Dis. 2000 Jan. 181(1):10-9. [Medline].

De Clercq E. Cidofovir in the treatment of poxvirus infections. Antiviral Res. 2002 Jul. 55(1):1-13. [Medline].

Smee DF, Bailey KW, Sidwell RW. Treatment of lethal vaccinia virus respiratory infections in mice with cidofovir. Antivir Chem Chemother. 2001 Jan. 12(1):71-6. [Medline].

Smee DF, Bailey KW, Wong MH, Sidwell RW. Effects of cidofovir on the pathogenesis of a lethal vaccinia virus respiratory infection in mice. Antiviral Res. 2001 Oct. 52(1):55-62. [Medline].

Wells TS, LeardMann CA, Smith TC, Smith B, Jacobson IG, Reed RJ, et al. Self-reported adverse health events following smallpox vaccination in a large prospective study of US military service members. Hum Vaccin. 2008 Mar-Apr. 4(2):127-33. [Medline].

Neff J, Modlin J, Birkhead GS, et al. Monitoring the safety of a smallpox vaccination program in the United States: report of the joint Smallpox Vaccine Safety Working Group of the advisory committee on immunization practices and the Armed Forces Epidemiological Board. Clin Infect Dis. 2008 Mar 15. 46 Suppl 3:S258-70. [Medline].

Talbot TR, Stapleton JT, Brady RC, et al. Vaccination success rate and reaction profile with diluted and undiluted smallpox vaccine: a randomized controlled trial. JAMA. 2004 Sep 8. 292(10):1205-12. [Medline].

Kennedy JS, Frey SE, Yan L, et al. Induction of human T cell-mediated immune responses after primary and secondary smallpox vaccination. J Infect Dis. 2004 Oct 1. 190(7):1286-94. [Medline].

Baggs J, Chen RT, Damon IK, et al. Safety profile of smallpox vaccine: insights from the laboratory worker smallpox vaccination program. Clin Infect Dis. 2005 Apr 15. 40(8):1133-40. [Medline].

Ryan MA, Seward JF. Pregnancy, birth, and infant health outcomes from the National Smallpox Vaccine in Pregnancy Registry, 2003-2006. Clin Infect Dis. 2008 Mar 15. 46 Suppl 3:S221-6. [Medline].

Shchelkunov SN. An increasing danger of zoonotic orthopoxvirus infections. PLoS Pathog. 2013 Dec. 9(12):e1003756. [Medline].

Quenelle DC, Kern ER. Treatment of Vaccinia and Cowpox Virus Infections in Mice with CMX001 and ST-246. Viruses. 2010 Dec. 2(12):2681-95. [Medline]. [Full Text].

Greenberg RN, Kennedy JS. ACAM2000: a newly licensed cell culture-based live vaccinia smallpox vaccine. Expert Opin Investig Drugs. 2008 Apr. 17(4):555-64. [Medline].

Monath TP, Caldwell JR, Mundt W, et al. ACAM2000 clonal Vero cell culture vaccinia virus (New York City Board of Health strain)--a second-generation smallpox vaccine for biological defense. Int J Infect Dis. 2004 Oct. 8 Suppl 2:S31-44. [Medline].

US Food and Drug Administration. Package Insert. Dryvax (Smallpox Vaccine, Dried, Calf Lymph Type). Wyeth Laboratories. Washington, DC:

Simmons BJ, Falto-Aizpurua LA, Griffith RD, Nouri K. Smallpox: 12 000 years from plagues to eradication: a dermatologic ailment shaping the face of society. JAMA Dermatol. 2015 May 1. 151 (5):521. [Medline].

Smee DF. Orthopoxvirus inhibitors that are active in animal models: an update from 2008 to 2012. Future Virol. 2013 Sep. 8 (9):891-901. [Medline].

Nalca A, Zumbrun EE. ACAM2000: the new smallpox vaccine for United States Strategic National Stockpile. Drug Des Devel Ther. 2010 May 25. 4:71-9. [Medline].

Kennedy JS, Gurwith M, Dekker CL, Frey SE, Edwards KM, Kenner J, et al. Safety and immunogenicity of LC16m8, an attenuated smallpox vaccine in vaccinia-naive adults. J Infect Dis. 2011 Nov. 204 (9):1395-402. [Medline].

Frey SE, Winokur PL, Salata RA, El-Kamary SS, Turley CB, Walter EB Jr, et al. Safety and immunogenicity of IMVAMUNE® smallpox vaccine using different strategies for a post event scenario. Vaccine. 2013 Jun 24. 31 (29):3025-33. [Medline].

LeDuc JW, Damon I, Relman DA, Huggins J, Jahrling PB. Smallpox research activities: U.S. interagency collaboration, 2001. Emerg Infect Dis. 2002 Jul. 8 (7):743-5. [Medline].

Greenberg RN, Hurley MY, Dinh DV, Mraz S, Vera JG, von Bredow D, et al. Correction: A Multicenter, Open-Label, Controlled Phase II Study to Evaluate Safety and Immunogenicity of MVA Smallpox Vaccine (IMVAMUNE) in 18-40 Year Old Subjects with Diagnosed Atopic Dermatitis. PLoS One. 2015. 10 (11):e0142802. [Medline].
Medscape Reference © 2011 WebMD, LLC