Acute Tubular Necrosis Workup
Author: Edgar V Lerma, MD, FACP, FASN, FAHA, FASH, FNLA, FNKF; Chief Editor: Vecihi Batuman, MD, FACP, FASN more...
Updated: Dec 21, 2015
What would you like to print?
Approach Considerations
Laboratory findings, especially those by urinalysis, along with renal ultrasound findings, are particularly helpful in identifying the cause of acute tubular necrosis (ATN).
Patients with aminoglycoside nephrotoxicity usually present with nonoliguric renal failure, with onset of nephrotoxicity (manifested by an elevation in serum creatinine) occurring after 7-10 days of therapy. Characteristically, an elevated fractional excretion of sodium (FENa) is accompanied by wasting of potassium, calcium, and magnesium.
Patients with nephrotoxicity from cyclosporine and tacrolimus may present with hypertension and may also be hyperkalemic and have tubular injury–induced urinary wasting of phosphate and magnesium.
Ifosfamide usually causes a Fanconi syndrome (proximal tubule dysfunction) presentation with significant hypokalemia; foscarnet is commonly associated with hypocalcemia; pentamidine is frequently associated with hypomagnesemia and hyperkalemia; and acyclovir may lead to the formation of intratubular crystals, which appear as birefringent, needle-shaped crystals when viewed on microscopy.
Assessment of Renal Injury
The degree of acute kidney injury (AKI) is determined using the RIFLE (R isk of renal dysfunction, I njury to the kidney, F ailure or L oss of kidney function, and E nd-stage renal disease) criteria.[8]
The primary goal of the Acute Dialysis Quality Initiative (ADQI), created in 2002, was to develop consensus- and evidence-based guidelines that could be used to treat and prevent AKI. A uniform, accepted definition of AKI was developed, and, as a result, the RIFLE criteria were proposed. The RIFLE criteria comprise a classification system for AKI.[8]
Since their creation in 2002, the RIFLE criteria have been validated by different groups around the world. The AKIN report proposed modifications to the RIFLE criteria to take into account evidence that smaller changes in serum creatinine than those first proposed in RIFLE are indicative of adverse outcomes. The AKIN staging system therefore requires only one measure (serum creatinine or urine output) to be satisfied to meet stage criteria.[9]
For more information on RIFLE and AKIN, see Classification Systems for Acute Kidney Injury.
Complete Blood Cell Count
The complete blood cell (CBC) count may reveal anemia. Erythropoietin production is decreased in acute kidney injury (AKI), and dysfunctional platelets (from uremia) also make bleeding more likely.
Serum Chemistries
By definition, blood urea nitrogen (BUN) and serum creatinine concentrations are increased in AKI. In addition, hyponatremia, hyperkalemia, hypermagnesemia, hypocalcemia, and hyperphosphatemia may be present. A metabolic acidosis is also found. Remember that hypercalcemia and hyperuricemia may suggest a malignant condition as a cause.
The 2011 UKRA guidelines recommend adopting the Kidney Disease: Improving Global Outcomes (KDIGO) definition of AKI, defined as presence of one of the following criteria:[3]
Serum creatinine rises by ≥ 26µmol/L within 48 hours or

Serum creatinine rises ≥ 1.5 fold from the reference value, which is known to or presumed to have been reached within 1 week or

Urine output is < 0.5 mL/kg/h for >6 hours in a row.
Urinalysis
The centrifuged sediment of urine is particularly helpful because it may reveal pigmented, muddy brown, granular casts, suggesting that established ATN is present. However, remember that these casts may be absent in 20-30% of patients with ATN.
In addition to the routine urinalysis, urine electrolytes may also help differentiate ATN from prerenal azotemia. The urinary sediment, electrolyte, and osmolality findings that can help to separate ATN from prerenal azotemia are illustrated in the following table.
Table. Laboratory Findings Used to Differentiate Prerenal Azotemia From ATN (Open Table in a new window)
Finding
Prerenal Azotemia
ATN and/or Intrinsic Renal Disease
Urine osmolarity



(mOsm/kg)




>500
< 350
Urine sodium



(mmol/d)




< 20
>40
Fractional excretion of sodium (FENa)



(%)




< 1
>2
Fractional excretion of urea



(%)




< 35
>50
Urine sediment
Bland and/or nonspecific
May show muddy brown granular casts
Fractional excretion of a substance is calculated by the formula (U/P)z/(U/P)Cr × 100, where z is the substance, U and P represent urine and plasma concentrations, and Cr stands for creatinine.
In patients with contrast-induced nephropathy (CIN), FENa tends to be less than 1%. This is an exception to the rule that FENa below 1% usually indicates prerenal failure. Although rhabdomyolysis is a common cause of endogenous nephrotoxic ATN, FENa tends to be less than 1%, characteristically. This is another exception to the rule, along with CIN.
An important finding on urinalysis is that of a positive dipstick test for blood, with typical absence of red blood cells (RBCs) on microscopy. Furthermore, hyperkalemia, hyperphosphatemia, and hyperuricemia are characteristic.
Ultrasonography
Renal ultrasonography, preferably with Doppler methods, is a simple procedure that should be undertaken in all patients who present with AKI.[10] It is extremely useful to exclude obstructive uropathy and to measure renal size and cortical thickness. According to the 2011 UKRA guidelines, all patients presenting with AKI should have baseline investigations performed, including a urinalysis and renal ultrasonography within 24 hours (on suspicion of renal tract obstruction).[3]
Abdominal Radiography
An abdominal radiograph is of limited benefit in AKI. The exception is in patients with suspected nephrolithiasis. However, up to 30% of renal calculi may not be visible on plain films.[10]
Computed Tomography
Noncontrast helical computed tomography (CT) is more sensitive than plain radiography for detection of renal calculi. CT scans can also be used to evaluate ureteral obstruction, when ultrasonography shows hydronephrosis but a cause is not detectable.[10]
Magnetic Resonance Imaging
Magnetic resonance imaging (MRI) of the abdomen has a potential role for determining the cause of ureteral obstruction when ultrasonographic results are unclear. MRI with contrast is preferred, if not contraindicated.[10]
Renal Biopsy
Renal biopsy is rarely necessary in patients with suspected ATN. An urgent indication for renal biopsy is in the setting of clinical and urinary findings that suggest renal vasculitis rather than ATN; the diagnosis needs to be established quickly so that appropriate immunomodulatory therapy can be initiated. A biopsy may also be critically important in the setting of a renal transplant patient to rule out rejection.[11, 12] Otherwise, biopsy should be performed only when the exact renal cause of AKI is unclear and the course is protracted.
Renal biopsy is performed under ultrasound or CT scan guidance after ascertaining the safety of the procedure. Renal biopsy findings are shown below.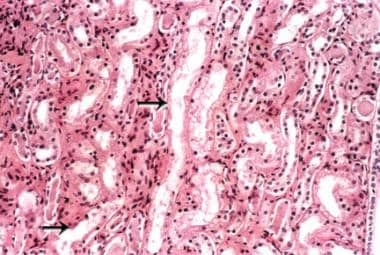 A photomicrograph of renal biopsy shows renal medulla, which is composed mainly of renal tubules. Patchy or diffuse denudation of the renal tubular cells is observed, suggesting acute tubular necrosis (ATN) as the cause of acute kidney injury (AKI).
Histologic Findings
In most circumstances, the histology demonstrates the loss of tubular cells or the denuded tubules. As illustrated in the top image of the images below, the tubular cells reveal swelling, formation of blebs over the cellular surface, and exfoliation of the tubular cells into the lumina. The earliest finding could be loss of the cellular brush border
Novel Biomarkers
Researchers have identified several markers for kidney injury that have the potential to enhance early diagnosis and management. Further research is needed before these are incorporated into clinical practice.
The most commonly used markers of renal function are serum creatinine levels, the glomerular filtration rate (GFR), and urinary output. Although imperfect, these measures are used to determine the magnitude of renal injury. This has led to research to find more accurate kidney function biomarkers (serum and/or urine),[13] with hope that such biomarkers, once identified, will permit early diagnoses and will aid in rendering appropriate treatment strategies before permanent damage has occurred. Research has focused on the following potential biomarkers: neutrophil gelatinase-associated lipocalin, interleukin-18, kidney injury molecule 1, cystatin C, sodium/hydrogen exchanger isoform 3 (NHE3).
Table. Laboratory Findings Used to Differentiate Prerenal Azotemia From ATN
Finding
Prerenal Azotemia
ATN and/or Intrinsic Renal Disease
Urine osmolarity



(mOsm/kg)




>500
< 350
Urine sodium



(mmol/d)




< 20
>40
Fractional excretion of sodium (FENa)



(%)




< 1
>2
Fractional excretion of urea



(%)




< 35
>50
Urine sediment
Bland and/or nonspecific
May show muddy brown granular casts
Medscape Reference © 2011 WebMD, LLC