Diabetic Nephropathy Workup
Author: Vecihi Batuman, MD, FACP, FASN; Chief Editor: Romesh Khardori, MD, PhD, FACP more...
Updated: Jul 08, 2016
What would you like to print?
Approach Considerations
Diabetic nephropathy is characterized by the following:
Persistent albuminuria (>300 mg/d or >200 μg/min) that is confirmed on at least 2 occasions 3-6 months apart

A relentless decline in the glomerular filtration rate (GFR)

Elevated arterial blood pressure
The rate of decline in the GFR in various stages of type 1 and type 2 diabetes is shown in the image below.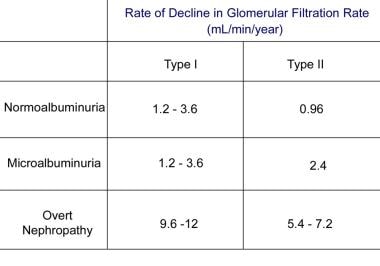 Rate of decline in glomerular filtration rate in various stages of type 1 and type 2 diabetes.
Whether cystatin C or creatinine-based calculation of GFR is the most sensitive measure for assessing early decline in renal function in patients with type 2 diabetes who have mild-to-moderate chronic kidney disease is controversial. The two methods were compared in a cohort of 448 patients with type 2 diabetes. Creatinine-based calculation was found to be more accurate than cystatin-C, which confirms the current practice in diabetes literature of reporting estimated GFR primarily by creatinine decrements and the modification of diet in renal disease (MDRD) calculation.[16]
Urinalysis
A 24-hour urinalysis for urea, creatinine, and protein is extremely useful in quantifying protein losses and estimating the GFR. Typically, the urinalysis results from a patient with established diabetic nephropathy show proteinuria varying from 150 mg/dL to greater than 300 mg/dL, glucosuria, and occasional hyaline casts.
Microalbuminuria is defined as albumin excretion of more than 20 μg/min or an albumin-to-creatinine ratio (µg/g) of greater than 30. This phase indicastes incipient diabetic nephropathy and calls for aggressive management, at which stage the disease may be potentially reversible (ie, microalbuminuria can regress). (See the image below.)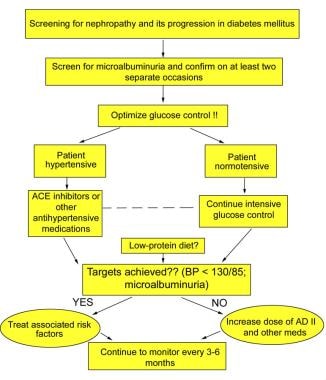 Screening for and prevention of the progression of microalbuminuria in diabetes mellitus. (ACE-I stands for angiotensin-converting enzyme inhibitor)
Perform microscopic urinalysis to help rule out a potentially nephritic picture, which may lead to a workup to rule out other primary glomerulopathies, especially in the setting of rapidly deteriorating renal function (eg, rapidly progressive glomerulonephritis). In general, onset of overt proteinuria with less than 5 years of the onset of diabetes, an active urine sediment with dysmorphic red cells and casts, or an abrupt decline in kidney function suggests a nondiabetic etiology of the kidney disease.
Blood Tests
Blood tests, including calculation of GFR (by various formulas, such as the MDRD formula), are helpful in monitoring for the progression of kidney disease and in assessing its stage.
Serum and Urinary Electrophoresis
Serum and urinary electrophoresis is performed mainly to help exclude multiple myeloma (in the appropriate setting) and to classify the proteinuria (which is predominantly glomerular in diabetic nephropathy).
Renal Ultrasonography
Observe for kidney size, which is usually normal to increased in the initial stages and, later, decreased or shrunken with chronic renal disease. Rule out obstruction. Perform echogenicity studies for chronic renal disease.
Renal Biopsy
Renal biopsy is not routinely indicated in all cases of diabetic nephropathy, especially in persons with a typical history and a progression typical of the disease. It is indicated if the diagnosis is in doubt, if other kidney disease is suggested, or if atypical features are present.
Histologic Findings
The following three major histologic changes occur in the glomeruli of persons with diabetic nephropathy:
First, mesangial expansion is directly induced by hyperglycemia, perhaps via increased matrix production or glycosylation of matrix proteins.

Second, thickening of the glomerular basement membrane (GBM) occurs.

Third, glomerular sclerosis is caused by intraglomerular hypertension (induced by renal vasodilatation or from ischemic injury induced by hyaline narrowing of the vessels supplying the glomeruli).
These different histologic patterns appear to have similar prognostic significance.
Staging
See the image below regarding the developmental stages in the natural history of diabetic nephropathy.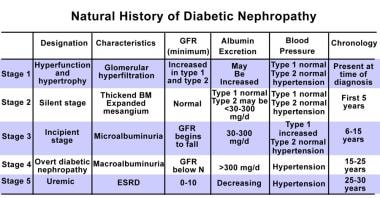 Stages in the development of diabetic nephropathy.
References
Tang SC, Chan GC, Lai KN. Recent advances in managing and understanding diabetic nephropathy. F1000Res. 2016. 5:[Medline]. [Full Text].

Ekinci EI, Jerums G, Skene A, Crammer P, Power D, Cheong KY. Renal structure in normoalbuminuric and albuminuric patients with type 2 diabetes and impaired renal function. Diabetes Care. 2013 Nov. 36(11):3620-6. [Medline].

Hall JE, Henegar JR, Dwyer TM, Liu J, Da Silva AA, Kuo JJ. Is obesity a major cause of chronic kidney disease?. Adv Ren Replace Ther. 2004 Jan. 11(1):41-54. [Medline].

Yip JW, Jones SL, Wiseman MJ, Hill C, Viberti G. Glomerular hyperfiltration in the prediction of nephropathy in IDDM: a 10-year follow-up study. Diabetes. 1996 Dec. 45(12):1729-33. [Medline].

Odegaard JI, Chawla A. Connecting type 1 and type 2 diabetes through innate immunity. Cold Spring Harb Perspect Med. 2012 Mar. 2(3):a007724. [Medline]. [Full Text].

Chiarelli F, Gaspari S, Marcovecchio ML. Role of growth factors in diabetic kidney disease. Horm Metab Res. 2009 Aug. 41(8):585-93. [Medline].

Rask-Madsen C, King GL. Kidney complications: factors that protect the diabetic vasculature. Nat Med. 2010 Jan. 16(1):40-1. [Medline].

Ziyadeh FN. Mediators of diabetic renal disease: the case for tgf-Beta as the major mediator. J Am Soc Nephrol. 2004 Jan. 15 Suppl 1:S55-7. [Medline].

Deshpande SD, Putta S, Wang M, Lai JY, Bitzer M, Nelson RG. Transforming growth factor-ß-induced cross talk between p53 and a microRNA in the pathogenesis of diabetic nephropathy. Diabetes. 2013 Sep. 62(9):3151-62. [Medline].

Bherwani S, Saumya AS, Ahirwar AK, et al. The association of folic acid deficiency and diabetic nephropathy in patients with type 2 diabetes mellitus. Endocr Metab Immune Disord Drug Targets. 2016 Apr 15. [Medline].

de Boer IH, Rue TC, Hall YN, et al. Temporal trends in the prevalence of diabetic kidney disease in the United States. JAMA. 2011 Jun 22. 305(24):2532-9. [Medline].

Klessens CQ, Woutman TD, Veraar KA, et al. An autopsy study suggests that diabetic nephropathy is underdiagnosed. Kidney Int. 2016 Jul. 90 (1):149-56. [Medline].

Pavkov ME, Bennett PH, Knowler WC, Krakoff J, Sievers ML, Nelson RG. Effect of youth-onset type 2 diabetes mellitus on incidence of end-stage renal disease and mortality in young and middle-aged Pima Indians. JAMA. 2006 Jul 26. 296(4):421-6. [Medline].

Rosolowsky ET, Skupien J, Smiles AM, et al. Risk for ESRD in type 1 diabetes remains high despite renoprotection. J Am Soc Nephrol. 2011 Mar. 22(3):545-53. [Medline]. [Full Text].

Kostadaras A. Risk Factors for Diabetic Nephropathy. Astoria Hypertension Clinic. Available at http://www.kidneydoctor.com/dm.htm.

Iliadis F, Didangelos T, Ntemka A, et al. Glomerular filtration rate estimation in patients with type 2 diabetes: creatinine- or cystatin C-based equations?. Diabetologia. 2011 Dec. 54(12):2987-94. [Medline].

Shlipak M. Diabetic nephropathy. Clin Evid (Online). 2009 Jan 14. 2009:[Medline].

Burney BO, Kalaitzidis RG, Bakris GL. Novel therapies of diabetic nephropathy. Curr Opin Nephrol Hypertens. 2009 Mar. 18(2):107-11. [Medline].

Suckling RJ, He FJ, Macgregor GA. Altered dietary salt intake for preventing and treating diabetic kidney disease. Cochrane Database Syst Rev. 2010 Dec 8. 12:CD006763. [Medline].

Heerspink HJ, Holtkamp FA, Parving HH, Navis GJ, Lewis JB, Ritz E, et al. Moderation of dietary sodium potentiates the renal and cardiovascular protective effects of angiotensin receptor blockers. Kidney Int. 2012 Mar 21. [Medline].

Diabetes Control and Complications Research Group. Effect of intensive therapy on the development and progression of diabetic nephropathy in the Diabetes Control and Complications Trial. The Diabetes Control and Complications (DCCT) Research Group. Kidney Int. 1995 Jun. 47(6):1703-20. [Medline].

UK Prospective Diabetes Study Group. Intensive blood-glucose control with sulphonylureas or insulin compared with conventional treatment and risk of complications in patients with type 2 diabetes (UKPDS 33). UK Prospective Diabetes Study (UKPDS) Group. Lancet. 1998 Sep 12. 352(9131):837-53. [Medline].

Bergman AJ, Cote J, Yi B, Marbury T, Swan SK, Smith W. Effect of renal insufficiency on the pharmacokinetics of sitagliptin, a dipeptidyl peptidase-4 inhibitor. Diabetes Care. 2007 Jul. 30(7):1862-4. [Medline].

Scheen AJ. Pharmacokinetic considerations for the treatment of diabetes in patients with chronic kidney disease. Expert Opin Drug Metab Toxicol. 2013 May. 9(5):529-50. [Medline].

Snyder RW, Berns JS. Use of insulin and oral hypoglycemic medications in patients with diabetes mellitus and advanced kidney disease. Semin Dial. 2004 Sep-Oct. 17(5):365-70. [Medline].

Lamos EM, Younk LM, Davis SN. Canagliflozin , an inhibitor of sodium-glucose cotransporter 2, for the treatment of type 2 diabetes mellitus. Expert Opin Drug Metab Toxicol. 2013 Jun. 9(6):763-75. [Medline].

Linnebjerg H, Kothare PA, Park S, Mace K, Reddy S, Mitchell M. Effect of renal impairment on the pharmacokinetics of exenatide. Br J Clin Pharmacol. 2007 Sep. 64(3):317-27. [Medline].

Davidson JA, Brett J, Falahati A, Scott D. Mild renal impairment and the efficacy and safety of liraglutide. Endocr Pract. 2011 May-Jun. 17(3):345-55. [Medline].

Young A. Clinical studies. Adv Pharmacol. 2005. 52:289-320. [Medline].

Mogensen CE. The effect of blood pressure intervention on renal function in insulin-dependent diabetes. Diabete Metab. 1989. 15(5 Pt 2):343-51. [Medline].

Diabetes Guidelines. Royal Free Hampstead NHS Trust. Available at http://royalfree.org.uk/default.aspx?top_nav_id=1&sel_left_nav=25&tab_id=403. Accessed: 7/2/09.

Laight DW. Therapeutic inhibition of the renin angiotensin aldosterone system. Expert Opin Ther Pat. 2009 Jun. 19(6):753-9. [Medline].

Jennings DL, Kalus JS, Coleman CI, Manierski C, Yee J. Combination therapy with an ACE inhibitor and an angiotensin receptor blocker for diabetic nephropathy: a meta-analysis. Diabet Med. 2007 May. 24(5):486-93. [Medline].

Imai E, Chan JC, Ito S, et al. Effects of olmesartan on renal and cardiovascular outcomes in type 2 diabetes with overt nephropathy: a multicentre, randomised, placebo-controlled study. Diabetologia. 2011 Dec. 54(12):2978-2986. [Medline].

Fried LF, Emanuele N, Zhang JH, Brophy M, Conner TA, Duckworth W. Combined angiotensin inhibition for the treatment of diabetic nephropathy. N Engl J Med. 2013 Nov 14. 369(20):1892-903. [Medline].

Persson F, Rossing P, Reinhard H, Juhl T, Stehouwer CD, Schalkwijk C, et al. Renal effects of aliskiren compared with and in combination with irbesartan in patients with type 2 diabetes, hypertension, and albuminuria. Diabetes Care. 2009 Oct. 32(10):1873-9. [Medline]. [Full Text].

[Guideline] National Kidney Foundation. NKF-KDOQI Guidelines. Available at http://www.kidney.org/professionals/kdoqi/guidelines.cfm.

Agarwal R. Vitamin D, proteinuria, diabetic nephropathy, and progression of CKD. Clin J Am Soc Nephrol. 2009 Sep. 4(9):1523-8. [Medline].

de Zeeuw D, Agarwal R, Amdahl M, Audhya P, Coyne D, Garimella T, et al. Selective vitamin D receptor activation with paricalcitol for reduction of albuminuria in patients with type 2 diabetes (VITAL study): a randomised controlled trial. Lancet. 2010 Nov 6. 376(9752):1543-51. [Medline].

Wenzel RR, Littke T, Kuranoff S, Jürgens C, Bruck H, Ritz E, et al. Avosentan reduces albumin excretion in diabetics with macroalbuminuria. J Am Soc Nephrol. 2009 Mar. 20(3):655-64. [Medline]. [Full Text].

Suckling RJ, He FJ, Macgregor GA. Altered dietary salt intake for preventing and treating diabetic kidney disease. Cochrane Database Syst Rev. 2010 Dec 8. 12:CD006763. [Medline].
Medscape Reference © 2011 WebMD, LLC