Hypercalcemia Workup
Author: Mahendra Agraharkar, MD, MBBS, FACP; Chief Editor: Vecihi Batuman, MD, FACP, FASN more...
Updated: Aug 02, 2016
What would you like to print?
Approach Considerations
Malignancy is one of the most common causes and must be excluded. Hyperparathyroidism and other causes of hypercalcemia can coexist with malignancy. If calcium levels have been mildly elevated for months or years, malignancy is an unlikely cause.
Hypercalcemia from malignancy usually is rapidly progressive; thus, rapidly rising calcium levels should increase suspicion of malignancy. If calcium levels have been elevated for an unknown duration, the patient should be evaluated for the presence of malignancy. Breast, lung, and kidney cancers should be considered, as should multiple myeloma, lymphoma, and leukemia. Testing in such cases might include a peripheral blood smear and/or serum and urine immunofixation electrophoresis. Biopsy samples may be taken from a solid tumor or from bone marrow for tissue histology studies.
Hyperparathyroidism is the most common cause of hypercalcemia in the population at large and usually is mild, asymptomatic, and sustained for years. Immunoreactive parathyroid hormone (PTH) and ionized calcium should be simultaneously measured. PTH levels should be suppressed in hypercalcemia; thus, the combination of normal PTH levels and elevated calcium levels suggests mild hyperparathyroidism. Hyperparathyroidism may be part of multiple endocrine neoplasia type 1, (ie, Wermer syndrome).
Other causes of hypercalcemia usually can be distinguished or at least considered on the basis of history and physical examination findings. Measurement of serum phosphate, alkaline phosphatase, serum chloride, serum bicarbonate, and urinary calcium may be useful in some cases. Renal function should be evaluated and thyroid-stimulating hormone should be checked to help rule out hyperthyroidism. In rare cases, measurement of vitamin D and its metabolites and measurement of parathyroid hormone–related peptide (PTHrP) may be necessary.
A flowchart of investigations is depicted in the image below.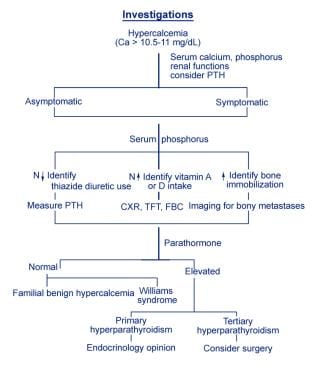 Investigations flowchart.
Imaging Studies
Chest radiographs always should be performed to help rule out lung cancer or sarcoidosis. Other radiographs should be considered to help evaluate for possible malignancies, metastases, or Paget disease.
Mammograms should be considered to help rule out breast cancer. Computed tomography (CT) and ultrasound should be considered to help rule out renal cancer.
When a biochemical diagnosis of primary hyperparathyroidism is made, CT scan, ultrasound, magnetic resonance imaging (MRI), and radionuclide imaging of the parathyroid gland may be helpful to assist with preoperative localization.
References
McKay CP, Portale A. Emerging topics in pediatric bone and mineral disorders 2008. Semin Nephrol. 2009 Jul. 29(4):370-8. [Medline].

Guarnieri V, Canaff L, Yun FH, et al. Calcium-Sensing Receptor (CASR) Mutations in Hypercalcemic States: Studies from a Single Endocrine Clinic Over Three Years. J Clin Endocrinol Metab. 2010 Feb 17. [Medline].

Nissen PH, Christensen SE, Wallace A, et al. Multiplex ligation-dependent probe amplification (MLPA) screening for exon copy number variation in the calcium sensing receptor gene: no large rearrangements identified in patients with calcium metabolic disorders. Clin Endocrinol (Oxf). 2009 Nov 11. [Medline].

Luna-Cabrera F, Justicia-Rull EA, Caricol-Pérez MP, et al. Incidence of hypercalcemia, hypercalciuria and related factors in patients treated with recombinant human parathyroid hormone (1-84). Minerva Med. 2012 Apr. 103(2):103-10. [Medline].

Vanstone MB, Oberfield SE, Shader L, Ardeshirpour L, Carpenter TO. Hypercalcemia in Children Receiving Pharmacologic Doses of Vitamin D. Pediatrics. 2012 Mar 12. [Medline].

Sharma OP. Vitamin D, calcium, and sarcoidosis. Chest. 1996. 109(2):535-539. [Medline].

Griebeler ML, Kearns AE, Ryu E, Thapa P, Hathcock MA, Melton LJ 3rd, et al. Thiazide-Associated Hypercalcemia: Incidence and Association With Primary Hyperparathyroidism Over Two Decades. J Clin Endocrinol Metab. 2016 Mar. 101 (3):1166-73. [Medline].

Vargas-Poussou R, Mansour-Hendili L, Baron S, et al. Familial Hypocalciuric Hypercalcemia Types 1 and 3 and Primary Hyperparathyroidism: Similarities and Differences. J Clin Endocrinol Metab. 2016 May. 101 (5):2185-95. [Medline].

Gastanaga VM, Schwartzberg LS, Jain RK, Pirolli M, Quach D, Quigley JM, et al. Prevalence of hypercalcemia among cancer patients in the United States. Cancer Med. 2016 Jun 5. [Medline].

Royer AM, Maclellan RA, Daniel Stanley J, Willingham TB, Heath Giles W. Hypercalcemia in the emergency department: a missed opportunity. Am Surg. 2014 Aug. 80(8):732-5. [Medline].

Cafforio P, Savonarola A, Stucci S, De Matteo M, Tucci M, Brunetti AE, et al. PTHrP produced by myeloma plasma cells regulates their survival and pro-osteoclast activity for bone disease progression. J Bone Miner Res. 2014 Jan. 29(1):55-66. [Medline].

Goldner W. Cancer-Related Hypercalcemia. J Oncol Pract. 2016 May. 12 (5):426-32. [Medline].

Alsirafy SA, Sroor MY, Al-Shahri MZ. Hypercalcemia in advanced head and neck squamous cell carcinoma: prevalence and potential impact on palliative care. J Support Oncol. 2009 Sep-Oct. 7(5):154-7. [Medline].

Makras P, Papapoulos SE. Medical treatment of hypercalcaemia. Hormones (Athens). 2009 Apr-Jun. 8(2):83-95. [Medline]. [Full Text].

Brooks M. FDA Approves New Indication for Denosumab (Xgeva). Medscape Medical News. Available at http://www.medscape.com/viewarticle/836252. Accessed: December 13, 2014.

Hu MI, Glezerman IG, Leboulleux S, Insogna K, Gucalp R, Misiorowski W, et al. Denosumab for treatment of hypercalcemia of malignancy. J Clin Endocrinol Metab. 2014 Sep. 99(9):3144-52. [Medline]. [Full Text].

Bergenfelz AO, Jansson SK, Wallin GK, et al. Impact of modern techniques on short-term outcome after surgery for primary hyperparathyroidism: a multicenter study comprising 2,708 patients. Langenbecks Arch Surg. 2009 Jul 18. [Medline].

Low TH, Clark J, Gao K, et al. Outcome of parathyroidectomy for patients with renal disease and hyperparathyroidism: predictors for recurrent hyperparathyroidism. ANZ J Surg. 2009 May. 79(5):378-82. [Medline].

Padhi D, Harris R. Clinical pharmacokinetic and pharmacodynamic profile of cinacalcet hydrochloride. Clin Pharmacokinet. 2009. 48(5):303-11. [Medline].

Marcocci C, Chanson P, Shoback D, et al. Cinacalcet reduces serum calcium concentrations in patients with intractable primary hyperparathyroidism. J Clin Endocrinol Metab. 2009 Jun 2. [Medline].

al Zahrani A, Levine MA. Primary hyperparathyroidism. Lancet. 1997 Apr 26. 349(9060):1233-8. [Medline].

Carroll MF, Schade DS. A practical approach to hypercalcemia. Am Fam Physician. 2003 May 1. 67(9):1959-66. [Medline].

Ganong CA, Kappy MS. Hypercalcemia. In: Berman S, ed. Pediatric Decision Making. 3rd ed. St. Louis, Mo: Mosby-Year Book; 1996:. 128-31.

Hoenderop JG, Nilius B, Bindels RJ. Molecular mechanism of active Ca2+ reabsorption in the distal nephron. Annu Rev Physiol. 2002. 64:529-49. [Medline].

Inzucchi SE. Management of hypercalcemia. Diagnostic workup, therapeutic options for hyperparathyroidism and other common causes. Postgrad Med. 2004 May. 115(5):27-36. [Medline].

Pearce SH. Calcium homeostasis and disorders of the calcium-sensing receptor. J R Coll Physicians Lond. 1998 Jan-Feb. 32(1):10-4. [Medline].

Strewler GJ. The physiology of parathyroid hormone-related protein. N Engl J Med. 2000 Jan 20. 342(3):177-85. [Medline].
Medscape Reference © 2011 WebMD, LLC