Hyperkalemia Workup
Author: Eleanor Lederer, MD, FASN; Chief Editor: Vecihi Batuman, MD, FACP, FASN more...
Updated: Jan 11, 2016
What would you like to print?
Approach Considerations
Ascertain whether the elevated potassium level is real or factitious (see DDx). In a patient who does not have a predisposition to hyperkalemia, repeat the blood test before taking any actions to bring down the potassium level, unless changes are present on electrocardiography (ECG).
Renal function testing is important. If the patient has renal failure, the serum calcium level should be checked because hypocalcemia can exacerbate cardiac rhythm disturbances. Other tests include the following:
Measurement of the trans-tubular potassium gradient (TTKG) remains widely used as a means of assessing whether decreased renal excretion of potassium is contributing to hyperkalemia. Despite its initial promise, however, recent research has called its accuracy into question,[54] and some experts now recommend that TTKG measurement be abandoned.
Depending on the clinical findings and the results of the above laboratory work, the following may be indicated:
Glucose level

- In patients with known or suspected diabetes mellitus

Arterial or venous blood gas - If acidosis is suspected

Urinalysis

- If signs of renal insufficiency without an already known cause are present (to look for evidence of glomerulonephritis)

Serum

cortisol

and aldosterone levels - To check for mineralocorticoid deficiency when other causes are eliminated

Serum creatinine phosphokinase (CPK) and calcium measurements - For rhabdomyolysis

Urine myoglobin test - For crush injury or rhabdomyolysis; suspect if urinalysis reveals blood in the urine but no red blood cells are seen on urine microscopy
Potassium Assay
The relationship between the serum potassium level and symptoms of hyperkalemia is not consistent. For example, patients with a chronically elevated potassium level may be asymptomatic at much higher levels than other patients are. The rapidity of change in the potassium level influences the symptoms observed at various potassium levels.
In pediatric patients, capillary blood gas sampling should not routinely be used to evaluate for hyperkalemia, because of the significant risks of factitious hyperkalemia.
Electrocardiography
ECG is vital for assessing the physiologic significance of hyperkalemia. ECG findings generally correlate with the potassium level, but potentially life-threatening arrhythmias can occur without warning at almost any level of hyperkalemia. In patients with organic heart disease and an abnormal baseline ECG, bradycardia may be the only new ECG abnormality.
ECG changes have a sequential progression, which roughly correlate with the potassium level.[2] Early changes of hyperkalemia include tall, peaked T waves with a narrow base, best seen in precordial leads[3] ; shortened QT interval; and ST-segment depression. These changes are typically seen at a serum potassium level of 5.5-6.5 mEq/L.
At a serum potassium level of 6.5-8.0 mEq/L, in addition to peaked T waves, the ECG shows the following:
Prolonged PR interval

Decreased or disappearing P wave

Widening of the QRS (see the images below)
At a serum potassium level higher than 8.0 mEq/L, the ECG shows absence of P wave, progressive QRS widening, and intraventricular/fascicular/bundle-branch blocks. The progressively widened QRS eventually merges with the T wave, forming a sine wave pattern. Ventricular fibrillation or asystole follows.
The ECG changes of hyperkalemia reverse with appropriate treatment (see the image below).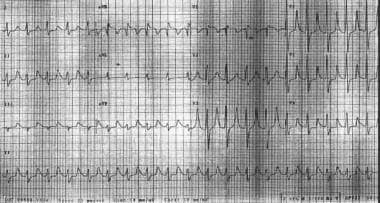 ECG of patient with pretreatment potassium level of 7.8 mEq/L and widened QRS complexes after receiving 1 ampule of calcium chloride. Note narrowing of QRS complexes and reduction of T waves.
Renal Function Determination
Check serum levels of blood urea nitrogen (BUN) and creatinine to determine whether renal insufficiency is present. If such insufficiency is confirmed, check 24-hour urine for creatinine clearance or estimate the creatinine clearance using the Cockroft-Gault equation to assess whether the degree of renal insufficiency alone explains the hyperkalemia. The Cockroft-Gault equation is as follows:
(140 – age [y]) ´ weight (kg)/72 ´ serum creatinine (mg/dL)
For women, the result is multiplied by 0.8.
It must be kept in mind that because the serum creatinine level is dependent on muscle mass, a seemingly normal creatinine level in a geriatric or cirrhotic patient will actually indicate impaired renal function. Tools such as the Modification of Diet in Renal Disease (MDRD) and Chronic Kidney Disease Epidemiology Collaboration (CKD-EPI) formulas are recommended for estimating glomerular filtration rate (GFR) in these patients.[1] The MDRD formula for estimating the GFR is as follows[55] :
186 ´ serum creatinine (mg/dL)−1.154 ´ age (y)−0.203 (´ 0.742 if female) (´ 1.210 if black)
Urine Potassium, Sodium, and Osmolality
Measurement of urine potassium and sodium concentrations and urine osmolality is essential to determine whether impairment of renal excretion is contributing to the hyperkalemia. A urine potassium level below 20 mEq/L suggests impaired renal excretion. A urine potassium level above 40 mEq/L suggests intact renal excretory mechanisms, implying that high intake or failure of cell uptake is the major mechanism for hyperkalemia.
A spot urine potassium measurement is the easiest and most commonly obtained test; a 24-hour urine potassium measurement is rarely needed. However, an isolated urine potassium level often is misleading, because the urine potassium concentration is influenced not only by secretion by the cortical collecting tubule but also by the degree of urinary concentration. If urine osmolality is high (>700 mOsm/kg), the absolute value for urine potassium concentration can be misleading and suggest that the kidneys are disposing of potassium appropriately.
For example, if serum potassium is 6 mEq/L and urine potassium 60 mEq/L, the high urine potassium level may be taken as suggesting appropriate renal potassium excretion. However, the final concentration of potassium in the urine depends not only on how much potassium is secreted in response to sodium reabsorption but also on how concentrated the urine is.
In this example, if urine osmolality is 300 mOsm/kg—that is, not concentrated in relation to serum—then a measured urine potassium level of 60 mEq/L indeed suggests renal potassium loss. However, if urine osmolality is 1200 mOsm/kg—that is, concentrated 4-fold in relation to serum—then the urine potassium concentration, in the absence of urinary concentration due to water reabsorption, is 15 mEq/L, which is very low. In the latter case, the conclusion would be that the kidneys are not appropriately excreting potassium.
Trans-Tubular Potassium Gradient
The trans-tubular potassium gradient (TTKG) was developed to account for the potentially confounding effect of urine concentration on the interpretation of the urine potassium concentration. In effect, the TTKG back-calculates what the serum-to–tubular fluid ratio of potassium would be at the level of the cortical collecting tubule, where potassium is secreted before urine concentration has occurred.
The TTKG is determined by the following equation:
TTKG = (urine K x serum osmolarity)
(serum K x urine osmolarity)
A TTKG of less than 3 suggests a lack of aldosterone effect on the collecting tubules (that is, the kidneys are not excreting potassium appropriately). A TTKG greater than 7 suggests an aldosterone effect, which would be appropriate in the setting of hyperkalemia. In pediatric patients with hyperkalemia, a TTKG greater than 10 is consistent with normal renal excretion of potassium; a TTKG of less than 8 implies inadequate potassium excretion, which is usually secondary to aldosterone deficiency or unresponsiveness. Checking a serum aldosterone level may be helpful.
Measurement of the TTKG was initially considered superior to measurement of urine potassium alone for assessing the contribution of decreased renal excretion to hyperkalemia. However, it is important to recognize that the TTKG is valid for this purpose only if (1) the urine osmolality is greater than the serum osmolality—that is, the urine is concentrated relative to the serum—and (2) the urine sodium is greater than 20 mEq/L—that is, distal delivery of sodium is adequate for potassium excretion.
Furthermore, recent evidence suggesting that urea recycling may influence potassium secretion has cast some doubt on the utility of the TTKG.[54] One assumption inherent in the calculation of the TTKG is that the absorption of osmoles distal to the cortical collecting duct is negligible. If further studies suggest that urea transport can influence potassium handling, this test may have to be abandoned.
References
Murata K, Baumann NA, Saenger AK, Larson TS, Rule AD, Lieske JC. Relative performance of the MDRD and CKD-EPI equations for estimating glomerular filtration rate among patients with varied clinical presentations. Clin J Am Soc Nephrol. 2011 Aug. 6(8):1963-72. [Medline]. [Full Text].

Diercks DB, Shumaik GM, Harrigan RA. Electrocardiographic manifestations: electrolyte abnormalities. J Emerg Med. 2004. 27:153-160. [Medline].

Chew HC, Lim SH. Electrocardiographical case. A tale of tall T's. Hyperkalaemia. Singapore Med J. 2005 Aug. 46(8):429-32; quiz 433. [Medline].

San-Cristobal P, de los Heros P, Ponce-Coria J, et al. WNK kinases, renal ion transport and hypertension. Am J Nephrol. 2008. 28(5):860-70. [Medline].

Shaffer SG, Kilbride HW, Hayen LK, Meade VM, Warady BA. Hyperkalemia in very low birth weight infants. J Pediatr. 1992 Aug. 121(2):275-9. [Medline].

Tran HA. Extreme hyperkalemia. South Med J. 2005 Jul. 98(7):729-32. [Medline].

Kahle KT, Ring AM, Lifton RP. Molecular physiology of the WNK kinases. Annu Rev Physiol. 2008. 70:329-55. [Medline].

Huang CL, Kuo E. Mechanisms of disease: WNK-ing at the mechanism of salt-sensitive hypertension. Nat Clin Pract Nephrol. 2007 Nov. 3(11):623-30. [Medline].

Marino PL. Potassium. The ICU Book. Baltimore: Williams & Wilkins; 1998.

Bhananker SM, Ramamoorthy C, Geiduschek JM, Posner KL, Domino KB, Haberkern CM, et al. Anesthesia-related cardiac arrest in children: update from the Pediatric Perioperative Cardiac Arrest Registry. Anesth Analg. 2007 Aug. 105(2):344-50. [Medline].

Einhorn LM, Zhan M, Hsu VD, Walker LD, Moen MF, Seliger SL, et al. The frequency of hyperkalemia and its significance in chronic kidney disease. Arch Intern Med. 2009 Jun 22. 169(12):1156-62. [Medline]. [Full Text].

Raebel MA, Ross C, Xu S, et al. Diabetes and Drug-Associated Hyperkalemia: Effect of Potassium Monitoring. J Gen Intern Med. 2010 Jan 20. [Medline]. [Full Text].

Johnson ES, Weinstein JR, Thorp ML, et al. Predicting the risk of hyperkalemia in patients with chronic kidney disease starting lisinopril. Pharmacoepidemiol Drug Saf. 2010 Mar. 19(3):266-72. [Medline].

Lin HH, Yang YF, Chang JK, et al. Renin-angiotensin system blockade is not associated with hyperkalemia in chronic hemodialysis patients. Ren Fail. 2009. 31(10):942-5. [Medline].

Weir MR, Rolfe M. Potassium homeostasis and Renin-Angiotensin-aldosterone system inhibitors. Clin J Am Soc Nephrol. 2010 Mar. 5(3):531-48. [Medline].

Preston RA, Afshartous D, Garg D, et al. Mechanisms of impaired potassium handling with dual renin-angiotensin-aldosterone blockade in chronic kidney disease. Hypertension. 2009 Mar 23. [Medline].

Khanna A, White WB. The management of hyperkalemia in patients with cardiovascular disease. Am J Med. 2009 Mar. 122(3):215-21. [Medline].

Schweiger B, Moriarty MW, Cadnapaphornchai MA. Case report: severe neonatal hyperkalemia due to pseudohypoaldosteronism type 1. Curr Opin Pediatr. 2009 Apr. 21(2):269-71. [Medline].

Papaioannou V, Dragoumanis C, Theodorou V, Pneumatikos I. The propofol infusion 'syndrome' in intensive care unit: from pathophysiology to prophylaxis and treatment. Acta Anaesthesiol Belg. 2008. 59(2):79-86. [Medline].

Matthews JM. Succinylcholine-induced hyperkalemia. Anesthesiology. 2006 Aug. 105(2):430; author reply 431. [Medline].

Piotrowski AJ, Fendler WM. Hyperkalemia and cardiac arrest following succinylcholine administration in a 16-year-old boy with acute nonlymphoblastic leukemia and sepsis. Pediatr Crit Care Med. 2007 Mar. 8(2):183-5. [Medline].

Gronert GA, Theye RA. Pathophysiology of hyperkalemia induced by succinylcholine. Anesthesiology. 1975 Jul. 43(1):89-99. [Medline]. [Full Text].

Perazella MA, Biswas P. Acute hyperkalemia associated with intravenous epsilon-aminocaproic acid therapy. Am J Kidney Dis. 1999 Apr. 33(4):782-5. [Medline].

Carroll HJ, Tice DA. The effects of epsilon amino-caproic acid upon potassium metabolism in the dog. Metabolism. 1966 May. 15(5):449-57. [Medline].

Mattu A, Brady WJ, Robinson DA. Electrocardiographic manifestations of hyperkalemia. Am J Emerg Med. 2000 Oct. 18(6):721-9. [Medline].

Sánchez-Carpintero I, Ruiz-Rodriguez R, López-Gutiérrez JC. [Propranolol in the treatment of infantile hemangioma: clinical effectiveness, risks, and recommendations]. Actas Dermosifiliogr. 2011 Dec. 102(10):766-79. [Medline].

Pavlakovic H, Kietz S, Lauerer P, Zutt M, Lakomek M. Hyperkalemia complicating propranolol treatment of an infantile hemangioma. Pediatrics. 2010 Dec. 126(6):e1589-93. [Medline].

Cummings CC, McIvor ME. Fluoride-induced hyperkalemia: the role of Ca2+-dependent K+ channels. Am J Emerg Med. 1988 Jan. 6(1):1-3. [Medline].

Suzuki H, Terai M, Hamada H, Honda T, Suenaga T, Takeuchi T, et al. Cyclosporin A treatment for Kawasaki disease refractory to initial and additional intravenous immunoglobulin. Pediatr Infect Dis J. 2011 Oct. 30(10):871-6. [Medline].

Nowicki TS, Bjornard K, Kudlowitz D, Sandoval C, Jayabose S. Early recognition of renal toxicity of high-dose methotrexate therapy: a case report. J Pediatr Hematol Oncol. 2008 Dec. 30(12):950-2. [Medline].

Gowda RM, Cohen RA, Khan IA. Toad venom poisoning: resemblance to digoxin toxicity and therapeutic implications. Heart. 2003 Apr. 89(4):e14. [Medline]. [Full Text].

New MI. Inborn errors of adrenal steroidogenesis. Mol Cell Endocrinol. 2003. 211:75-83. [Medline].

White PC. Aldosterone synthase deficiency and related disorders. Mol Cell Endocrinol. 2004. 217:81-87. [Medline].

Sartorato P, Khaldi Y, Lapeyraque AL, et al. Inactivating mutations of the mineralocorticoid receptor in Type I pseudohypoaldosteronism. Mol Cell Endocrinol. 2004 Mar 31. 217(1-2):119-25. [Medline].

Geller DS, Rodriguez-Soriano J, Vallo Boado A, Schifter S, Bayer M, Chang SS, et al. Mutations in the mineralocorticoid receptor gene cause autosomal dominant pseudohypoaldosteronism type I. Nat Genet. 1998 Jul. 19(3):279-81. [Medline].

Gamba G. Role of WNK kinases in regulating tubular salt and potassium transport and in the development of hypertension. Am J Physiol Renal Physiol. 2005. 288:F245-52. [Medline]. [Full Text].

Boyden LM, Choi M, Choate KA, Nelson-Williams CJ, Farhi A, Toka HR, et al. Mutations in kelch-like 3 and cullin 3 cause hypertension and electrolyte abnormalities. Nature. 2012 Jan 22. 482(7383):98-102. [Medline]. [Full Text].

Muhammad E, Leventhal N, Parvari G, Hanukoglu A, Hanukoglu I, Chalifa-Caspi V, et al. Autosomal recessive hyponatremia due to isolated salt wasting in sweat associated with a mutation in the active site of Carbonic Anhydrase 12. Hum Genet. 2011 Apr. 129(4):397-405. [Medline].

Jurkat-Rott K, Mitrovic N, Hang C, Kouzmekine A, Iaizzo P, Herzog J, et al. Voltage-sensor sodium channel mutations cause hypokalemic periodic paralysis type 2 by enhanced inactivation and reduced current. Proc Natl Acad Sci U S A. 2000 Aug 15. 97(17):9549-54. [Medline]. [Full Text].

Lorenz JM, Kleinman LI, Markarian K. Potassium metabolism in extremely low birth weight infants in the first week of life. J Pediatr. 1997 Jul. 131(1 Pt 1):81-6. [Medline].

Jarman PR, Kehely AM, Mather HM. Hyperkalaemia in diabetes: prevalence and associations. Postgrad Med J. 1995 Sep. 71(839):551-2. [Medline]. [Full Text].

Reardon LC, Macpherson DS. Hyperkalemia in outpatients using angiotensin-converting enzyme inhibitors. How much should we worry?. Arch Intern Med. 1998 Jan 12. 158(1):26-32. [Medline]. [Full Text].

Maggioni AP, Greene SJ, Fonarow GC, Böhm M, Zannad F, Solomon SD, et al. Effect of aliskiren on post-discharge outcomes among diabetic and non-diabetic patients hospitalized for heart failure: insights from the ASTRONAUT trial. Eur Heart J. 2013 Oct. 34(40):3117-27. [Medline]. [Full Text].

Gheorghiade M, Böhm M, Greene SJ, Fonarow GC, Lewis EF, Zannad F, et al. Effect of aliskiren on postdischarge mortality and heart failure readmissions among patients hospitalized for heart failure: the ASTRONAUT randomized trial. JAMA. 2013 Mar 20. 309(11):1125-35. [Medline].

Mann JF, Anderson C, Gao P, Gerstein HC, Boehm M, Rydén L, et al. Dual inhibition of the renin-angiotensin system in high-risk diabetes and risk for stroke and other outcomes: results of the ONTARGET trial. J Hypertens. 2013 Feb. 31(2):414-21. [Medline].

Juurlink DN, Mamdani MM, Lee DS. Rates of hyperkalemia after publication of the Randomized Aldactone Evaluation Study. N Engl J Med. 2004. 351:543-551. [Medline]. [Full Text].

Paice B, Gray JM, McBride D. Hyperkalaemia in patients in hospital. Br Med J (Clin Res Ed). 1983 Apr 9. 286(6372):1189-92. [Medline]. [Full Text].

Gurnaney H, Brown A, Litman RS. Malignant hyperthermia and muscular dystrophies. Anesth Analg. 2009 Oct. 109(4):1043-8. [Medline].

Segura J, Ruilope LM. Hyperkalemia risk and treatment of heart failure. Heart Fail Clin. 2008 Oct. 4(4):455-64. [Medline].

Weisberg LS. Management of severe hyperkalemia. Crit Care Med. 2008 Dec. 36(12):3246-51. [Medline].

Braden GL, O'Shea MH, Mulhern JG, et al. Acute renal failure and hyperkalaemia associated with cyclooxygenase-2 inhibitors. Nephrol Dial Transplant. 2004 May. 19(5):1149-53. [Medline]. [Full Text].

Schepkens H, Vanholder R, Billiouw JM, Lameire N. Life-threatening hyperkalemia during combined therapy with angiotensin-converting enzyme inhibitors and spironolactone: an analysis of 25 cases. Am J Med. 2001 Apr 15. 110(6):438-41. [Medline].

Zietse R, Zoutendijk R, Hoorn EJ. Fluid, electrolyte and acid-base disorders associated with antibiotic therapy. Nat Rev Nephrol. 2009 Apr. 5(4):193-202. [Medline].

Kamel KS, Halperin ML. Intrarenal urea recycling leads to a higher rate of renal excretion of potassium: an hypothesis with clinical implications. Curr Opin Nephrol Hypertens. 2011 Sep. 20(5):547-54. [Medline].

Levey AS, Bosch JP, Lewis JB, et al. A more accurate method to estimate glomerular filtration rate from serum creatinine: a new prediction equation. Modification of Diet in Renal Disease Study Group. Ann Intern Med. 1999 Mar 16. 130(6):461-70. [Medline].

Watson M, Abbott KC, Yuan CM. Damned if you do, damned if you don't: potassium binding resins in hyperkalemia. Clin J Am Soc Nephrol. 2010 Oct. 5(10):1723-6. [Medline].

[Guideline] Alfonzo A, Soar J, MacTier R, et al. Treatment of Acute Hyperkalaemia in Adults. The Renal Association. Available at http://www.renal.org/guidelines/joint-guidelines/treatment-of-acute-hyperkalaemia-in-adults#sthash.vXcD0IG3.QqdB4c5G.dpbs. March 1, 2014; Accessed: October 6, 2015.

Elliott MJ, Ronksley PE, Clase CM, Ahmed SB, Hemmelgarn BR. Management of patients with acute hyperkalemia. CMAJ. 2010 Oct 19. 182 (15):1631-5. [Medline]. [Full Text].

Sterns RH, Rojas M, Bernstein P, Chennupati S. Ion-exchange resins for the treatment of hyperkalemia: are they safe and effective?. J Am Soc Nephrol. 2010 May. 21(5):733-5. [Medline].

Pierce DA, Russell G, Pirkle JL Jr. The Incidence of Hypoglycemia in Patients With Low eGFR Treated With Insulin and Dextrose for Hyperkalemia. Ann Pharmacother. 2015 Sep 28. [Medline].

Dick TB, Raines AA, Stinson JB, Collingridge DS, Harmston GE. Fludrocortisone is effective in the management of tacrolimus-induced hyperkalemia in liver transplant recipients. Transplant Proc. 2011 Sep. 43(7):2664-8. [Medline].

Rogers FB, Li SC. Acute colonic necrosis associated with sodium polystyrene sulfonate (Kayexalate) enemas in a critically ill patient: case report and review of the literature. J Trauma. 2001 Aug. 51(2):395-7. [Medline].

McGowan CE, Saha S, Chu G, Resnick MB, Moss SF. Intestinal necrosis due to sodium polystyrene sulfonate (Kayexalate) in sorbitol. South Med J. 2009 May. 102(5):493-7. [Medline]. [Full Text].

US Food and Drug Administration. Safety: Kayexalate (sodium polystyrene sulfonate) powder. Available at http://www.fda.gov/Safety/MedWatch/SafetyInformation/ucm186845.htm. Accessed: October 5, 2015.

Harel Z, Harel S, Shah PS, Wald R, Perl J, Bell CM. Gastrointestinal adverse events with sodium polystyrene sulfonate (Kayexalate) use: a systematic review. Am J Med. 2013 Mar. 126(3):264.e9-24. [Medline].

Khedr E, Abdelwhab S, El-Sharkay M, et al. Prevalence of hyperkalemia among hemodialysis patients in Egypt. Ren Fail. 2009. 31(10):891-8. [Medline].

Bercovitz RS, Greffe BS, Hunger SP. Acute tumor lysis syndrome in a 7-month-old with hepatoblastoma. Curr Opin Pediatr. 2010 Feb. 22(1):113-6. [Medline].

Schafers S, Naunheim R, Vijayan R. Incidence of hypoglycemia following insulin-based acute stabilization of hyperkalemia treatment. J Hospit Med. 15 Nov 2011. Early online:

An JN, Lee JP, Jeon HJ, Kim DH, Oh YK, Kim YS, et al. Severe hyperkalemia requiring hospitalization: predictors of mortality. Crit Care. 2012 Nov 21. 16(6):R225. [Medline].

Cheng CJ, Lin CS, Chang LW, et al. Perplexing hyperkalaemia. Nephrol Dial Transplant. 2006 Nov. 21(11):3320-3. [Medline]. [Full Text].

Fordjour KN, Walton T, Doran JJ. Management of Hyperkalemia in Hospitalized Patients. Am J Med Sci. 2012 Dec 18. [Medline].

Bakris GL, Pitt B, Weir MR, Freeman MW, Mayo MR, Garza D, et al. Effect of Patiromer on Serum Potassium Level in Patients With Hyperkalemia and Diabetic Kidney Disease: The AMETHYST-DN Randomized Clinical Trial. JAMA. 2015 Jul 14. 314 (2):151-61. [Medline].

Pitt B, Bakris GL, Bushinsky DA, Garza D, Mayo MR, Stasiv Y, et al. Effect of patiromer on reducing serum potassium and preventing recurrent hyperkalaemia in patients with heart failure and chronic kidney disease on RAAS inhibitors. Eur J Heart Fail. 2015 Oct. 17 (10):1057-65. [Medline].
Table. Selected Factors Affecting Plasma Potassium
| | | |
| --- | --- | --- |
| Factor | Effect on Plasma K+ | Mechanism |
| Aldosterone | Decrease | Increases sodium resorption, and increases K+ excretion |
| Insulin | Decrease | Stimulates K+ entry into cells by increasing sodium efflux (energy-dependent process) |
| Beta-adrenergic agents | Decrease | Increases skeletal muscle uptake of K+ |
| Alpha-adrenergic agents | Increase | Impairs cellular K+ uptake |
| Acidosis (decreased pH) | Increase | Impairs cellular K+ uptake |
| Alkalosis (increased pH) | Decrease | Enhances cellular K+ uptake |
| Cell damage | Increase | Intracellular K+ release |
| Succinylcholine | Increase | Cell membrane depolarization |
Medscape Reference © 2011 WebMD, LLC