Acute Pyelonephritis Workup
Author: Tibor Fulop, MD, FASN, FACP; Chief Editor: Vecihi Batuman, MD, FACP, FASN more...
Updated: Aug 11, 2015
What would you like to print?
Approach Considerations
In the outpatient setting, pyelonephritis is usually suggested by the history and physical examination and supported by urinalysis results, which should include microscopic analysis. Other laboratory studies are used to identify complicating conditions and to assist in determining whether the patient should be admitted.
Easily diagnosed cases typically occur in women, both pregnant and nonpregnant.[6] Men, patients at the extremes of age, patients harboring subclinical pyelonephritis, and patients who are hospitalized may present with an insidious onset.
Imaging studies may be required to make the diagnosis in infants and children in whom pyelonephritis presents insidiously. Imaging studies are rarely indicated for the diagnosis of acute pyelonephritis in an adult who presents with typical signs and symptoms, but they may be warranted if the presentation is atypical or confusing. Imaging is also warranted if the patient deteriorates or does not respond to therapy, in which case the important considerations are nephrolithiasis, obstructive uropathy, and perinephric abscess.
Collection of Urine Specimens
Urine specimens obtained for urinalysis and culture should approximate the urine contained in the bladder as closely as possible. The 3 procedures for collecting such a urine specimen are clean catch, urethral catheterization, and suprapubic needle aspiration.
Clean catch
When properly collected, a clean-catch specimen adequately reflects the microbiology of the urine in the bladder. This technique can be performed by ambulatory females aged 6 years and older who do not have any limiting physical handicap.
Importantly, female patients should wash only the area where urine is passed, wash front to back, hold the cup by the outside, and keep the labia spread while collecting the urine. This is to ensure that the urine goes into the cup without touching the labia. The presence of a large number of epithelial cells on microscopic examination suggests that the specimen is not a true clean catch and is unreliable for culture because of contamination with vaginal contents.
Clean-catch technique can also be performed by ambulatory males aged 6 years and older who do not have any limiting physical handicap. Specimens are usually reliable. Importantly, the patient should clean the head of the penis, retract the foreskin (if uncircumcised), maintain a good stream, and hold the cup by the outside. In the presence of epispadias or hypospadias, care must be taken to maintain a good stream while collecting the specimen.
Urethral catheterization
Catheterization poses a small risk of introducing bacteria into the normally sterile bladder environment. Circumstances that justify this risk when a urine culture is necessary include the following:
Inability to void, or difficulty voiding urine even with hydration

Marked obesity or redundant labia in females

Ill patients who cannot reliably perform the procedure

Performance of a urologic procedure during which a specimen can be collected

Children 2-6 years of age (if a clinician-assisted clean-catch specimen cannot be collected)
For details on performing this procedure, see Urethral Catheterization in Women and Urethral Catheterization in Men.
Suprapubic needle aspiration
Suprapubic needle aspiration is rarely necessary. It is indicated under the following circumstances:
An alternative is lacking

The need exists to exclude contamination from other methods of collection

The need exists to verify the presence of an infecting organism that is otherwise considered a contaminant

The need exists to verify infection in an infant who has a positive culture result from a specimen obtained from a strap-on device
For details on performing this procedure, see Suprapubic Aspiration.
Urinalysis
Pyuria is defined as more than 5-10 WBCs per high-power field (hpf) on a specimen spun at 2000 rpm for 5 minutes. Almost all patients with pyelonephritis have significant pyuria (>20 WBCs/hpf), although the numbers may be smaller, particularly in those with subacute pyelonephritis.
The dipstick leukocyte esterase test (LET) helps screen for pyuria. LET results have a sensitivity of 75-96% and a specificity of 94-98% for detecting more than 10 WBC/hpf.
The nitrite production test (NPT) for bacteriuria has 92-100% sensitivity and 35-85% specificity. It may be falsely negative in the presence of diuretic use, low dietary nitrate, or organisms that do not produce nitrate reductase (eg, Enterococcus, Pseudomonas, Staphylococcus). Combined, the LET-NPT has a sensitivity of 79.2% and a specificity of 81%, which is too low for it to be used as the only screening study for bacteriuria.
Gross hematuria occurs infrequently with pyelonephritis and is more common with cystitis (hemorrhagic cystitis). When gross hematuria is present, the differential should include calculi, cancer, glomerulonephritis, tuberculosis, trauma, and vasculitis.
Microscopic hematuria may be present in patients with uncomplicated acute pyelonephritis, but other causes should be considered, particularly calculi. This is especially true if the patient does not respond to therapy. White cell casts are suggestive of pyelonephritis; however, centrifuge speeds (>2000 rpm) used for urinalysis sediment preparation often fracture them and lead to their absence in the sediment.
Proteinuria is expected (up to 2 g/day). When it exceeds 3 g/day, glomerulonephritis should be considered.
The presence of a single bacterium in an unspun urine specimen by oil-immersion microscopic examination is equivalent to at least 105 colony-forming units (cfu)/mL. Bacteria are identified much more easily on a stained versus an unstained specimen.
Urinary neutrophil gelatinase-associated lipocalin
Urinary neutrophil gelatinase-associated lipocalin (NGAL) is a sensitive biomarker for the diagnosis of acute pyelonephritis in children. In a case-control study of 134 children with acute pyelonephritis or febrile states of other etiology, NGAL values were significantly higher in children with acute pyelonephritis. At a cut-off value of 29.4 ng/mL, urinary NGAL had 92.5% sensitivity and 90.7% specificity for diagnosing acute pyelonephritis. NGAL was also useful for differentiating acute pyelonephritis from cystitis and differentiating cystitis from febrile states with etiology other than UTI.[7]
Urinary concentrations of NGAL may also help identify children with acute pyelonephritis who are at increased risk of developing renal scarring. In a study of 54 children, urinary NGAL levels were significantly higher in patients with acute pyelonephritis with scarring than in those without scarring. At a cut-off value of 7.32 ng/ml, the sensitivity and specificity of this marker for diagnosing scar formation were 81.3% and 66%, respectively.[8]
Urine and Blood Cultures
Urine culture is indicated in any patient with pyelonephritis, whether treated in an inpatient or an outpatient setting, because of the possibility of antibiotic resistance. Reliable results require proper specimen collection.
Blood cultures are indicated in any patient who is being admitted or who has already been admitted. Approximately 12-20% of patients have cultures that are positive for infection. Bacteremia has not been associated with a poor outcome unless sepsis or another significant comorbidity is present.
Indications for Imaging Studies
Imaging may be required to make the diagnosis in infants and children in whom pyelonephritis presents insidiously. Imaging is warranted at the time of admission in patients with the following conditions:
AIDS

Poorly controlled diabetes

Organ transplant (particularly renal)

Other immunocompromised state

Sepsis syndrome

Septic shock
Imaging early in the presentation of acute pyelonephritis may be more useful than previously thought. In one study, 16% of patients admitted for acute pyelonephritis were found to have new and clinically significant abnormalities on renal imaging at the time of admission. Later in the hospital course, imaging studies are used for the prompt evaluation of a potentially organ- or life-threatening complication.
Indications for imaging studies are as follows:
Fever or positive blood culture results that persist for longer than 48 hours

Sudden worsening of the patient's condition

Toxicity persisting for longer than 72 hours

Complicated UTI
After acute pyelonephritis has resolved, imaging studies may be used during a follow-up examination to identify urinary tract abnormalities that can predispose the patient to infection. In addition, studies may be used in conjunction with urologic procedures, including cystoscopy.
Computed Tomography
Contrast-enhanced helical/spiral computed tomography (CECT) is the imaging study of choice, both in adults and in children with acute pyelonephritis. CECT is more sensitive than ultrasonography and intravenous pyelography (which has only 25% sensitivity), and it can more readily identify alterations in renal parenchymal perfusion, alterations in contrast excretion, perinephric fluid, and nonrenal disease.
Noncontrast helical/spiral CT findings may be normal in acute pyelonephritis with mild parenchymal involvement, but the findings are usually positive when the involvement is moderate or severe. It is the standard study for demonstrating gas-forming infections, hemorrhage, inflammatory masses, and obstruction.
If findings are suggestive of nephrolithiasis complicating the presentation, a noncontrast CT scan of the kidneys, ureters, and bladder (KUB) or a CT urogram should be obtained to exclude the possibility of obstruction or hydronephrosis.[9] CT has 97% accuracy in identifying renal stones. (See the images below.)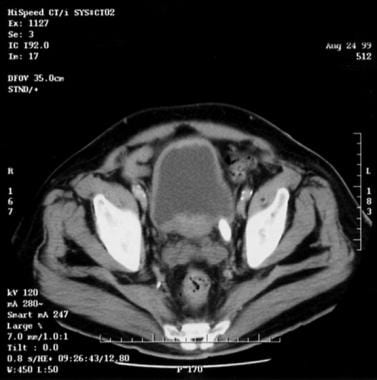 Nonobstructing distal left ureteral calculus 2 X 1 X 2 cm.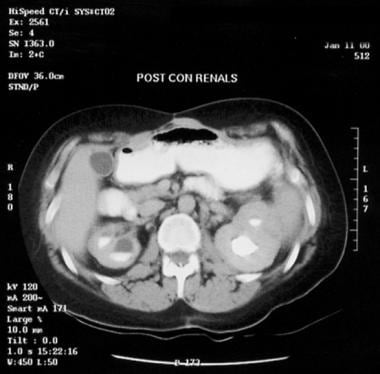 Bilateral hydronephrosis.
Abscesses should appear on CT scans as low-density masses with contrast enhancement of the wall from inflamed/dilated blood vessels (see the image below). Acute focal bacterial nephritis has a lobar distribution of inflammation, wedge-shaped hypodense lesions (postcontrast), and masslike hypodense lesions in severe infections. Xanthogranulomatous pyelonephritis may appear as large renal calculi, nonfunctioning kidneys, contrast enhancement around low attenuation areas, thickening of the Gerota fascia, and spherical areas of low attenuation.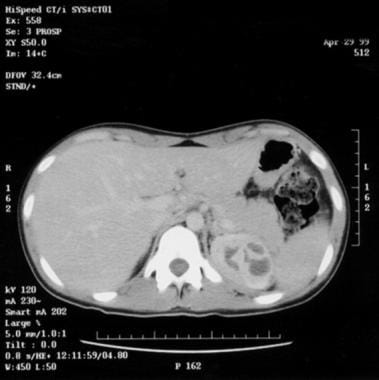 Multiple abscesses, upper pole of left kidney.
Ultrasonography
Ultrasonography (US) can sometimes detect acute pyelonephritis, but a negative study does not exclude the possibility. Power Doppler US is superior to color Doppler US in the detection of pyelonephritis but remains inferior to contrast-enhanced helical/spiral computed tomography (CECT).
Renal US is nevertheless a useful imaging modality in patients with complicated UTIs, and it may be performed at the bedside in a patient who is hemodynamically unstable. It is relatively inexpensive, it does not involve radiation, and iodinated contrast is not needed. It is an alternative to CT to identify hydronephrosis if there is concern regarding nephrolithiasis.[9] US is useful in screening for urinary obstruction in children admitted for febrile illnesses.
On ultrasonography, a renal abscess may appear as a fluid-filled mass with a thick wall. Acute focal bacterial nephritis appears as a poorly defined mass with low-amplitude echoes and disruption of the corticomedullary junction. In xanthogranulomatous pyelonephritis, imaging reveals stones in approximately 70% of patients.
Ultrasonographic findings may be falsely negative in 36% of cases of perinephric abscesses. A drawback to ultrasonography is the difficulty in differentiating renal abscess from tumor; it also is difficult to interpret in a patient who is obese. Renal angiography may help differentiate renal abscess from renal tumor because an abscess often has increased peripheral vascularization (the remainder of the mass is avascular).
Scintigraphy
Scintigraphy with technetium-99m dimercaptosuccinic acid (99m Tc-DMSA) is almost as sensitive clinically as contrast-enhanced helical/spiral computed tomography (CECT) in detecting focal renal abnormalities during acute pyelonephritis in adults. DMSA is a radiotracer that localizes to the renal cortex. This modality is not used much in adults, however, because the findings are not specific; focal abnormalities may indicate abscess, cyst, infarct, pyelonephritis, or tumor. Additionally,99m Tc-DMSA scintigraphy is much less available in the acute setting than CECT.
In children, however,99m Tc-DMSA scintigraphy is the preferred study, because it involves less radiation exposure than CT scans. It is excellent for helping detect inflammation, scarring, and the distribution of renal function between kidneys.
Magnetic Resonance Imaging
Experience with magnetic resonance imaging (MRI) in evaluating acute pyelonephritis is limited but growing. MRI can detect renal infection or masses and urinary obstruction, and it can evaluate the renal vasculature.
In perinephric abscess, MRI may help define extension better than CT scan. As there is no radiation exposure, MRI can be used in pregnancy.[10] The cost and availability of MRI remain concerns, however.[10]
CT and MR Urography
CT urography and MR urography are evolving modalities that surpass intravenous urography, which was the prior mainstay of urinary tract imaging.[11] CT urography provides a detailed anatomic depiction of the urinary tract. MR urography has the advantage of not using ionizing radiation and has the potential to provide more functional information than CT. However, MR urography is less established than CT urography and is less reliable in providing diagnostic image quality.[11]
CT urography and MR urography are currently used in the evaluation of hematuria and will become more applicable to the study of other urologic problems.
Diagnosis of Papillary Necrosis
Histology and/or imaging studies may help make the diagnosis of papillary necrosis. The sloughed papillae may be obtained by straining the urine and sending for histology. Retrograde pyelography is the radiologic procedure of choice, but ultrasonography or CT scan also reveals the diagnosis.
Findings of early renal papillary necrosis include a dilated calyceal fornix, retracted or irregular papillary tip, and extension of contrast into the parenchyma. A club-shaped cavity in the medulla or papilla may be formed in later disease. When a separated papilla is surrounded by contrast, a ring may be visualized, which is characteristic of papillary necrosis.
For more information on this topic, see the Medscape Reference article Papillary Necrosis.
Histologic Findings
Features of acute pyelonephritis include suppurative necrosis or abscess formation within the renal substance. In contrast, features of chronic pyelonephritis (chronic interstitial nephritis) include papillary atrophy and blunting, interstitial fibrosis with inflammatory infiltrate (ie, lymphocytes, plasma cells, neutrophils [occasional]), tubules (ie, dilated with possible colloid casts, contracted with atrophy of epithelium), and concentric fibrosis around the parietal layer of the Bowman capsule.
References
Gupta K, Hooton TM, Naber KG, Wullt B, Colgan R, Miller LG, et al. International clinical practice guidelines for the treatment of acute uncomplicated cystitis and pyelonephritis in women: A 2010 update by the Infectious Diseases Society of America and the European Society for Microbiology and Infectious Diseases. Clin Infect Dis. 2011 Mar 1. 52(5):e103-20. [Medline].

Czaja CA, Scholes D, Hooton TM, Stamm WE. Population-based epidemiologic analysis of acute pyelonephritis. Clin Infect Dis. 2007 Aug 1. 45(3):273-80. [Medline].

National Kidney & Urologic Diseases Information Clearinghouse (NKUDIC). Kidney and Urologic Diseases Statistics for the United States. Available at http://kidney.niddk.nih.gov/kudiseases/pubs/kustats/#urologic. Accessed: October 31, 2011.

Mazaki-Tovi S, Vaisbuch E, Romero R, et al. Maternal plasma concentration of the pro-inflammatory adipokine pre-B-cell-enhancing factor (PBEF)/visfatin is elevated in pregnant patients with acute pyelonephritis. Am J Reprod Immunol. 2010 Mar 1. 63(3):252-62. [Medline].

Kofteridis DP, Papadimitraki E, Mantadakis E, et al. Effect of diabetes mellitus on the clinical and microbiological features of hospitalized elderly patients with acute pyelonephritis. J Am Geriatr Soc. 2009 Nov. 57(11):2125-8. [Medline].

Lumbiganon P, Laopaiboon M, Thinkhamrop J. Screening and treating asymptomatic bacteriuria in pregnancy. Curr Opin Obstet Gynecol. 2010 Apr. 22(2):95-9. [Medline].

Arambašić J, Mandić S, Debeljak Ž, Mandić D, Horvat V, Šerić V. Differentiation of acute pyelonephritis from other febrile states in children using urinary neutrophil gelatinase-associated lipocalin (uNGAL). Clin Chem Lab Med. 2015 Jun 6. [Medline].

Rafiei A, Mohammadjafari H, Bazi S, Mirabi AM. Urinary neutrophil gelatinase-associated lipocalin (NGAL) might be an independent marker for anticipating scar formation in children with acute pyelonephritis. J Renal Inj Prev. 2015. 4 (2):39-44. [Medline].

Abrahamian FM, Moran GJ, Talan DA. Urinary tract infections in the emergency department. Infect Dis Clin North Am. 2008 Mar. 22(1):73-87, vi. [Medline].

Martina MC, Campanino PP, Caraffo F, et al. Dynamic magnetic resonance imaging in acute pyelonephritis. Radiol Med. 2010 Mar. 115(2):287-300. [Medline].

Silverman SG, Leyendecker JR, Amis ES Jr. What is the current role of CT urography and MR urography in the evaluation of the urinary tract?. Radiology. 2009 Feb. 250(2):309-23. [Medline].

Talan DA, Stamm WE, Hooton TM, et al. Comparison of ciprofloxacin (7 days) and trimethoprim-sulfamethoxazole (14 days) for acute uncomplicated pyelonephritis pyelonephritis in women: a randomized trial. JAMA. 2000 Mar 22-29. 283(12):1583-90. [Medline].

Sandberg T, Skoog G, Hermansson AB, Kahlmeter G, Kuylenstierna N, Lannergård A, et al. Ciprofloxacin for 7 days versus 14 days in women with acute pyelonephritis: a randomised, open-label and double-blind, placebo-controlled, non-inferiority trial. Lancet. 2012 Aug 4. 380(9840):484-90. [Medline].

Pohl A. Modes of administration of antibiotics for symptomatic severe urinary tract infections (Review) [database online]. www.thecochranelibrary.com: The Cochrane Collaboration. 2008, Issue 3.

van Nieuwkoop C, van't Wout JW, Spelt IC, et al. Prospective cohort study of acute pyelonephritis in adults: safety of triage towards home based oral antimicrobial treatment. J Infect. 2010 Feb. 60(2):114-21. [Medline].

Nicolle L, Duckworth H, Sitar D, Bryski L, Harding G, Zhanel G. Pharmacokinetics/pharmacodynamics of levofloxacin 750 mg once daily in young women with acute uncomplicated pyelonephritis. Int J Antimicrob Agents. 2008 Mar. 31(3):287-9. [Medline].

Peterson J, Kaul S, Khashab M, Fisher AC, Kahn JB. A double-blind, randomized comparison of levofloxacin 750 mg once-daily for five days with ciprofloxacin 400/500 mg twice-daily for 10 days for the treatment of complicated urinary tract infections and acute pyelonephritis. Urology. 2008 Jan. 71(1):17-22. [Medline].

Vouloumanou EK, Rafailidis PI, Kazantzi MS, Athanasiou S, Falagas ME. Early switch to oral versus intravenous antimicrobial treatment for hospitalized patients with acute pyelonephritis: a systematic review of randomized controlled trials. Curr Med Res Opin. 2008 Dec. 24(12):3423-34. [Medline].

Harwood-Nuss AL, Etheredge W, McKenna I. Urological Emergencies. Harwood-Nuss A, Wolfson AB, eds. The Clinical Practice of Emergency Medicine. 3rd ed. Philadelphia, Pa: Lippincott Williams & Wilkins; 2001. 2227-61.

Hansson S, Martinell J, Stokland E, Jodal U. The natural history of bacteriuria in childhood. Infect Dis Clin North Am. 1997 Sep. 11(3):499-512. [Medline].

Juliano TM, Stephany HA, Clayton DB, Thomas JC, Pope JC 4th, Adams MC, et al. Incidence of Abnormal Imaging and Recurrent Pyelonephritis After First Febrile Urinary Tract Infection in Children 2-24 Months. J Urol. 2013 Jan 22. [Medline].
Table 1. Bacterial Etiology of Urinary Tract Infections
Bacteria
% Uncomplicated
% Complicated
Gram negative
Escherichia coli
70-95
21-54
Proteus mirabilis
1-2
1-10
Klebsiella spp
1-2
2-17
Citrobacter spp
< 1
5
Enterobacter spp
< 1
2-10
Pseudomonas aeruginosa
< 1
2-19
Other
< 1
6-20
Gram positive
Coagulase-negative staphylococci
5-10*
1-4
Enterococci
1-2
1-23
Group B streptococci
< 1
1-4
Staphylococcus aureus
< 1
1-23
Other
< 1
2
Adapted from Hooton TM. The current management strategies for community-acquired urinary tract infection. Infect Dis Clin North Am. Jun 2003;17(2):303-32. [Medline].



* S saprophyticus




Table 2. Outpatient Treatment for Pyelonephritis
First-line therapy
ciprofloxacin (Cipro) 500 mg PO BID for 7d or

ciprofloxacin extended-release (Cipro XR) 1000 mg PO daily for 7d or

levofloxacin (Levaquin) 750 mg PO daily for 5d

If fluoroquinolone resistance is thought to be >10%, administer a single dose of ceftriaxone (Rocephin) 1g IV or a consolidated 24-hour dose of an aminoglycoside (gentamicin 7 mg/kg IV or tobramycin 7 mg/kg IV or amikacin 20 mg/kg IV)
Second-line therapy
trimethoprim/sulfamethoxazole* 160 mg/800 mg (Bactrim DS, Septra DS) 1 tablet PO BID for 14d

If trimethoprim/sulfamethoxazole is used when the susceptibility is not known, an initial single IV dose of the following may also be given: ceftriaxone (Rocephin) 1 g IV or a consolidated 24-h dose of an aminoglycoside (gentamicin 7 mg/kg IV or tobramycin 7 mg/kg IV or amikacin 20 mg/kg IV)
Alternative therapy
Oral beta-lactams are not as effective for treating pyelonephritis; however, if they are used, administer with a single dose of ceftriaxone (Rocephin) 1 g IV or a consolidated 24-h dose of an aminoglycoside (gentamicin 7 mg/kg IV or tobramycin 7 mg/kg IV or amikacin 20 mg/kg IV)

amoxicillin-clavulanate (Augmentin) 500 mg/125 mg PO BID for 14d or

amoxicillin-clavulanate (Augmentin) 250 mg/125 mg PO TID for 3-7d or

cefaclor 500 mg PO TID for 7d
*Should generally be avoided in elderly patients because of the risk of affecting renal function.
Table 3. Inpatient Treatment for Acute Pyelonephritis
First-line therapy
ciprofloxacin (Cipro) 400 mg IV q12h for 10-14d or

levofloxacin (Levaquin) 250 mg IV q24h for 10d or

levofloxacin (Levaquin) 750 mg IV q24h for 5d
Second-line therapy
Extended-spectrum cephalosporins or penicillins:




ampicillin 500 mg IM/IV q6h or

ampicillin-sulbactam (Unasyn) 1.5 g IV q6h or

piperacillin-tazobactam (Zosyn) 3.375 g IV q6h or

ticarcillin-clavulanate (Timentin) 3.1 g IV 4-6h or

cefotaxime (Claforan) 1-2 g IV q8h or

ceftriaxone (Rocephin) 1 g IV q24h or

ceftazidime (Fortaz, Tazicef) 2 g IV q8h

All of the above can be administered with or without an aminoglycoside (except in pregnant patients); see Aminoglycosides, below
Carbapenems:




meropenem (Merrem) 500 mg IV q8h or

ertapenem (Invanz) 1 g IV q24h or

doripenem (Doribax) 500 mg IV q8h
Monobactam (penicillin allergy):




aztreonam (Azactam) 1 g IV q8-12h
Alternative therapy
Aminoglycosides (because of their potential nephrotoxicity, aminoglycoside antibiotics should be reserved for patients with serious and potentially life-threatening infections, and their dosage and blood levels should be carefully monitored to minimize the risk of nephrotoxicity):
gentamicin 3 mg/kg/day IV/IM in 3 divided doses or 7 mg/kg/day pulsed dosing or

tobramycin 3 mg/kg/day IV/IM in 3 divided doses or 7 mg/kg/day pulsed dosing or

amikacin 10 mg/kg/day IV/IM in 3 divided doses or 20 mg/kg/day pulsed dosing
Table 4. Treatment of Pyelonephritis During Pregnancy
Mild to moderate pyelonephritis
ceftriaxone (Rocephin) 1 g IV q24h or

cefepime (Maxipime) 1 g IV q12h or

cefotaxime (Claforan) 1-2 g IV q8h or

ceftazidime (Fortaz, Tazicef) 2 g IV q8h or

ampicillin 1-2 g IV q6h plus gentamicin IV 1.5 mg/kg q8h
Severe pyelonephritis
If patient is immunocompromised and/or has incomplete urinary drainage:
ticarcillin-clavulanate (Timentin) 3.1 g IV q6h or

ampicillin-sulbactam (Unasyn) 1.5 g IV q6h or

piperacillin-tazobactam (Zosyn) 3.375 g IV q6h
Table 5. Pediatric Urinary Tract Infections
| | | | | |
| --- | --- | --- | --- | --- |
| | Neonates | Infants 6 weeks to 3 years of age | Children 3-6 years of age | Children 6-11 years of age |
| UTI frequency (%) | 1 | 1.5-3 | 1.5-3 | 1.2 |
| Female-to-male ratio | 1:1.5 | 10:1 | 10:1 | 30:1 |
| Route of infection | Blood | Ascending | Ascending | Ascending |
| Signs and symptoms | Failure to thrive, fever, hypothermia, irritability, jaundice, poor feeding, sepsis, vomiting | Diarrhea, failure to thrive, fever, irritability, poor feeding, strong-smelling urine, vomiting | Abdominal pain, dysuria, enuresis, fever, gross hematuria, meningismus, strong-smelling urine, urinary urgency, urinary frequency, vomiting | Dysuria, enuresis, fever, flank pain or tenderness, urinary urgency, urinary frequency |
| Predominant organism | Klebsiella species | E coli | E coli, Proteus species in older boys | E coli |
| Management | Admit for intravenous ampicillin and gentamicin and further evaluation | Admit for intravenous ampicillin and gentamicin and further evaluation | Follow adult guidelines, but avoid fluoroquinolones, which are theoretically contraindicated due to potential effects on the musculoskeletal system | Follow adult guidelines, but avoid fluoroquinolones, which are theoretically contraindicated due to potential effects on the musculoskeletal system |
Medscape Reference © 2011 WebMD, LLC