Vertebral Artery Atherothrombosis Workup
Author: Mark D Morasch, MD, RPVI; Chief Editor: Brian H Kopell, MD more...
Updated: Jan 16, 2016
What would you like to print?
Imaging Studies
A precise diagnosis of vertebrobasilar ischemia begins with an accurate assessment of the presenting symptom complex. This must be followed by efforts to exclude other causes for patient symptoms. These other medical conditions include inappropriate use of antihypertensive medications, cardiac arrhythmias, anemia, brain tumors, and benign vertiginous states. A thorough investigation generally includes work up for inner ear pathology, and ruling out cardiac arrhythmias, internal carotid artery stenosis/occlusion, and the inappropriate use of medications as causes.
Any systemic mechanism that decreases the mean pressure of the basilar artery may be responsible for hemodynamic symptomatology. Affected individuals may or may not have concomitant vertebral artery stenosis or occlusion. Certain prescription medications can mimic vertebrobasilar ischemia; as such, patient medications require thorough review. Excessive use of antihypertensive medications is the most common cause of posterior circulation symptoms and can also cause hemodynamic posterior circulation ischemia by decreasing the perfusion pressure and inducing severe orthostatic hypotension.
The evaluation of patients with posterior circulation ischemia should include numerous specific steps. The precise circumstances associated with development of symptoms should be ascertained. Symptoms often appear on standing in older individuals with poor sympathetic control of their venous tone, which causes excessive pooling of blood in the veins of the leg. This is particularly common in patients with diabetes who have diminished sympathetic venoconstrictor reflexes. A 20 mm Hg systolic pressure drop on rapid standing is criterion for a diagnosis of orthostatic hypotension causing low-flow in the vertebrobasilar system. In these cases, the pressure drop triggers the symptoms of posterior circulation ischemia.
A cardiac abnormality is another common cause of brainstem ischemia, especially in the elderly, and thorough evaluation should include monitoring for arrhythmias and a thorough assessment heart valve function. An ambulatory 24-hour electrocardiogram (Holter monitor) should be performed in patients with hemodynamic ischemia because arrhythmias are a common cause for symptomatology due to decreased cardiac output associated with the arrhythmia. Patients with ischemia secondary to arrhythmias often report the association of palpitations with the appearance of symptoms. Echocardiography is useful to rule out significant valvular pathology that could cause brainstem hypoperfusion.
Investigation must be undertaken to exclude inner ear pathology including rare cerebellar-pontine angle tumors. In addition, neurological evaluation to rule out benign vertiginous states should be considered.
Because patients often present with a combination of cerebral hemispheric and posterior symptoms, investigation of the great vessels and the carotid circulation is usually warranted. An important aspect of the history is identifying triggering events such as positional or postural changes. This is followed by a thorough physical examination, which includes palpation, auscultation, pulse exam, and comparative arm blood pressures (recumbent and standing).
Physical examination can alert the physician to the possibility of a subclavian steal in patients with brachial pressure differences greater than 25mmHg or with diminished or absent pulses in one arm. The diagnosis of reversal of vertebral artery flow can be made accurately by noninvasive indirect methods and demonstrated directly by duplex imaging of the reversal of flow in the vertebral artery.
Patients may relate their symptoms to turning or extending their heads. Frequently, the mechanism is extrinsic compression of the vertebral artery, usually the dominant or the only one, by arthritic bone spurs.[7] To differentiate this mechanism from dizziness or vertigo secondary to labyrinthine disorders that appear with head or body rotation, the patient should attempt to reproduce the symptoms by turning the head slowly and then repeating the maneuver, but this time briskly, as when shaking the head from side to side. In labyrinthine disease, the sudden inertial changes caused by the latter maneuver result in immediate symptoms and nystagmus. Conversely, in extrinsic vertebral artery compression, a short delay occurs before the patient fears for his or her balance.
Once a suspicion of vertebrobasilar ischemia has been entertained, only a few studies clearly ascertain vertebral anatomy.
Duplex ultrasonography
Duplex ultrasonography is an excellent tool for detecting lesions in the carotid artery, but it has significant limitations when used to detect vertebral artery pathology. Direct visualization of the second portion of the vessel is difficult due to its intraosseous course through the transverse processes of C2 to C6. The usefulness of duplex ultrasound lies in its ability to confirm reversal of flow within the vertebral arteries and detect flow velocity changes consistent with a proximal stenosis. In addition, this imaging may diagnose great vessel pathology and confirm subclavian steal.[17]
MRI
Contrast-enhanced magnetic resonance angiography (MRA) with 3-dimensional (3D) reconstruction and maximum image intensity (MIP) imaging techniques provide full imaging of the vessels including the supra-aortic trunks, the carotid and vertebral arteries, and the circle of Willis. MRA does tend to "overcall" stenoses, especially those lesions found at the origin of the vertebral artery in the V1 segment. Recent developments in MRI allow for accurate and noninvasive visualization of the vertebral and basilar arteries as well as the surrounding posterior fossa structures.
Brain stem infarctions are often missed by CT scan because they tend to be small and the resolution of the CT scan in the brain stem is poor. Transaxial MRI is also invaluable in detecting acute and chronic posterior fossa infarcts, as depicted in the 1st image below. This has been enhanced by the development of MRIA with 3D reconstructions and maximum image intensity (MIP) imaging, as depicted in the second image below.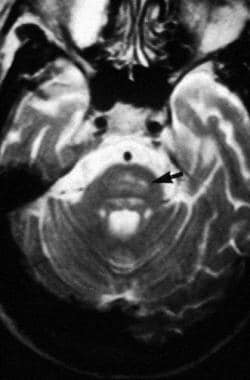 Magnified view of MRI of the brain. The arrow denotes the site of a posterior fossa infarction.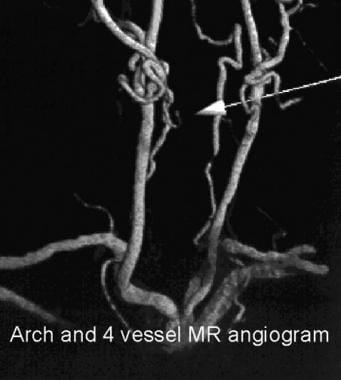 Magnetic resonance angiography (MRA) with 3-dimensional reconstruction of the extracranial and intracranial vertebral and carotid arterial system. The arrow denotes the right vertebral artery.
Arteriography
Selective subclavian and vertebral angiography remains the best test for preoperative evaluation of patients with vertebrobasilar ischemia. The most common site of disease, the vertebral artery origin, may not be well imaged with ultrasonography, MRA, or CT angiography and catheter angiography may be necessary to prove pathology here. Lesions at the origin of the vertebral artery, oftentimes the result of "spill-over" from the subclavian vessel, can, in some cases, only be displayed using oblique projections that are not part of standard arch evaluation.
Patients with suspected vertebral artery compression, usually by osteophytes, should undergo dynamic angiography, which incorporates provocative positioning. This is performed either with the patient sitting up, by means of bilateral brachial injections, or with the patient supine in the Trendelenburg position with the head resting against a block, mimic the effects of the weight of the head on the spine, if the femoral route is used. In these positions, intended to exert axial compression of the cervical vertebrae, the angiographer should obtain the specific rotation or extension of the head that provokes the symptoms. When the patient is rendered symptomatic, the arteriographic injection demonstrates the extrinsic compression that developed with the head rotation or extension.[18]
Lastly, delayed imaging should be performed in order to demonstrate reconstitution of the extracranial vertebral arteries through cervical collaterals, such as the occipital artery or the thyrocervical trunk.[19] Because of this collateral network, the distal vertebral and basilar arteries usually remain patent despite a proximal vertebral artery occlusion. A patent V3 segment can be exploited as a distal target for reconstruction. See the image below.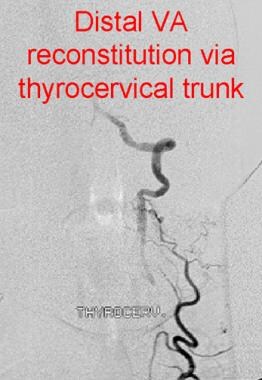 Selective angiography of the left subclavian artery demonstrating collateral flow to a patent distal left vertebral artery via the thyrocervical trunk.
References
Crawford ES, DeBakey ME, Fields WS. Roentgenographic diagnosis and surgical treatment of basilar artery insufficiency. J Am Med Assoc. Oct 4 1958;. 168(5):509-514.

Clark K, Perry MO. Carotid vertebral anastomosis: an alternate technic for repair of the subclavian steal syndrome. Ann Surg. 1966 Mar. 163(3):414-6. [Medline].

Berguer R, Andaya LV, Bauer RB. Vertebral artery bypass. Arch Surg. 1976 Sep. 111(9):976-9. [Medline].

Matas R. Traumatisms and Traumatic Aneurisms of the Vertebral Artery and Their Surgical Treatment with the Report of a Cured Case. Ann Surg. 1893 Nov. 18(5):477-521. [Medline].

Henry A. Henry A. Extensile Exposure. London: Churchill Livingstone; 1945.

Carney A, Anderson E. Carotid distal vertebral bypass for carotid artery occlusion. Clin Electroencephalogr. 1978. 9:105.

Corkill G, French BN, Michas C, Cobb CA 3rd, Mims TJ. External carotid-vertebral artery anastomosis for vertebrobasilar insufficiency. Surg Neurol. 1977 Mar. 7(3):109-15. [Medline].

Rancurel G, Kieffer E, Arzimanglou A. Hemodynamic vertebrobasilar ischemia: Differentiation of hemodynamic and thromboembolic mechanisms. In: erguer R, Caplan LR, eds, Vertebrobasilar Arterial Disease. St. Louis: Quality Medical Publishing, Inc. 1992:40-51.

Berguer R, Flynn LM, Kline RA, Caplan L. Surgical reconstruction of the extracranial vertebral artery: management and outcome. J Vasc Surg. 2000 Jan. 31(1 Pt 1):9-18. [Medline].

Berguer R, Kieffer E. Surgery of the Arteries of the Head. New York: Springer-Verlag. 1992.

Berguer R, Morasch MD, Kline RA. A review of 100 consecutive reconstructions of the distal vertebral artery for embolic and hemodynamic disease. J Vasc Surg. 1998 May. 27(5):852-9. [Medline].

Caplan L. Posterior circulation ischemia: then, now, and tomorrow. The Thomas Willis Lecture-2000. Stroke. 2000 Aug. 31(8):2011-23. [Medline].

Chastain HD, Campbell MS, Iyer S, et al. Extracranial vertebral artery stent placement: in-hospital and follow-up results. J Neurosurg. 1999 Oct. 91(4):547-52. [Medline].

Cloud GC, Markus HS. Vertebral Artery Stenosis. Curr Treat Options Cardiovasc Med. 2004 Apr. 6(2):121-127. [Medline].

Hauth EA, Gissler HM, Drescher R, et al. Angioplasty or stenting of extra- and intracranial vertebral artery stenoses. Cardiovasc Intervent Radiol. 2004 Jan-Feb. 27(1):51-7. [Medline].

Kieffer E, Praquin B, Chiche L, et al. Distal vertebral artery reconstruction: long-term outcome. J Vasc Surg. 2002 Sep. 36(3):549-54. [Medline].

Berguer R, Higgins R, Nelson R. Noninvasive diagnosis of reversal of vertebral-artery blood flow. N Engl J Med. 1980 Jun 12. 302(24):1349-51. [Medline].

Ruotolo C, Hazan H, Rancurel G, Kieffer E. Dynamic arteriography. Berguer R, Caplan L. Vertebrobasilar Arterial Disease. St. Louis, MO: Quality Medical; 1992. 116-123.

Berguer R. Distal vertebral artery bypass: technique, the "occipital connection," and potential uses. J Vasc Surg. 1985 Jul. 2(4):621-6. [Medline].

Shutze W, Gierman J, McQuade K, Pearl G, Smith B. Treatment of proximal vertebral artery disease. Vascular. 2014 Apr. 22 (2):85-92. [Medline].

Brott TG, Halperin JL, Abbara S, et al. 2011 ASA/ACCF/AHA/AANN/AANS/ACR/ASNR/CNS/SAIP/ SCAI/SIR/SNIS/SVM/SVS guideline on the management of patients with extracranial carotid and vertebral artery disease: executive summary: a report of the American College of Cardiology Foundation/American Heart Association Task Force on Practice Guidelines, and the American Stroke Association, American Association of Neuroscience Nurses, American Association of Neurological Surgeons, American College of Radiology, American Society of Neuroradiolog... Vasc Med. 2011 Feb. 16 (1):35-77. [Medline].

Berguer R. Suboccipital approach to the distal vertebral artery. J Vasc Surg. 1999 Aug. 30(2):344-9. [Medline].

Berguer R. Complex Carotid and Vertebral Revascularizations. Pearce WH, Matsumura JS, Yao JST. Vascular Surgery in the Endovascular Era. Evanston, IL: Greenwood Academic; 2008. 344-352.

Berguer R, Morasch MD, Kline RA. A review of 100 consecutive reconstructions of the distal vertebral artery for embolic and hemodynamic disease. J Vasc Surg. 1998 May. 27(5):852-9. [Medline].

Berguer R, Flynn LM, Kline RA, Caplan L. Surgical reconstruction of the extracranial vertebral artery: management and outcome. J Vasc Surg. 2000 Jan. 31(1 Pt 1):9-18. [Medline].

Stenting of Symptomatic Atherosclerotic Lesions in the Vertebral or Intracranial Arteries (SSYLVIA): study results. Stroke. 2004 Jun. 35(6):1388-92. [Medline].

Jenkins JS, Patel SN, White CJ, Collins TJ, Reilly JP, McMullan PW, et al. Endovascular stenting for vertebral artery stenosis. J Am Coll Cardiol. 2010 Feb 9. 55(6):538-42. [Medline].

Coward LJ, Featherstone RL, Brown MM. Percutaneous transluminal angioplasty and stenting for vertebral artery stenosis. Cochrane Database Syst Rev. 2005 Apr 18. CD000516. [Medline].

Coward LJ, McCabe DJ, Ederle J, Featherstone RL, Clifton A, Brown MM. Long-term outcome after angioplasty and stenting for symptomatic vertebral artery stenosis compared with medical treatment in the Carotid And Vertebral Artery Transluminal Angioplasty Study (CAVATAS): a randomized trial. Stroke. 2007 May. 38(5):1526-30. [Medline].

Ogilvy CS, Yang X, Natarajan SK, Hauck EF, Sun L, Lewis-Mason L. Restenosis rates following vertebral artery origin stenting: does stent type make a difference?. J Invasive Cardiol. 2010 Mar. 22(3):119-24. [Medline].

Steinfort B, Ng PP, Faulder K, Harrington T, Grinnell V, Sorby W. Midterm outcomes of paclitaxel-eluting stents for the treatment of intracranial posterior circulation stenoses. J Neurosurg. 2007 Feb. 106(2):222-5. [Medline].

Vajda Z, Miloslavski E, Güthe T, Fischer S, Albes G, Heuschmid A. Treatment of stenoses of vertebral artery origin using short drug-eluting coronary stents: improved follow-up results. AJNR Am J Neuroradiol. 2009 Oct. 30(9):1653-6. [Medline].

Compter A, van der Worp HB, Schonewille WJ, Vos JA, Algra A, Lo TH. VAST: Vertebral Artery Stenting Trial. Protocol for a randomised safety and feasibility trial. Trials. 2008. 9:65. [Medline].

Compter A, van der Worp HB, Schonewille WJ, Vos JA, Boiten J, Nederkoorn PJ, et al. Stenting versus medical treatment in patients with symptomatic vertebral artery stenosis: a randomised open-label phase 2 trial. Lancet Neurol. 2015 Jun. 14 (6):606-14. [Medline].

Bauer R. Mechanical compression of the vertebral arteries. Berguer R, Bauer R. Vertebrobasilar Arterial Occlusive Disease: Medical and Surgical Management. New York, NY: Raven; 1984. 45-71.

Caplan LR, Wityk RJ, Glass TA, Tapia J, Pazdera L, Chang HM, et al. New England Medical Center Posterior Circulation registry. Ann Neurol. 2004 Sep. 56(3):389-98. [Medline].

Roon AJ, Ehrenfeld WK, Cooke PB, Wylie EJ. Vertebral artery reconstruction. Am J Surg. 1979 Jul. 138(1):29-36. [Medline].

Yates PO. Atheromatous lesions of the vertebral arteries and brain infarction. In: Vertebrobasilar Arterial Disease. St. Louis: Quality Medical Publishing, Inc. 1992:3-10.
Medscape Reference © 2011 WebMD, LLC