Meigs Syndrome
Author: Klaus-Dieter Lessnau, MD, FCCP; Chief Editor: Warner K Huh, MD more...
Updated: Mar 24, 2016
What would you like to print?
Background
Meigs syndrome is defined as the triad of benign ovarian tumor with ascites and pleural effusion that resolves after resection of the tumor. Ovarian fibromas constitute the majority of the benign tumors seen in Meigs syndrome. Meigs syndrome, however, is a diagnosis of exclusion, only after ovarian carcinoma is ruled out.[1]
In 1934, Salmon described the association of pleural effusion with benign pelvic tumors. In 1937, Meigs and Cass described 7 cases of ovarian fibromas associated with ascites and pleural effusion.[2] The syndrome was named as Meig's syndrome by Rhoads and Terrel in 1937.[3] In 1954, Meigs proposed limiting true Meigs syndrome to benign and solid ovarian tumors accompanied by ascites and pleural effusion, with the condition that removal of the tumor cures the patient without recurrence. Histologically, the benign ovarian tumor may be a fibroma, thecoma, cystadenoma, or granulosa cell tumor.
Pseudo-Meigs syndrome consists of pleural effusion (an example of which can be seen in the image below), ascites, and benign tumors of the ovary other than fibromas. These benign tumors include those of the fallopian tube or uterus and mature teratomas, struma ovarii, and ovarian leiomyomas.[4] This terminology sometimes also includes ovarian or metastatic gastrointestinal malignancies.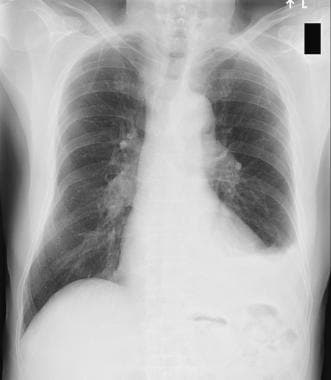 Chest radiograph showing left-sided pleural effusion.
Atypical Meigs characterized by a benign pelvic mass with right-sided pleural effusion but without ascites has been reported at least twice. As in Meigs syndrome, pleural effusion resolves after removal of the pelvic mass.
Pseudo-pseudo Meigs syndrome includes patients with systemic lupus erythematosus and enlarged ovaries.[5]
Pathophysiology
Ascites is present in 10-15% of cases, and hydrothorax is found in only 1% of cases.[6, 7]
Etiology of ascitic fluid
The pathophysiology of ascites in Meigs syndrome is speculative. Meigs suggested that irritation of the peritoneal surfaces by a hard, solid ovarian tumor could stimulate the production of peritoneal fluid. Samanth and Black studied ovarian tumors accompanied by ascites and found that only tumors larger than 10 cm in diameter with a myxoid component to the stroma are associated with ascites.[8] These authors believe that their observations favor secretion of fluid from the tumor as the source of the ascites.
Other proposed mechanisms are direct pressure on surrounding lymphatics or vessels, hormonal stimulation, and tumor torsion. Development of ascites may be due to release of mediators (eg, activated complements, histamines, fibrin degradation products) from the tumor, leading to increased capillary permeability.
Origin of pleural effusion
The etiology of pleural effusion is unclear. Efskind and Terada et al theorize that ascitic fluid is transferred via transdiaphragmatic lymphatic channels. The size of the pleural effusion is largely independent of the amount of ascites. The pleural fluid may be located on the left side or may be bilateral.[1, 9, 10]
Efskind's study
Efskind injected ink into the lower abdomen of a woman with Meigs syndrome and found that the ink particles accumulated in the lymphatics of the pleural surface within half an hour. Blockage of these lymphatics prevented accumulation of pleural fluid and caused an increase in ascitic fluid.
Terada and colleagues' study
In 1992, Terada and colleagues injected labeled albumin into the peritoneum and found that the maximum concentration was detected in the right pleura within 3 hours.
Nature of the ascitic and pleural fluid
Ascitic fluid and pleural fluid in Meigs syndrome can be either transudative or exudative. [9] Meigs performed electrophoresis on several cases and determined that pleural and ascitic fluids were similar in nature. Tumor size, rather than the specific histologic type, is thought to be the important factor in the formation of ascites and accompanying pleural effusion.
In 2015, the findings of Krenke et al. in their systematic literature review of 541 cases reported with Meig's syndrome revealed that an exudative origin in pleural effusions was significantly more prevalent than the ones from transudative origin.[11]
Epidemiology
Frequency
United States
Ovarian tumors are more prevalent in women in upper socioeconomic groups. Ovarian fibromas represent approximately 2-5% of surgically removed ovarian tumors, and Meigs syndrome occurs in only 1-2% of these cases; thus, it is a rare condition. Ascites is present in 10-15% of women with ovarian fibroma, and hydrothorax is present in 1%, especially those with larger lesions.
Age-related demographics
The incidence of ovarian tumor begins to increase in the third decade and increases progressively in postmenopausal women, with an average of about 50 years.[1, 9] Meigs syndrome in prepubertal girls with benign teratomas and cystadenomas has been reported.
International statistics
The international prevalence is unknown.
Mortality/Morbidity
Life expectancy of patients with Meigs syndrome mirrors that of the general population after surgery, and less than 1% of fibromas progress to fibrosarcoma.
Although Meigs syndrome mimics a malignant condition, it is a benign disease and has a very good prognosis if properly managed. Life expectancy after surgical removal of the tumor is the same as the general population.[10]
References
Riker D, Goba D. Ovarian mass, pleural effusion, and ascites: revisiting meigs syndrome. J Bronchology Interv Pulmonol. 2013 Jan. 20(1):48-51. [Medline].

Meigs JV, Cass JW. Fibroma of the ovary with ascites and hydrothorax: with a report of seven cases. Am J Obstet Gynecol. 1937. 33:249-267.

Liao Q, Hu S. Meigs' Syndrome and Pseudo-Meigs' Syndrome: Report of Four Cases and Literature Reviews. Journal of Cancer Therapy. Journal of cancer therapy. 2015 April. 6(04):293.

Dunn JS Jr, Anderson CD, Method MW. Hydropic degenerating leiomyoma presenting as pseudo-Meigs syndrome with elevated CA 125. Obstet Gynecol. 1998 Oct. 92(4 Pt 2):648-9. [Medline].

Schmitt R, Weichert W, Schneider W, Luft FC, Kettritz R. Pseudo-pseudo Meigs' syndrome. Lancet. 2005 Nov 5. 366(9497):1672. [Medline].

Loue VA, Gbary E, Koui S, Akpa B, Kouassi A. Bilateral Ovarian Fibrothecoma Associated with Ascites, Bilateral Pleural Effusion, and Marked Elevated Serum CA-125. Case Rep Obstet Gynecol. 2013. 2013:189072. [Medline]. [Full Text].

Cisse CT, Ngom PM, Sangare M, Ndong M, Moreau JC. [Ovarian fibroma associated with Demons-Meigs syndrome and elevated CA 125]. J Gynecol Obstet Biol Reprod (Paris). 2004 May. 33(3):251-4. [Medline].

Samanth KK, Black WC. Benign ovarian stromal tumors associated with free peritoneal fluid. Am J Obstet Gynecol. 1970 Jun 15. 107(4):538-45. [Medline].

CIFDS G, André SA, Maggi L, Nogueira FJ. Syndrome with Elevated CA 125: Case Report with a Journey through Literature. J Pulm Respir Med. 2015. 5(303):2.

Park JW, Bae JW. Postmenopausal Meigs' Syndrome in Elevated CA-125: A Case Report. J Menopausal Med. 2015 Apr. 21 (1):56-9. [Medline].

Krenke R, Maskey-Warzechowska M, Korczynski P, Zielinska-Krawczyk M, Klimiuk J, Chazan R, et al. Pleural Effusion in Meigs' Syndrome-Transudate or Exudate?: Systematic Review of the Literature. Medicine (Baltimore). 2015 Dec. 94 (49):e2114. [Medline].

Loizzi V, Cormio G, Resta L, Fattizzi N, Vicino M, Selvaggi L. Pseudo-Meigs syndrome and elevated CA125 associated with struma ovarii. Gynecol Oncol. 2005 Apr. 97(1):282-4. [Medline].

Zannoni GF, Gallotta V, Legge F, Tarquini E, Scambia G, Ferrandina G. Pseudo-Meigs' syndrome associated with malignant struma ovarii: a case report. Gynecol Oncol. 2004 Jul. 94(1):226-8. [Medline].

Tjalma WA. Ascites, pleural effusion, and CA 125 elevation in an SLE patient, either a Tjalma syndrome or, due to the migrated Filshie clips, a pseudo-Meigs syndrome. Gynecol Oncol. 2005 Apr. 97(1):288-91. [Medline].

Jones OW, Surwit EA. Meigs syndrome and elevated CA 125. Obstet Gynecol. 1989 Mar. 73(3 Pt 2):520-1. [Medline].

Lin JY, Angel C, Sickel JZ. Meigs syndrome with elevated serum CA 125. Obstet Gynecol. 1992 Sep. 80(3 Pt 2):563-6. [Medline].

Danilos J, Michał Kwaśniewski W, Mazurek D, Bednarek W, Kotarski J. Meigs' syndrome with elevated CA-125 and HE-4: a case of luteinized fibrothecoma. Prz Menopauzalny. 2015 Jun. 14 (2):152-4. [Medline].

Agaba EI, Ekwempu CC, Ugoya SO, Echejoh GO. Meigs' syndrome presenting as haemorrhagic pleural effusion. West Afr J Med. 2007 Jul-Sep. 26(3):253-5. [Medline].

Aoshima M, Tanaka H, Takahashi M, Nakamura K, Makino I. Meigs' syndrome due to Brenner tumor mimicking lupus peritonitis in a patient with systemic lupus erythematosus. Am J Gastroenterol. 1995 Apr. 90(4):657-8. [Medline].

Carson SA, Mazur MT. Atypical endometrioid cystadenofibroma with Meigs' syndrome: ultrastructure and S-phase fraction. Cancer. 1982 Feb 1. 49(3):472-9. [Medline].

Lacson AG, Alrabeeah A, Gillis DA, Salisbury S, Grantmyre EB. Secondary massive ovarian edema with Meig's syndrome. Am J Clin Pathol. 1989 May. 91(5):597-603. [Medline].

Mitrou S, Manek S, Kehoe S. Cystic struma ovarii presenting as pseudo-Meigs' syndrome with elevated CA125 levels. A case report and review of the literature. Int J Gynecol Cancer. 2008 Mar-Apr. 18(2):372-5. [Medline].

Moran-Mendoza A, Alvarado-Luna G, Calderillo-Ruiz G, et al. Elevated CA125 level associated with Meigs' syndrome: case report and review of the literature. Int J Gynecol Cancer. 2006 Jan-Feb. 16 Suppl 1:315-8. [Medline].

Peparini N, Di Matteo FM, Silvestri A, Caronna R, Chirletti P. Abdominal hypertension in Meigs' syndrome. Eur J Surg Oncol. 2007 Sep 29. [Medline].

Fremed MA, Levin TL, Sun KY, Weiser DA. Ovary preservation in the treatment of childhood Meigs syndrome. Pediatr Blood Cancer. 2015 Nov. 62(11):2011-4. [Medline].

Jin C, Dong R, Bu H, Yuan M, Zhang Y, Kong B. Coexistence of benign struma ovarii, pseudo-Meigs' syndrome and elevated serum CA 125: Case report and review of the literature. Oncol Lett. 2015 Apr. 9(4):1739-1742. [Medline].

Riker D, Goba D. Ovarian mass, pleural effusion, and ascites: revisiting Meigs syndrome. J Bronchology Interv Pulmonol. 2013 Jan. 20(1):48-51. [Medline].
Medscape Reference © 2011 WebMD, LLC