Placenta Previa
Author: Ronan Bakker, MD; Chief Editor: Carl V Smith, MD more...
Updated: May 12, 2016
What would you like to print?
Background
Placenta previa is an obstetric complication that classically presents as painless vaginal bleeding in the third trimester secondary to an abnormal placentation near or covering the internal cervical os. However, with the technologic advances in ultrasonography, the diagnosis of placenta previa is commonly made earlier in pregnancy. Historically, there have been three defined types of placenta previa: complete, partial, and marginal. More recently, these definitions have been consolidated into two definitions: complete and marginal previa.
A complete previa is defined as complete coverage of the cervical os by the placenta. If the leading edge of the placenta is less than 2 cm from the internal os, but not fully covering, it is considered a marginal previa (see the following image). Because of the inherent risk of hemorrhage, placenta previa may cause serious morbidity and mortality to both the fetus and the mother.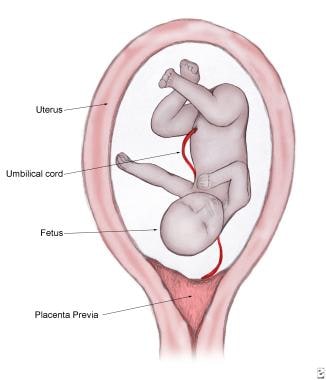 Placenta previa.
Complete placenta previa noted on ultrasound.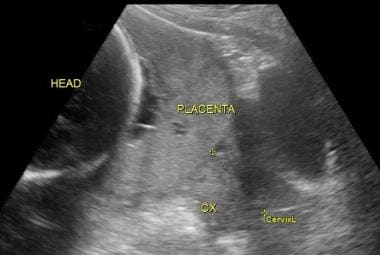 Another ultrasound image clearly depicting complete placenta previa.
Pathophysiology
Placental implantation is initiated by the embryo (embryonic plate) adhering in the lower (caudad) uterus. With placental attachment and growth, the developing placenta may cover the cervical os. However, it is thought that a defective decidual vascularization occurs over the cervix, possibly secondary to inflammatory or atrophic changes. As such, sections of the placenta having undergone atrophic changes could persist as a vasa previa.
A leading cause of third-trimester hemorrhage, placenta previa presents classically as painless bleeding. Bleeding is thought to occur in association with the development of the lower uterine segment in the third trimester. Placental attachment is disrupted as this area gradually thins in preparation for the onset of labor; this leads to bleeding at the implantation site, because the uterus is unable to contract adequately and stop the flow of blood from the open vessels. Thrombin release from the bleeding sites promotes uterine contractions and leads to a vicious cycle of bleeding–contractions–placental separation–bleeding.
Etiology
The exact etiology of placenta previa is unknown. The condition may be multifactorial and is postulated to be related to the following risk factors:
Advancing maternal age (>35 y)

Infertility treatment

Multiparity (5% in grand multiparous patients)

Multiple gestation

Short interpregnancy interval

Previous uterine surgery, uterine insult or injury

Previous or recurrent abortions

Previous placenta previa (4-8%)

Nonwhite ethnicity

Low socioeconomic status

Smoking

Cocaine use
Unlike first-trimester bleeding, second- and third-trimester bleeding is usually due to abnormal placental implantation.
Hemorrhaging, if associated with labor, would be secondary to cervical dilatation and disruption of the placental implantation from the cervix and lower uterine segment. As noted previously, the lower uterine segment is inefficient in contracting and thus cannot constrict vessels as in the uterine corpus, resulting in continued bleeding (see Pathophysiology).
Epidemiology
United States statistics
Placenta previa is frequently reported to occur in 0.5% of all US pregnancies. A large, US population-based, 1989-1997 study indicated an incidence of 2.8 per 1000 live births.[3] The risks increase 1.5- to 5-fold with a history of cesarean delivery. A meta-analysis showed that the rate of placenta previa increases with increasing numbers of cesarean deliveries, with a rate of 1% after 1 cesarean delivery, 2.8% after 3 cesarean deliveries, and as high as 3.7% after 5 cesarean deliveries.[1]
Racial and age-related differences in incidence
The significance of race in having a role in placenta previa is somewhat controversial. Some studies suggest an increased risk among black and Asian women, whereas other studies cite no difference.[4]
Advanced maternal age has also been strongly associated with an increasing incidence of placenta previa. The incidence of placenta previa after age 35 years reported to be 2%. A further increase to 5% is seen after age 40 years, which is a 9-fold increase when compared to females younger than 20 years.[5, 6]
Prognosis
Placenta previa complicates approximately 0.5% of all pregnancies.[4] Technologic advances in ultrasonography have increased the early diagnosis of placenta previa, and several studies have shown that a significant portion of these early diagnoses do not persist until delivery.[7, 8] In fact, 90% of all placentas designated as "low lying" on an early sonogram are no longer present on repeat examination in the third trimester.[9]
However, maternal and fetal complications of placenta previa are well documented. Preterm birth is highly associated with placenta previa, with 16.9% of women delivering at less than 34 weeks and 27.5% delivering between 34 and 37 weeks in a population-based study from 1989 to 1997.[3] There is a significant increase in the risk of postpartum hemorrhage and need for emergency hysterectomy in women with placenta previa.[10]
Maternal complications of placenta previa are summarized as follows:
Hemorrhage,

[11]

including rebleeding (Planning delivery and control of hemorrhage is critical in cases of placenta previa as well as placenta accreta, increta, and percreta.)

Higher rates of blood transfusion

[11, 12]

Placental abruption

Preterm delivery

Increased incidence of postpartum endometritis

[12]
The Table, below, summarizes the relative risk of some morbidities in women with placenta previa.
Table. Relative Risk of Morbidities in Patients With Placenta Previa (Open Table in a new window)
| | |
| --- | --- |
| Morbidities | Relative Risk |
| Antepartum bleeding | 10 |
| Need for hysterectomy | 33 |
| Blood transfusion | 10 |
| Septicemia | 5.5 |
| Thrombophlebitis | 5 |
| Endometritis | 6.6[12] |
Complications of placenta previa in the neonate/infant are summarized as follows:
Congenital malformations

Fetal intrauterine growth retardation (IUGR)

Fetal anemia and Rh isoimmunization

Abnormal fetal presentation

Low birth weight (< 2500 g)

[12]

Neonatal respiratory distress syndrome

[12]

Admission to the neonatal intensive care unit (NICU)

[12]

Longer hospital stay

[12]

Neonatal mortality rate: As high as 1.2% in the United States

[14]
Patient Education
Patients with placenta previa should decrease activity to avoid rebleeding. In addition, pelvic examinations and intercourse should be avoided.
Counsel patients with placenta previa about the risk of recurrence. Instruct them to notify the obstetrician caring for their next pregnancy about their history of placenta previa.
Encourage patients with known placenta previa to maintain intake of iron and folate as a safety margin in the event of bleeding.
For patient education resources, see Pregnancy Center and Women's Health Center, as well as Bleeding During Pregnancy, and Vaginal Bleeding.
References
Marshall NE, Fu R, Guise JM. Impact of multiple cesarean deliveries on maternal morbidity: a systematic review. Am J Obstet Gynecol. 2011 Sep. 205(3):262.e1-8. [Medline].

Milosevic J, Lilic V, Tasic M, Radovic-Janosevic D, Stefanovic M, Antic V. [Placental complications after a previous cesarean section]. Med Pregl. 2009 May-Jun. 62(5-6):212-6. [Medline].

Ananth CV, Smulian JC, Vintzileos AM. The effect of placenta previa on neonatal mortality: a population-based study in the United States, 1989 through 1997. Am J Obstet Gynecol. 2003 May. 188(5):1299-304. [Medline].

Iyasu S, Saftlas AK, Rowley DL, Koonin LM, Lawson HW, Atrash HK. The epidemiology of placenta previa in the United States, 1979 through 1987. Am J Obstet Gynecol. 1993 May. 168(5):1424-9. [Medline].

Williams MA, Mittendorf R. Increasing maternal age as a determinant of placenta previa. More important than increasing parity?. J Reprod Med. 1993 Jun. 38(6):425-8. [Medline].

Ananth CV, Wilcox AJ, Savitz DA, Bowes WA Jr, Luther ER. Effect of maternal age and parity on the risk of uteroplacental bleeding disorders in pregnancy. Obstet Gynecol. 1996 Oct. 88(4 Pt 1):511-6. [Medline].

Becker RH, Vonk R, Mende BC, Ragosch V, Entezami M. The relevance of placental location at 20-23 gestational weeks for prediction of placenta previa at delivery: evaluation of 8650 cases. Ultrasound Obstet Gynecol. 2001 Jun. 17(6):496-501. [Medline].

Hill LM, DiNofrio DM, Chenevey P. Transvaginal sonographic evaluation of first-trimester placenta previa. Ultrasound Obstet Gynecol. 1995 May. 5(5):301-3. [Medline].

Wexler P, Gottesfeld KR. Early diagnosis of placenta previa. Obstet Gynecol. 1979 Aug. 54(2):231-4. [Medline].

Zaki ZM, Bahar AM, Ali ME, Albar HA, Gerais MA. Risk factors and morbidity in patients with placenta previa accreta compared to placenta previa non-accreta. Acta Obstet Gynecol Scand. 1998 Apr. 77(4):391-4. [Medline].

Frederiksen MC, Glassenberg R, Stika CS. Placenta previa: a 22-year analysis. Am J Obstet Gynecol. 1999 Jun. 180(6 pt 1):1432-7. [Medline].

Zlatnik MG, Cheng YW, Norton ME, Thiet MP, Caughey AB. Placenta previa and the risk of preterm delivery. J Matern Fetal Neonatal Med. 2007 Oct. 20(10):719-23. [Medline].

Creasy RK, Resnik R, Iams J , Lockwood C, Moore T, Greene M. Placenta previa, placenta accreta, abruptio placentae, and vasa previa. Creasy and Resnik's Maternal-Fetal Medicine: Principles and Practice. 7th ed. Saunders: Philadelphia, PA; 2014. 732-742.

Bose DA, Assel BG, Hill JB, Chauhan SP. Maintenance tocolytics for preterm symptomatic placenta previa: a review. Am J Perinatol. 2011 Jan. 28(1):45-50. [Medline].

Dola CP, Garite TJ, Dowling DD, Friend D, Ahdoot D, Asrat T. Placenta previa: does its type affect pregnancy outcome?. Am J Perinatol. 2003 Oct. 20(7):353-60. [Medline].

Leerentveld RA, Gilberts EC, Arnold MJ, Wladimiroff JW. Accuracy and safety of transvaginal sonographic placental localization. Obstet Gynecol. 1990 Nov. 76(5 Pt 1):759-62. [Medline].

Sherman SJ, Carlson DE, Platt LD, Medearis AL. Transvaginal ultrasound: does it help in the diagnosis of placenta previa?. Ultrasound Obstet Gynecol. 1992 Jul 1. 2(4):256-60. [Medline].

Ghi T, Contro E, Martina T, Piva M, Morandi R, Orsini LF, et al. Cervical length and risk of antepartum bleeding in women with complete placenta previa. Ultrasound. Obstet Gynecol. Feb 2009. 33(2):209-12.

Smith RS, Lauria MR, Comstock CH, et al. Transvaginal ultrasonography for all placentas that appear to be low-lying or over the internal cervical os. Ultrasound Obstet Gynecol. 1997 Jan. 9(1):22-4. [Medline].

Morlando M, Sarno L, Napolitano R, et al. Placenta accreta: incidence and risk factors in an area with a particularly high rate of cesarean section. Acta Obstet Gynecol Scand. 2013 Apr. 92(4):457-60. [Medline].

Warshak CR, Eskander R, Hull AD, et al. Accuracy of ultrasonography and magnetic resonance imaging in the diagnosis of placenta accreta. Obstet Gynecol. 2006 Sep. 108(3 Pt 1):573-81. [Medline].

Ueno Y, Kitajima K, Kawakami F, Maeda T, Suenaga Y, Takahashi S, et al. Novel MRI finding for diagnosis of invasive placenta praevia: evaluation of findings for 65 patients using clinical and histopathological correlations. Eur Radiol. 2014 Apr. 24(4):881-8. [Medline].

Allen BC, Leyendecker JR. Placental evaluation with magnetic resonance. Radiol Clin North Am. 2013 Nov. 51(6):955-66. [Medline].

Silver, R. Abnormal placentation: Placenta previa, vasa previa, and placenta accreta. Obstet Gynecolol. 2015. 126:654-68.

Besinger RE, Moniak CW, Paskiewicz LS, Fisher SG, Tomich PG. The effect of tocolytic use in the management of symptomatic placenta previa. Am J Obstet Gynecol. 1995 Jun. 172(6):1770-5; discussion 1775-8. [Medline].

Bhide A, Prefumo F, Moore J, Hollis B, Thilaganathan B. Placental edge to internal os distance in the late third trimester and mode of delivery in placenta praevia. BJOG. 2003 Sep. 110(9):860-4. [Medline].

Vergani P, Ornaghi S, Pozzi I, Beretta P, Russo FM, Follesa I, et al. Placenta previa: distance to internal os and mode of delivery. Am J Obstet Gynecol. 2009 Sep. 201(3):266.e1-5. [Medline].

Blackwell, SC. Timing of delivery for women with stable placenta previa. Semin Perinatol. 2011. 35:249-51.

Machado LS. Emergency peripartum hysterectomy: Incidence, indications, risk factors and outcome. N Am J Med Sci. 2011 Aug. 3(8):358-61. [Medline]. [Full Text].

Choi SJ, Song SE, Jung KL, Oh SY, Kim JH, Roh CR. Antepartum risk factors associated with peripartum cesarean hysterectomy in women with placenta previa. Am J Perinatol. Jan 2008. 25(1):37-41.

Masamoto H, Uehara H, Gibo M, Okubo E, Sakumoto K, Aoki Y. Elective use of aortic balloon occlusion in cesarean hysterectomy for placenta previa percreta. Gynecol Obstet Invest. 2009. 67(2):92-5.

Gagnon R, Morin L, Bly S, et al. Guidelines for the management of vasa previa. J Obstet Gynaecol Can. 2009 Aug. 31(8):748-60. [Medline].

Oppenheimer L. Diagnosis and management of placenta previa. J Obstet Gynaecol Can. 2007 Mar. 29(3):261-73. [Medline].

Royal College of Obstetricians and Gynaecologists. Placenta praevia, placenta praevia accreta and vasa praevia: diagnosis and management (Green-top 27). 3rd ed. May 1, 2011. Available at http://www.rcog.org.uk/files/rcog-corp/GTG27PlacentaPraeviaJanuary2011.pdf. Accessed: April 18, 2014.

[Guideline] Royal College of Obstetricians and Gynaecologists (RCOG). Placenta praevia and placenta praevia accreta: diagnosis and management. Oct 2005. Available at http://guideline.gov/summary/summary.aspx?doc_id=8570.
Table. Relative Risk of Morbidities in Patients With Placenta Previa
| | |
| --- | --- |
| Morbidities | Relative Risk |
| Antepartum bleeding | 10 |
| Need for hysterectomy | 33 |
| Blood transfusion | 10 |
| Septicemia | 5.5 |
| Thrombophlebitis | 5 |
| Endometritis | 6.6[12] |
Medscape Reference © 2011 WebMD, LLC