Radical Hysterectomy Treatment & Management
Author: Jori S Carter, MD, MS; Chief Editor: Warner K Huh, MD more...
Updated: Apr 16, 2015
What would you like to print?
Medical Therapy
For patients with stage IB lesions, equal cure rates may be obtained with surgery or radiation therapy. Radiation therapy consisting of pelvic teletherapy in combination with brachytherapy has traditionally been reserved for patients who are medically infirm and those with contraindications to surgery.[27, 28]
Adverse effects of radiation therapy can continue to manifest years after treatment has been completed. Adverse effects include vaginal atrophy, fibrosis, stenosis, and agglutination, which can severely affect sexual function; bladder dysfunction secondary to long-term effects, such as decreased pliability of the bladder; and acute bowel effects such as diarrhea. Over the long term, small bowel obstruction, small bowel fistula formation, rectal stricture, and rectovaginal fistula are risks.
Approximately 54% of stage IB1 and 84% of stage IB2 will require postoperative adjuvant radiotherapy. The combination of two sequential radical therapies is notable for an increased complication rate. Additionally, the promising outcomes with an initial treatment of chemoradiation have brought into question radical surgery for stage IB2 and stage IIA. On the other hand, in patients with stage IIIB disease, chemoradiation followed by radical hysterectomy has been found to have an acceptable rate of complications and a survival outcome similar to that of chemoradiotherapy.[29]
Cisplatin-based neoadjuvant chemotherapy followed by radical hysterectomy for patients with FIGO stage IIB cervical cancer appears to have comparable survival outcomes relative to concurrent chemotherapy alone, according to a retrospective study (2003-2012) of 621 Chinese patients.[30] Of 285 women who received neoadjuvant chemotherapy/radical hysterectomy, 221 (77.6%) achieved a complete or partial response, with significantly higher disease-free and overall survival rates compared to those who did not have a treatment response and also with comparable overall survival rates to those who received concurrent chemoradiotherapy. In addition, there was a significant reduction in recurrence rates and fewer radiotherapy complication rates in the neoadjuvant chemotherapy/radical hysterectomy group.[30]
In a separate retrospective study of 33 Japanese patients with bulky stage IB2-IIB squamous cell carcinoma of the uterine cervix who underwent neoadjuvant chemotherapy followed by radical hysterectomy, investigators identified the presence or absence of lymph node metastasis before administration of neoadjuvant chemotherapy as a significant prognostic factor for overall survival.[31]
Surgical Therapy
Surgical therapy is tailored to the patient and the extent of disease (see Staging). For patients with stage IA1 lesions, an extrafascial hysterectomy or cold-knife cone with adequate negative margins may be performed if future fertility is an issue. In these patients, the risk of having tumor in the pelvic lymph nodes is 0.5-1.5%.
For patients with stage IA2-IIA lesions, a modified radical or Wertheim radical hysterectomy with pelvic lymphadenectomy is usually chosen because of the increased risk of extension beyond the primary lesion, which is approximately 7.3%. The modified radical hysterectomy differs from the classic type III hysterectomy, or Meigs radical hysterectomy, in that the surgeon removes approximately half of the uterosacral ligament, cardinal ligament, and uterine artery at the time of surgical resection. During the type III procedure, the uterosacral ligaments are taken at their attachment to the sacrum; the cardinal ligaments, at the pelvic sidewalls; and the uterine artery, at its origin from the internal iliac artery.
In young patients who wish to retain future fertility are candidates for radical trachelectomy (removal of the cervix and parametrial tissue) if they have stage IA2-IB1 cervical cancer with small tumors that do not extend beyond the internal cervical os.[32, 33] This surgery may be approached vaginally, abdominally, or laparoscopically (either traditional or robotic-assisted).
Preoperative Details
The preoperative workup includes evaluation for underlying pulmonary or cardiac disease that would be a relative contraindication to prolonged surgery. Consider having blood available during the operation in the event of exceptional blood loss, which may occur with radical surgery and pelvic lymphadenectomy. The radical hysterectomy is begun after the surgeon is certain that the patient is appropriately positioned on the operating table and that sequential compression devices are functioning properly. The procedure can take several hours to complete; therefore, these precautions must be taken to avoid injury to the patient.
Intraoperative Details
Strict attention to patient positioning helps decrease nerve injury during any prolonged surgery. At various points during the surgery, the surgeon must determine if the operation should continue.
Radical hysterectomy can be performed through an abdominal, vaginal, or minimally invasive (traditional of robotic-assisted laparoscopy) approach.
For the abdominal approach, several types of incisions have been described. A vertical infraumbilical incision allows adequate exploration of the pelvic area and permits superior extension in the event extensive paraaortic dissection is necessary. In addition, less blood loss occurs through vertical midline incisions, which may be a consideration if the patient has personal or religious objections to transfusion. Most surgeons advocate a low transverse incision (eg, Maylard incision, Cherney incision), which allows adequate exposure, although these methods require separation of the rectus muscles either from the symphysis or by muscle-splitting techniques.
Before opening the peritoneum, some surgeons perform an extraperitoneal approach to the pelvic lymphadenectomy. In the event the hysterectomy is abandoned secondary to positive pelvic and/or paraaortic nodes, the peritoneum is undisturbed, thereby decreasing bowel morbidity during subsequent radiation therapy. After the bilateral pelvic lymphadenectomy is performed and all nodes are deemed negative for malignancy after frozen section analysis, the peritoneal cavity is opened.
The entire abdomen and pelvis are explored in a systematic fashion to evaluate for any palpable evidence of disease spread beyond the cervix. Locally, the peritoneal surfaces anterior and posterior to the cervix are carefully inspected and palpated. The uterus, fallopian tubes, ovaries, and upper abdomen are carefully inspected for evidence of gross disease.
The paravesical and pararectal spaces are opened, which allows better palpation of the parametrium for evidence of disease. Next, the bladder flap is taken down. Take caution in this endeavor because an adherent bladder flap may be an indication of tumor invading through the cervix and into the bladder. If this is discovered, consider termination of the procedure in order to give the patient the best chance at a cure via radiotherapy.
Next, the uterine artery is isolated from its origin at the internal iliac artery. This can be identified by finding the superior vesicle artery and tracing it to the hypogastric artery. The uterine artery is ligated. The uterine vein can also be identified and ligated to avoid bleeding during the remainder of the parametrial dissection. The parametrial margins are illustrated in the image below.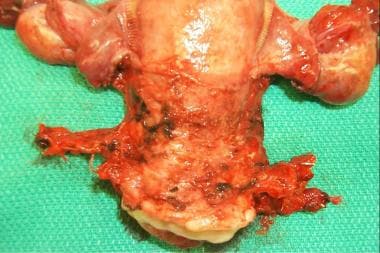 Radical hysterectomy specimen demonstrating the parametrial margins.
The ureter is dissected from the parametrium. Begin by dissecting the ureters free from the medial leaf of the broad ligament; use of vessel loops around the ureters may be helpful for continuous identification for the remainder of the procedure. Additionally, this allows tension to be applied during the more difficult unroofing of the parametrial web of the ureter. As the ureter is dissected from the parametrial web, elevation of the uterine artery may be helpful. Also, the use of Clark clamps to clamp tissue superolateral to the ureter may facilitate division and ligation of such tissue. After dissecting the ureters from the tunnel of the cardinal ligament and moving the bladder a couple of centimeters below the cervix, the posterior dissection is performed.
Just inferior to the cervix, the posterior peritoneum is grasped with Allis clamps in order to open the Douglas pouch. The rectovaginal space can usually be dissected with blunt dissection directly in the same plane as the vagina (ie, toward the patient's feet). The peritoneum is freed bilaterally from the uterosacral ligaments. The uterosacral ligaments can then be divided to define the posterior-most boundary of the dissection. The use of Endo-GIA staplers has simplified this step of the procedure and may facilitate decreased blood loss.[34]
The cardinal ligaments are then clamped, divided, and ligated at the pelvic sidewall. This step can also be simplified with the Endo-GIA stapler. If the ovaries are to be removed, the infundibulopelvic ligament is clamped, ligated, and divided. In most premenopausal patients, the ovaries do not need to be removed because the risk of disease metastasis to the ovary with squamous carcinomas and adenocarcinomas is approximately 0.5% and 1.5%, respectively.
The parametria is then taken from its inferior attachments with multiple lateral-to-medial clamps until the vagina is reached. The vagina may be clamped with 90° angulated clamps or divided via sharp dissection after application of the Vicryl TA-55 stapler. These steps avoid a "rabbit ear" configuration of the vagina, which can be difficult to monitor clinically for evidence of recurrence. A 2-cm margin of vaginal cuff around the cervix is recommended, although this tissue retracts somewhat after being transected from its natural attachment to the vagina. The vaginal margins are illustrated in the image below.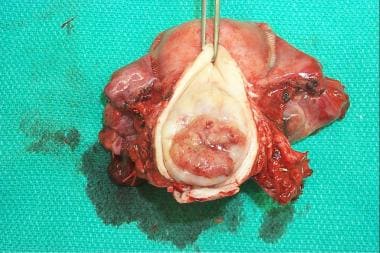 Radical hysterectomy specimen demonstrating the vaginal margin.
Careful attention to hemostasis upon completion of the operation is essential to prevent postoperative hematoma and its associated complications. Most authors no longer close the retroperitoneal spaces, nor do they place drains in the pelvis. A suprapubic catheter or silastic transurethral catheter is placed, usually followed by continuous mass closure.
Postoperative Details
Careful detail to postoperative care is essential in order to decrease postoperative morbidity. Early ambulation, aggressive pulmonary toilet, and deep venous thrombosis prophylaxis are critical postoperative considerations. Depending on the radical nature of the procedure, the patient should retain a Foley or suprapubic catheter for several days or weeks after the procedure. Regardless, voiding trials are performed to ensure that the patient can completely empty her bladder. This helps prevent bladder distension and damage.
Follow-up
After the initial treatment, the patient is closely monitored with a thorough history, physical examinations, pelvic examinations, and Pap smears every 3 months for the first 2 years. The interval between examinations increases to every 6 months for up to 5 years. Approximately 90% of patients who are destined to have recurrences do so within the first 2 years after completion of initial therapy. History and physical examination findings direct the need for further tests. For example, a patient who reports new-onset cough or hemoptysis should have a chest radiograph taken to seek evidence of recurrence in the chest.
For patient education resources, see the Cancer and Tumors Center, as well as Cervical Cancer.
Complications
Intraoperative complications include damage to surrounding structures during the intended procedure. Injury may occur to the bladder, bowel, ureters, pelvic vessels, and nerves. Large-volume blood loss and subsequent need for transfusion may occur. As with any abdominopelvic operation for cancer, these patients are at an extremely high risk for deep venous thrombosis and subsequent embolism. Because the upper 2 cm of the vagina are removed, some patients may note vaginal shortening, particularly if even more of the vagina was removed because of stage IIA disease or in the event that postoperative adjuvant radiation therapy was administered.
Postoperative complications include wound complications such as skin separation, abscess, and dehiscence (eg, seroma, hematoma). Poor healing due to comorbid illnesses, such as obesity, steroid dependence, chronic obstructive pulmonary disease, and poor preoperative nutritional status, can significantly contribute to an increased risk of wound complications.
Postoperative issues involving the ureter, which may be significantly devitalized during the dissection, include ureteral stricture and fistula. Bladder complications, such as overflow incontinence, urinary retention, loss of bladder sensation, and detrusor instability, occur because of bilateral disruption of parasympathetic and sympathetic nerve fibers of the bladder and ureter. By the third postoperative week, most patients can adequately empty the bladder. Surgical technique that spares the pelvic autonomic nerves may significantly reduce bladder function complications, as well as anorectal complications, although the use of this technique prolongs operating times.[35, 36]
Vesicovaginal fistulae may occur in the postoperative period. If radiation therapy is not indicated, repair should be delayed to allow continuous bladder drainage for several weeks, which increases potential healing and decreases inflammation secondary to the initial procedure.
Rectal dysfunction manifested by abnormal internal sphincter relaxation, decreased rectal sensation, and increased abdominal pressure required to produce a bowel movement are rarely reported, although these conditions may be the result of disruption of autonomic sensory nerves as previously described. Small bowel obstruction resulting from postoperative adhesion formation may occur as with any exploratory laparotomy. The risk of bowel complications is markedly increased with the addition of postoperative radiation therapy in addition to radical hysterectomy.
Outcome and Prognosis
Outcomes for patients with cervical cancer are largely dependent on the stage of tumor and several identified risk factors.[37, 38] Patients with bulky tumors (>4 cm) are at a higher risk for both nodal metastasis and pelvic recurrence. Patients with deep stromal invasion, positive vaginal margins, or positive parametrial margins are at increased risk for recurrence. Patients with positive pelvic nodes and one of the previously mentioned risk factors are usually treated with adjuvant radiation therapy to the pelvis.
The 5-year survival rate for patients with surgically treated stage I disease without positive pelvic nodes is approximately 90%; patients with positive pelvic nodes have a 5-year survival rate of 50-60%. Patients with paraaortic nodes that contain tumor have a markedly decreased 5-year survival rate of 20-45%.
Treatment outcomes for early-stage cervical cancer using surgery or radiation therapy as the primary modality are equivalent. Whether outcomes will continue to be equivalent with the addition of chemosensitizing platinum along with radiation is unknown.
Future and Controversies
A growing literature supports the use of robotic-assisted radical hysterectomy in early-stage cervical cancer; one review found that robotic-assisted radical hysterectomy is associated with minimal blood loss, a shortened hospital stay, and few operative complications.[39]
Other treatments for cervical cancer include the use of a laparoscopic and/or vaginal approach to complete all or part of the radical hysterectomy. Published reports include surgical feasibility of the traditional radical vaginal hysterectomy (the Schauta procedure), modified laparoscopically assisted radical vaginal hysterectomy, and complete laparoscopic radical hysterectomy. Some groups in Canada and France have advocated the use of radical trachelectomy with complete laparoscopic pelvic lymphadenectomy for treatment of reproductive-aged women with early invasive lesions.[40] Because these procedures have been performed on very few patients, convincing outcome data regarding the safety and equivalency of these procedures, compared with the more traditional approaches, are not yet available.
While the treatment outcomes of radical hysterectomy and radiation therapy have been noted to be equivalent, studies have shown a decrease in the death rate from the addition of chemosensitizing cisplatin to radiation therapy in patients with stage IB2 lesions and greater.[41, 42] No outcome studies have been performed to investigate chemosensitizing radiotherapy versus radical hysterectomy. Radiotherapy may again take the dominant role in the treatment of all cervical cancers if chemosensitizing cisplatin offers a survival advantage.
References
O'Dowd MJ, Philipp EE. The History of Obstetrics and Gynaecology. Vol 1. New York, NY: Parthenon Publishing Group; 1994:. 543-70.

Department of Health and Human Services, Centers for Disease Control and Prevention, and National Cancer Institute. U.S. Cancer Statistics Working Group. United States Cancer Statistics: 1999–2009 Incidence and Mortality Web-based Report. Centers for Disease Control and Prevention. Available at http://www.cdc.gov/uscs. Accessed: January 7, 13.

American Cancer Society. American Cancer Society. Global Cancer Facts & Figures. 2nd ed. Atlanta, Ga: American Cancer Society; 2011.

Bosch FX, de Sanjose S. Chapter 1: Human papillomavirus and cervical cancer: burden and assessment of causality. J Natl Cancer Inst Monogr. 2003. 31:3-13. [Medline].

Scheffner M, Werness BA, Huibregtse JM, et al. The E6 oncoprotein encoded by human papillomavirus types 16 and 18 promotes the degradation of p53. Cell. 1990 Dec 21. 63(6):1129-36. [Medline].

Jones RE, Wegrzyn RJ, Patrick DR, et al. Identification of HPV-16 E7 peptides that are potent antagonists of E7 binding to the retinoblastoma suppressor protein. J Biol Chem. 1990 Aug 5. 265(22):12782-5. [Medline].

Castellsague X, Munoz N. Chapter 3: Cofactors in human papillomavirus carcinogenesis--role of parity, oral contraceptives, and tobacco smoking. J Natl Cancer Inst Monogr. 2003. 20-8. [Medline].

Louie KS, Castellsague X, de Sanjose S, et al. Smoking and passive smoking in cervical cancer risk: pooled analysis of couples from the IARC multicentric case-control studies. Cancer Epidemiol Biomarkers Prev. 2011. 20(7):1379-90. [Medline].

McCann MF, Irwin DE, Walton LA, Hulka BS, Morton JL, Axelrad CM. Nicotine and cotinine in the cervical mucus of smokers, passive smokers, and nonsmokers. Cancer Epidemiol Biomarkers Prev. 1992 Jan-Feb. 1(2):125-9. [Medline].

Smith JS, Green J, Berrington de Gonzalez A, Appleby P, Peto J, Plummer M, et al. Cervical cancer and use of hormonal contraceptives: a systematic review. Lancet. 2003 Apr 5. 361(9364):1159-67. [Medline].

Castle PE. Beyond human papillomavirus: the cervix, exogenous secondary factors, and the development of cervical precancer and cancer. J Low Genit Tract Dis. 2004 Jul. 8(3):224-30. [Medline].

Lehtovirta P, Finne P, Nieminen P, et al. Prevalence and risk factors of squamous intraepithelial lesions of the cervix among HIV-infected women: a long-term follow-up study in a low-prevalence population. Int J STD AIDS. 2006. 17(12):831-4. [Medline].

Anttila T, Saikku P, Koskela P, Bloigu A, Dillner J, Ikäheimo I. Serotypes of Chlamydia trachomatis and risk for development of cervical squamous cell carcinoma. JAMA. 2001 Jan 3. 285(1):47-51. [Medline].

Ibeanu OA. Molecular pathogenesis of cervical cancer. Cancer Biol Ther. 2011 Feb 1. 11(3):295-306. [Medline].

Randall ME, Michael H, Long 3rd H, Tedjarati S. Uterine cervix. Barakat RR, Markman M, Randall ME. Principles and Practice of Gynecologic Oncology. 5th ed. 2009. 623-682.

Landoni F, Maneo A, Colombo A, et al. Randomised study of radical surgery versus radiotherapy for stage Ib-IIa cervical cancer. Lancet. 1997 Aug 23. 350(9077):535-40. [Medline].

Peters WA, Liu PY, Barrett RJ, et al. Concurrent chemotherapy and pelvic radiation therapy compared with pelvic radiation therapy alone as adjuvant therapy after radical surgery in high-risk early-stage cancer of the cervix. J Clin Oncol. 2000 Apr. 18(8):1606-13. [Medline].

Sedlis A, Bundy BN, Rotman MZ, Lentz SS, Muderspach LI, Zaino RJ. A randomized trial of pelvic radiation therapy versus no further therapy in selected patients with stage IB carcinoma of the cervix after radical hysterectomy and pelvic lymphadenectomy: A Gynecologic Oncology Group Study. Gynecol Oncol. 1999 May. 73(2):177-83. [Medline].

Bansal N, Herzog TJ, Shaw RE, Burke WM, Deutsch I, Wright JD. Primary therapy for early-stage cervical cancer: radical hysterectomy vs radiation. Am J Obstet Gynecol. 2009 Nov. 201(5):485.e1-9. [Medline].

Scheidler J, Hricak H, Yu KK, et al. Radiological evaluation of lymph node metastases in patients with cervical cancer. A meta-analysis. JAMA. 1997 Oct 1. 278(13):1096-101. [Medline].

Mitchell DG, Snyder B, Coakley F, Reinhold C, Thomas G, Amendola M. Early invasive cervical cancer: tumor delineation by magnetic resonance imaging, computed tomography, and clinical examination, verified by pathologic results, in the ACRIN 6651/GOG 183 Intergroup Study. J Clin Oncol. 2006 Dec 20. 24(36):5687-94. [Medline].

Sahdev A, Sohaib SA, Wenaden AE, Shepherd JH, Reznek RH. The performance of magnetic resonance imaging in early cervical carcinoma: a long-term experience. Int J Gynecol Cancer. 2007 May-Jun. 17(3):629-36. [Medline].

Rajendran JG, Greer BE. Expanding role of positron emission tomography in cancer of the uterine cervix. J Natl Compr Canc Netw. 2006 May. 4(5):463-9. [Medline].

Rose PG, Adler LP, Rodriguez M, Faulhaber PF, Abdul-Karim FW, Miraldi F. Positron emission tomography for evaluating para-aortic nodal metastasis in locally advanced cervical cancer before surgical staging: a surgicopathologic study. J Clin Oncol. 1999 Jan. 17(1):41-5. [Medline].

Lai CH, Yen TC, Ng KK. Surgical and radiologic staging of cervical cancer. Curr Opin Obstet Gynecol. 2010 Feb. 22(1):15-20. [Medline].

Pecorelli S, Zigliani L, Odicino F. Revised FIGO staging for carcinoma of the cervix. Int J Gynaecol Obstet. 2009 May. 105(2):107-8. [Medline].

Doll KM, Donnelly E, Helenowski I, Rosenbloom L, Small W Jr, Schink JC, et al. Radical Hysterectomy Compared With Primary Radiation for Treatment of Stage IB1 Cervix Cancer. Am J Clin Oncol. 2012 Sep 18. [Medline].

Uzan C, Merlot B, Gouy S, Belghiti J, Haie-Meder C, Nickers P, et al. Laparoscopic Radical Hysterectomy after Preoperative Brachytherapy for Stage IB1 Cervical Cancer: Feasibility, Results, and Surgical Implications in a Large Bicentric Study of 162 Consecutive Cases. Ann Surg Oncol. 2012 Aug 30. [Medline].

Fanfani F, Fagotti A, Ferrandina G, Raspagliesi F, Ditto A, Cerrotta AM, et al. Neoadjuvant chemoradiation followed by radical hysterectomy in FIGO Stage IIIB cervical cancer: feasibility, complications, and clinical outcome. Int J Gynecol Cancer. 2009 Aug. 19(6):1119-24. [Medline].

Guo L, Liu X, Wang L, et al. Outcome of International Federation of Gynecology and Obstetrics stage IIB cervical cancer from 2003 to 2012: an evaluation of treatments and prognosis: a retrospective study. Int J Gynecol Cancer. 2015 Apr 10. [Medline].

Takatori E, Shoji T, Omi H, et al. Analysis of prognostic factors for patients with bulky squamous cell carcinoma of the uterine cervix who underwent neoadjuvant chemotherapy followed by radical hysterectomy. Int J Clin Oncol. 2015 Apr. 20(2):345-50. [Medline].

Plante M. Vaginal radical trachelectomy: an update. Gynecol Oncol. 2008 Nov. 111(2 Suppl):S105-10. [Medline].

Plante M, Renaud MC, Hoskins IA, Roy M. Vaginal radical trachelectomy: a valuable fertility-preserving option in the management of early-stage cervical cancer. A series of 50 pregnancies and review of the literature. Gynecol Oncol. 2005 Jul. 98(1):3-10. [Medline].

Patsner B. Radical abdominal hysterectomy using the ENDO-GIA stapler: report of 150 cases and literature review. Eur J Gynaecol Oncol. 1998. 19(3):215-9. [Medline].

Cibula D, Velechovska P, Sláma J, Fischerova D, Pinkavova I, Pavlista D, et al. Late morbidity following nerve-sparing radical hysterectomy. Gynecol Oncol. 2009 Nov 9. [Medline].

Skret-Magierlo J, Naróg M, Kruczek A, Kluza R, Kluz T, Magon T, et al. Radical hysterectomy during the transition period from traditional to nerve-sparing technique. Gynecol Oncol. 2009 Dec 9. [Medline].

Mabuchi S, Okazawa M, Kinose Y, Matsuo K, Fujiwara M, Suzuki O, et al. Comparison of the Prognoses of FIGO Stage I to Stage II Adenosquamous Carcinoma and Adenocarcinoma of the Uterine Cervix Treated With Radical Hysterectomy. Int J Gynecol Cancer. 2012 Sep 12. [Medline].

Qiu JT, Abdullah NA, Chou HH, Lin CT, Jung SM, Wang CC, et al. Outcomes and prognosis of patients with recurrent cervical cancer after radical hysterectomy. Gynecol Oncol. 2012 Aug 14. [Medline].

Lowe MP, Chamberlain DH, Kamelle SA, Johnson PR, Tillmanns TD. A multi-institutional experience with robotic-assisted radical hysterectomy for early stage cervical cancer. Gynecol Oncol. 2009 May. 113(2):191-4. [Medline].

Roy M, Plante M. Pregnancies after radical vaginal trachelectomy for early-stage cervical cancer. Am J Obstet Gynecol. 1998 Dec. 179(6 Pt 1):1491-6. [Medline].

Keys HM, Bundy BN, Stehman FB, et al. Cisplatin, radiation, and adjuvant hysterectomy compared with radiation and adjuvant hysterectomy for bulky stage IB cervical carcinoma. N Engl J Med. 1999 Apr 15. 340(15):1154-61. [Medline].

Rose PG, Bundy BN, Watkins EB, et al. Concurrent cisplatin-based radiotherapy and chemotherapy for locally advanced cervical cancer. N Engl J Med. 1999 Apr 15. 340(15):1144-53. [Medline].

Campion MJ. Preinvasive disease. Berek JS, Hacker NF, eds. Practical Gynecologic Oncology. 4th ed. 2005. 265-336.

Randall ME, Michael H, Vermorken J. Uterine Cervix. Hoskins WJ, Perez CA, Young RC, et al, eds. Principles and Practice of Gynecologic Oncology. 4th ed. Philadelphia, Pa: Lippincott Williams & Wilkins; 2005. 743-822.

Schorge JO, Boruta 2nd DM. Uterine procedures. Karlan BY, Bristow RE, Li AJ, eds. Gynecologic Oncology: Clinical Practice and Surgical Atlas. New York, NY: McGraw-Hill; 2012. 493-530.

Ziebarth AJ, Kim KH, Huh WK. Cervical cancer. Karlan BY, Bristow RE, Li AJ, eds. Gynecologic Oncology: Clinical Practice and Surgical Atlas. New York, NY: McGraw-Hill; 2012. 85-104.
Medscape Reference © 2011 WebMD, LLC