Abnormal Labor Clinical Presentation
Author: Saju Joy, MD, MS; Chief Editor: Thomas Chih Cheng Peng, MD more...
Updated: Dec 30, 2015
What would you like to print?
History
Evaluate every pregnant patient who presents with contractions in the labor and delivery unit. Any patient in labor is at risk for abnormal labor regardless of the number of previous pregnancies or the seemingly adequate dimensions of the pelvis. Plot the progress of any patient in labor, and evaluate it on a labor curve (see images below).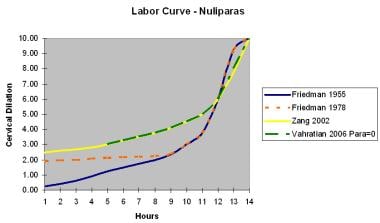 Labor curve for nulliparas.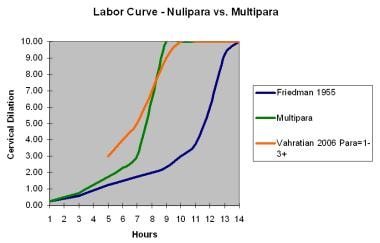 Labor curve for nulliparas versus multiparas.
Physical
Upon admission to the labor and delivery unit, determine and document clinical findings.
Clinical pelvimetry, which is best performed at the first prenatal care visit, is important in order to assess the pelvic type (eg, android, gynecoid, platypelloid, anthropoid). Evaluate the position of the fetal head in early labor because caput and moulding complicate correct assessment as labor progresses. Establish and document an estimated fetal weight. Monitor fetal heart rate and uterine contraction patterns to assess fetal well-being and adequacy of labor. Perform a cervical examination to determine whether the patient is in the latent or active phase of labor.
Addressing these issues allows for an assessment of the current phase of labor and anticipation of whether abnormal labor from any of the 3 P' s may be encountered.
Causes
Prolonged latent phase
The latent phase of labor is defined as the period of time starting with the onset of regular uterine contractions and ending with the onset of the active phase (usually 3-4 cm cervical dilation).
A prolonged latent phase is defined as exceeding 20 hours in patients who are nulliparas or 14 hours in patients who are multiparas.
The most common reason for prolonged latent phase is entering labor without substantial cervical effacement.
Power
Power is defined as uterine contractility multiplied by the frequency of contractions.
Montevideo units (MVUs) refer to the strength of contractions in millimeters of mercury multiplied by the frequency per 10 minutes as measured by intrauterine pressure transducer.
The uterine contraction pattern should repeat every 2-3 minutes.
The uterine contractile force produced must exceed 200 MVUs/10 min for active labor to be considered adequate. For example, 3 contractions in 10 minutes that each reach a peak of 60 mm Hg are 60 X 3 = 180 MVUs.
An arrest disorder of labor cannot be diagnosed until the patient is in the active phase and the contraction pattern exceeds 200 MVUs for 2 or more hours with no cervical change. Extending the minimum period of oxytocin augmentation for active-phase arrest from 2 up to 4 hours may be considered as long as fetal reassurance is noted with fetal heart rate monitoring.
Pelvis or the size of the passageway inhibiting delivery
The shape of the bony pelvis (eg, anthropoid or platypelloid) can result in abnormal labor.
A patient who is extremely short or obese, or who has had prior severe trauma to the bony pelvis, may also be at increased risk of abnormal labor.
Size and/or presentation of the infant
Abnormal labor could also be secondary to the passenger, the size of the infant, and/or the presentation of the infant. In addition to problems caused by the differential in size between the fetal head and the maternal bony pelvis, the fetal presentation may include asynclitism or head extension. Asynclitism is malposition of the fetal head within the pelvis, which compromises the narrowest diameter through the pelvis. Fetal macrosomia and other anomalies (including hydrocephalus, encephalocele, fetal goiter, cystic hygroma, hydrops, or any other abnormality that increases the size of the infant) are likely to cause deviation from the normal labor curve.
Other factors
Other factors include either a low-dose epidural or combined spinal-epidural anesthetics that minimize motor block and may contribute to a prolonged second stage. These have also been associated with an increase in oxytocin use and operative vaginal delivery. However, use of epidural for analgesia during labor does not result in a statistically significant increase in cesarean delivery.[10] Intravenous oversedation has also been implicated as prolonging labor in both the latent and active phases.
An 11-year review by Zuo et al found significant correlation of reactive, infectious, atypical, and dysplastic cytologic changes during pregnancy with abnormal placental findings; all but dysplastic cytologic changes had significant association with preterm birth. The study also found that the presence of high-risk human papillomavirus (HPV) DNA was associated with placental abnormalities and preterm birth. This suggests that cervical infection of HPV is a risk factor for preterm birth; thus, cervical cytology is an effective tool for screening women.[11]
References
Friedman EA. Primigravid labor; a graphicostatistical analysis. Obstet Gynecol. 1955 Dec. 6(6):567-89. [Medline].

Zhang J, Troendle JF, Yancey MK. Reassessing the labor curve in nulliparous women. Am J Obstet Gynecol. 2002 Oct. 187(4):824-8. [Medline].

Rouse DJ, Owen J, Hauth JC. Criteria for failed labor induction: prospective evaluation of a standardized protocol. Obstet Gynecol. 2000 Nov. 96(5 Pt 1):671-7. [Medline].

Cheng YW, Hopkins LM, Caughey AB. How long is too long: Does a prolonged second stage of labor in nulliparous women affect maternal and neonatal outcomes?. Am J Obstet Gynecol. 2004 Sep. 191(3):933-8. [Medline].

Rinehart BK, Terrone DA, Hudson C, Isler CM, Larmon JE, Perry KG Jr. Lack of utility of standard labor curves in the prediction of progression during labor induction. Am J Obstet Gynecol. 2000 Jun. 182(6):1520-6. [Medline].

El-Sayed YY. Diagnosis and management of arrest disorders: duration to wait. Semin Perinatol. 2012 Oct. 36(5):374-8. [Medline].

Zhang J, Landy HJ, Branch DW, et al. Contemporary patterns of spontaneous labor with normal neonatal outcomes. Obstet Gynecol. 2010 Dec. 116(6):1281-7. [Medline]. [Full Text].

Allen VM, Baskett TF, O'Connell CM, McKeen D, Allen AC. Maternal and perinatal outcomes with increasing duration of the second stage of labor. Obstet Gynecol. 2009 Jun. 113(6):1248-58. [Medline].

Cunningham FG, Leveno KL, Bloom SL, et al. Abnormal labor. Williams Obstetrics. 22nd ed. Appleton & Lange; 2007. 415-434.

Anim-Somuah M, Smyth R, Howell C. Epidural versus non-epidural or no analgesia in labour. Cochrane Database Syst Rev. 2005 Oct 19. CD000331. [Medline].

Zuo Z, Goel S, Carter JE. Association of cervical cytology and HPV DNA status during pregnancy with placental abnormalities and preterm birth. Am J Clin Pathol. 2011 Aug. 136(2):260-5. [Medline].

Gabbe SJ, O'Brien WF, Cefalo RC. Labor and delivery. Obstetrics: Normal and Problem Pregnancies. 5th ed. 2007. 322-326.

Sanchez-Ramos L, Quillen MJ, Kaunitz AM. Randomized trial of oxytocin alone and with propranolol in the management of dysfunctional labor. Obstet Gynecol. 1996 Oct. 88(4 Pt 1):517-20. [Medline].

Mitrani A, Oettinger M, Abinader EG, Sharf M, Klein A. Use of propranolol in dysfunctional labour. Br J Obstet Gynaecol. 1975 Aug. 82(8):651-5. [Medline].

Cheng YW, Kaimal AJ, Snowden JM, Nicholson JM, Caughey AB. Induction of labor compared to expectant management in low-risk women and associated perinatal outcomes. Am J Obstet Gynecol. 2012 Dec. 207(6):502.e1-8. [Medline].

Smyth RM, Alldred SK, Markham C. Amniotomy for shortening spontaneous labour. Cochrane Database Syst Rev. 2007 Oct 17. CD006167. [Medline].

Mollberg M, Hagberg H, Bager B, Lilja H, Ladfors L. Risk factors for obstetric brachial plexus palsy among neonates delivered by vacuum extraction. Obstet Gynecol. 2005 Nov. 106(5 Pt 1):913-8. [Medline].

Mehta SH, Bujold E, Blackwell SC, Sorokin Y, Sokol RJ. Is abnormal labor associated with shoulder dystocia in nulliparous women?. Am J Obstet Gynecol. 2004 Jun. 190(6):1604-7; discussion 1607-9. [Medline].

Shields SG, Ratcliffe SD, Fontaine P, Leeman L. Dystocia in nulliparous women. Am Fam Physician. 2007 Jun 1. 75(11):1671-8. [Medline].

Oppenheimer LW, Labrecque M, Wells G, et al. Prostaglandin E vaginal gel to treat dystocia in spontaneous labour: a multicentre randomised placebo-controlled trial. BJOG. 2005 May. 112(5):612-8. [Medline].

Butchart AG, Mathews M, Surendran A. Complex regional pain syndrome following protracted labour*. Anaesthesia. 2012 Nov. 67(11):1272-4. [Medline].

Treacy A, Robson M, O'Herlihy C. Dystocia increases with advancing maternal age. Am J Obstet Gynecol. 2006 Sep. 195(3):760-3. [Medline].

Zhu BP, Grigorescu V, Le T, et al. Labor dystocia and its association with interpregnancy interval. Am J Obstet Gynecol. 2006 Jul. 195(1):121-8. [Medline].

Cheng YW, Hopkins LM, Laros RK Jr, Caughey AB. Duration of the second stage of labor in multiparous women: maternal and neonatal outcomes. Am J Obstet Gynecol. 2007 Jun. 196(6):585.e1-6. [Medline].

Friedman EA. Labor in multiparas; a graphicostatistical analysis. Obstet Gynecol. 1956 Dec. 8(6):691-703. [Medline].

Hoffman MK, Vahratian A, Sciscione AC, Troendle JF, Zhang J. Comparison of labor progression between induced and noninduced multiparous women. Obstet Gynecol. 2006 May. 107(5):1029-34. [Medline].

Vahratian A, Hoffman MK, Troendle JF, Zhang J. The impact of parity on course of labor in a contemporary population. Birth. 2006 Mar. 33(1):12-7. [Medline].

Wood S, Ross S, Sauve R. Cesarean section and subsequent stillbirth, is confounding by indication responsible for the apparent association? An updated cohort analysis of a large perinatal database. PLoS One. 2015. 10(9):e0136272. [Medline].

Chaiworapongsa T, Romero R, Whitten AE, et al. The use of angiogenic biomarkers in maternal blood to identify which SGA fetuses will require a preterm delivery and mothers who will develop pre-eclampsia. J Matern Fetal Neonatal Med. 2015 Aug 25. 1-15. [Medline].
Table. Abnormal Labor Indicators
Indication
Nullipara
Multipara
Prolonged latent phase
>20 h
>14 h
Average second stage
50 min
20 min
Prolonged second stage without (with) epidural
>2 h (>3 h)
>1 h (>2 h)
Protracted dilation
< 1.2 cm/h
< 1.5 cm/h
Protracted descent
< 1 cm/h
< 2 cm/h
Arrest of dilation*
>2 h
>2 h
Arrest of descent*
>2 h
>1 h
Prolonged third stage
>30 min
>30 min
*Adequate contractions >200 Montevideo units [MVU] per 10 minutes for 2 hours. (Please refer to the Pathophysiology for information regarding adequate contractions.)
Medscape Reference © 2011 WebMD, LLC