Cholangiocarcinoma Treatment & Management
Author: Peter E Darwin, MD; Chief Editor: N Joseph Espat, MD, MS, FACS more...
Updated: Sep 14, 2015
What would you like to print?
Medical Care
Treatment of cholangiocarcinoma may include the following:
Stenting

Photodynamic therapy (PDT)

Radiation therapy

Chemotherapy
For palliative treatment, celiac-plexus block via regional injection of alcohol or other sclerosing agent can relieve pain in the mid back that is associated with retroperitoneal tumor growth. In addition, other endoscopic forms of palliation, such as brachytherapy and radiofrequency ablation, have been used.[16, 17]
Stenting
Stents can be placed via endoscopic retrograde cholangiopancreatography (ERCP) or percutaneous transhepatic cholangiography (PTC) to relieve biliary obstruction. Stenting may relieve pruritus and improve quality of life.
Stents usually are used if the tumor is unresectable or if the patient is not a surgical candidate. Debate exists about whether preoperative stenting is warranted, but most surgeons believe that preoperative biliary decompression does not alter the outcome of surgery.
Either plastic or metal stents may be used. Plastic stents usually occlude in 3 months and require replacement. Metal stents are more expensive but expand to a larger diameter and tend to stay patent longer. Adequate biliary drainage can be achieved in a high percentage of cases. A study by Kida et al found that covered biliary self-expandable metal stents could be safely removed at the time of stent occlusion and that patency rates were similar for reintervention and initial stent placement.[18]
Photodynamic therapy
PDT is an experimental local cancer therapy already in use for other gastrointestinal malignancies.[19, 20] PDT is a two-step process: the first step is intravenous (IV) administration of a photosensitizer; the second step is activation by light illumination at an appropriate wavelength.[19, 20]
PDT is effective in restoring biliary drainage and improving quality of life in patients with nonresectable disseminated cholangiocarcinomas. Survival times may be longer than those reported previously. A prospective, multicenter study showed a significant survival benefit in the PDT treatment group.[19] An additional multicenter study is being planned.
Radiation therapy
Adjuvant and preoperative radiation therapy has been used to reduce tumors in an effort to make them resectable. This therapy has been performed with and without concurrent chemotherapy as a radiation sensitizer.
The value of adjuvant radiotherapy has been to improve local control, with variable effect on overall survival after complete resection. Several series have shown an increase in median survival duration with postoperative radiation, from 8 months with surgery alone to more than 19 months.
Special radiation techniques have been used, such as intraluminal brachytherapy and external-beam therapy during surgery (ie, intraoperative radiotherapy [IORT]). See the image below for treatment planning technique.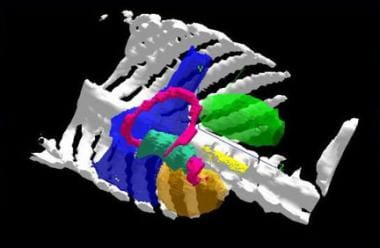 Three-dimensional treatment planning uses CT scan slices to reconstruct the patient as a volume. Shown here is the display for planning external-beam radiotherapy to the cholangiocarcinoma (green structure). A biliary catheter (red tube) runs through the tumor volume and was used to deliver brachytherapy, which was given in addition to external-beam radiotherapy. Such technology has assisted greatly in the delivery of high doses to the tumor, while sparing vital normal structures, such as the kidney and spinal cord.
Primary radiotherapy without surgery, with or without chemotherapy, has provided a survival advantage and significant palliation over stent placement or bypass surgery alone in patients with medially inoperable or unresectable tumors.
Chemotherapy
Most often, chemotherapy is given in low doses to act as a radiation sensitizer during a 4- to 5-week course of external-beam radiotherapy. Primary chemotherapy has been evaluated as well, including gemcitabine and cisplatin as first-line chemotherapy in inoperable biliary tract carcinoma.[21, 22] However, chemotherapy agents used without radiotherapy or surgery do not appear to provide any local control or meaningful survival benefit.
The most used agent is 5-fluorouracil, which has a partial response rate of about 12%. Gemcitabine has a similar response rate. Although fluoropyrimidines and doxorubicin have been reported to have response rates as high as 30-40%, partial responses lasting from weeks to months have been observed in only 10-35% of trials.[21, 22]
Surgical Care
Complete surgical resection is the only therapy to afford a chance of cure. Unfortunately, only 10% of patients present with early-stage disease and are candidates for curative resection. Intrahepatic and Klatskin tumors[6] require liver resection, which may not be an option for older patients with comorbid conditions. In one report, 15% of patients with proximal lesions were candidates for complete resections, with higher rates in patients with mid-ductal tumors (33%) or distal tumors (56%). The survival rate for patients with proximal tumors can be 40% if negative margins are obtained.
The National Comprehensive Cancer Network suggests reresection, ablation, or chemotherapy for intrahepatic cholangiocarcinomas that are resected with microscopic margins or residual local disease.[23] Those with no residual local disease after resection can be followed with imaging periodically.
Orthotopic liver transplantation is considered for some patients with proximal tumors who are not candidates for resection because of the extent of tumor spread in the liver. The largest series reports a 53% 5-year survival rate and a 38% complete pathologic response rate with preoperative radiation therapy and chemotherapy. Liver transplantation may have a survival benefit over palliative treatments, especially for patients with tumors in the initial stages. One study has demonstrated a 5-year survival rate greater than 80% in select patients.[24]
Distal tumors are resected via Whipple procedure; periampullary region tumors have a uniformly better prognosis, with a long-term survival rate of 30-40%.
Patterns of treatment failure after curative surgery show disappointingly high rates of tumor bed and regional nodal recurrence. This finding may be due in part to the narrow pathologic margins; however, the regional node failure rate is approximately 50%, and the distal metastases rate is 30-40%. Failures are correlated with TNM stage. Adjuvant transcatheter arterial chemoembolization for intrahepatic cholangiocarcinoma has been used post attempted curative surgery, with better survival in patients with early recurrence.[25]
Palliative procedures are required if internal stenting cannot be accomplished and/or external stenting is not desirable or cannot be obtained; surgical bypass, particularly for tumors in the common bile duct, should be performed.
Consultations
Gastroenterologists, interventional radiologists, and transplant/biliary surgeons play a key role in diagnosis and management. Radiation oncology and medical oncology specialists are part of the multidisciplinary team taking part in the treatment of both patients with curatively resected tumors and those with unresectable tumors. Radiation oncologists have taken a more significant role in therapy for cholangiocarcinomas since the early 1980s.
References
Douglass HO, Tepper J, Leichman L. Neoplasms of the extrahepatic bile ducts. In: Holland JF, et al, eds. Cancer Medicine. Vol 2. Philadelphia, Pa: Lea & Febiger. 1993:1455-62.

Lake JR. Benign and malignant neoplasms of the gallbladder, bile ducts and ampulla. In: Sleisinger MH, Fordtran JS, eds. Gastrointestinal Disease. 5th ed. Vol 2. Philadelphia, Pa: WB Saunders. 1993:1891-1902.

Lotze MT, Flickinger JC, Carr BI. Hepatobiliary neoplasms. Devita V, Hellman S, Rosenberg S. Cancer: Principles and Practice of Oncology. 4th. Philadelphia, Pa: Lippincott; 1993. 883-907.

de Groen PC, Gores GJ, LaRusso NF, et al. Biliary tract cancers. N Engl J Med. 1999 Oct 28. 341(18):1368-78. [Medline].

Klatskin G. Adenocarcinoma of the hepatic duct at its bifurcation within the porta hepatis. An unusual tumor with distinctive clinical and pathological features. Am J Med. 1965 Feb. 38:241-56. [Medline].

Clary B, Jarnigan W, Pitt H, et al. Hilar cholangiocarcinoma. J Gastrointest Surg. 2004 Mar-Apr. 8(3):298-302. [Medline].

Singal AK, Vauthey JN, Grady JJ, Stroehlein JR. Intra-hepatic cholangiocarcinoma--frequency and demographic patterns: thirty-year data from the M.D. Anderson Cancer Center. J Cancer Res Clin Oncol. 2011 Jul. 137(7):1071-8. [Medline].

American Cancer Society Statistics. Estimated New Cancer Cases and Deaths, 2007. Available at http://www.cancer.org/downloads/stt/CFF2007EstCsDths07.pdf. Accessed: April 11, 2008.

Biliary Tract Cancer. Schottenfeld D, Fraumeni J. Cancer. Epidemiology and Prevention. 3rd Edition. Oxford University Press; 2006. 787-800.

Chalasani N, Baluyut A, Ismail A, et al. Cholangiocarcinoma in patients with primary sclerosing cholangitis: a multicenter case-control study. Hepatology. 2000 Jan. 31(1):7-11. [Medline].

Travis LB, Hauptmann M, Gaul LK, Storm HH, Goldman MB, Nyberg U, et al. Site-specific cancer incidence and mortality after cerebral angiography with radioactive thorotrast. Radiat Res. 2003 Dec. 160(6):691-706. [Medline].

Li JS, Han TJ, Jing N, Li L, Zhang XH, Ma FZ, et al. Obesity and the risk of cholangiocarcinoma: a meta-analysis. Tumour Biol. 2014 Apr 13. [Medline].

Keiding S, Hansen SB, Rasmussen HH, et al. Detection of cholangiocarcinoma in primary sclerosing cholangitis by positron emission tomography. Hepatology. 1998 Sep. 28(3):700-6. [Medline].

Petrowsky H, Wildbrett P, Husarik DB. Impact of Integrated PET and CT on staging and management of glabladder cancer and cholangiocarcinoma. J Hepatol. 2006. Epub Apr 19:

Fritscher-Ravens A, Broering DC, Knoefel WT, et al. EUS-guided fine-needle aspiration of suspected hilar cholangiocarcinoma in potentially operable patients with negative brush cytology. Am J Gastroenterol. 2004 Jan. 99(1):45-51. [Medline].

Simmons DT, Baron TH, Peterson BT. A Novel Endoscopic Approach to Brachytherapy in the Management of Hilar Cholangiocarcinoma. Am J Gastroenterol. 2006. Epub ahead of print:

Butros SR, Shenoy-Bhangle A, Mueller PR, Arellano RS. Radiofrequency ablation of intrahepatic cholangiocarcinoma: feasability, local tumor control, and long-term outcome. Clin Imaging. 2014 Feb 7. [Medline].

Kida M, Miyazawa S, Iwai T, et al. Endoscopic management of malignant biliary obstruction by means of covered metallic stents: primary stent placement vs. re-intervention. Endoscopy. 2011 Dec. 43(12):1039-44. [Medline].

Ortner MA, Liebetruth J, Schreiber S, et al. Photodynamic therapy of nonresectable cholangiocarcinoma. Gastroenterology. 1998 Mar. 114(3):536-42. [Medline].

Ortner ME, Caca K, Berr F, et al. Successful photodynamic therapy for nonresectable cholangiocarcinoma: a randomized prospective study. Gastroenterology. 2003 Nov. 125(5):1355-63. [Medline].

Thongprasert S, Napapan S, Charoentum C, Moonprakan S. Phase II study of gemcitabine and cisplatin as first-line chemotherapy in inoperable biliary tract carcinoma. Ann Oncol. 2005 Feb. 16(2):279-81. [Medline].

Thongprasert S. The role of chemotherapy in cholangiocarcinoma. Ann Oncol. 2005. 16 Suppl 2:ii93-6. [Medline].

National Comprehensive Cancer Network Clinical Practice Guidelines in Oncology. Available at http://www.nccn.org/professionals/physician_gls/default.asp.

Heimbach JK, Haddock MG, Alberts SR, et al. Transplantation for hilar cholangiocarcinoma. Liver Transpl. 2004 Oct. 10(10 Suppl 2):S65-8. [Medline].

Shen WF, Zhong W, Liu Q, Sui CJ, Huang YQ, Yang JM. Adjuvant Transcatheter Arterial Chemoembolization for Intrahepatic Cholangiocarcinoma after Curative Surgery: Retrospective Control Study. World J Surg. 2011 Jun 23. [Medline].

Polistina FA, Guglielmi R, Baiocchi C, et al. Chemoradiation treatment with gemcitabine plus stereotactic body radiotherapy for unresectable, non-metastatic, locally advanced hilar cholangiocarcinoma. Results of a five year experience. Radiother Oncol. 2011 May. 99(2):120-3. [Medline].

Ghafoori AP, Nelson JW, Willett CG, et al. Radiotherapy in the treatment of patients with unresectable extrahepatic cholangiocarcinoma. Int J Radiat Oncol Biol Phys. 2011 Nov 1. 81(3):654-9. [Medline].

Gunderson LL, Willett CG. Pancreas and hepatobiliary tract. Perez CA, Brady LW, et al. Principles and Practice of Radiation Oncology. 3rd ed. Philadelphia, Pa: Lippincott-Raven; 1998: 1467-1488.

Lillemoe K, Kennedy A, Picus J. Clinical management of carcinoma of the biliary tree. Kelsen DP, Daly JM, Kern SE, et al. Gastrointestinal Oncology: Principles and Practices. Philadelphia, Pa: Lippincott Williams & Wilkins; 2001.

Uchida M, Ishibashi M, Tomita N, et al. Hilar and suprapancreatic cholangiocarcinoma: value of 3D angiography and multiphase fusion images using MDCT. AJR Am J Roentgenol. 2005 May. 184(5):1572-7. [Medline].
Medscape Reference © 2011 WebMD, LLC