Esophageal Cancer Treatment & Management
Author: Keith M Baldwin, DO; Chief Editor: N Joseph Espat, MD, MS, FACS more...
Updated: Sep 18, 2015
What would you like to print?
Approach Considerations
Treatment of esophageal cancer varies by disease stage.[36] Patients with stage I disease—particularly Tis and T1aN0 by endoscopic ultrasonography (EUS)—may be considered for endoscopic therapy, such as endoscopic mucosal resection (EMR) or endoscopic submucosal dissection (ESD), performed at a center with experience in these techniques.
In patients with T1b and any N, surgery may be the initial treatment; however, patients with stages beyond T1b should undergo multidisciplinary evaluation and be considered for multimodality therapy.
Trimodality (chemoradiation followed by surgery) is the recommended treatment for patients who can tolerate this regimen; this option is supported by strong level 1 evidence.[37, 38, 39, 40, 41, 42] In fact, 15-30% of patients undergoing neoadjuvant chemoradiation will have a complete pathologic response (pCR), meaning that the tumor will have completely disappeared when the esophagus is examined after surgery. Patients with a pCR have a 3-year survival rate of approximately 50%, as opposed to 27% for those without a pCR.[43]
Preoperative chemotherapy followed by surgery is another option. However, the evidence for this approach is weak; the chance of increase in 2-year overall survival is less than 6%, compared with approximately 13% with trimodality therapy.
Stage IV disease is treated with chemotherapy or symptomatic and supportive care, as indicated. For patients who, because of their clinical condition or owing to advanced disease, are not candidates for curative treatment, the goal of therapy is palliation of dysphagia, so that these patients can eat. No single method of palliation is best for every situation. Most patients require more than 1 kind of palliative treatment to sustain esophageal patency during the course of their disease.
Surgical Indications and Contraindications
Surgery remains the cornerstone of treatment for esophageal cancer. Indications for surgery include the following:
Esophageal cancer in a patient who is a candidate for surgery

High-grade dysplasia in a patient with Barrett esophagus that cannot be adequately treated endoscopically

[1, 2]
Contraindications to surgery include the following:
Metastasis to N2 nodes (ie, cervical or supraclavicular lymph nodes) or solid organs (eg, liver, lungs); the treatment of patients with celiac lymph node involvement remains controversial

[44]

Invasion of adjacent structures (eg, the recurrent laryngeal nerve, tracheobronchial tree, aorta, pericardium)
In addition, the presence of severe, associated comorbid conditions (eg, cardiovascular disease, respiratory disease) can decrease a patient's chances of surviving an esophageal resection. Consequently, cardiac and respiratory function must be carefully evaluated preoperatively. A forced expiratory volume in 1 second of less than 1.2 L and a left ventricular ejection fraction of less than 0.4 are relative contraindications to the operation.
Esophagectomy
Esophageal resection (esophagectomy) remains a critical component of multimodality therapy for patients with tumors of any stage. Endoscopic mucosal resection is an experimental approach to patients with T1a disease or high-grade dysplasia that is limited to certain centers and performed only under protocol. Esophagectomy is no longer is used for palliation of symptoms because other treatment modalities have become available for relieving dysphagia.
An esophagectomy can be performed by using an abdominal and a cervical incision with blunt mediastinal dissection through the esophageal hiatus (ie, transhiatal esophagectomy [THE]) or by using an abdominal and a right thoracic incision (ie, transthoracic esophagectomy [TTE]).
THE offers the advantage of avoiding a chest incision, which can cause prolonged discomfort and can further aggravate the condition of patients with compromised respiratory function. After removal of the esophagus, continuity of the gastrointestinal tract is usually reestablished using the stomach.
Some authors have questioned the validity of THE as a cancer operation because part of the operation is not performed under direct vision and fewer lymph nodes are removed than with TTE. However, many retrospective studies and 2 prospective ones have shown no difference in survival between the operations, suggesting that the factor influencing survival is not the type of operation but, rather, the stage of the cancer at the time the operation is performed.[24, 25, 45, 46, 47, 48]
Morbidity and mortality
Complications from esophagectomy occur in approximately 40% of patients. The morbidity associated with the surgery consists mostly of respiratory, cardiac, and septic complications, including the following:
Respiratory complications (15-20%) - Include atelectasis, pleural effusion, and pneumonia

Cardiac complications (15-20%) - Include cardiac arrhythmias and myocardial infarction

Septic complications (10%) - Include wound infection, anastomotic leak (breakdown of the new connection between the stomach and esophagus), and pneumonia
Anastomotic leaks and stricture may require dilatation (20%). Leaks may be treated with endoscopic placement of self-expanding, removable plastic stents.[49]
Leak rates vary depending on whether the anastomosis was performed in the chest (3-12%) or the neck (10-25%).[50] The choice of location for the anastomosis is based mostly on the location of the tumor and the surgeon's assessment of the risks and benefits of a thoracic anastomosis. Such anastomoses have a lower leak rate, but an intrathoracic leak following esophagectomy can lead to sepsis and death.
A retrospective review of 1223 esophagectomies for cancer found that surgical management of intrathoracic leaks did not increase the patient mortality rate or effect long-term survival.[50]
As with other complex operations (eg, cardiac operations, resection of the pancreas or liver), the lowest mortality rate with esophagectomy is achieved when the procedure is performed in high-volume centers by high-volume surgeons. In California from 1990-1994, for instance, 5 high-volume centers had a mortality rate of 5% or less for esophageal resection for cancer, while the state's average mortality rate for this surgery was approximately 18%.[51]
The better results in high-volume centers are due to a team approach. In these facilities, expert surgeons work with intensivists, cardiologists, pulmonologists, radiologists, and nurses who have experience and expertise.
Transthoracic esophagectomy
For TTE, the patient is placed supine on the operating room table. An arterial line, a central venous catheter, a Foley catheter, and a dual-lumen endotracheal tube are placed. Preoperative antibiotics are administered. An upper midline incision is made.
After exploring the peritoneal cavity for metastatic disease (if metastases are found, the operation is not continued), the stomach is mobilized. The right gastric and the right gastroepiploic arteries are preserved, while the short gastric vessels and the left gastric artery are divided.
Next, the gastroesophageal junction is mobilized, and the esophageal hiatus is enlarged. A pyloromyotomy is performed, and a feeding jejunostomy is placed for postoperative nutritional support.
After closure of the abdominal incision, the patient is repositioned in the left lateral decubitus position and a right posterolateral thoracotomy is performed in the fifth intercostal space.
The azygos vein is divided to allow full mobilization of the esophagus. The stomach is delivered into the chest through the hiatus and is then divided approximately 5 cm below the gastroesophageal junction.
An anastomosis (hand-sewn or stapled) is performed between the esophagus and the stomach at the apex of the right chest cavity. Then, the chest incision is closed.
Transhiatal esophagectomy
For THE, the preoperative details are similar to those of TTE, except that a single-lumen, rather than a double-lumen, endotracheal tube is used. The neck is prepared in the operative field.
The abdominal part of the operation is identical to the TTE; however, dissection of the esophagus is performed through the enlarged esophageal hiatus without opening the right chest. The esophagus is mobilized in this fashion all the way to the thoracic inlet.
Then, a 6-cm incision is made in the left side of the neck. The internal jugular vein and carotid artery are retracted laterally, and the esophagus is identified and isolated posterior to the airway. To prevent injury to the left recurrent laryngeal nerve, no mechanical retractors are used to retract the trachea.
Next, after resection of the proximal stomach and thoracic esophagus, the remaining stomach is pulled up through the posterior mediastinum until it reaches the remaining esophagus at the cervical level. Then, a hand-sewn anastomosis is performed, and a small drain is placed in the neck alongside the anastomosis. The abdominal and neck incisions are closed. (See the image below.)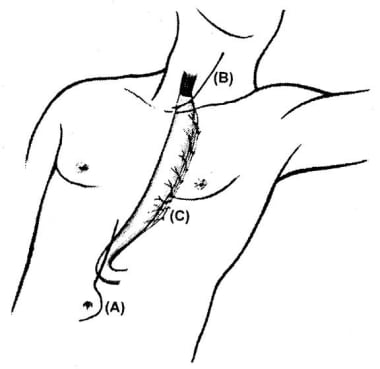 Transhiatal esophagectomy in which (a) is the abdominal incision, (b) is the cervical incision, and (c) is the stomach stretching from abdomen to the neck.
Minimally invasive surgery techniques in esophagectomy
The use of laparoscopic and thoracoscopic techniques has revolutionized the treatment of benign esophageal disorders such as achalasia and gastroesophageal reflux disease (GERD). Advantages of minimally invasive surgery include a shorter hospital stay, less postoperative discomfort, and much faster recovery time than with open surgery. These techniques are finding a place in the treatment of esophageal cancer.[52]
Video-assisted thoracoscopy (VATS) is being used in many centers for the thoracic mobilization of the esophagus, reducing the size of the chest incision. In addition, laparoscopy can be used to mobilize the gastric conduit in the abdomen, reducing abdominal incision size as well.
A study by Uenosono et al found that sentinel node mapping can be applied to patients with clinical T1 and N0 esophageal cancer. Use of this technique may facilitate less invasive surgery, with reduction of lymphadenectomy.[53]
Endoscopic mucosal resection (EMR) is a modern, attractive option for the treatment of superficial esophageal cancers. High-grade dysplasia and mucosa-limited neoplasms are candidates for EMR, because of the low risk of node metastasis in these cases. A population-based study of 1618 patients with grade Tis, T1a, or T1b esophageal cancer found that overall survival times and esophageal-cancer-specific survival times with endoscopic therapy were similar to those with surgery, after adjustment for patient and tumor factors.[54, 55]
Salvage endoscopic resection
In patients with local failure after definitive chemoradiotherapy (CRT) for esophageal squamous cell carcinoma (ESCC), salvage endoscopic treatment (SET) may be a viable option, according to a study reported at the 2014 Gastrointestinal Cancers Symposium.[56] The study included 716 ESCC patients treated with CRT, 417 of whom experienced local failure (incomplete response or local recurrence); of these 417 patients, 164 underwent SET (either photodynamic therapy or endoscopic resection).
Curative resection was achieved in 88% of the patients who underwent endoscopic resection, and a complete response was achieved in 57.5% of those who underwent photodynamic therapy.[56] Overall survival and relapse-free survival rates at 5 years were 38.6% and 28%, respectively. The factors most strongly predictive of improved survival were (1) an absence of lymph node metastasis before CRT and (2) an elapsed time of 6 months or longer between the initiation of CRT and the performance of SET.[56]
Chemoradiotherapy
Chemotherapy and radiotherapy for esophageal cancer are delivered preoperatively. No survival benefit is obtained when radiation and chemotherapy are administered postoperatively; however, postoperative continuance of chemotherapy started preoperatively may be beneficial.[57] The aims of preoperative (neoadjuvant) chemotherapy and radiotherapy are to reduce the bulk of the primary tumor before surgery to facilitate higher curative resection rates and to eliminate or delay the appearance of distant metastases.
Most chemotherapy that is currently used for the treatment of esophageal cancer, including alkylating, antimetabolite, anthracycline, and antimicrotubular agents, are not approved for this indication by the US Food and Drug Administration (FDA). Chemotherapy for squamous cell esophageal carcinoma, as with squamous cell carcinomas in general, is based on cisplatin, while chemotherapy for esophageal adenocarcinoma has been extrapolated from experience in patients with adenocarcinoma of the stomach.
Neoadjuvant chemotherapy alone appears to offer a limited benefit at best. A North American randomized trial found that preoperative chemotherapy with a combination of cisplatin and fluorouracil did not improve overall survival among patients with squamous cell cancer or adenocarcinoma of the esophagus. In a larger trial, British investigators found that preoperative chemotherapy with those 2 agents resulted in a 5-year survival rate of 23.0%, compared with 17.1% for surgery alone.[58]
In contrast, the Chemoradiotherapy for Oesophageal Cancer Followed by Surgery Study (CROSS) demonstrated considerable benefit from preoperative chemoradiation over surgery alone in selected patients with esophageal or esophagogastric-junction cancer (tumor stage T1N1 or T2–T3 with any N).[59] Median overall survival with chemoradiation therapy followed by surgery was 49.4 months, compared with 24.0 months with surgery alone.
An analysis of data from CROSS I and II showed that preoperative chemoradiotherapy (CRT) plus surgery was superior to surgery alone in preventing local, regional, and distant recurrence, particularly hematogenous metastasis and peritoneal carcinomatosis.[60, 61, 62] Overall recurrence rates were 35% for CRT plus surgery and 58% for surgery alone. The rates of locoregional recurrence, peritoneal carcinomatosis, and hematogenous dissemination were all lower for the former as well (14% vs 34%, 4% vs 14%, and 29% vs 35%, respectively).
Neoadjuvant therapy consists of a combination of radiotherapy (approximately 45 Gy) and chemotherapy with cisplatin and 5-fluorouracil. While the radiotherapy acts locally at the tumor site, the chemotherapy acts on tumor cells that have already spread. This combination therapy is usually administered over a 45-day period; esophageal resection is performed after an interval of approximately 4 weeks.
Rohatgi et al reported that the response to preoperative chemoradiotherapy correlated strongly with overall survival and disease-free survival in patients with esophageal cancer. In their review of 235 cases, survival decreased progressively between patients who achieved a pathologic complete response, those who had a partial response (1-50% residual carcinoma in the resected specimen), and those with no response (greater than 50% residual carcinoma).[63]
A study by Rao et al identified groups of esophageal tumors with distinct gene expression profiles, which in future may allow for tailored treatment protocols.[64] Similarly, Alexander et al identified DNA-repair biomarkers that predict response to neoadjuvant chemotherapy.[65]
A trial involving 111 patients undergoing chemoradiotherapy for head-and-neck or esophageal cancer indicated that enteral nutrition enriched with n-3 fatty acids helps to preserve body mass and improve nutritional and functional status parameters during chemoradiotherapy.[66, 67]
Palliative Care
In patients who, because of their clinical condition or advanced disease, are not candidates for surgery, treatment focuses on control of dysphagia. The most appropriate method to control dysphagia should be determined for each patient individually, depending on tumor characteristics, patient preference, and the specific expertise of the physician.
The following treatment modalities are available to help achieve this goal:
Chemotherapy

Radiotherapy

Laser therapy
Chemotherapy
Chemotherapy as a single modality has limited use. Only a few patients achieve a modest and short-lived response.
A phase 3 study from the United Kingdom suggests that docetaxel may be useful as a second-line treatment for patients with esophageal cancer who have progressed after first-line chemotherapy.[69, 70] Median overall survival was significantly better in patients treated with docetaxel than in those managed with active symptom control (5.2 versus 3.6 months, respectively).
Because survival in these patients is measured in months, quality of life is an important consideration. In the UK study, quality-of-life questionnaires demonstrated no differences between the 2 groups on global and functioning scores but did indicate an improvement in symptom scores, with the docetaxel group reporting less pain.[69, 70]
In 2006, a Cochrane review tried to assess the effectiveness of chemotherapy versus best supportive care, as well as that of different chemotherapy regimens against each other, in metastatic esophageal carcinoma. The authors found that no consistent benefit with any specific chemotherapy regimen.[71] Cisplatin, 5-fluorouracil (5-FU), paclitaxel, and anthracyclines had promising response rates and tolerable toxicity.
Radiotherapy
Radiation therapy is successful in relieving dysphagia in approximately 50% of patients. In patients with advanced esophageal cancer, the preoperative combination of chemotherapy and radiotherapy has shown good results.
In a large, multicenter study, Herskovic and colleagues reported a 2-year survival rate of 38%, with a median survival period of 12.5 months, for patients treated with radiotherapy in combination with chemotherapy (fluorouracil and cisplatin), compared with a 2-year-survival rate of 10% and a median survival period of 8.5 months in patients treated with radiotherapy alone.[68, 72]
In a study, Folkert et al found that high-dose-rate (HDR) endoluminal brachytherapy was well tolerated in medically inoperable patients with superficial primary or recurrent esophageal cancer. Over the course of 3 years, 14 patients were treated with HDR intraluminal brachytherapy; 10 had recurrent esophageal cancer and 4 had previously unirradiated lesions. The overall freedom from failure (OFFF) and the overall survival (OS) rate at 18 months were 30.8% and 72.7%, respectively. Patients with recurrent disease had an 11.1% OFFF and a 55.6% OS rate at 18 months. For patients with previously unirradiated disease, the OFFF was 75% and the OS rate was 100%.[73]
Laser therapy
Laser therapy (Nd:YAG laser) can help to achieve temporary relief of dysphagia in as many as 70% of patients. Multiple sessions are usually required to keep the esophageal lumen patent. The photosensitizer porfimer (Photofrin) is FDA approved for palliation of patients with completely obstructing esophageal cancer or partially obstructing cancer that cannot be satisfactorily treated with Nd:YAG laser therapy. Intravenous injection of porfimer is followed 40–50 hours later with delivery of 630 nm wavelength laser light; a second laser light treatment may be given 96–120 hours after the injection.
Stents
Patients may be intubated with expandable metallic stents, which can be deployed by endoscopy under fluoroscopic guidance and can keep the esophageal lumen patent. Stents are particularly useful for patients with a tracheoesophageal fistula.
Postoperative Care and Follow-up
The average length of postoperative hospital stay for patients with esophageal cancer is 9-14 days. Patients usually spend the first postoperative night in the intensive care unit (ICU).
Patients can be extubated immediately after the operation, but mechanical ventilation should be continued if any concerns about the respiratory status are present. Respiratory complications (eg, atelectasis, pleural effusion, pneumonia) and cardiac complications (eg, cardiac arrhythmias) usually occur in the first postoperative days. Patients leave the ICU and are transferred to the surgical ward only when their respiratory status and cardiac status are satisfactory.
Feeding through the feeding jejunostomy begins on postoperative day 1. On postoperative day 6, a swallow study is performed to check for anastomotic leakage. If no leak is present, patients start oral feedings. If a leak is present, the drainage tubes are left in place and nutrition is provided entirely through the feeding jejunostomy until the leak closes spontaneously.
Approximately 85-90% of patients go home after discharge. The remaining patients may need additional time in a skilled nursing facility if they live alone and if they cannot take care of themselves.
Patients are seen by the responsible surgeon at 2 weeks and 4 weeks after discharge from the hospital and subsequently every 6 months by an oncologist. Most patients return to their regular level of activities within 2 months.
Prevention of Esophageal Cancer
For squamous cell carcinoma, prevention consists of smoking cessation, efforts to reduce alcohol abuse, and consumption of a diet containing an adequate amount of fruits, vegetables, and vitamins. For esophageal adenocarcinomas, prevention involves stopping the sequence of events leading from gastroesophageal reflux disease (GERD) to Barrett esophagus to adenocarcinoma.
Better control of gastroesophageal reflux can prevent the development of Barrett metaplasia in patients with GERD and can discourage the development of high-grade dysplasia in patients with metaplasia. Endoscopic follow-up evaluations should be performed at 1- to 2-year intervals to detect the presence of dysplasia, allowing intervention before cancer develops.
Dysplasia in Barrett esophagus can be treated with endoscopic ablation, using radiofrequency ablation (RFA), photodynamic therapy (PDT), or cryotherapy.
If high-grade dysplasia does develop, esophagectomy is indicated. The operation must be performed by experienced surgeons in high-volume centers in order to keep the mortality rate at less than 5%.
Radiofrequency ablation
RFA has been gaining popularity as a treatment for Barrett esophagus with dysplasia. Shaheen et al reported complete eradication of all dysplasia 2 years after RFA in 101 of 106 patients (95%). After 3 years, dysplasia remained eradicated in more than 85% of patients, without maintenance RFA. The rate of serious adverse events was 3.4%, and the rate of esophageal stricture was 7.6%.[74]
Photodynamic therapy
PDT involves the administration of photosensitizing chromophores, which are selectively retained by dysplastic malignant tissue. Light is then delivered in the area. The photosensitizer absorbs photons, becomes photoexcited, and transfers its energy to a chemical substrate that causes biologic damage to the abnormal tissue. A drawback of PDT is the formation of esophageal strictures in 34% of patients. The photosensitizer porfimer is FDA approved for ablation of high-grade dysplasia in Barrett esophagus.
References
Edwards MJ, Gable DR, Lentsch AB, et al. The rationale for esophagectomy as the optimal therapy for Barrett's esophagus with high-grade dysplasia. Ann Surg. 1996 May. 223(5):585-9; discussion 589-91. [Medline].

Ferguson MK, Durkin A. Long-term survival after esophagectomy for Barrett's adenocarcinoma in endoscopically surveyed and nonsurveyed patients. J Gastrointest Surg. 2002 Jan-Feb. 6(1):29-35; discussion 36. [Medline].

Torek F. The first successful resection of the thoracic portion of the esophagus for carcinoma. Surg Gynecol Obstet. 1913. 16:614-17.

Ohsawa T. Surgery of the esophagus. Arch Jpn Chir. 1933. 10:605-8.

Marshall SF. Carcinoma of the esophagus: successful resection of lower end of esophagus with reestablishment of esophageal gastric continuity. Surg Clin North Amer. 1938. 18:643.

Tilanus HW. Changing patterns in the treatment of carcinoma of the esophagus. Scand J Gastroenterol Suppl. 1995. 212:38-42. [Medline].

Jankowski JA, Wright NA, Meltzer SJ, et al. Molecular evolution of the metaplasia-dysplasia-adenocarcinoma sequence in the esophagus. Am J Pathol. 1999 Apr. 154(4):965-73. [Medline].

Koppert LB, Wijnhoven BP, van Dekken H, et al. The molecular biology of esophageal adenocarcinoma. J Surg Oncol. 2005 Dec 1. 92(3):169-90. [Medline].

Casson AG, Manolopoulos B, Troster M, et al. Clinical implications of p53 gene mutation in the progression of Barrett's epithelium to invasive esophageal cancer. Am J Surg. 1994 Jan. 167(1):52-7. [Medline].

Lagergren J, Bergstrom R, Lindgren A, et al. Symptomatic gastroesophageal reflux as a risk factor for esophageal adenocarcinoma. N Engl J Med. 1999 Mar 18. 340(11):825-31. [Medline].

Wu C, Hu Z, He Z, et al. Genome-wide association study identifies three new susceptibility loci for esophageal squamous-cell carcinoma in Chinese populations. Nat Genet. 2011 Jun 5. 43(7):679-84. [Medline].

Cardwell CR, Abnet CC, Cantwell MM, Murray LJ. Exposure to oral bisphosphonates and risk of esophageal cancer. JAMA. 2010 Aug 11. 304(6):657-63. [Medline]. [Full Text].

Steevens J, Schouten LJ, Goldbohm RA, van den Brandt PA. Alcohol consumption, cigarette smoking and risk of subtypes of oesophageal and gastric cancer: a prospective cohort study. Gut. 2010 Jan. 59(1):39-48. [Medline].

Steevens J, Schouten LJ, Goldbohm RA, van den Brandt PA. Vegetables and fruits consumption and risk of esophageal and gastric cancer subtypes in the Netherlands Cohort Study. Int J Cancer. 2011 Dec 1. 129(11):2681-93. [Medline].

Sitas F, Egger S, Urban MI, et al. InterSCOPE study: associations between esophageal squamous cell carcinoma and human papillomavirus serological markers. J Natl Cancer Inst. 2012 Jan 18. 104(2):147-58. [Medline]. [Full Text].

Morson BC, Belcher JR. Adenocarcinoma of the oesophagus and ectopic gastric mucosa. Br J Cancer. 1952 Jun. 6(2):127-30. [Medline].

Naef AP, Savary M, Ozzello L. Columnar-lined lower esophagus: an acquired lesion with malignant predisposition. Report on 140 cases of Barrett's esophagus with 12 adenocarcinomas. J Thorac Cardiovasc Surg. 1975 Nov. 70(5):826-35. [Medline].

Bhat S, Coleman HG, Yousef F, et al. Risk of malignant progression in Barrett's esophagus patients: results from a large population-based study. J Natl Cancer Inst. 2011 Jul 6. 103(13):1049-57. [Medline].

Hvid-Jensen F, Pedersen L, Drewes AM, et al. Incidence of adenocarcinoma among patients with Barrett's esophagus. N Engl J Med. 2011 Oct 13. 365(15):1375-83. [Medline].

American Cancer Society. Cancer Facts & Figures 2013. Available at http://www.cancer.org/acs/groups/content/@epidemiologysurveilance/documents/document/acspc-036845.pdf. Accessed: February 6, 2013.

Siegel R, Naishadham D, Jemal A. Cancer statistics, 2012. CA Cancer J Clin. 2012 Jan-Feb. 62(1):10-29. [Medline]. [Full Text].

Kirby TJ, Rice TW. The epidemiology of esophageal carcinoma. The changing face of a disease. Chest Surg Clin N Am. 1994 May. 4(2):217-25. [Medline].

Orringer MB, Marshall B, Iannettoni MD. Transhiatal esophagectomy: clinical experience and refinements. Ann Surg. 1999 Sep. 230(3):392-400; discussion 400-3. [Medline].

Chang AC, Ji H, Birkmeyer NJ, et al. Outcomes after transhiatal and transthoracic esophagectomy for cancer. Ann Thorac Surg. 2008 Feb. 85(2):424-9. [Medline].

Chu KM, Law SY, Fok M, et al. A prospective randomized comparison of transhiatal and transthoracic resection for lower-third esophageal carcinoma. Am J Surg. 1997 Sep. 174(3):320-4. [Medline].

Suzuki A, Xiao L, Hayashi Y, et al. Prognostic significance of baseline positron emission tomography and importance of clinical complete response in patients with esophageal or gastroesophageal junction cancer treated with definitive chemoradiotherapy. Cancer. 2011 Nov 1. 117(21):4823-33. [Medline]. [Full Text].

Gillies RS, Middleton MR, Han C, et al. Role of positron emission tomography–computed tomography in predicting survival after neoadjuvant chemotherapy and surgery for oesophageal adenocarcinoma. Brit J Surg. Feb 2012. 99(2):239-45.

Prins MJ, Ruurda JP, van Diest PJ, van Hillegersberg R, Ten Kate FJ. The significance of the HER-2 status in esophageal adenocarcinoma for survival: an immunohistochemical and an in situ hybridization study. Ann Oncol. 2013 Jan 18. [Medline].

Nelson R. New Clinical Guidelines Issued for Esophageal Cancer. Medscape Medical News. Available at http://www.medscape.com/viewarticle/807141. Accessed: July 16, 2013.

Varghese TK Jr, Hofstetter WL, Rizk NP, Low DE, Darling GE, Watson TJ, et al. The society of thoracic surgeons guidelines on the diagnosis and staging of patients with esophageal cancer. Ann Thorac Surg. 2013 Jul. 96(1):346-56. [Medline].

Dittler HJ, Siewert JR. Role of endoscopic ultrasonography in esophageal carcinoma. Endoscopy. 1993 Feb. 25(2):156-61. [Medline].

O'Donovan PB. The radiographic evaluation of the patient with esophageal carcinoma. Chest Surg Clin N Am. 1994 May. 4(2):241-56. [Medline].

Rice TW, Rusch VW, Ishwaran H, Blackstone EH. Cancer of the esophagus and esophagogastric junction: data-driven staging for the seventh edition of the American Joint Committee on Cancer/International Union Against Cancer Cancer Staging Manuals. Cancer. 2010 Aug 15. 116(16):3763-73. [Medline]. [Full Text].

Hofstetter W, Correa AM, Bekele N, et al. Proposed modification of nodal status in AJCC esophageal cancer staging system. Ann Thorac Surg. 2007 Aug. 84(2):365-73; discussion 374-5. [Medline].

Herbella FA, Del Grande JC, Colleoni R. Japanese Society for Disease of the Esophagus. Anatomical analysis of the mediastinal lymph nodes of normal Brazilian subjects according to the classification of the Japanese Society for Diseases of the Esophagus. Surg Today. 2003. 33(4):249-53. [Medline].

NCCN Clinical Practice Guidelines in Oncology. Esophageal and Esophagogastric Junction Cancers (Excluding the proximal 5 cm of the stomach). Available at http://www.nccn.org/professionals/physician_gls/pdf/esophageal.pdf. Accessed: May 14, 2012.

Cooper JS, Guo MD, Herskovic A, et al. Chemoradiotherapy of locally advanced esophageal cancer: long-term follow-up of a prospective randomized trial (RTOG 85-01). Radiation Therapy Oncology Group. JAMA. 1999 May 5. 281(17):1623-7. [Medline].

Forastiere AA, Orringer MB, Perez-Tamayo C, et al. Preoperative chemoradiation followed by transhiatal esophagectomy for carcinoma of the esophagus: final report. J Clin Oncol. 1993 Jun. 11(6):1118-23. [Medline].

Sjoquist KM, Burmeister BH, Smithers BM, Zalcberg JR, Simes RJ, Barbour A, et al. Survival after neoadjuvant chemotherapy or chemoradiotherapy for resectable oesophageal carcinoma: an updated meta-analysis. Lancet Oncol. 2011 Jul. 12(7):681-92. [Medline].

Le Prise E, Etienne PL, Meunier B, et al. A randomized study of chemotherapy, radiation therapy, and surgery versus surgery for localized squamous cell carcinoma of the esophagus. Cancer. 1994 Apr 1. 73(7):1779-84. [Medline].

Leichman L, Steiger Z, Seydel HG, et al. Preoperative chemotherapy and radiation therapy for patients with cancer of the esophagus: a potentially curative approach. J Clin Oncol. 1984 Feb. 2(2):75-9. [Medline].

Nygaard K, Hagen S, Hansen HS, et al. Pre-operative radiotherapy prolongs survival in operable esophageal carcinoma: a randomized, multicenter study of pre-operative radiotherapy and chemotherapy. The second Scandinavian trial in esophageal cancer. World J Surg. 1992 Nov-Dec. 16(6):1104-9; discussion 1110. [Medline].

Reynolds JV, Muldoon C, Hollywood D, Ravi N, Rowley S, O'Byrne K, et al. Long-term outcomes following neoadjuvant chemoradiotherapy for esophageal cancer. Ann Surg. 2007 May. 245(5):707-16. [Medline]. [Full Text].

Schomas DA, Quevedo JF, Donahue JM, Nichols FC 3rd, Romero Y, Miller RC. The prognostic importance of pathologically involved celiac node metastases in node-positive patients with carcinoma of the distal esophagus or gastroesophageal junction: a surgical series from the Mayo Clinic. Dis Esophagus. 2010 Apr. 23(3):232-9. [Medline].

Gluch L, Smith RC, Bambach CP, et al. Comparison of outcomes following transhiatal or Ivor Lewis esophagectomy for esophageal carcinoma. World J Surg. 1999 Mar. 23(3):271-5; discussion 275-6. [Medline].

Goldminc M, Maddern G, Le Prise E, et al. Oesophagectomy by a transhiatal approach or thoracotomy: a prospective randomized trial. Br J Surg. 1993 Mar. 80(3):367-70. [Medline].

Hankins JR, Attar S, Coughlin TR Jr, et al. Carcinoma of the esophagus: a comparison of the results of transhiatal versus transthoracic resection. Ann Thorac Surg. 1989 May. 47(5):700-5. [Medline].

Stiles BM, Altorki NK. Traditional techniques of esophagectomy. Surg Clin North Am. 2012 Oct. 92(5):1249-63.

Dai Y, Chopra SS, Kneif S, Hunerbein M. Management of esophageal anastomotic leaks, perforations, and fistulae with self-expanding plastic stents. J Thorac Cardiovasc Surg. 2011 May. 141(5):1213-7. [Medline].

Martin LW, Swisher SG, Hofstetter W, et al. Intrathoracic leaks following esophagectomy are no longer associated with increased mortality. Ann Surg. 2005 Sep. 242(3):392-9; discussion 399-402. [Medline].

Patti MG, Corvera CU, Glasgow RE, et al. A hospital's annual rate of esophagectomy influences the operative mortality rate. J Gastrointest Surg. 1998 Mar-Apr. 2(2):186-92. [Medline].

Nguyen NT, Roberts P, Follette DM, et al. Thoracoscopic and laparoscopic esophagectomy for benign and malignant disease: lessons learned from 46 consecutive procedures. J Am Coll Surg. 2003 Dec. 197(6):902-13. [Medline].

Uenosono Y, Arigami T, Yanagita S, et al. Sentinel node navigation surgery is acceptable for clinical T1 and N0 esophageal cancer. Ann Surg Oncol. 2011 Jul. 18(7):2003-9. [Medline].

Ngamruengphong S, Wolfsen HC, Wallace MB. Survival of Patients With Superficial Esophageal Adenocarcinoma After Endoscopic Treatment vs Surgery. Clin Gastroenterol Hepatol. 2013 Nov. 11(11):1424-1429.e2. [Medline].

Brooks M. Endoscopic Therapy a Good Option in Early Esophageal Cancer. Medscape [serial online]. Available at http://www.medscape.com/viewarticle/814817. Accessed: November 25, 2013.

Novak B. Salvage endoscopy viable for some esophageal cancers. Medscape Medical News. January 29, 2014. [Full Text].

Cunningham D, Allum WH, Stenning SP, et al. Perioperative chemotherapy versus surgery alone for resectable gastroesophageal cancer. N Engl J Med. 2006 Jul 6. 355(1):11-20. [Medline].

Allum WH, Stenning SP, Bancewicz J, Clark PI, Langley RE. Long-term results of a randomized trial of surgery with or without preoperative chemotherapy in esophageal cancer. J Clin Oncol. 2009 Oct 20. 27(30):5062-7. [Medline].

van Hagen P, Hulshof MC, van Lanschot JJ, Steyerberg EW, van Berge Henegouwen MI, Wijnhoven BP, et al. Preoperative chemoradiotherapy for esophageal or junctional cancer. N Engl J Med. 2012 May 31. 366(22):2074-84. [Medline].

Brooks M. Preop chemoradiation benefits confirmed in esophageal cancer. Medscape Medical News. January 16, 2014. [Full Text].

Oppedijk V, van der Gaast A, van Lanschot JJ, van Hagen P, van Os R, van Rij CM, et al. Patterns of Recurrence After Surgery Alone Versus Preoperative Chemoradiotherapy and Surgery in the CROSS Trials. J Clin Oncol. 2014 Jan 13. [Medline].

Mamon HJ, Tepper JE. Combination Chemoradiation Therapy: The Whole Is More Than the Sum of the Parts. J Clin Oncol. 2014 Jan 13. [Medline].

Rohatgi PR, Swisher SG, Correa AM, Wu TT, Liao Z, Komaki R, et al. Failure patterns correlate with the proportion of residual carcinoma after preoperative chemoradiotherapy for carcinoma of the esophagus. Cancer. 2005 Oct 1. 104(7):1349-55. [Medline]. [Full Text].

Rao S, Welsh L, Cunningham D, et al. Correlation of overall survival with gene expression profiles in a prospective study of resectable esophageal cancer. Clin Colorectal Cancer. 2011 Mar 1. 10(1):48-56. [Medline].

Alexander BM, Wang XZ, Niemierko A, Weaver DT, Mak RH, Roof KS, et al. DNA repair biomarkers predict response to neoadjuvant chemoradiotherapy in esophageal cancer. Int J Radiat Oncol Biol Phys. 2012 May 1. 83(1):164-71. [Medline].

Fietkau R, Lewitzki V, Kuhnt T, et al. A disease-specific enteral nutrition formula improves nutritional status and functional performance in patients with head and neck and esophageal cancer undergoing chemoradiotherapy: results of a randomized, controlled, multicenter trial. Cancer. 2013 Jun 13. [Medline].

Tailored Enteral Formula During Chemoradiotherapy Curbs Body Mass Loss. Medscape. Jun 21 2013. [Full Text].

[Guideline] Wong RK, Malthaner RA, Zuraw L, Rumble RB,. Combined modality radiotherapy and chemotherapy in nonsurgical management of localized carcinoma of the esophagus: a practice guideline. Int J Radiat Oncol Biol Phys. 2003 Mar 15. 55(4):930-42. [Medline].

Chustecka Z. Second-line docetaxel affirmed for esophagogastric cancer. Medscape Medical News. Jan 23, 2013. Available at http://www.medscape.com/viewarticle/778031. Accessed: January 28, 2013.

Ford H, Marshall A, Wadsley J, et al. Cougar-02: a randomized phase III study of docetaxel versus active symptom control in advanced esophagogastric adenocarcinoma. J Clin Oncol. 2012. 30:(suppl 34 abstr LBA4).

Homs MY, v d Gaast A, Siersema PD, et al. Chemotherapy for metastatic carcinoma of the esophagus and gastro-esophageal junction. Cochrane Database Syst Rev. 2006 Oct 18. CD004063. [Medline].

Herskovic A, Martz K, al-Sarraf M, et al. Combined chemotherapy and radiotherapy compared with radiotherapy alone in patients with cancer of the esophagus. N Engl J Med. 1992 Jun 11. 326(24):1593-8. [Medline].

Folkert MR, Cohen GN, Wu AJ, et al. Endoluminal high-dose-rate brachytherapy for early stage and recurrent esophageal cancer in medically inoperable patients. Brachytherapy. 2013 Feb 20. [Medline].

Shaheen NJ, Overholt BF, Sampliner RE, Wolfsen HC, Wang KK, Fleischer DE, et al. Durability of radiofrequency ablation in Barrett's esophagus with dysplasia. Gastroenterology. 2011 Aug. 141(2):460-8. [Medline]. [Full Text].

Conroy T, Galais MP, Raoul JL, et al. Definitive chemoradiotherapy with FOLFOX versus fluorouracil and cisplatin in patients with oesophageal cancer (PRODIGE5/ACCORD17): final results of a randomised, phase 2/3 trial. Lancet Oncol. 2014 Mar. 15(3):305-14. [Medline].

Gebski V, Burmeister B, Smithers BM, et al. Survival benefits from neoadjuvant chemoradiotherapy or chemotherapy in oesophageal carcinoma: a meta-analysis. Lancet Oncol. 2007 Mar. 8(3):226-34. [Medline].

Kelsen DP, Ginsberg R, Pajak TF, Sheahan DG, Gunderson L, Mortimer J, et al. Chemotherapy followed by surgery compared with surgery alone for localized esophageal cancer. N Engl J Med. 1998 Dec 31. 339(27):1979-84. [Medline].

Knyrim K, Wagner HJ, Bethge N, Keymling M, Vakil N. A controlled trial of an expansile metal stent for palliation of esophageal obstruction due to inoperable cancer. N Engl J Med. 1993 Oct 28. 329(18):1302-7. [Medline].

Lowry F. FOLFOX: More convenient for esophageal cancer?. Medscape Medical News. April 2, 2014. [Full Text].

Scheer RV, Fakiris AJ, Johnstone PA. Quantifying the benefit of a pathologic complete response after neoadjuvant chemoradiotherapy in the treatment of esophageal cancer. Int J Radiat Oncol Biol Phys. 2011 Jul 15. 80(4):996-1001. [Medline].
Table 1. Staging Classification.
| | | | |
| --- | --- | --- | --- |
| Stage IA | T1 | N0 | M0 |
| Stage IB | T2 | N0 | M0 |
| Stage IIA | T3 | N0 | M0 |
| Stage IIB | T1,T2 | N1 | M0 |
| Stage IIIA | T4a | N0 | M0 |
| | T3 | N1 | M0 |
| | T1,T2 | N2 | M0 |
| Stage IIIB | T3 | N2 | M0 |
| Stage IIIC | T4a | N1,N2 | M0 |
| | T4b | Any N | M0 |
| | Any T | N3 | M0 |
| Stage IV | Any T | Any N | M1 |
Table 1. Staging Classification.
| | | | |
| --- | --- | --- | --- |
| Stage IA | T1 | N0 | M0 |
| Stage IB | T2 | N0 | M0 |
| Stage IIA | T3 | N0 | M0 |
| Stage IIB | T1,T2 | N1 | M0 |
| Stage IIIA | T4a | N0 | M0 |
| | T3 | N1 | M0 |
| | T1,T2 | N2 | M0 |
| Stage IIIB | T3 | N2 | M0 |
| Stage IIIC | T4a | N1,N2 | M0 |
| | T4b | Any N | M0 |
| | Any T | N3 | M0 |
| Stage IV | Any T | Any N | M1 |
Medscape Reference © 2011 WebMD, LLC