Esthesioneuroblastoma
Author: Michael Somenek, MD; Chief Editor: Jules E Harris, MD, FACP, FRCPC more...
Updated: Apr 14, 2015
What would you like to print?
Background
Esthesioneuroblastoma (ENB), also known as olfactory neuroblastoma, is a rare neoplasm originating from olfactory neuroepithelium. Approximately 1,000 cases have been identified since Berger and Luc described the first case in 1924.[1] Due to the rare and complex nature of ENB, multiple opinions exist regarding the etiology, optimal staging system, and treatment modalities. These tumors often display varying biologic activity ranging from indolent growth, with patient survival exceeding 20 years, to a highly aggressive neoplasm capable of rapid widespread metastasis, with survival limited to a few months.
Images of esthesioneuroblastomas are shown below.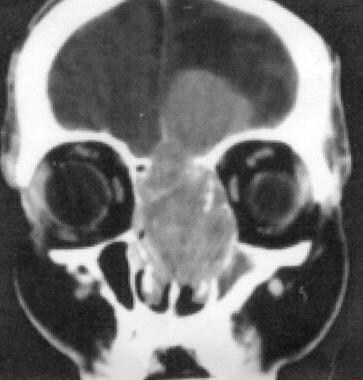 Esthesioneuroblastoma. Coronal CT scan of the orbits and sinuses shows a large, enhancing, and expansile mass occupying the ethmoid air cells that is invading the cribriform plate and breaking through to the left anterior cranial fossa. Image courtesy of Michael Lev, MD.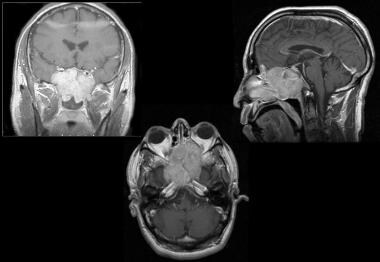 Esthesioneuroblastoma. A 39-year-old man presented with 1 month of decreased vision, left facial numbness, and swelling. Physical examination demonstrated left-sided exophthalmos and blindness. He had also lost his sense of smell. Contrast-enhanced T1-weighted MRI demonstrated a large lesion that originated in the paranasal sinuses and extended through the cribriform plate into the anterior cranial fossa. He underwent a bifrontal craniotomy for resection of this tumor.
The prognosis depends on the magnitude of the disease on initial diagnosis. It should be noted that precise histologic diagnosis is difficult because ENBs are often confused with other small round cell neoplasms of the nasal cavity. Despite the difficulties associated with the treatment of ENB, evolving treatment modalities, including surgery, radiation, and adjuvant chemotherapy, have contributed to the better management and increased survival of ENB patients. This article provides an updated summary of ENB, including ongoing research, current thought on pathophysiology, staging, and an update on new surgical techniques used to treat these tumors.[2]
Pathophysiology
Esthesioneuroblastomas (ENBs) are undifferentiated tumors of neuroectodermal origin derived from the olfactory epithelium.[3] The tumor cells are mitotically active and are the precursor cells that develop into sustentacular and neuronal cells. Inconsistent histologic presentations initially led to controversy surrounding the exact histologic origin of ENBs, and this ambiguity can confound clinical and prognostic decisions. In essence, ENBs contain variable arrangements of their small cells. Additionally, there exists a variable presence (or absence) of true rosettes and neurofibrillary material.
To date, no certain genetic factor has been identified that can accurately assist in the diagnosis or predict prognosis. This is partially due to the ability to analyze cancer genomes on a whole genome basis. Recently, a tool called array comparative genomic hybridization was applied to the analysis of ENBs.[4] Although many alterations were identified in this study, chromosomal gains in 7q11 and 20q and deletions in 2q, 5q, 6p, 6q, and 18q have been confirmed by at least 2 other studies. Interestingly, 20q is a region that has been implicated in other cancers, including breast, ovarian, and squamous cell carcinoma. Still, further experimentation will be required to determine the role of these genomic regions in ENB.
The demonstration of human achaete-scute homologue (HASH1) gene expression, although still investigational, could become the diagnostic procedure of choice.[5] The HASH1 gene is involved in olfactory neuronal differentiation and is expressed in immature olfactory cells[6] ; therefore, it could be useful in distinguishing ENB from other poorly differentiated small blue cell tumors.
Epidemiology
Frequency
United States
The incidence of esthesioneuroblastoma in the United States follows trends observed worldwide.
International
Based on the reports in the literature, approximately 1,200 cases of esthesioneuroblastoma (ENB) have been identified since 1924. Interestingly, 80% of these have been identified in the last 25 years. However, the current data set cannot distinguish between a rising incidence and better recognition of the disease. ENB has an estimated incidence of 4 cases per 10 million individuals and accounts for approximately 5% of all sinonasal tumors. Similar incidence rates have been obtained through epidemiologic studies performed in Denmark.[7] To our knowledge, no studies suggest a geographic deviation.
Race
Esthesioneuroblastoma (ENB) does not show a predilection toward any individual race. ENB does not show familial prevalence and has been reported in all races and on all continents.
Sex
Esthesioneuroblastoma (ENB) affects males and females with similar frequency.
Age
Esthesioneuroblastoma (ENB) occurs in a wide range of age groups (3-90 y). There exists a bimodal peak of occurrence in the third and sixth decades of life.
References
Broich G, Pagliari A, Ottaviani F. Esthesioneuroblastoma: a general review of the cases published since the discovery of the tumour in 1924. Anticancer Res. 1997 Jul-Aug. 17(4A):2683-706. [Medline].

Zhang M, Zhou L, Wang DH, Huang WT, Wang SY. Diagnosis and management of esthesioneuroblastoma. ORL J Otorhinolaryngol Relat Spec. 2010. 72(2):113-8. [Medline].

Wenig BM, Prasad ML, Dulguerov P. Neuroectodermal tumors. In: Barnes L, Eveson JW, Reichart P, and Sidransky D, WHO Classification of Tumors. 2005.

Guled M, Myllykangas S, Frierson HF Jr, Mills SE, Knuutila S, Stelow EB. Array comparative genomic hybridization analysis of olfactory neuroblastoma. Mod Pathol. 2008 Jun. 21(6):770-8. [Medline].

Mhawech P, Berczy M, Assaly M, Herrmann F, Bouzourene H, Allal AS, et al. Human achaete-scute homologue (hASH1) mRNA level as a diagnostic marker to distinguish esthesioneuroblastoma from poorly differentiated tumors arising in the sinonasal tract. Am J Clin Pathol. 2004 Jul. 122(1):100-5. [Medline]. [Full Text].

Carney ME, O''Reilly RC, Sholevar B. Expression of the human Achaete-scute 1 gene in olfactory neuroblastoma (esthesioneuroblastoma). J Neurooncol. 1995 Oct. 26(1):35-43. [Medline].

Theilgaard SA, Buchwald C, Ingeholm P. Esthesioneuroblastoma: a Danish demographic study of 40 patients registered between 1978 and 2000. Acta Otolaryngol. 2003 Apr. 123(3):433-9. [Medline].

Kane AJ, Sughrue ME, Rutkowski MJ, Aranda D, Mills SA, Buencamino R, et al. Posttreatment prognosis of patients with esthesioneuroblastoma. J Neurosurg. 2010 Aug. 113(2):340-51. [Medline].

Magnavita N, Sacco A, Bevilacqua L, D'Alessandris T, Bosman C. Aesthesioneuroblastoma in a woodworker. Occup Med (Lond). 2003 May. 53(3):231-4. [Medline].

Tseng J, Michel MA, Loehrl TA. Peripheral cysts: a distinguishing feature of esthesioneuroblastoma with intracranial extension. Ear Nose Throat J. 2009 Jun. 88(6):E14. [Medline].

Rostomily RC, Elias M, Deng M, Elias P, Born DE, Muballe D, et al. Clinical utility of somatostatin receptor scintigraphic imaging (octreoscan) in esthesioneuroblastoma: a case study and survey of somatostatin receptor subtype expression. Head Neck. 2006 Apr. 28(4):305-12. [Medline].

Min KW. Usefulness of electron microscopy in the diagnosis of "small" round cell tumors of the sinonasal region. Ultrastruct Pathol. 1995 Sep-Oct. 19(5):347-63. [Medline].

Argani P, Perez-Ordonez B, Xiao H. Olfactory neuroblastoma is not related to the Ewing family of tumors: absence of EWS/FLI1 gene fusion and MIC2 expression. Am J Surg Pathol. 1998 Apr. 22(4):391-8. [Medline].

Hyams VJ, Batsakis JG, Michaels L. Olfactory neuroblastoma. In: Tumors of the Upper Respiratory Tract and Ear, Atlas of Tumor Pathology. Vol 25. Washington DC: Armed Forces Institute Press; 1988:. 240-8.

Kadish S, Goodman M, Wang CC. Olfactory neuroblastoma. A clinical analysis of 17 cases. Cancer. 1976 Mar. 37(3):1571-6. [Medline].

Morita A, Ebersold MJ, Olsen KD, Foote RL, Lewis JE, Quast LM. Esthesioneuroblastoma: prognosis and management. Neurosurgery. 1993 May. 32(5):706-14; discussion 714-5. [Medline].

Dulguerov P, Calcaterra T. Esthesioneuroblastoma: the UCLA experience 1970-1990. Laryngoscope. 1992 Aug. 102(8):843-9. [Medline].

Dulguerov P, Allal AS, Calcaterra TC. Esthesioneuroblastoma: a meta-analysis and review. Lancet Oncol. 2001 Nov. 2(11):683-90. [Medline].

Fitzek MM, Thornton AF, Varvares M. Neuroendocrine tumors of the sinonasal tract. Results of a prospective study incorporating chemotherapy, surgery, and combined proton-photon radiotherapy. Cancer. 2002 May 15. 94(10):2623-34. [Medline].

Nichols AC, Chan AW, Curry WT, Barker FG, Deschler DG, Lin DT. Esthesioneuroblastoma: the massachusetts eye and ear infirmary and massachusetts general hospital experience with craniofacial resection, proton beam radiation, and chemotherapy. Skull Base. 2008 Sep. 18(5):327-37. [Medline]. [Full Text].

Madani I, Bonte K, Vakaet L, Boterberg T, De Neve W. Intensity-modulated radiotherapy for sinonasal tumors: Ghent University Hospital update. Int J Radiat Oncol Biol Phys. 2009 Feb 1. 73(2):424-32. [Medline].

Sterzing F, Stoiber EM, Nill S, Bauer H, Huber P, Debus J, et al. Intensity Modulated Radiotherapy (IMRT) in the treatment of children and adolescents - a single institution''s experience and a review of the literature. Radiat Oncol. 2009 Sep 23. 4(1):37. [Medline]. [Full Text].

Tselis N, Heyd R, Baghi M, Zamboglou N. Interstitial high-dose-rate-brachytherapy in advanced esthesioneuroblastoma. Laryngoscope. 2008 Nov. 118(11):2006-10. [Medline].

Gupta S, Husain N, Sundar S. Esthesioneuroblastoma chemotherapy and radiotherapy for extensive disease: a case report. World J Surg Oncol. 2011 Oct 5. 9:118. [Medline]. [Full Text].

Loy AH, Reibel JF, Read PW, Thomas CY, Newman SA, Jane JA, et al. Esthesioneuroblastoma: continued follow-up of a single institution's experience. Arch Otolaryngol Head Neck Surg. 2006 Feb. 132(2):134-8. [Medline].

McElroy EA Jr, Buckner JC, Lewis JE. Chemotherapy for advanced esthesioneuroblastoma: the Mayo Clinic experience. Neurosurgery. 1998 May. 42(5):1023-7; discussion 1027-8. [Medline].

Porter AB, Bernold DM, Giannini C, Foote RL, Link MJ, Olsen KD, et al. Retrospective review of adjuvant chemotherapy for esthesioneuroblastoma. J Neurooncol. 2008 Nov. 90(2):201-4. [Medline].

Koka VN, Julieron M, Bourhis J. Aesthesioneuroblastoma. J Laryngol Otol. 1998 Jul. 112(7):628-33. [Medline].

Mishima Y, Nagasaki E, Terui Y, Irie T, Takahashi S, Ito Y, et al. Combination chemotherapy (cyclophosphamide, doxorubicin, and vincristine with continuous-infusion cisplatin and etoposide) and radiotherapy with stem cell support can be beneficial for adolescents and adults with estheisoneuroblastoma. Cancer. 2004 Sep 15. 101(6):1437-44. [Medline]. [Full Text].

Turano S, Mastroianni C, Manfredi C, Biamonte R, Ceniti S, Liguori V, et al. Advanced adult esthesioneuroblastoma successfully treated with cisplatin and etoposide alternated with doxorubicin, ifosfamide and vincristine. J Neurooncol. 2010 May. 98(1):131-5. [Medline].

Castelnuovo P, Bignami M, Delù G, Battaglia P, Bignardi M, Dallan I. Endonasal endoscopic resection and radiotherapy in olfactory neuroblastoma: our experience. Head Neck. 2007 Sep. 29(9):845-50. [Medline].

Castelnuovo PG, Delù G, Sberze F, Pistochini A, Cambria C, Battaglia P, et al. Esthesioneuroblastoma: endonasal endoscopic treatment. Skull Base. 2006 Feb. 16(1):25-30. [Medline]. [Full Text].

Folbe A, Herzallah I, Duvvuri U, Bublik M, Sargi Z, Snyderman CH, et al. Endoscopic endonasal resection of esthesioneuroblastoma: a multicenter study. Am J Rhinol Allergy. 2009 Jan-Feb. 23(1):91-4. [Medline].

Devaiah AK, Andreoli MT. Treatment of esthesioneuroblastoma: a 16-year meta-analysis of 361 patients. Laryngoscope. 2009 Jul. 119(7):1412-6. [Medline].

Zanation AM, Ferlito A, Rinaldo A, Gore MR, Lund VJ, McKinney KA, et al. When, how and why to treat the neck in patients with esthesioneuroblastoma: a review. Eur Arch Otorhinolaryngol. 2010 Nov. 267(11):1667-71. [Medline]. [Full Text].

Beitler JJ, Fass DE, Brenner HA, Huvos A, Harrison LB, Leibel SA, et al. Esthesioneuroblastoma: is there a role for elective neck treatment?. Head Neck. 1991 Jul-Aug. 13(4):321-6. [Medline].

Rosenthal DI, Barker JL, El-Naggar AK. Sinonasal malignancies with neuroendocrine differentiation: patterns of failure according to histologic phenotype. Cancer. 2004 Dec 1. 101(11):2567-73.

Bradley PJ, Jones NS, Robertson I. Diagnosis and management of esthsioneuroblastoma. Curr OPin Otolaryngol Head Neck Surg. 2003. 11:112-118.

Brodeur GM, Pritchard J, Berthold F, Carlsen NL, Castel V, Castelberry RP, et al. Revisions of the international criteria for neuroblastoma diagnosis, staging and response to treatment. Prog Clin Biol Res. 1994. 385:363-9. [Medline].

Constantinidis J, Steinhart H, Koch M. Olfactory neuroblastoma: the University of Erlangen-Nuremberg experience 1975-2000. Otolaryngol Head Neck Surg. 2004 May. 130(5):567-74.

Devaney K, Wenig BM, Abbondanzo SL. Olfactory neuroblastoma and other round cell lesions of the sinonasal region. Mod Pathol. 1996 Jun. 9(6):658-63. [Medline].

Dias FL, Sa GM, Lima RA. Patterns of failure and outcome in esthesioneuroblastoma. Arch Otolaryngol Head Neck Surg. 2003 Nov. 129(11):1186-92. [Medline].

Dulguerov P, Allal AS. Nasal and paranasal sinus carcinoma: how can we continue to make progress?. Curr Opin Otolaryngol Head Neck Surg. 2006 Apr. 14(2):67-72.

Dulguerov P, Jacobsen MS, Allal AS, Lehmann W, Calcaterra T. Nasal and paranasal sinus carcinoma: are we making progress? A series of 220 patients and a systematic review. Cancer. 2001 Dec 15. 92(12):3012-29. [Medline].

Frierson HF Jr, Mills SE, Fechner RE. Sinonasal undifferentiated carcinoma. An aggressive neoplasm derived from schneiderian epithelium and distinct from olfactory neuroblastoma. Am J Surg Pathol. 1986 Nov. 10(11):771-9. [Medline].

Ganly I, Patel SG, Singh B, Kraus DH, Bridger PG, Cantu G, et al. Craniofacial resection for malignant paranasal sinus tumors: Report of an International Collaborative Study. Head Neck. 2005 Jul. 27(7):575-84. [Medline].

Lund VJ, Howard D, Wei W. Olfactory neuroblastoma: past, present, and future?. Laryngoscope. 2003 Mar. 113(3):502-7. [Medline].

Perez-Ordonez B, Caruana SM, Huvos AG. Small cell neuroendocrine carcinoma of the nasal cavity and paranasal sinuses. Hum Pathol. 1998 Aug. 29(8):826-32. [Medline].

Silva EG, Butler J, MacKay B, et al. Neuroblastomas and neuroendocrine carcinomas of the nasal cavity. A proposed new classification. Cancer. 2006. 50:2388-2405.
Table. Histopathologic Grading According to Hyams
[14]
| | | | | | | |
| --- | --- | --- | --- | --- | --- | --- |
| Grade | Lobular Architecture Preservation | Mitotic Index | Nuclear Polymorphism | Fibrillary Matrix | Rosettes | Necrosis |
| I | + | Zero | None | Prominent | HW rosettes | None |
| II | + | Low | Low | Present | HW rosettes | None |
| III | +/- | Moderate | Moderate | Low | FW rosettes | Rare |
| IV | +/- | High | High | Absent | None | Frequent |
Medscape Reference © 2011 WebMD, LLC