Pancreatic Cancer Workup
Author: Tomislav Dragovich, MD, PhD; Chief Editor: N Joseph Espat, MD, MS, FACS more...
Updated: Jan 11, 2016
What would you like to print?
Approach Considerations
The laboratory findings in patients with pancreatic cancer are usually nonspecific. However, a number of continually evolving imaging modalities are available to help diagnose pancreatic carcinoma in patients in whom the disease is suggested clinically. These include the following:
Computed tomography (CT)

Transcutaneous ultrasonography (TUS)

Endoscopic ultrasonography (EUS)

Magnetic resonance imaging (MRI)

Endoscopic retrograde cholangiopancreatography (ERCP)

Positron emission tomography (PET)
Which of these modalities is used at a particular institution may depend largely on the local availability of and expertise with the procedure, as well as local cancer protocols. Additional considerations in the choice of diagnostic modality include the following:
Accuracy for providing staging information

Allowance for simultaneous collection of tissue samples for cytologic or histologic confirmation of the diagnosis

Capacity to facilitate therapeutic procedures, such as biliary stent placement or celiac neurolysis
The most difficult clinical situation in which to diagnose pancreatic carcinoma is in the patient with underlying chronic pancreatitis. In such cases, all of the above imaging studies may show abnormalities that may not help to differentiate between pancreatic carcinoma and chronic pancreatitis. Even tumor markers can be elevated in patients with chronic pancreatitis. In these patients, one must often combine multiple imaging modalities, close clinical follow-up, serial imaging studies, and, occasionally, empiric resection, to diagnose an underlying pancreatic carcinoma.
Go to Radiologic Diagnosis and Staging of Pancreatic Carcinoma for complete information on this topic.
Laboratory Findings
The laboratory findings in patients with pancreatic cancer are usually nonspecific. As with many chronic diseases, a mild normochromic anemia may be present.
Thrombocytosis is also sometimes observed in patients with cancer.
Patients presenting with obstructive jaundice show significant elevations in bilirubin (conjugated and total), alkaline phosphatase, gamma-glutamyl transpeptidase, and to a lesser extent, aspartate aminotransferase and alanine aminotransferase.
Serum amylase and/or lipase levels are elevated in less than half of patients with resectable pancreatic cancers and are elevated in only one quarter of patients with unresectable tumors. However, about 5% of patients with pancreatic cancer present initially with acute pancreatitis, in which case amylase and lipase would be uniformly elevated. Thus, pancreatic cancer should be in the differential diagnosis of an elderly patient presenting for the first time with acute pancreatitis without any known precipitating factors.
Liver metastases alone are not associated with clinical jaundice but may result in relatively low-grade elevations of serum alkaline phosphatase and transaminase levels.
Patients with advanced pancreatic cancers and weight loss may also have general laboratory evidence of malnutrition (eg, low serum albumin or cholesterol level).
Tumor Markers
Carbohydrate antigen 19-9
The CA 19-9 antigen is a sialylated oligosaccharide that is most commonly found on circulating mucins in cancer patients.[39] It is also normally present within the cells of the biliary tract and can be elevated in acute or chronic biliary disease. Some 5-10% of patients lack the enzyme necessary to produce CA 19-9; in these patients with low or absent titer of CA 19-9, monitoring disease with this tumor marker will not be possible.
The reference range of CA 19-9 is less than 33-37 U/mL in most laboratories. Of patients with pancreatic carcinoma, 75-85% have elevated CA 19-9 levels. In the absence of biliary obstruction, intrinsic liver disease, or benign pancreatic disease, a CA 19-9 value of greater than 100 U/mL is highly specific for malignancy, usually pancreatic.
Evaluation of CA 19-9 levels has been used as an adjunct to imaging studies for helping to determine the resectability potential of pancreatic carcinoma. Fewer than 4% of patients with a CA 19-9 level of more than 300 U/mL have been found to have resectable tumors.
Unfortunately, CA 19-9 is least sensitive for small, early stage pancreatic carcinomas and thus has not proven to be effective for the early detection of pancreatic cancer or as a screening tool.[39]
An elevated CA 19-9 level is found in 0.2% of an asymptomatic population older than 40 years. Of these elevations, 80% are false-positive results. If only symptomatic patients are studied, 4.3% have elevated CA 19-9 levels. Two thirds of these results are false positive.
Although no standardized role has been set for CA 19-9 in the diagnosis of pancreatic carcinoma, it has growing importance in the staging and follow-up of patients with this disease. Patients presenting with low levels of CA 19-9 (< 100 IU) are unlikely to have occult metastatic disease and therefore may not need a staging laparoscopy prior to resection if other imaging shows no advanced disease.
Additionally, during surgical, chemotherapeutic, and/or radiotherapeutic treatment for pancreatic cancer, a falling CA 19-9 seems to be a useful surrogate finding for clinical response to the therapy. If biliary obstruction is not present, a rising CA 19-9 suggests progressive disease.
Preoperative CA 19-9 levels may be of prognostic value, with high levels indicating poorer outcome and less chance of resectability.[40, 41] Preoperative values above 50 U/mL have been shown to be associated with higher chances of recurrence.
Carcinoembryonic antigen
Carcinoembryonic antigen (CEA) is a high–molecular weight glycoprotein found normally in fetal tissues. It has commonly been used as a tumor marker in other gastrointestinal malignancies.
The reference range is less than or equal to 2.5 mg/mL.
Only 40-45% of patients with pancreatic carcinoma have elevated CEA levels.
Because benign and malignant conditions other than pancreatic cancer can lead to elevated CEA levels, CEA is not a sensitive or specific marker for pancreatic cancer.
Research
Many other tumor markers have been studied in pancreatic cancer, but none has yet been shown to have general clinical utility in this disorder. As with all cancers, there is growing interest in molecular diagnosis using powerful techniques, such as gene expression microarrays and proteomics. These novel tests are adding to our understanding of the basic defects causing pancreatic neoplasms and pathobiology. However, these are still research tools at present.
Computed Tomography
Because of its ubiquitous availability and its ability to image the whole abdomen and pelvis, abdominal CT scanning continues to be the mainstay of initial diagnostic modalities used for assessing patients suspected to have pancreatic carcinoma. (See the images below.)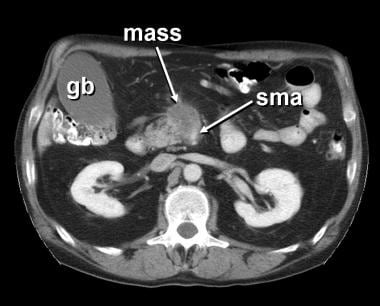 Pancreatic cancer. Computerized tomographic scan showing a pancreatic adenocarcinoma of the pancreatic head. The gallbladder (gb) is distended because of biliary obstruction. The superior mesenteric artery (sma) is surrounded by tumor, making this an unresectable T4 lesion.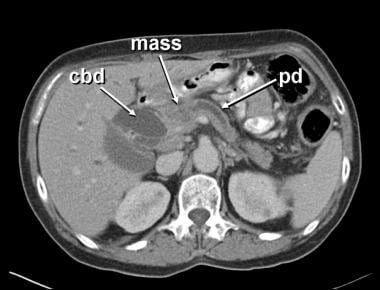 Pancreatic cancer. Abdominal CT scan of a small, vaguely seen, 2-cm pancreatic adenocarcinoma (mass) causing obstruction of both the common bile duct (cbd) and pancreatic duct (pd).
The quality of CT scanners has been rapidly evolving. The speed of image acquisition, 3D imaging, and slices as thin as 2-3 mm have revolutionized the technology.
Newer scanner models, using spiral (ie, helical) CT scanning with multiple detectors and dual or triple-phase contrast enhancement, have significantly improved the sensitivity and specificity of abdominal CT-scan findings in patients with pancreatic carcinoma.
Multidetector CT scanning (MDCT) using a pancreas protocol is at least as accurate as EUS in the overall determination of the resectability of pancreatic carcinoma. In fact, CT scanning may be more accurate than EUS in predicting involvement of the superior mesenteric artery.[42]
NCCN guidelines recommend MDCT angiography as the preferred imaging tool for dedicated pancreatic imaging. Thin (preferably sub-millimeter) axial sections should be acquired using a dual-phase pancreatic protocol, with images obtained in the pancreatic and portal venous phase of contrast enhancement. Coverage may be extended to cover the chest and pelvis for complete staging, depending on institutional preferences.
Other features of CT imaging include the following:
Because of a higher rate of enhancement by the normal pancreas, malignant tumors appear as lower-density lesions

[43]

; these are often associated with obstruction of the pancreatic duct

When lesions are visible, CT scanning can also be used to direct fine-needle aspiration of pancreatic masses

Small tumors can still be missed even with the most advanced CT-scanning techniques.
Go to Radiologic Diagnosis and Staging of Pancreatic Carcinoma for complete information on this topic.
Transcutaneous Ultrasonography
Even though it is less expensive and generally more readily available than CT scanning, TUS has less utility in pancreatic carcinoma than CT scanning, because the pancreas is often obscured by overlying gas from the stomach, duodenum, and colon.
Additionally, the depth of the pancreas from the abdominal wall limits transcutaneous ultrasonic imaging to lower frequency (2-5 MHz), and thus, a lower-resolution ultrasonogram is obtained. Therefore, TUS can help to detect only 60-70% of pancreatic carcinomas, and similar to CT scanning, more than 40% of the lesions smaller than 3 cm are missed.
However, TUS is very useful as an initial screening test in evaluating patients who present with possible obstructive jaundice. By helping to detect intrahepatic or extrahepatic bile duct dilation, abdominal ultrasonography can rapidly and accurately assess whether or not a patient has biliary obstruction. However, other studies, such as abdominal CT scanning, EUS, ERCP, or magnetic resonance cholangiopancreatography (MRCP), usually should then be performed to definitively diagnose the source of biliary obstruction.
Go to Radiologic Diagnosis and Staging of Pancreatic Carcinoma for complete information on this topic.
Endoscopic Ultrasonography
EUS obviates the physical limitations of TUS by placing a high-frequency, ultrasonographic transducer on an endoscope (see the first image below), which is then positioned in the stomach or duodenum endoscopically to help visualize the head, body, and tail of the pancreas. Unlike CT, the patient requires conscious sedation for this procedure. (Adenocarcinoma of the pancreatic head is seen in the second image below.)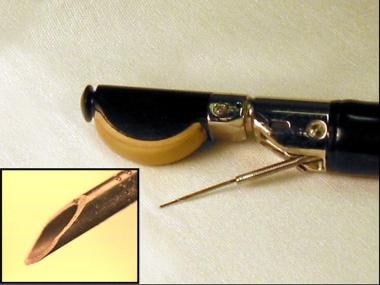 Pancreatic cancer. Tip of linear array echoendoscope (Pentax FG 36UX) with 22-gauge aspiration needle exiting from biopsy channel. Insert shows magnification of aspiration needle tip. Note that the needle exits from the biopsy channel such that it appears continuously in the view of the ultrasonic transducer on the tip of the echoendoscope.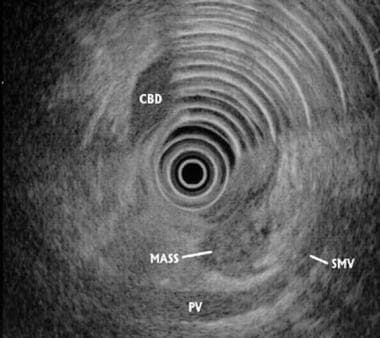 Pancreatic cancer. Endoscopic ultrasound of a 2.2-cm pancreatic adenocarcinoma of the head of the pancreas obstructing the common bile duct (CBD) but not invading the portal vein (PV) or superior mesenteric vein (SMV). Findings from endoscopic ultrasound–guided fine-needle aspiration revealed a moderately to poorly differentiated adenocarcinoma. Abdominal CT findings did not show this mass, and an attempt at endoscopic retrograde cholangiopancreatography at another institution was unsuccessful.
Additionally, because of the proximity of the pancreas to the EUS transducer, high-frequency ultrasonography (7.5-12 MHz) can be used to produce very high-resolution (submillimeter) images. Where expert EUS is available, it has proven to be the most sensitive and specific diagnostic test for pancreatic cancer. A negative endoscopic ultrasonogram is nearly 100% specific at ruling out the presence of a pancreatic neoplasm.
In numerous series, EUS has been found to have detection rates of 99-100% for all pancreatic carcinomas, including those smaller than 3 cm. EUS is as accurate as ERCP or MRCP for assessing the etiology of obstructive jaundice.
An additional significant diagnostic advantage is EUS-guided fine-needle aspiration, which allows for the simultaneous cytologic confirmation of pancreatic carcinoma at the time of EUS diagnosis.
EUS appears to be equivalent to dual-phase, spiral CT scanning for assessing tumor-resectability potential. It is probably superior to CT scanning as a means of assessing the T stage of the tumor, especially when the clinician is looking for portal vein involvement in pancreatic head lesions.
EUS is probably inferior to CT scanning in assessing arterial involvement and distant metastases.[42] EUS and CT scanning are poor at detecting occult nodal involvement.
On the whole, the NCCN guidelines recommend EUS as complementary to CT, particularly if a CT scan shows no lesions or there is possible involvement of blood vessels or lymph nodes.[1]
Go to Radiologic Diagnosis and Staging of Pancreatic Carcinoma for complete information on this topic.
Endoscopic Retrograde Cholangiopancreatography
ERCP is a highly sensitive means of detecting pancreatic and/or biliary ductal abnormalities in pancreatic carcinoma. Among patients with pancreatic adenocarcinoma, 90-95% have abnormalities on ERCP findings. However, the changes observed on ERCP are not always highly specific for pancreatic carcinoma and can be difficult to differentiate from changes observed in patients with chronic pancreatitis.
ERCP is more invasive than the other diagnostic imaging modalities available for pancreatic carcinoma. ERCP also carries a 5-10% risk of significant complications. Because of this morbidity, it is usually reserved as a therapeutic procedure for biliary obstruction or for the diagnosis of unusual pancreatic neoplasms, such as intraductal pancreatic mucinous neoplasms (IPMN).
Brush cytology and forceps biopsy at the time of ERCP have been used to diagnose pancreatic carcinoma histologically; in most series, however, the yield of a cytologic diagnosis with these procedures has been less than 50%.
ERCP findings provide only limited staging information, but ERCP does have the advantage of allowing for therapeutic palliation of obstructive jaundice with either a plastic or metal biliary stent.
MRI
Interest in using MRI for abdominal imaging continues to grow. The role of MRI in pancreatic cancer has been less well studied than has the role of CT scanning, although the modality does not appear to be superior to spiral CT scanning. Dynamic, gadolinium-enhanced, 3D, gradient-echo MRI may offer enhanced sensitivity in the detection of small pancreatic lesions. However, in patients with jaundice, MRCP can be used as a noninvasive method for imaging the biliary tree and pancreatic duct.
Whether MRCP is as sensitive and specific for pancreaticobiliary pathology as other procedures is still being investigated.
Because of the difficulty of working within intense magnetic fields, MRI is limited in performing MRI-directed needle aspirations; however, this technology is undergoing rapid change.
The NCCN notes that MRI is most often used as a problem-solving tool, particularly for characterization of liver lesions that are indeterminate on CT; when pancreatic tumors are suspected, but are not visible on CT; or when contrast-enhanced CT cannot be obtained (eg, because of severe allergy to iodinated intravenous contrast material).
Go to Radiologic Diagnosis and Staging of Pancreatic Carcinoma for complete information on this topic.
PET Scanning
PET scanning uses 18F-fluorodeoxyglucose (FDG) to image the primary tumor and metastatic disease.
PET scanning appears to be especially useful in detecting occult metastatic disease. Its role in pancreatic cancer evaluation management is still under investigation. False-positive PET scans have been reported in pancreatitis.
By itself, PET scanning does not seem to offer additional benefits to high-quality CT scanning. However, studies in which PET scanning was combined with simultaneous CT scanning (PET-CT) suggested that PET-CT scanning is more sensitive than conventional imaging for the detection of pancreatic cancer and that PET-CT–scan findings sometimes change clinical management.[44, 45]
The NCCN guidelines consider PET-CT an evolving technology; its role in the diagnosis of pancreatic cancer is not yet established.[1]
Go to Radiologic Diagnosis and Staging of Pancreatic Carcinoma for complete information on this topic.
Needle Aspiration
The necessity of obtaining a cytologic or tissue diagnosis of pancreatic cancer prior to surgery remains controversial and is highly dependent on the institution.[46]
Arguments in favor of preoperative biopsy include its ability to provide proof of pathology prior to surgery, exclude unusual pathology, and provide evidence of disease before the initiation of multidisciplinary treatment, such as neoadjuvant chemotherapy.
Arguments against preoperative biopsy of pancreatic lesions are that the biopsy results will not alter therapy, that biopsy may result in seeding and interfere with definitive surgery, and that the procedure increases the cost of care.
Studies of the risk of peritoneal contamination with CT-guided biopsy have suggested that this risk is actually very low. EUS-guided fine-needle aspiration provides the additional advantage of aspiration through tissue that would ultimately be included in the operative field should the patient undergo resection.
EUS-guided fine-needle aspiration has proven to be the most effective means for making a definitive cytologic diagnosis of pancreatic carcinoma.
Using EUS-guided fine-needle aspirations, a cytologic diagnosis can be made in 85-95% of patients. For example, a retrospective study by Turner et al found that EUS-guided fine needle aspiration was 80% accurate for the detection of pancreatic carcinoma and was 94% accurate when atypical and suspicious samples are considered positive.[47]
A study by Micames et al suggested that percutaneous aspiration may be associated with a higher risk of peritoneal tumor spread than is aspiration with EUS.[48]
Thus, for potentially resectable tumors, EUS-guided fine-needle aspiration is the preferred biopsy technique, if it is available and if a biopsy needs to be obtained. Cost-benefit analyses have also confirmed that it is the most cost-effective mode of tissue acquisition in suspected pancreatic cancer.
In a presentation delivered at the 2013 annual meeting of the American Society for Clinical Pathology, Huffman et al described a new risk-stratification system for EUS–guided fine-needle aspiration cytology results that can help determine when pancreatic lesions are malignant.[49] The researchers identified the following 3 morphologic characteristics as being significantly associated with pancreatic malignancy:
Anisonucleosis

Single atypical epithelial cells

Mucinous metaplasia
The risk of malignancy was low when none of these 3 criteria are met, moderate when 1 was met, and high when 2 or 3 were met.[49]
The yield of CT-guided fine-needle aspiration or biopsy findings is approximately 50-85% in the lesions that are visible on CT scanning.
Histologic Findings
As previously mentioned, of all pancreatic cancers, 80% are adenocarcinomas of the ductal epithelium. Only 2% of tumors of the exocrine pancreas are benign. Less common histologic appearances of exocrine pancreatic cancers include giant cell carcinoma, adenosquamous carcinoma, microglandular adenocarcinoma, mucinous carcinoma, cystadenocarcinoma, papillary cystic carcinoma, acinar cystadenocarcinoma, and acinar cell cystadenocarcinoma. Very rarely, primary connective tissue cancers of the pancreas can occur. The most common of these is primary pancreatic lymphoma. (See the images below.)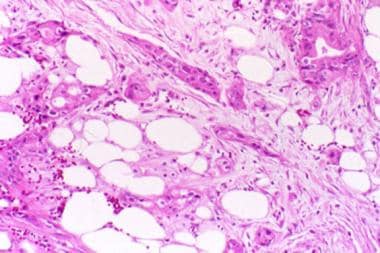 Pancreatic cancer. Hematoxylin and eosin stain of a pancreatic carcinoma. Note the intense desmoplastic response around the neoplastic cells. The large amount of fibrotic reaction in these tumors can make obtaining adequate tissue by fine-needle aspiration difficult.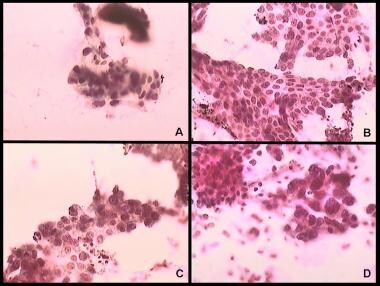 Pancreatic cancer. Cytologic samples from fine-needle aspirations (rapid Papanicolaou stain) of pancreatic adenocarcinomas. (A) Well differentiated, (B) moderately differentiated, (C) moderate to poorly differentiated, (D) poorly differentiated tumor.
Cystic neoplasms of the pancreas account for fewer than 5% of all pancreatic tumors. These consist of benign serous cystadenomas, premalignant mucinous cystadenomas, and cystadenocarcinomas. Intraductal, mucinous pancreatic neoplasms can be benign or malignant and usually manifest as a cystic dilation of the pancreatic ductal system.
Patients can also develop tumors of the islet cells of the pancreas. These can be functionally inactive islet cell carcinomas or benign or malignant functioning tumors, such as insulinomas, glucagonomas, and gastrinomas. An estimated 40% of pancreatic endocrine tumors are nonfunctional; of these, up to 90% are malignant.[50]
Islet cell tumors in patients with inherited syndromes such as multiple endocrine neoplasia are less likely to occur singly than in patients without these syndromes, and in the case of multiple endocrine neoplasia type 1, are more frequently gastrinomas than insulinomas. These variations of tumor function affect diagnosis and treatment strategies.[50]
Staging
Once an imaging modality has helped to establish a probable diagnosis of pancreatic cancer, the next issue is whether the lesion is amenable to surgical resection. Pancreatic masses are characterized as resectable, unresectable, or borderline resectable. The last designation, borderline resectable, is usually based on the experience and technical skill of the surgeon involved in treatment, as well as on the overall health of the patient and on his or her wishes.
Only 20% of all patients presenting with pancreatic cancer are ultimately found to have easily resectable tumors with no evidence of local advancement. Noncurative resections for pancreatic carcinoma provide no survival benefit. Thus, to avoid operating on patients who cannot benefit from the operation, accurate preoperative staging is very important.
Cancer of the exocrine pancreas is classified by the tumor, node, metastasis (TNM) staging system. The staging for pancreatic cancer was modified by the American Joint Committee on Cancer (AJCC) in 2002.
Go to Radiologic Diagnosis and Staging of Pancreatic Carcinoma for complete information on this topic.
AJCC staging of pancreatic tumors is as follows[51] :
Tumor (T)
See the list below:
TX - Primary tumor cannot be assessed

T0 - No evidence of primary tumor

Tis - Carcinoma in situ

T1 - Tumor limited to the pancreas, 2 cm or smaller in greatest dimension

T2 - Tumor limited to the pancreas, larger than 2 cm in greatest dimension

T3 - Tumor extension beyond the pancreas (eg, duodenum, bile duct, portal or superior mesenteric vein) but not involving the celiac axis or superior mesenteric artery

T4 - Tumor involves the celiac axis or superior mesenteric arteries
Regional lymph nodes (N)
See the list below:
NX - Regional lymph nodes cannot be assessed

N0 - No regional lymph node metastasis

N1 - Regional lymph node metastasis
Distant metastasis (M)
See the list below:
MX - Distant metastasis cannot be assessed

M0 - No distant metastasis

M1 - Distant metastasis
Stage grouping for pancreatic cancer is as follows:
Stage 0 - Tis, N0, M0

Stage IA - T1, N0, M0

Stage IB - T2, N0, M0

Stage IIA - T3, N0, M0

Stage IIB - T1-3, N1, M0

Stage III - T4, Any N, M0

Stage IV - Any T, Any N, M1
At initial presentation, only 20% of patients present with stage I disease, 40% present with locally advanced disease, and 40% present with disease metastatic to nodes or distant sites.
To date, studies show that EUS is approximately 70-80% accurate for correctly staging pancreatic carcinoma. EUS appears to better assess involvement of the portal vein/superior mesenteric vein.
NCCN guidelines recommend multi-detector computed tomography (MDCT) angiography, using a dual-phase pancreatic protocol, as the preferred modality for dedicated pancreatic imaging.[1] This technique is especially good for assessing major arterial involvement or distant metastases.
EUS is better than CT scanning for detection of abnormal lymph nodes around the pancreas and celiac axis. Furthermore, with the addition of EUS-guided fine-needle aspiration, EUS can help cytologically document metastatic disease in suggestive lymph nodes.
The image below visually demonstrates the stages of pancreatic cancer.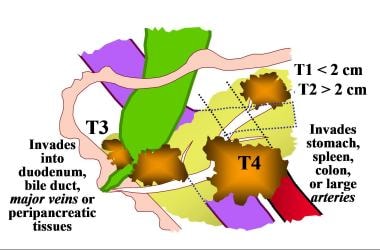 Pancreatic cancer. T staging for pancreatic carcinoma. T1 and T2 stages are confined to the pancreatic parenchyma. T3 lesions invade local structures such as the duodenum, bile duct, and/or major peripancreatic veins, and T4 lesions invade surrounding organs (eg, stomach, colon, liver) or invade major arteries such as the superior mesenteric or celiac arteries.
Preoperative staging laparoscopy
Some centers advocate performing a staging laparoscopy before proceeding to attempted resection. The purpose of the laparoscopic staging is to avoid subjecting patients with liver or peritoneal metastases to unnecessary surgery.
Some surgeons advocate the use of routine staging laparoscopy in all patients with pancreatic cancer. Their argument is that up to 20% of attempted pancreatic resections can be prevented because of the laparoscopic findings.
Others, including the NCCN panel, advise more a selective approach to staging laparoscopy, recommending its use in patients with any of the following indications[52, 53, 54, 1] :
CA 19-9 level >150 U/mL

Low volume ascites

Tumors in the body of the pancreas

Borderline resectable tumors,

Tumor size >3 cm

Common bile duct lymphadenopathy
Another argument for selective versus routine staging laparoscopy is the fact that in many cases where the tumor is deemed unresectable, laparoscopy would not have shown the vascular invasion or retroperitoneal invasion that ultimately leads to unresectability of tumor.
Evaluation Algorithm
Most patients suspected of having pancreatic carcinoma are initially studied with transcutaneous abdominal ultrasonography and/or spiral CT scanning (usually not done initially with dual-phase contrast, thin-cut pancreatic protocols). Patient management thereafter can vary from institution to institution, depending on local expertise, interest, and protocols. (See the image below.)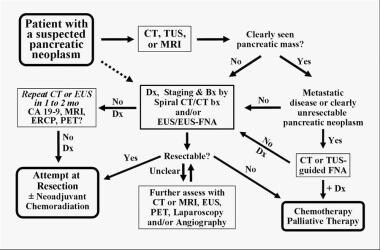 Algorithm for evaluation of a patient with suspected pancreatic cancer. CT scanning for definitive diagnosis and staging must be with thin-cut, multidetector, spiral CT scanning using dual-phase contrast imaging to allow for maximal information. This schema varies among institutions depending on local expertise, research interest, and therapeutic protocols for pancreatic carcinoma.
If patients have obvious hepatic metastatic disease based on initial TUS or CT findings, they undergo a CT- or TUS-guided biopsy of one of the liver metastases and then proceed to palliative therapy.
Patients with a suggested or definite pancreatic mass observed on abdominal CT scanning or TUS or those who are still considered to have pancreatic cancer but do not have an obvious pancreatic mass need to have more definitive imaging studies. This can be done using high-quality, thin-cut, multidetector CT scanning with dual-phase contrast and/or by using other procedures, such as EUS.
In the author's institution, where high-quality EUS and EUS-guided fine-needle aspiration are readily available, EUS plays a central role in the definitive diagnosis and staging of patients with pancreatic carcinoma.
If a pancreatic mass is observed on EUS images, EUS-guided fine-needle aspiration is performed to confirm the disease cytologically. At the same time, the condition is staged using EUS to determine resectability potential. Patients thought to have resectable tumors based on EUS findings proceed directly to operative intervention.
If tumors are deemed unresectable based on EUS findings and if patients have obstructive jaundice, they proceed directly to therapeutic stent placement with ERCP while under the same endoscopic sedation. Most patients then undergo dedicated pancreas protocol multidetector CT scanning to complete preoperative staging if the initial CT scan was not of the highest quality.
MRI, MRCP, and PET scanning are rarely used in the authors' evaluation algorithm unless other procedures are still nondiagnostic in a patient with a high suspicion of pancreatic cancer or if altered gastric anatomy precludes endoscopic ultrasonographic examination.
Patients with unresectable disease are offered chemotherapy for their disease. In institutions without EUS and EUS-guided fine-needle aspiration capabilities, spiral CT scanning with CT-guided pancreatic fine-needle aspiration or biopsy plays the central role in evaluation.
Abdominal TUS can also be used as an initial diagnostic study, especially in the jaundiced patient. However, this approach rarely obviates eventually performing abdominal CT scanning or EUS in patients in whom disease is a strong possibility.
ERCP is also used frequently for evaluating patients with jaundice or patients with possible pancreatic masses based on findings from imaging modalities if EUS is not available.
References
[Guideline] National Comprehensive Cancer Network. NCCN Clinical Practice Guidelines in Oncology. Pancreatic Adenocarcinoma, v.2.2015. Available at http://www.nccn.org/professionals/physician_gls/pdf/pancreatic.pdf. Accessed: October 20, 2015.

Conroy T, Desseigne F, Ychou M, et al. FOLFIRINOX versus gemcitabine for metastatic pancreatic cancer. N Engl J Med. 2011 May 12. 364(19):1817-25. [Medline].

Von Hoff DD, Arena FP, Chiorean EG, Infante JR, Moore MJ, Seay TE, et al. Randomized phase III study of weekly nab-paclitaxel plus gemcitabine versus gemcitabine alone in patients with metastatic adenocarcinoma of the pancreas (MPACT). J Clin Oncol 30: 2012 (suppl 34; abstr LBA148), Presented January 25, 2013 at the 2013 Gastrointestinal Cancers Symposium, San Francisco, CA.

Mulcahy N. FDA Approves Nab-Paclitaxel for Pancreatic Cancer. Medscape [serial online]. Available at http://www.medscape.com/viewarticle/810564. Accessed: September 16, 2013.

Kulke MH, Blaszkowsky LS, Ryan DP, Clark JW, Meyerhardt JA, Zhu AX, et al. Capecitabine plus erlotinib in gemcitabine-refractory advanced pancreatic cancer. J Clin Oncol. 2007 Oct 20. 25(30):4787-92. [Medline].

Neuhaus P, Riess H, Post S. CONKO-001:Final results of the randomized, prospective multicenter phase III trial of adjuvant chemotherapy with gemcitabine versus observation in patients with resected pancratic cancer. J Clin Oncol. 2008. 26(15S):204s(abstract LBA4504).

American Cancer Society. Pancreatic Cancer. American Cancer Society. Available at http://www.cancer.org/cancer/pancreaticcancer/. Accessed: October 20, 2015.

Cancer Facts & Figures 2015. American Cancer Society. Available at http://www.cancer.org/acs/groups/content/@editorial/documents/document/acspc-044552.pdf. Accessed: October 20, 2015.

Raimondi S, Maisonneuve P, Lowenfels AB. Epidemiology of pancreatic cancer: an overview. Nat Rev Gastroenterol Hepatol. 2009 Dec. 6(12):699-708. [Medline].

Li D, Morris JS, Liu J, Hassan MM, Day RS, Bondy ML, et al. Body mass index and risk, age of onset, and survival in patients with pancreatic cancer. JAMA. 2009 Jun 24. 301(24):2553-62. [Medline]. [Full Text].

Genkinger JM, Spiegelman D, Anderson KE, et al. A pooled analysis of 14 cohort studies of anthropometric factors and pancreatic cancer risk. Int J Cancer. 2011 Oct 1. 129(7):1708-17. [Medline]. [Full Text].

Urayama KY, Holcatova I, Janout V, et al. Body mass index and body size in early adulthood and risk of pancreatic cancer in a central European multicenter case-control study. Int J Cancer. 2011 Dec 15. 129(12):2875-84. [Medline]. [Full Text].

Nkondjock A, Ghadirian P, Johnson KC, Krewski D. Dietary intake of lycopene is associated with reduced pancreatic cancer risk. J Nutr. 2005 Mar. 135(3):592-7. [Medline].

Risch HA. Etiology of pancreatic cancer, with a hypothesis concerning the role of N-nitroso compounds and excess gastric acidity. J Natl Cancer Inst. 2003 Jul 2. 95(13):948-60. [Medline].

Nöthlings U, Wilkens LR, Murphy SP, Hankin JH, Henderson BE, Kolonel LN. Meat and fat intake as risk factors for pancreatic cancer: the multiethnic cohort study. J Natl Cancer Inst. 2005 Oct 5. 97(19):1458-65. [Medline].

Lin Y, Tamakoshi A, Kawamura T, et al. Risk of pancreatic cancer in relation to alcohol drinking, coffee consumption and medical history: findings from the Japan collaborative cohort study for evaluation of cancer risk. Int J Cancer. 2002 Jun 10. 99(5):742-6. [Medline].

Lowenfels AB, Maisonneuve P, Cavallini G, Ammann RW, Lankisch PG, Andersen JR, et al. Pancreatitis and the risk of pancreatic cancer. International Pancreatitis Study Group. N Engl J Med. 1993 May 20. 328(20):1433-7. [Medline].

Cowgill SM, Muscarella P. The genetics of pancreatic cancer. Am J Surg. 2003 Sep. 186(3):279-86. [Medline].

Whitcomb DC. Genetics and alcohol: a lethal combination in pancreatic disease?. Alcohol Clin Exp Res. 2011 May. 35(5):838-42. [Medline].

Greer JB, Whitcomb DC, Brand RE. Genetic predisposition to pancreatic cancer: a brief review. Am J Gastroenterol. 2007 Nov. 102(11):2564-9. [Medline].

Soto JL, Barbera VM, Saceda M, Carrato A. Molecular biology of exocrine pancreatic cancer. Clin Transl Oncol. May 2006. 8:306-12. [Medline].

Hahn SA, Kern SE. Molecular genetics of exocrine pancreatic neoplasms. Surg Clin North Am. 1995 Oct. 75(5):857-69. [Medline].

Shi C, Daniels JA, Hruban RH. Molecular characterization of pancreatic neoplasms. Adv Anat Pathol. 2008 Jul. 15(4):185-95. [Medline].

Goggins M, Schutte M, Lu J, et al. Germline BRCA2 gene mutations in patients with apparently sporadic pancreatic carcinomas. Cancer Res. 1996 Dec 1. 56(23):5360-4. [Medline].

Yan L, McFaul C, Howes N, Leslie J, Lancaster G, Wong T, et al. Molecular analysis to detect pancreatic ductal adenocarcinoma in high-risk groups. Gastroenterology. June 2005. 128:2124-30. [Medline].

Kojima K, Vickers SM, Adsay NV, et al. Inactivation of Smad4 accelerates Kras(G12D)-mediated pancreatic neoplasia. Cancer Res. 2007 Sep 1. 67(17):8121-30. [Medline].

Jones S, Zhang X, Parsons DW, et al. Core signaling pathways in human pancreatic cancers revealed by global genomic analyses. Science. 2008 Sep 26. 321(5897):1801-6. [Medline]. [Full Text].

Yachida S, Jones S, Bozic I, et al. Distant metastasis occurs late during the genetic evolution of pancreatic cancer. Nature. 2010 Oct 28. 467(7319):1114-7. [Medline].

Campbell PJ, Yachida S, Mudie LJ, et al. The patterns and dynamics of genomic instability in metastatic pancreatic cancer. Nature. 2010 Oct 28. 467(7319):1109-13. [Medline].

Kouvaraki MA, Shapiro SE, Cote GJ, Lee JE, Yao JC, Waguespack SG, et al. Management of pancreatic endocrine tumors in multiple endocrine neoplasia type 1. World J Surg. 2006 May. 30(5):643-53. [Medline].

Blansfield JA, Choyke L, Morita SY, Choyke PL, Pingpank JF, Alexander HR, et al. Clinical, genetic and radiographic analysis of 108 patients with von Hippel-Lindau disease (VHL) manifested by pancreatic neuroendocrine neoplasms (PNETs). Surgery. 2007 Dec. 142(6):814-8; discussion 818.e1-2. [Medline].

Groen EJ, Roos A, Muntinghe FL, Enting RH, de Vries J, Kleibeuker JH, et al. Extra-intestinal manifestations of familial adenomatous polyposis. Ann Surg Oncol. 2008 Sep. 15(9):2439-50. [Medline].

Lynch HT, Fusaro RM, Lynch JF, Brand R. Pancreatic cancer and the FAMMM syndrome. Fam Cancer. 2008. 7(1):103-12. [Medline].

American Cancer Society. Cancer facts and figures for African Americans 2009-2010. Available at http://www.acsevents.org/downloads/STT/cffaa_2009-2010.pdf. Accessed: February 5, 2010.

Arnold LD, Patel AV, Yan Y, Jacobs EJ, Thun MJ, Calle EE, et al. Are racial disparities in pancreatic cancer explained by smoking and overweight/obesity?. Cancer Epidemiol Biomarkers Prev. 2009 Sep. 18(9):2397-405. [Medline].

Anderson KE, Mack T, Silverman D. Cancer of the pancreas. Schottenfeld D, Fraumeni JF Jr. Cancer Epidemiology and Prevention. 3rd Ed. New York: Oxford University Press; 2006.

Chari ST, Leibson CL, Rabe KG, Ransom J, de Andrade M, Petersen GM. Probability of pancreatic cancer following diabetes: a population-based study. Gastroenterology. Aug 2005. 129:504-11. [Medline].

Turaga KK, Malafa MP, Jacobsen PB, Schell MJ, Sarr MG. Suicide in patients with pancreatic cancer. Cancer. 2011 Feb 1. 117(3):642-7. [Medline].

[Guideline] Locker GY, Hamilton S, Harris J, Jessup JM, Kemeny N, Macdonald JS, et al. ASCO 2006 update of recommendations for the use of tumor markers in gastrointestinal cancer. J Clin Oncol. 2006 Nov 20. 24(33):5313-27. [Medline].

Fujioka S, Misawa T, Okamoto T, Gocho T, Futagawa Y, Ishida Y, et al. Preoperative serum carcinoembryonic antigen and carbohydrate antigen 19-9 levels for the evaluation of curability and resectability in patients with pancreatic adenocarcinoma. J Hepatobiliary Pancreat Surg. 2007. 14(6):539-44. [Medline].

Kang CM, Kim JY, Choi GH, Kim KS, Choi JS, Lee WJ. The use of adjusted preoperative CA 19-9 to predict the recurrence of resectable pancreatic cancer. J Surg Res. 2007 Jun 1. 140(1):31-5. [Medline].

Horton KM, Fishman EK. Multidetector CT angiography of pancreatic carcinoma: part I, evaluation of arterial involvement. AJR Am J Roentgenol. 2002 Apr. 178(4):827-31. [Medline].

Horton KM, Fishman EK. Adenocarcinoma of the pancreas: CT imaging. Radiol Clin North Am. 2002 Dec. 40(6):1263-72. [Medline].

Kauhanen SP, Komar G, Seppänen MP, Dean KI, Minn HR, Kajander SA, et al. A prospective diagnostic accuracy study of 18F-fluorodeoxyglucose positron emission tomography/computed tomography, multidetector row computed tomography, and magnetic resonance imaging in primary diagnosis and staging of pancreatic cancer. Ann Surg. 2009 Dec. 250(6):957-63. [Medline].

Farma JM, Santillan AA, Melis M, Walters J, Belinc D, Chen DT, et al. PET/CT fusion scan enhances CT staging in patients with pancreatic neoplasms. Ann Surg Oncol. 2008 Sep. 15(9):2465-71. [Medline].

Itani KM, Taylor TV, Green LK. Needle biopsy for suspicious lesions of the head of the pancreas: pitfalls and implications for therapy. J Gastrointest Surg. 1997 Jul-Aug. 1(4):337-41. [Medline].

Turner BG, Cizginer S, Agarwal D, Yang J, Pitman MB, Brugge WR. Diagnosis of pancreatic neoplasia with EUS and FNA: a report of accuracy. Gastrointest Endosc. 2010 Jan. 71(1):91-8. [Medline].

Micames C, Jowell PS, White R, Paulson E, Nelson R, Morse M, et al. Lower frequency of peritoneal carcinomatosis in patients with pancreatic cancer diagnosed by EUS-guided FNA vs. percutaneous FNA. Gastrointest Endosc. 2003 Nov. 58(5):690-5. [Medline].

Louden K. New risk factors proposed for pancreatic cancer. Medscape Medical News. September 26, 2013. [Full Text].

[Guideline] National Comprehensive Cancer Network. NCCN Clinical Practice Guidelines in Oncology. Neuroendocrine Tumors, v.1.2015. Available at http://www.nccn.org/professionals/physician_gls/pdf/neuroendocrine.pdf. Accessed: October 21, 2015.

Katz MH, Hwang R, Fleming JB, Evans DB. Tumor-node-metastasis staging of pancreatic adenocarcinoma. CA Cancer J Clin. 2008 Mar-Apr. 58(2):111-25. [Medline].

Callery MP, Strasberg SM, Doherty GM, Soper NJ, Norton JA. Staging laparoscopy with laparoscopic ultrasonography: optimizing resectability in hepatobiliary and pancreatic malignancy. J Am Coll Surg. 1997 Jul. 185(1):33-9. [Medline].

Vollmer CM, Drebin JA, Middleton WD, Teefey SA, Linehan DC, Soper NJ. Utility of staging laparoscopy in subsets of peripancreatic and biliary malignancies. Ann Surg. 2002 Jan. 235(1):1-7. [Medline].

Jarnagin WR, Bodniewicz J, Dougherty E, Conlon K, Blumgart LH, Fong Y. A prospective analysis of staging laparoscopy in patients with primary and secondary hepatobiliary malignancies. J Gastrointest Surg. 2000 Jan-Feb. 4(1):34-43. [Medline].

Al-Haddad M, Martin JK, Nguyen J, Pungpapong S, Raimondo M, Woodward T. Vascular resection and reconstruction for pancreatic malignancy: a single center survival study. J Gastrointest Surg. 2007 Sep. 11(9):1168-74. [Medline].

[Guideline] Ducreux M, Cuhna AS, Caramella C, Hollebecque A, Burtin P, Goéré D, et al. Cancer of the pancreas: ESMO Clinical Practice Guidelines for diagnosis, treatment and follow-up†. Ann Oncol. 2015 Sep. 26 Suppl 5:v56-v68. [Medline]. [Full Text].

Rombouts SJ, Vogel JA, van Santvoort HC, van Lienden KP, van Hillegersberg R, Busch OR, et al. Systematic review of innovative ablative therapies for the treatment of locally advanced pancreatic cancer. Br J Surg. 2015 Feb. 102 (3):182-93. [Medline].

Vervenne W, Bennouna J, Humblett Y. A randomized double-blind, placebo (P) controlled, multicenter phase III trial to evaluate the efficacy and safety of adding bevacizumab (B) to erlotinib (E) and gemcitabine (G) in patients (pts) with metastatic pancreatic cancer. J Clin Oncol. 2008. 26(15S):214s(abstract 4507).

Loehrer P, Powell M, Cardenes H. A randomized phase III study of gemcitabine in combination with radiation therapy versus gemcitabine alone in patients with localized, unresectable pancreatic cancer:E4201. J Clin Oncol. 2008. 26(15S):214(abstract 4506).

Bernhard J, Dietrich D, Scheithauer W, Gerber D, Bodoky G, Ruhstaller T, et al. Clinical benefit and quality of life in patients with advanced pancreatic cancer receiving gemcitabine plus capecitabine versus gemcitabine alone: a randomized multicenter phase III clinical trial--SAKK 44/00-CECOG/PAN.1.3.001. J Clin Oncol. 2008 Aug 1. 26(22):3695-701. [Medline].

Cunningham D, Chau I, Stocken DD, Valle JW, Smith D, Steward W, et al. Phase III randomized comparison of gemcitabine versus gemcitabine plus capecitabine in patients with advanced pancreatic cancer. J Clin Oncol. 2009 Nov 20. 27(33):5513-8. [Medline].

Kalser MH, Ellenberg SS. Pancreatic cancer. Adjuvant combined radiation and chemotherapy following curative resection. Arch Surg. 1985 Aug. 120(8):899-903. [Medline].

Neoptolemos JP, Stocken DD, Friess H, Bassi C, Dunn JA, Hickey H. A randomized trial of chemoradiotherapy and chemotherapy after resection of pancreatic cancer. N Engl J Med. 2004 Mar 18. 350(12):1200-10. [Medline].

Yang R, Cheung MC, Byrne MM, Jin X, Montero AJ, Jones C, et al. Survival effects of adjuvant chemoradiotherapy after resection for pancreatic carcinoma. Arch Surg. 2010 Jan. 145(1):49-56. [Medline].

Oettle H, Post S, Neuhaus P, et al. Adjuvant chemotherapy with gemcitabine vs observation in patients undergoing curative-intent resection of pancreatic cancer: a randomized controlled trial. JAMA. 2007 Jan 17. 297(3):267-77. [Medline].

Mulcahy N. Incredibly Promising' Adjuvant Agent for Pancreatic Cancer. Available at http://www.medscape.com/viewarticle/778018. Accessed: February 20, 2013.

Pisters PW, Abbruzzese JL, Janjan NA, Cleary KR, Charnsangavej C, Goswitz MS. Rapid-fractionation preoperative chemoradiation, pancreaticoduodenectomy, and intraoperative radiation therapy for resectable pancreatic adenocarcinoma. J Clin Oncol. 1998 Dec. 16(12):3843-50. [Medline].

Pisters PW, Wolff RA, Janjan NA, Cleary KR, Charnsangavej C, Crane CN. Preoperative paclitaxel and concurrent rapid-fractionation radiation for resectable pancreatic adenocarcinoma: toxicities, histologic response rates, and event-free outcome. J Clin Oncol. 2002 May 15. 20(10):2537-44. [Medline].

Kadera BE, Sunjaya DB, Isacoff WH, Li L, Hines OJ, Tomlinson JS, et al. Locally Advanced Pancreatic Cancer: Association Between Prolonged Preoperative Treatment and Lymph-Node Negativity and Overall Survival. JAMA Surg. 2013 Dec 4. [Medline].

Boggs W. Preop Chemo for Locally Advanced Pancreatic Cancer Associated With 'Excellent' Survival. Medscape [serial online]. Available at http://www.medscape.com/viewarticle/817801. Accessed: December 22, 2013.

Loehrer PJ Sr, Feng Y, Cardenes H, et al. Gemcitabine alone versus gemcitabine plus radiotherapy in patients with locally advanced pancreatic cancer: an eastern cooperative oncology group trial. J Clin Oncol. 2011 Nov 1. 29(31):4105-12. [Medline].

McPhee JT, Hill JS, Whalen GF, Zayaruzny M, Litwin DE, Sullivan ME. Perioperative mortality for pancreatectomy: a national perspective. Ann Surg. 2007 Aug. 246(2):246-53. [Medline].

Wente MN, Bassi C, Dervenis C, Fingerhut A, Gouma DJ, Izbicki JR, et al. Delayed gastric emptying (DGE) after pancreatic surgery: a suggested definition by the International Study Group of Pancreatic Surgery (ISGPS). Surgery. 2007 Nov. 142(5):761-8. [Medline].

van der Gaag NA, Rauws EA, van Eijck CH, Bruno MJ, van der Harst E, Kubben FJ, et al. Preoperative biliary drainage for cancer of the head of the pancreas. N Engl J Med. 2010 Jan 14. 362(2):129-37. [Medline].

Limongelli P, Pai M, Bansi D, Thiallinagram A, Tait P, Jackson J. Correlation between preoperative biliary drainage, bile duct contamination, and postoperative outcomes for pancreatic surgery. Surgery. 2007 Sep. 142(3):313-8. [Medline].

Pawlik TM, Gleisner AL, Cameron JL, Winter JM, Assumpcao L, Lillemoe KD. Prognostic relevance of lymph node ratio following pancreaticoduodenectomy for pancreatic cancer. Surgery. 2007 May. 141(5):610-8. [Medline].

House MG, Gonen M, Jarnagin WR, DAngelica M, DeMatteo RP, Fong Y. Prognostic significance of pathologic nodal status in patients with resected pancreatic cancer. J Gastrointest Surg. 2007 Nov. 11(11):1549-55. [Medline].

Gallagher S, Zervos E, Murr M. Distal Pancreatectomy. Von Hoff, Evans, Hruban. Pancreatic Cancer. Sudbury, Mass: Jones and Bartlett; 2005. 20.

Muller MW, Friess H, Kleeff J, Dahmen R, Wagner M, Hinz U, et al. Is there still a role for total pancreatectomy?. Ann Surg. 2007 Dec. 246(6):966-74; discussion 974-5. [Medline].

Rothwell PM, Fowkes GR, Belch JF, Ogawa H, Warlow CP, Meade TW. Effect of daily aspirin on long-term risk of death due to cancer: analysis of individual patient data from randomized trials. Lancet. Dec 7/2010; Early online publication. [Full Text].

Bekaii-Saab T, Phelps MA, Li X, et al. Multi-institutional phase II study of selumetinib in patients with metastatic biliary cancers. J Clin Oncol. 2011 Jun 10. 29(17):2357-63. [Medline]. [Full Text].

Asbun HJ, Conlon K, Fernandez-Cruz L, et al. When to perform a pancreatoduodenectomy in the absence of positive histology? A consensus statement by the International Study Group of Pancreatic Surgery (ISGPS). Surgery. 2014 Jan 6. [Epub ahead of print].

Barone JE. When is it OK to do a pancreaticoduodenectomy without a histologic diagnosis of cancer?. Medscape Medical News. January 22, 2014. [Full Text].

Girelli R, Frigerio I, Giardino A, Regi P, Gobbo S, Malleo G, et al. Results of 100 pancreatic radiofrequency ablations in the context of a multimodal strategy for stage III ductal adenocarcinoma. Langenbecks Arch Surg. 2013 Jan. 398(1):63-9. [Medline].

Wang-Gillam A, Li CP, Bodoky G, Dean A, Shan YS, Jameson G, et al. Nanoliposomal irinotecan with fluorouracil and folinic acid in metastatic pancreatic cancer after previous gemcitabine-based therapy (NAPOLI-1): a global, randomised, open-label, phase 3 trial. Lancet. 2015 Nov 29. [Medline].
Medscape Reference © 2011 WebMD, LLC