Parathyroid Carcinoma
Author: Lawrence Kim, MD; Chief Editor: Jules E Harris, MD, FACP, FRCPC more...
Updated: Dec 01, 2015
What would you like to print?
Background
Parathyroid carcinoma is a rare malignancy of the parathyroid glands. These tumors usually secrete parathyroid hormone, thereby producing hyperparathyroidism, which is usually severe. Parathyroid carcinoma may be suspected, but it usually cannot be confirmed prior to operation. This complicates the treatment strategy.[1]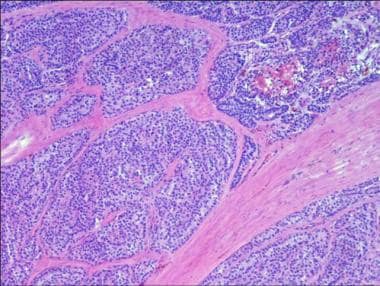 Photomicrograph of parathyroid carcinoma showing typical fibrotic septae. Histologic diagnosis can be difficult.
Pathophysiology
Parathyroid carcinoma causes hyperparathyroidism (for a more complete discussion see Hyperparathyroidism) in all but a few rare cases of nonfunctional parathyroid carcinoma. Hyperparathyroidism is caused by overproduction of parathyroid hormone. In most cases, hyperparathyroidism is caused by a single benign adenoma (approximately 85%). The vast majority of the remaining cases are caused by parathyroid hyperplasia or multiple adenomas. In less than 1% of cases of hyperparathyroidism, the etiology is parathyroid carcinoma.
The hyperparathyroidism seen in parathyroid carcinoma is usually severe, with high serum calcium levels, severe bone disease, and renal stones. Rarely, parathyroid cancer can be nonfunctional, that is, it may cause a tumor but not produce parathyroid hormone and the sequelae of hyperparathyroidism. Overproduction of authentic parathyroid hormone from nonparathyroid sources is extremely rare but has been reported. Modern assays for parathyroid hormone measure the intact, authentic molecule and do not detect similar molecules produced by other tumors. Therefore, an elevated parathyroid hormone level is virtually always parathyroid in origin.
Untreated, parathyroid carcinoma leads to severe symptoms of hyperparathyroidism and may cause renal stones, nephrocalcinosis, pathologic fractures, and neuropsychiatric symptoms. The diagnosis is often not made prior to parathyroidectomy. This results in inadequate tumor excision and a propensity to local recurrence. Regional lymph node and distant metastases are usually not present at initial diagnosis. Recurrences may be treated by local excision or ablative treatments such as radiofrequency ablation. Death is usually caused by medically refractory hypercalcemia and seldom tumor burden alone.
Epidemiology
Frequency
United States
Parathyroid cancer is a rare disease, occurring with an annual incidence of approximately 1.25 cases per 10,000,000 persons.[2] It occurs in less than 1% of all cases of hyperparathyroidism.[3, 4]
International
A large European study also demonstrated the rarity of parathyroid carcinoma with an estimated incidence of 2 cases per 10,000,000 persons/year.[5]
Mortality/Morbidity
See the list below:
Survival has varied widely in the literature, with 5-year survival ranging from 20-85% and 10-year survival from approximately 15-80%.

[6, 7, 8, 9, 10, 11, 12, 13, 2]

Data from the US National Cancer Data Base showed a 5-year survival of 88.5% and a 10-year survival of 49.1%.

[14]

A significant number of patients continue to die of recurrent disease many years after the initial treatment.

Permanent cure is achieved in the minority of patients.
Race
No known racial predilection exists.
Sex
Parathyroid cancer occurs equally in males and females.[14] Males fare slightly worse in prognosis.[13, 15]
Age
Parathyroid cancer usually occurs in patients older than 30 years. After that, no predominant age association has been noted.
References
McClenaghan F, Qureshi YA. Parathyroid cancer. Gland Surg. 2015 Aug. 4 (4):329-38. [Medline].

Schaapveld M, Jorna FH, Aben KK, Haak HR, Plukker JT, Links TP. Incidence and prognosis of parathyroid gland carcinoma: A population-based study in The Netherlands estimating the preoperative diagnosis. Am J Surg. 2011 Aug 20. [Medline].

Mittendorf EA, McHenry CR. Parathyroid carcinoma. J Surg Oncol. 2005 Mar 1. 89(3):136-42.

Yip L, Seethala RR, Nikiforova MN, Nikiforov YE, Ogilvie JB, Carty SE, et al. Loss of heterozygosity of selected tumor suppressor genes in parathyroid carcinoma. Surgery. 2008 Dec. 144(6):949-55; discussion 954-5. [Medline].

van der Zwan JM, Mallone S, van Dijk B, Bielska-Lasota M, Otter R, Foschi R, et al. Carcinoma of endocrine organs: results of the RARECARE project. Eur J Cancer. 2012 Sep. 48(13):1923-31. [Medline].

Douglas L. Fraker. Chapter 44 - Cancer of the Endocrine System, Section 3: Parathyroid Tumors. Vincent T. DeVita, Jr., Theodore S. Lawrence, Steven A. Rosenberg. Cancer: Principles & Practice of Oncology. 8th. Philadelphia: Lippincott Williams & Wilkins; 2008. 1682-1690.

Wynne AG, van Heerden J, Carney JA. Parathyroid carcinoma: clinical and pathologic features in 43 patients. Medicine (Baltimore). 1992 Jul. 71(4):197-205. [Medline].

Busaidy NL, Jimenez C, Habra MA, Schultz PN, El-Naggar AK, Clayman GL, et al. Parathyroid carcinoma: a 22-year experience. Head Neck. 2004 Aug. 26(8):716-26. [Medline].

Wang CA, Gaz RD. Natural history of parathyroid carcinoma. Diagnosis, treatment, and results. Am J Surg. 1985 Apr. 149(4):522-7. [Medline].

Hakaim AG, Esselstyn CB Jr. Parathyroid carcinoma: 50-year experience at The Cleveland Clinic Foundation. Cleve Clin J Med. 1993 Jul-Aug. 60(4):331-5. [Medline].

Favia G, Lumachi F, Polistina F, D'Amico DF. Parathyroid carcinoma: sixteen new cases and suggestions for correct management. World J Surg. 1998 Dec. 22(12):1225-30. [Medline].

Flye MW, Brennan MF. Surgical resection of metastatic parathyroid carcinoma. Ann Surg. 1981 Apr. 193(4):425-35. [Medline].

Talat N, Schulte KM. Clinical presentation, staging and long-term evolution of parathyroid cancer. Ann Surg Oncol. 2010 Aug. 17(8):2156-74. [Medline].

Hundahl SA, Fleming ID, Fremgen AM, Menck HR. Two hundred eighty-six cases of parathyroid carcinoma treated in the U.S. between 1985-1995: a National Cancer Data Base Report. The American College of Surgeons Commission on Cancer and the American Cancer Society. Cancer. 1999 Aug 1. 86(3):538-44. [Medline].

Lee PK, Jarosek SL, Virnig BA, Evasovich M, Tuttle TM. Trends in the incidence and treatment of parathyroid cancer in the United States. Cancer. 2007 May 1. 109(9):1736-41. [Medline].

Schaapveld M, Jorna FH, Aben KK, et al. Incidence and prognosis of parathyroid gland carcinoma: a population-based study in The Netherlands estimating the preoperative diagnosis. Am J Surg. 2011 Nov. 202(5):590-7. [Medline].

Shattuck TM, Valimaki S, Obara T. Somatic and germ-line mutations of the HRPT2 gene in sporadic parathyroid carcinoma. N Engl J Med. 2003 Oct 30. 349(18):1722-9. [Medline].

Lim S, Elston MS, Gill AJ, Marsh DJ, Conaglen JV. Metastatic parathyroid carcinoma initially misdiagnosed as parathyroid adenoma: the role of parafibromin in increasing diagnostic accuracy. Intern Med J. 2011 Sep. 41(9):695-9. [Medline].

Sulaiman L, Haglund F, Hashemi J, Obara T, Nordenström J, Larsson C, et al. Genome-wide and locus specific alterations in CDC73/HRPT2-mutated parathyroid tumors. PLoS One. 2012. 7(9):e46325. [Medline]. [Full Text].

Vasef MA, Brynes RK, Sturm M, Bromley C, Robinson RA. Expression of cyclin D1 in parathyroid carcinomas, adenomas, and hyperplasias: a paraffin immunohistochemical study. Mod Pathol. 1999 Apr. 12(4):412-6. [Medline].

Woodard GE, Lin L, Zhang JH, Agarwal SK, Marx SJ, Simonds WF. Parafibromin, product of the hyperparathyroidism-jaw tumor syndrome gene HRPT2, regulates cyclin D1/PRAD1 expression. Oncogene. 2005 Feb 10. 24(7):1272-6. [Medline].

Cryns VL, Thor A, Xu HJ. Loss of the retinoblastoma tumor-suppressor gene in parathyroid carcinoma. N Engl J Med. 1994 Mar 17. 330(11):757-61. [Medline].

Haven CJ, van Puijenbroek M, Tan MH, Teh BT, Fleuren GJ, van Wezel T, et al. Identification of MEN1 and HRPT2 somatic mutations in paraffin-embedded (sporadic) parathyroid carcinomas. Clin Endocrinol (Oxf). 2007 Sep. 67(3):370-6. [Medline].

Karakas E, Müller HH, Lyadov VK, Luz S, Schneider R, Rothmund M, et al. Development of a formula to predict parathyroid carcinoma in patients with primary hyperparathyroidism. World J Surg. 2012 Nov. 36(11):2605-11. [Medline].

van Baardwijk A, de Jong J, Arens A, Thimister P, Verseput G, Kremer B, et al. False-positive FDG-PET scan due to brown tumours. Eur J Nucl Med Mol Imaging. 2006 Mar. 33(3):393-4. [Medline].

Guarnieri V, Battista C, Muscarella LA, Bisceglia M, de Martino D, Baorda F, et al. CDC73 mutations and parafibromin immunohistochemistry in parathyroid tumors: clinical correlations in a single-centre patient cohort. Cell Oncol (Dordr). 2012 Dec. 35(6):411-22. [Medline].

Howell VM, Gill A, Clarkson A, Nelson AE, Dunne R, Delbridge LW, et al. Accuracy of combined protein gene product 9.5 and parafibromin markers for immunohistochemical diagnosis of parathyroid carcinoma. J Clin Endocrinol Metab. 2009 Feb. 94(2):434-41. [Medline].

Erovic BM, Harris L, Jamali M, Goldstein DP, Irish JC, Asa SL, et al. Biomarkers of parathyroid carcinoma. Endocr Pathol. 2012 Dec. 23(4):221-31. [Medline].

Fang SH, Lal G. Parathyroid cancer. Endocr Pract. 2011 Mar-Apr. 17 Suppl 1:36-43. [Medline].

Schulte KM, Gill AJ, Barczynski M, Karakas E, Miyauchi A, Knoefel WT, et al. Classification of parathyroid cancer. Ann Surg Oncol. 2012 Aug. 19(8):2620-8. [Medline].

Schulte KM, Talat N, Miell J, Moniz C, Sinha P, Diaz-Cano S. Lymph node involvement and surgical approach in parathyroid cancer. World J Surg. 2010 Nov. 34(11):2611-20. [Medline].

Harari A, Waring A, Fernandez-Ranvier G, Hwang J, Suh I, Mitmaker E, et al. Parathyroid carcinoma: a 43-year outcome and survival analysis. J Clin Endocrinol Metab. 2011 Dec. 96(12):3679-86. [Medline].

Bergero N, De Pompa R, Sacerdote C. Galectin-3 expression in parathyroid carcinoma: immunohistochemical study of 26 cases. Hum Pathol. 2005 Aug. 36(8):908-14.

Cetani F, Ambrogini E, Viacava P, Pardi E, Fanelli G, Naccarato AG, et al. Should parafibromin staining replace HRTP2 gene analysis as an additional tool for histologic diagnosis of parathyroid carcinoma?. Eur J Endocrinol. 2007 May. 156(5):547-54. [Medline].

DeLellis RA. Parathyroid carcinoma: an overview. Adv Anat Pathol. 2005 Mar. 12(2):53-61.

Fernandez-Ranvier GG, Jensen K, Khanafshar E, Quivey JM, Glastonbury C, Kebebew E, et al. Nonfunctioning parathyroid carcinoma: case report and review of literature. Endocr Pract. 2007 Nov-Dec. 13(7):750-7. [Medline].

Hunt JL, Carty SE, Yim JH. Allelic loss in parathyroid neoplasia can help characterize malignancy. Am J Surg Pathol. 2005 Aug. 29(8):1049-55.

Iacobone M, Lumachi F, Favia G. Up-to-date on parathyroid carcinoma: analysis of an experience of 19 cases. J Surg Oncol. 2004 Dec 15. 88(4):223-8. [Medline].

Iihara M, Okamoto T, Suzuki R, Kawamata A, Nishikawa T, Kobayashi M, et al. Functional parathyroid carcinoma: Long-term treatment outcome and risk factor analysis. Surgery. 2007 Dec. 142(6):936-43; discussion 943.e1. [Medline].

Kleinpeter KP, Lovato JF, Clark PB. Is parathyroid carcinoma indeed a lethal disease?. Ann Surg Oncol. 2005 Mar. 12(3):260-6.

Lin L, Czapiga M, Nini L, Zhang JH, Simonds WF. Nuclear localization of the parafibromin tumor suppressor protein implicated in the hyperparathyroidism-jaw tumor syndrome enhances its proapoptotic function. Mol Cancer Res. 2007 Feb. 5(2):183-93. [Medline].

Lumachi F, Basso SM, Basso U. Parathyroid cancer: etiology, clinical presentation and treatment. Anticancer Res. 2006 Nov-Dec. 26(6C):4803-7. [Medline].

Obara T, Fujimoto Y. Diagnosis and treatment of patients with parathyroid carcinoma: an update and review. World J Surg. 1991 Nov-Dec. 15(6):738-44. [Medline].

Rodgers SE, Perrier ND. Parathyroid carcinoma. Curr Opin Oncol. 2006 Jan. 18(1):16-22.

Sandelin K, Thompson NW, Bondeson L. Metastatic parathyroid carcinoma: dilemmas in management. Surgery. 1991 Dec. 110(6):978-86; discussion 986-8. [Medline].

Sandelin K, Tullgren O, Farnebo LO. Clinical course of metastatic parathyroid cancer. World J Surg. 1994 Jul-Aug. 18(4):594-8; discussion 599. [Medline].

van Heerden JA, Weiland LH, ReMine WH, Walls JT, Purnell DC. Cancer of the parathyroid glands. Arch Surg. 1979 Apr. 114(4):475-80. [Medline].

Vetto JT, Brennan MF, Woodruf J. Parathyroid carcinoma: diagnosis and clinical history. Surgery. 1993 Nov. 114(5):882-92. [Medline].

Yart A, Gstaiger M, Wirbelauer C. The HRPT2 tumor suppressor gene product parafibromin associates with human PAF1 and RNA polymerase II. Mol Cell Biol. 2005 Jun. 25(12):5052-60.

Fountas A, Andrikoula M, Giotaki Z, Limniati C, Tsakiridou E, Tigas S, et al. The emerging role of denosumab in the long-term management of parathyroid carcinoma-related refractory hypercalcemia. Endocr Pract. 2015 May. 21 (5):468-73. [Medline].

Jumpertz von Schwartzenberg R, Elbelt U, Ventz M, Mai K, Kienitz T, Maurer L, et al. Palliative treatment of uncontrollable hypercalcemia due to parathyrotoxicosis: denosumab as rescue therapy. Endocrinol Diabetes Metab Case Rep. 2015. 2015:150082. [Medline].
Medscape Reference © 2011 WebMD, LLC