Rectal Cancer Treatment & Management
Author: Burt Cagir, MD, FACS; Chief Editor: N Joseph Espat, MD, MS, FACS more...
Updated: Aug 11, 2016
What would you like to print?
Approach Considerations
The surgical definition of the rectum differs from the anatomical definition; surgeons define the rectum as starting at the level of the sacral promontory, while anatomists define the rectum as starting at the level of the 3rd sacral vertebra. Therefore, the measured length of the rectum varies from 12 cm to 15 cm. The rectum is different than the rest of the colon, in that the outer layer is made of longitudinal muscle. The rectum contains three folds, namely the valves of Houston. The superior (at 10 cm to 12 cm) and inferior (at 4 cm to 7 cm) folds are located on the left side and the middle fold (at 8 cm to 10 cm) is located at the right side.
National Comprehensive Cancer Network guidelines define rectal cancer as cancer located within 12 cm of the anal verge by rigid proctoscopy. This definition was developed by the Dutch Colorectal Cancer Group study, which found that the risk of recurrence of rectal cancer depends on the location of the cancer. Univariate sub-group analyses showed that the treatment effect for surgery alone vs preoperative radiotherapy plus surgery was not significant in patients whose cancer (TNM stage I to IV) was located between 10.1 cm and 15 cm from the anal verge.[31]
Laparoscopic surgery for colorectal cancer offers the advantages of faster recovery time and less pain, compared with open surgery. However, data on oncologic outcome with laparoscopic rectal cancer resection has been lacking.
In an international randomized, open-label trial (COlorectal cancer, Laparoscopic or Open Resection II [COLOR II]) involving 1044 patients with localized solitary rectal cancer located within 15 cm from the anal verge, comparison of the locoregional recurrence rate at 3 years showed no significant differences between the laparoscopic and open-surgery groups (5% in both). Disease-free-survival (74.8% and 70.8%, respectively), overall survival (86.7% and 83.6%), and rate of complications also showed no significant differences.[32]
Determination of optimal treatment plan for patients with rectal cancer involves a complex decision-making process. Strong considerations should be given to the intent of surgery, possible functional outcome, and preservation of anal continence and genitourinary functions. The first step involves achievement of cure because the risk of pelvic recurrence is high in patients with rectal cancer and locally recurrent rectal cancer has a poor prognosis. Functional outcome of different treatment modalities involves restoration of bowel function with acceptable anal continence and preservation of genitourinary functions. Preservation of both anal and rectal reservoir function in treatment of rectal cancer is highly preferred by patients. Sphincter-saving procedures for rectal cancer are now considered the standard of care.[33]
Factors influencing sphincter and organ preservation in patients with rectal cancer can be described as follows[33] :
Factors influencing sphincter preservation
See the list below:
Surgeon training

Surgeon volume

Neoadjuvant chemoradiotherapy
Factors associated with difficult sphincter preservation
See the list below:
Male sex

Morbid obesity

Preoperative incontinence

Direct involvement of anal sphincter muscles with carcinoma

Bulky tumors within 5 cm from the anal verge
Patient selection for local excision
See the list below:
Lesions located in low rectum (within 8-10 cm)

Lesions occupying less than one third of the rectal circumference

Mobile exophitic or polypoid lesions

Lesions less than 3 cm in size

T1 lesions

Low grade tumor (well or moderately differentiated)

Negative nodal status (clinical and radiographic)
Disadvantages of APR
See the list below:
Need for permanent colostomy

Significantly higher short-term morbidity and mortality

Significantly higher long-term morbidities

Higher rate of sexual and urinary dysfunction
Surgical Care
Patient-related, tumor-related, treatment-, and surgeon-related factors influence the ability to restore intestinal continuity in patients with rectal cancer.
Transanal Excision
The local transanal excision of rectal cancer is reserved for early-stage cancers in a select group of patients. The lesions amenable for local excision are small (< 3 cm in size), occupying less than a third of a circumference of the rectum, preferably exophytic/polypoid, superficial and mobile (T1 and T2 lesions), low-grade tumors (well or moderately differentiated) that are located in low in the rectum (within 8 cm of the anal verge). There should also be no palpable or radiologic evidence of enlarged mesenteric lymph nodes. The likelihood of lymph node involvement in this type of lesion ranges from 0-12%.[33, 34]
A study by Peng et al found that local excision in early-stage rectal cancer may result in high local recurrence rates. The authors recommend only using this procedure in highly selected groups of patients, specifically those with a tumor size of 2.5 cm or smaller.[35]
Local excision is increasingly used to treat stage I rectal cancers despite its inferiority to total mesorectal excision, which is the current standard of care. In a study of all rectal cancer patients in the National Cancer Data Base from 1998 through 2010, researchers found that local excision was used to treat 46.5% of the patients with T1 tumors and 16.8% of those with T2 tumors. For patients with T1 cancer, local excision rates increased from 39.8% in 1998 to 62.0% in 2010. For patients with T2 cancers, rates increased from 12.2% to 21.4%.[36, 37]
Preoperative ERUS should be performed. If nodes are identified as suggestive of cancer, do not perform transanal excision. The lesion is excised with the full thickness of the rectal wall, leaving a 1-cm margin of normal tissue. The defect is usually closed; however, some surgeons leave it open. Unfavorable pathologic features such as positive resection margins, lymphovascular invasion, lymph node metastasis, perineural invasions, and recurrent lesion at follow-up evaluations mandate salvage resection. Usually, an abdominal perineal resection or proctosigmoidectomy with coloanal anastomosis is performed as a salvage resection following failure of local excision.[34]
The advantages of local excision include rapid recovery, minimal effect on sphincter function, and relatively low perioperative morbidity and mortality. Recovery is usually rapid. The 5-year survival rate after transanal excision ranges from 65-100% (these figures include some patients with T2 lesions). The local recurrence rate ranges from 0-40%. Patients with lesions that display unfavorable histologic features but are excised completely may be treated with adjuvant radiation therapy.
Cancer recurrence following transanal excision of early rectal cancer has been studied by Weiser et al.[38] Failures due to transanal excision are mostly advanced local disease and are not uniformly salvageable with radical pelvic excision. These patients may require extended pelvic dissection with en bloc resection of adjacent pelvic organs such as the pelvic side wall with autonomic nerves, coccyx, prostate, seminal vesicle, bladder, vagina, ureter, ovary, and uterus. The long-term outcome in patients with recurrent rectal carcinoma who undergo radical resection is less favorable than expected, relative to the early stage of their initial rectal carcinoma.[38]
In summary, the treatment of T1 and T2 rectal cancers continues to be challenging. Local excision is associated with higher rate of recurrence, especially in T2 lesions. Ultimately, 15-20% of patients may experience recurrence. When local recurrence is detected, patients usually have advanced disease, requiring extensive pelvic excisions. Therefore, strict selection criteria are essential when considering local excision. All patients should be informed of the risk of local recurrence and lower cure rates associated with recurrence.[33, 38, 39]
Endocavitary Radiation
This radiotherapy method differs from external-beam radiation therapy in that a larger dose of radiation can be delivered to a smaller area over a shorter period. Selection criteria for this procedure are similar to those for transanal excision. The lesion can be as far as 10 cm from the anal verge and no larger than 3 cm. Endocavitary radiation is delivered via a special proctoscope and is performed in an operating room with sedation. The patient can be discharged on the same day.
A total of 6 application of high-dose (20Gy to 30 Gy), low-voltage radiation (50kV) is given over the course of 6 weeks. Each radiotherapy session produces a rapid shrinkage of the rectal cancer lesion. An additional booster dose can be given to the tumor bed. The overall survival rate is 83%, although the local recurrence rate as high as 30%.[34]
Transanal Endoscopic Microsurgery (TEM)
Transanal endoscopic microsurgery is another form of local excision that uses a special operating proctoscope that distends the rectum with insufflated carbon dioxide and allows the passage of dissecting instruments. This method can be used on lesions located higher in the rectum and even in the distal sigmoid colon. Transanal endoscopic microsurgery has not come into wide use yet because of a significant learning curve and a lack of availability.
Sphincter-Sparing Procedures
Procedures are described that use the traditional open technique. All of these procedures, except the perineal portions, can also be performed using laparoscopic techniques, with excellent results. The nuances of the laparoscopic technique used are beyond the scope of this discussion.
A study by Li et al found that laparoscopic and open surgery for middle and lower rectal cancer are associated with similar long-term outcomes. The study shows the value of technical experience when performing laparoscopic surgery and encourages the use of this surgery by experienced teams.[40]
Long-term results from the UK Medical Research Council trial of laparoscopically assisted versus open surgery for colorectal cancer showed no differences between groups in overall or disease-free survival or recurrence rates.[41]
Low anterior resection (LAR)
LAR is generally performed for lesions in the middle and upper third of the rectum and, occasionally, for lesions in the lower third. Because this is a major operation, patients who undergo LAR should be in good health. They should not have any preexisting sphincter problems or evidence of extensive local disease in the pelvis.
Patients will not have a permanent colostomy but should be informed that a temporary colostomy or ileostomy may be necessary. They also must be willing to accept the possibility of slightly less-than-perfect continence after surgery, although this is not usually a major problem.
Other possible disturbances in function include transient urinary dysfunction secondary to weakening of the detrusor muscle. This occurs in 3-15% of patients. Sexual dysfunction is more prominent and includes retrograde ejaculation and impotence. In the past, this has occurred in 5-70% of men, but recent reports indicate that the current incidence is lower.[42]
The operation entails full mobilization of the rectum, sigmoid colon, and, usually, the splenic flexure. Mobilization of the rectum requires a technique called total mesorectal excision (TME). TME involves sharp dissection in the avascular plane that is created by the envelope that separates the entire mesorectum from the surrounding structures. This includes the anterior peritoneal reflection and Denonvilliers fascia anteriorly and preserves the inferior hypogastric plexus posteriorly and laterally. TME is performed under direct visualization. Mesorectal spread can occur by direct tumor spread, tumor extension into lymph nodes, or perineural invasion of tumor.[26, 39, 42]
TME yields a lower local recurrence rate (4%) than transanal excision (20%), but it is associated with a higher rate of anastomotic leak (11%). For this reason, TME may not be necessary for lesions in the upper third of the rectum. The distal resection margin varies depending on the site of the lesion. A 2-cm margin distal to the lesion must be achieved. For the tumors of the distal rectum, less than 5 cm from the anal verge, the minimally accepted distal margin is 1 cm in the fresh specimen. Distal intra-mural spread beyond 1 cm occurs rarely. Distal spread beyond 1 cm is associated with aggressive tumor behavior or advanced tumor stage.[26]
The procedure is performed with the patient in the modified lithotomy position with the buttocks slightly over the edge of the operating table to allow easy access to the rectum.[39] (See the table below.) A circular stapling device is used to create the anastomosis. A double-stapled technique is performed. This entails transection of the rectum distal to the tumor from within the abdomen using a linear stapling device. The proximal resection margin is divided with a purse-string device.
After sizing the lumen, the detached anvil of the circular stapler is inserted into the proximal margin and secured with the purse-string suture. The circular stapler is inserted carefully into the rectum, and the central shaft is projected through or near the linear staple line. Then, the anvil is engaged with the central shaft, and, after completely closing the circular stapler, the device is fired. Two rings of staples create the anastomosis, and a circular rim or donut of tissue from the proximal and distal margins is removed with the stapling device.
According to a study by Maurer et al, the introduction of TME has resulted in an impressive reduction of local recurrence rate. TME appears to have improved survival in patients without systemic disease.[43]
Table 2. Acceptable Minimal Distal and Proximal Resectional Margins for Rectal Cancer.[26] (Open Table in a new window)
| | | |
| --- | --- | --- |
| Resection Margins | Proximal Resection Margin(cm) | Distal Resection Margin (cm) |
| Ideal Margins | 5 cm or more | 2 cm or more |
| Minimally acceptable margins | 5 cm or more | 1 cm or more |
The anastomotic leak rate with this technique ranges from 3-11% for middle-third and upper-third anastomosis and to 20% for lower-third anastomosis. For this reason, some surgeons choose to protect the lower-third anastomosis by creating a temporary diverting stoma. This is especially important when patients have received preoperative radiation therapy. The rate of stenosis is approximately 5-20%. A hand-sewn anastomosis may be performed; if preferred, the anastomosis is performed as a single-layer technique. The leak and stenosis rates are the same.
In R0 resection, the inferior mesenteric artery (IMA) should be excised at its origin, but this rule is not mandated by available supportive evidence. Patients with non–en-bloc resection, positive radial margins, positive proximal and distal margin, residual lymph node disease, and incomplete preoperative and intra-operative staging would not be considered to have complete resection of cancer (R0 resection).[26] Patients with R1 and R2 resection are considered to have an incomplete resection for cure. Incomplete R1 and R2 resection does not change the TNM stage but affects the curability.[26]
In a 2012 multicenter, randomized controlled trial, mesorectal excision with lateral lymph node dissection was associated with a significantly longer operation time and significantly greater blood loss than mesorectal excision alone.[44]
Colo-anal anastomosis (CAA)
Very distal rectal cancers that are located just above the sphincter occasionally can be resected without the need for a permanent colostomy. The procedure is as already described; however, the pelvic dissection is carried down to below the level of the levator ani muscles from within the abdomen. A straight-tube coloanal anastomosis (CAA) can be performed using the double-stapled technique, or a hand-sewn anastomosis can be performed transanally.[42]
The functional results of this procedure have been poor in some patients, who experience increased frequency and urgency of bowel movements, as well as some incontinence to flatus and stool. An alternative to the straight-tube CAA is creation of a colonic J pouch. The pouch is created by folding a loop of colon on itself in the shape of a J. A linear stapling or cutting device is inserted into the apex of the J, and the stapler creates an outer staple line while dividing the inner septum. The J-pouch anal anastomosis can be stapled or hand sewn.
An alternative to doing the entire dissection from within the abdomen is to begin the operation with the patient in the prone jackknife position. The perineal portion of this procedure involves an intersphincteric dissection via the anus up to the level of the levator ani muscles. After the perineal portion is complete, the patient is turned to the modified lithotomy position and the abdominal portion is performed. Either a straight-tube or colonic J-pouch anal anastomosis can be created; however, both must be hand sewn.[42]
The advantages of the J pouch include decreased frequency and urgency of bowel movements because of the increased capacity of the pouch. A temporary diverting stoma is performed routinely with any coloanal anastomosis.
Abdominal perineal resection (APR)
APR is performed in patients with lower-third rectal cancers. APR should be performed in patients in whom negative margin resection will result in loss of anal sphincter function. This includes patients with involvement of the sphincters, preexisting significant sphincter dysfunction, or pelvic fixation, and sometimes is a matter of patient preference.
A 2-team approach is often used, with the patient in modified lithotomy position. The abdominal team mobilizes the colon and rectum, transects the colon proximally, and creates an end-sigmoid colostomy. The perineal team begins by closing the anus with a purse-string suture and making a generous elliptical incision. The incision is carried through the fat using electrocautery. The inferior rectal vessels are ligated and the anococcygeal ligament is divided. The dissection plane continues posteriorly, anterior to the coccyx to the level of the levator ani muscles.
Then, the surgeon breaks through the muscles and retrieves the specimen that has been placed in the pelvis. The specimen is brought out through the posterior opening, and the anterior dissection is continued carefully. Care must be taken to avoid the prostatic capsule in the male and the vagina in the female (unless posterior vaginectomy was planned). The specimen is removed through the perineum, and the wound is irrigated copiously. A closed-suction drain is left in place, and the perineal wound is closed in layers, using absorbable sutures. During this time, the abdominal team closes the pelvic peritoneum (this is not mandatory), closes the abdomen, and matures the colostomy.[42]
In patients who have rectal cancer with adjacent organ invasion, en bloc resection should be performed in order to not compromise cure. This situation is encountered in 15% of rectal cancer patients. Rectal carcinoma most commonly invades the uterus, adnexa, posterior vaginal wall, and bladder. The urinary bladder is the organ most commonly involved in locally advanced rectal carcinoma. Extended, en bloc resection may involve partial or complete cystectomy.[26, 42]
Inadequate sampling of lymph nodes may reflect non-oncologic resection or inadequate inspection of pathologic specimens. The use of more extended pelvic lymphadenectomy has been studied for rectal cancer. Extended lymphadenectomy involves removal of all lymph nodes along the internal iliac and common iliac arteries. This procedure has been associated with significantly higher sexual and urinary dysfunction without any additional benefit in local recurrence especially in patients with adjuvant radiotherapy.[30]
Treatment of colorectal cancer with liver metastasis
Chemotherapeutic regimens for liver metastasis including systemic and intrahepatic administration have only had limited benefit. Systemic chemotherapy had 18-28% response rates. It is well accepted that liver resections in selected patients are beneficial. Overall, 5-year survival rates following surgical resection of liver metastasis vary from 20-40%.
A study by Dhir et al found that among patients undergoing hepatic resection for colorectal metastasis, a negative margin of 1 cm or more had a survival advantage.[45]
Adjuvant Medical Care
A multidisciplinary approach that includes colorectal surgery, medical oncology, and radiation oncology is required for optimal treatment of patients with rectal cancer. The timing of surgical resection is dependent on the size, location, extent, and grade of the rectal carcinoma. The number of lymph nodes removed (12 or more, minimum: 10) at the time of surgery impacts staging accuracy and prognosis.
Although radical resection of rectum is the mainstay of therapy, surgery alone has a high recurrence rates. The local recurrence rate for rectal cancers treated with surgery alone is 30-50%. Rectal adenocarcinomas are sensitive to ionizing radiation. Radiation therapy can be delivered preoperatively, intraoperatively, or postoperatively and with or without chemotherapy.
Tumor stage, grade, number of lymph node metastasis, lymphovascular involvement, signet cell appearance, achievement of negative radial margins, and distance from the radial margin are important prognostic indicators of local and distant recurrences. Low anterior (LAR) or abdominal-perineal resection (APR) in conjunctions with total mesorectal excision (TME) should be performed for optimal surgical therapy.
A study by Margalit et al found that patients older than 75 years had difficulty tolerating combined modality chemotherapy to treat rectal cancer. They required early termination of treatment, treatment interruptions, and/or dose reductions.[46]
Adjuvant radiation therapy
Preoperative radiation therapy has many potential advantages, including tumor down-staging; an increase in resectability, possibly permitting the use of a sphincter-sparing procedure; and a decrease in tumor viability, which may decrease the risk of local recurrence. Preoperative radiation therapy works better in well-oxygenated tissues prior to surgery. Postoperatively, tissues are relatively hypoxic as a result of surgery and may be more resistant to radiotherapy. If patients have postoperative complications, there may be delay in initiating adjuvant therapy.
Preoperative radiation therapy also minimizes the radiation exposure of small bowel loops due to pelvic displacement and adhesions following surgery.[42, 47] In a study of patients with locally advanced rectal cancer, a higher dose of radiation delivered using an endorectal boost increased major response in T3 tumors by 50% without increasing surgical complications or toxicity.[48]
The disadvantages of preoperative radiation therapy include delay in definitive resection, possible loss of accurate pathologic staging, possible over-treatment of early-stage (stage I and II) rectal cancer, and increased postoperative complications and morbidity and mortality rates secondary to radiation injury. Preoperative radiation therapy decreases the risk of tumor recurrence in patients with stage II or III disease; however, this does not translate into a decrease in distant metastases or an increase in survival rate. Some recent reports cite an increase in survival; however, this is still the minority opinion.
In sum, preoperative radiotherapy may be effective in improving local control in localized rectal cancer but is only of marginal benefit in attainment of improved overall survival; it does not diminish the need for permanent colostomies and it may increase the incidence of postoperative surgical infections; it also does not decrease the incidence of long-term effects on rectal and sexual function.[49] The authors recommend preoperative chemoradiation therapy in patients with large bulky cancers and with obvious nodal involvement.[42]
The advantages of postoperative radiation therapy include immediate definitive resection and accurate pathologic staging information before beginning ionizing radiation. The disadvantages of postoperative radiation therapy include possible delay in adjuvant radiation therapy if postoperative complications ensue; no effect on tumor cell spread at the time of surgery; and decreased effect of radiation in tissues with surgically-induced hypoxia. Published randomized trials suggest that preoperative or postoperative radiation therapy appears to have a significant impact on local recurrence but does not increase survival rates.[42]
A study by Ng et al found that statin use during and after adjuvant chemotherapy did not result in improved disease-free survival, recurrence-free survival, or overall survival in patients with stage III colon cancer.[50]
Intraoperative radiation therapy
Intraoperative radiation therapy is recommended in patients with large, bulky, fixed, unresectable cancers. The direct delivery of high-dose radiotherapy is believed to improve local disease control. Intraoperative radiation therapy requires specialized, expensive operating room equipment, limiting its use.
Adjuvant chemotherapy
Chemotherapy options for colon and rectal cancer have greatly expanded in recent years, but the efficacy of chemotherapy remains incomplete and its toxicities remain substantial. Combination therapy with use of as many drugs as possible is needed for maximal effect against rectal cancer.
The most useful chemotherapeutic agent for colorectal carcinoma is 5-fluorouracil (5-FU), an antimetabolite. The prodrug, 2-deoxy-5-floxuridine (5-FUDR), is rapidly converted to 5-FU and is used for metastatic liver disease by continuous intrahepatic infusion. Fluorouracil is a fluorinated pyrimidine, which blocks the formation of thymidylic acid and DNA synthesis. Clinically, it offers good radiosensitization without severe side effects, although diarrhea can be dose limiting and, if severe, life-threatening. 5-FU has been used in conjunction with radiation (combined modality) therapy before surgery (neoadjuvant), as well as after surgery.
Stage I (T1-2, N0, M0) rectal cancer patients do not require adjuvant therapy due to their high cure rate with surgical resection. High-risk patients, including those with poorly differentiated tumor histology and those with lymphovascular invasion, should be considered for adjuvant chemotherapy and radiotherapy. The NCCN guidelines recommend combination therapy with infusional fluorouracil, folinic acid, and oxaliplatin (FOLFOX) or with capecitabine and oxaliplatin (CapeOx) as reasonable for patients with high-risk or intermediate-risk stage II disease; however, FOLFOX is not indicated for good- or average-risk stage II rectal cancer.[51, 52] FOLFOX is associated with neuropathy and one long-term study confirmed that although overall neurotoxicity did not significantly increase after a median of 7 years, specific neurotoxicity (numbness and tingling of the hands and feet) remained elevated.[53]
Patients with locally advanced rectal cancer (T3-4, N0, M0 or any T, N1-2, M0) should receive primary chemotherapy and radiotherapy. The combination of preoperative radiation therapy and chemotherapy with fluorouracil improves local control, distant spread, and survival. The basis of this improvement is believed to be the activity of fluorouracil as a radiosensitizer. Surgical resection can be done 4 to 10 weeks after completion of chemotherapy and radiotherapy.
Use of FOLFOX or the combination of folinic acid, fluorouracil, and irinotecan (FOLFIRI) is recommended in treatment of patients with stage III or IV disease. Cetuximab should not be used in patients with the KRAS mutation.[54] A study by Maughan et al also found that cetuximab added to oxaliplatin-based chemotherapy has no confirmed benefit in patients with advanced colorectal cancer.[55]
In randomized phase III studies, panitumumab, a monoclonal antibody for EGFR, combined with FOLFOX4 (fluorouracil, leucovorin, and oxaliplatin) or FOLFIRI (fluorouracil, leucovorin, and irinotecan) significantly improved progression-free survival when compared to FOLFOX4 or FOLFIRI alone in patients with metastatic colorectal cancer and wild-type KRAS status.[56, 57]
Simkens et al found that patients with a high body mass index (BMI) had better overall survival on chemotherapy regimens alone than those with a low BMI.[58] See the image below.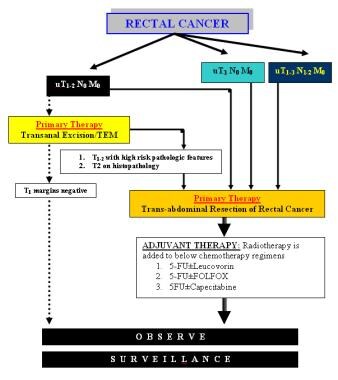 Staging and treatment. Rectal cancer treatment algorithm (surgery followed by adjuvant chemotherapy and radiotherapy). Initial stages are Endorectal ultrasound staging (uT).
One meta-analysis indicates that carefully selected patients with metastatic colorectal cancer will benefit from preoperative chemotherapy with curative intent.[59]
Table 3. Colorectal Chemotherapeutic Regimens (Open Table in a new window)
COLON AND RECTAL CANCER



COMMON CHEMOTHERAPY REGIMENS




FOLFOX (every 2 weeks)
Oxaliplatin 85 mg/m2 day 1



Leucovorin 200 mg/m2 day 1



5-FU 400 mg/m2 IV Bolus day 1 and 2



5-FU 600 mg/m2 IV Infusion day 1 and 2 (22 hours)




FOLFOX 4



(every 2 weeks)



(4 cycles)




Oxaliplatin 85 mg/m2 day 1



Leucovorin 200 mg/m2 day 1



5-FU 400 mg/m2 IV Bolus day 1 and 2



5-FU 2400 mg/m2 IV Infusion day 1 (46 hours)




mFOLFOX 6



(Every 2 weeks)



(4 cycles)




Oxaliplatin 85 mg/m2 day 1



Leucovorin 400 mg/m2 day 1



5-FU 400 mg/m2 IV Bolus day 1 and 2



5-FU 1200 mg/m2 IV Infusion day 2 days




CapeOX



(Twice daily x 14 days)



(every 3 weeks)




Oxaliplatin 130 mg/m2 day 1



Capecitabine 850 mg/m2 PO BID for 14 days




FOLFIRI



(every 2 weeks)




Irinotecan 165 mg/m2 day 1



Leucovorin 200 mg/m2 day 1



5-FU 400 mg/m2 IV Bolus day 1 and 2



5-FU 600 mg/m2 IV Infusion day 1 and 2 (22 hours)




FOLFOXIRI



(every 2 weeks)




Irinotecan 180 mg/m2 day 1



Oxaliplatin 85 mg/m2 day 1



Leucovorin 200 mg/m2 day 1



5-FU 3200 mg/m2 IV Infusion day (48 hours)




Bevacizumab
5-10 mg/kg IV every 2 weeks with chemotherapy
Cetuximab
400 mg/m2 IV day 1, then 250 mg/m2 IV weekly
Adjuvant chemoradiation therapy
In patients with r stage II and III resectable rectal cancer, preoperative chemoradiation enhances the pathological response and improves local control; however, it does not improve either disease-free or overall survival.[60]
A study by Ebert et al of colorectal cancer genetics and treatment found a link between hypermethylation of transcription factor AP-2 epsilon (TFAP2E) and clinical nonresponsiveness to chemotherapy in colorectal cancer.[61]
Radioembolization
A prospective, multicenter, randomized phase III study by Hendlisz et al compared the addition of yttrium-90 resin to a treatment regimen of fluorouracil 300 mg/m2 IV infusion (days 1-14 every 8 wk) with fluorouracil IV alone. Yttrium-90 was injected intra-arterially into the hepatic artery. The addition of radioembolization with yttrium-90 significantly improved time to liver progression and median time to tumor progression.[62] The US Food and Drug Administration (FDA) has approved yttrium-90 resin microspheres (SIR-Spheres) for the treatment of unresectable metastatic liver tumors from primary colorectal cancer in combination with adjuvant intra-hepatic artery chemotherapy with floxuridine.
Long-Term Monitoring
US Multi-Society Task Force on Colorectal Cancer guidelines recommend local surveillance with flexible sigmoidoscopy or endoscopic ultrasound (EUS) every 3−6 mo for the first 2−3 y after surgery in patients at increased risk for local recurrence.[63] This includes the following:
Patients with localized rectal cancer who have undergone surgery without total mesorectal excision

Patients who have undergone transanal local excision (ie, transanal excision or transanal endoscopic microsurgery) or endoscopic submucosal dissection

Patients with locally advanced rectal cancer who did not receive neoadjuvant chemoradiation and then surgery using total mesorectal excision techniques
The task force also advises that all patients who have undergone curative resection of rectal cancer should receive their first surveillance colonoscopy 1 y after surgery (or 1 y after clearing perioperative colonoscopy).
The National Comprehensive Cancer Network recommends the following surveillance measures[52] :
History and physical examination every 3–6 mo for 2 y, then every 6 mo for a total of 5 y

Carcinoembryonic antigen (CEA) assays every 3–6 mo for 2 y, then every 6 mo for a total of 5 y for T2 or greater lesions

Chest/abdominal/pelvic CT every 3–6 mo for 2 y, then every 6–12 mo for up to a total of 5 y

Colonoscopy in 1 y; if no preoperative colonoscopy was performed, due to obstructing lesion, colonoscopy in 3–6 mo; if advanced adenoma is found, repeat in 1 y; if no advanced adenoma, repeat in 3 y, then every 5 y

Proctoscopy (with EUS or MRI) every 3–6 mo for the first 2 y, then every 6 mo for a total of 5 y (for patients treated with transanal excision only)

PET-CT scan is not routinely recommended
References
Giovannucci E, Wu K. Cancers of the colon and rectum. Schottenfeld D, Fraumeni J, eds. Cancer. Epidemiology and Prevention. 3rd ed. Oxford University Press; 2006.

American Cancer Society. Cancer Facts & Figures 2016. American Cancer Society. Available at http://www.cancer.org/acs/groups/content/@research/documents/document/acspc-047079.pdf. Accessed: March 4, 2016.

Anagnostopoulos G, Sakorafas GH, Kostopoulos P, et al. Squamous cell carcinoma of the rectum: a case report and review of the literature. Eur J Cancer Care (Engl). 2005 Mar. 14(1):70-4. [Medline].

Potter JD. Colorectal cancer: molecules and populations. J Natl Cancer Inst. 1999 Jun 2. 91(11):916-32. [Medline]. [Full Text].

Leggett BA, Devereaux B, Biden K, Searle J, Young J, Jass J. Hyperplastic polyposis: association with colorectal cancer. Am J Surg Pathol. 2001 Feb. 25(2):177-84. [Medline].

Wheeler JM, Bodmer WF, Mortensen NJ. DNA mismatch repair genes and colorectal cancer. Gut. 2000 Jul. 47(1):148-53. [Medline]. [Full Text].

Rothwell PM, Fowkes GR, Belch JF, Ogawa H, Warlow CP, Meade TW. Effect of daily aspirin on long-term risk of death due to cancer: analysis of individual patient data from randomized trials. Lancet. Dec 7/2010; Early online publication. [Full Text].

Burn J, Gerdes AM, Macrae F, et al. Long-term effect of aspirin on cancer risk in carriers of hereditary colorectal cancer: an analysis from the CAPP2 randomised controlled trial. Lancet. 2011 Dec 17. 378(9809):2081-7. [Medline]. [Full Text].

Rothwell PM, Price JF, Fowkes FG, Zanchetti A, Roncaglioni MC, Tognoni G, et al. Short-term effects of daily aspirin on cancer incidence, mortality, and non-vascular death: analysis of the time course of risks and benefits in 51 randomised controlled trials. Lancet. 2012 Apr 28. 379(9826):1602-12. [Medline].

Yothers G, Sargent DJ, Wolmark N, et al. Outcomes Among Black Patients With Stage II and III Colon Cancer Receiving Chemotherapy: An Analysis of ACCENT Adjuvant Trials. J Natl Cancer Inst. 2011 Oct 19. 103(20):1498-1506. [Medline]. [Full Text].

Robbins AS, Siegel RL, Jemal A. Racial disparities in stage-specific colorectal cancer mortality rates from 1985 to 2008. J Clin Oncol. 2012 Feb 1. 30(4):401-5. [Medline].

Surveillance, Epidemiology, and End Results Program. SEER Stat Fact Sheets: Colon and Rectum Cancer. National Cancer Institute. Available at http://seer.cancer.gov/statfacts/html/colorect.html. Accessed: May 14, 2015.

Chao A, Thun MJ, Connell CJ, et al. Meat consumption and risk of colorectal cancer. JAMA. 2005 Jan 12. 293(2):172-82. [Medline].

Baron JA, Beach M, Mandel JS, van Stolk RU, Haile RW, Sandler RS, et al. Calcium supplements for the prevention of colorectal adenomas. Calcium Polyp Prevention Study Group. N Engl J Med. 1999 Jan 14. 340(2):101-7. [Medline].

Ferrari P, Jenab M, Norat T, Moskal A, Slimani N, Olsen A, et al. Lifetime and baseline alcohol intake and risk of colon and rectal cancers in the European prospective investigation into cancer and nutrition (EPIC). Int J Cancer. 2007 Nov 1. 121(9):2065-72. [Medline].

Kabat GC, Howson CP, Wynder EL. Beer consumption and rectal cancer. Int J Epidemiol. 1986 Dec. 15(4):494-501. [Medline].

Tsoi KK, Pau CY, Wu WK, Chan FK, Griffiths S, Sung JJ. Cigarette smoking and the risk of colorectal cancer: a meta-analysis of prospective cohort studies. Clin Gastroenterol Hepatol. 2009 Jun. 7(6):682-688.e1-5. [Medline].

Phipps AI, Baron J, Newcomb PA. Prediagnostic smoking history, alcohol consumption, and colorectal cancer survival: The Seattle Colon Cancer Family Registry. Cancer. 2011 Nov 1. 117(21):4948-57. [Medline]. [Full Text].

Johns LE, Houlston RS. A systematic review and meta-analysis of familial colorectal cancer risk. Am J Gastroenterol. 2001 Oct. 96(10):2992-3003. [Medline].

Burt RW. Familial risk and colorectal cancer. Gastroenterol Clin North Am. 1996 Dec. 25(4):793-803. [Medline].

Hampel H. Genetic counseling in patients with familial risk for colorectal cancer. Presented at: NCCN 19th Annual Conference: Clinical Practice Guidelines & Quality Cancer Care; March 13, 2014; Hollywood, Fla.

Mulcahy N. NCCN: Test all colorectal cancers for Lynch syndrome. Medscape Medical News. March 14, 2014. [Full Text].

Henderson D. Home-Based Stool Test Detects 79% of Colorectal Cancers. Medscape Medical News. Available at http://www.medscape.com/viewarticle/820194. Accessed: February 10, 2014.

Lee JK, Liles EG, Bent S, Levin TR, Corley DA. Accuracy of Fecal Immunochemical Tests for Colorectal Cancer: Systematic Review and Meta-analysis. Ann Intern Med. 2014. 160:171-181.

de Wijkerslooth TR, Stoop EM, Bossuyt PM, Meijer GA, van Ballegooijen M, van Roon AH, et al. Immunochemical Fecal Occult Blood Testing Is Equally Sensitive for Proximal and Distal Advanced Neoplasia. Am J Gastroenterol. 2012 Jul 31. [Medline].

Nelson H, Petrelli N, Carlin A, Couture J, Fleshman J, Guillem J, et al. Guidelines 2000 for colon and rectal cancer surgery. J Natl Cancer Inst. 2001 Apr 18. 93(8):583-96. [Medline].

Schoen RE, Pinsky PF, Weissfeld JL, Yokochi LA, Church T, Laiyemo AO, et al. Colorectal-Cancer Incidence and Mortality with Screening Flexible Sigmoidoscopy. N Engl J Med. 2012 May 21. [Medline].

[Guideline] United States Preventive Services Task Force. Screening for Colorectal Cancer. AHRQ: Agency for Healthcare Research and Quality. Available at http://www.uspreventiveservicestaskforce.org/uspstf/uspscolo.htm. Accessed: May 12, 2015.

Brounts LR, Lehmann RK, Lesperance KE, Brown TA, Steele SR. Improved rates of colorectal cancer screening in an equal access population. Am J Surg. 2009 May. 197(5):609-12; discussion 612-3. [Medline].

Meredith KL, Hoffe SE, Shibata D. The multidisciplinary management of rectal cancer. Surg Clin North Am. 2009 Feb. 89(1):177-215, ix-x. [Medline].

Kapiteijn E, Marijnen CA, Nagtegaal ID, Putter H, Steup WH, Wiggers T. Preoperative radiotherapy combined with total mesorectal excision for resectable rectal cancer. N Engl J Med. 2001 Aug 30. 345(9):638-46. [Medline].

Bonjer HJ, Deijen CL, Abis GA, Cuesta MA, van der Pas MH, de Lange-de Klerk ES, et al. A randomized trial of laparoscopic versus open surgery for rectal cancer. N Engl J Med. 2015 Apr 2. 372(14):1324-32. [Medline].

Baxter NN, Garcia-Aguilar J. Organ preservation for rectal cancer. J Clin Oncol. 2007 Mar 10. 25(8):1014-20. [Medline].

Rothenberger D, Garcia-Aquilar J. Rectal cancer, local treatment. Current Therapy in Colon and Rectal Surgery. 2nd ed. Philadelphia, Pa: Mosby; 2005.

Peng J, Chen W, Venook AP, et al. Long-term outcome of early-stage rectal cancer undergoing standard resection and local excision. Clin Colorectal Cancer. 2011 Mar 1. 10(1):37-41. [Medline].

Brooks M. Local Excision for Rectal Cancer Increasing, but Inferior. Medscape Medical News. Available at http://www.medscape.com/viewarticle/815376. Accessed: December 23, 2013.

Stitzenberg KB, Sanoff HK, Penn DC, Meyers MO, Tepper JE. Practice patterns and long-term survival for early-stage rectal cancer. J Clin Oncol. 2013 Dec 1. 31(34):4276-82. [Medline]. [Full Text].

Weiser MR, Landmann RG, Wong WD, Shia J, Guillem JG, Temple LK, et al. Surgical salvage of recurrent rectal cancer after transanal excision. Dis Colon Rectum. 2005 Jun. 48(6):1169-75. [Medline].

Bullard KM, Rothenberger DA. Colon, rectum, and anus. Schwartz SE, ed. Principles of Surgery. 8th ed. New York, NY: McGraw Hill; 2005.

Li S, Chi P, Lin H, Lu X, Huang Y. Long-term outcomes of laparoscopic surgery versus open resection for middle and lower rectal cancer: an NTCLES study. Surg Endosc. 2011 Oct. 25(10):3175-82. [Medline].

Green BL, Marshall HC, Collinson F, Quirke P, Guillou P, Jayne DG, et al. Long-term follow-up of the Medical Research Council CLASICC trial of conventional versus laparoscopically assisted resection in colorectal cancer. Br J Surg. 2012 Nov 6. [Medline].

van Helmond J, Beart RW. Cancer of the rectum: Operative management and adjuvant therapy. Current Therapy in Colon and Rectal Surgery. 2nd ed. Philadelphia, Pa: Mosby; 2005.

Maurer CA, Renzulli P, Kull C, et al. The impact of the introduction of total mesorectal excision on local recurrence rate and survival in rectal cancer: long-term results. Ann Surg Oncol. 2011 Jul. 18(7):1899-906. [Medline].

Fujita S, Akasu T, Mizusawa J, Saito N, Kinugasa Y, Kanemitsu Y, et al. Postoperative morbidity and mortality after mesorectal excision with and without lateral lymph node dissection for clinical stage II or stage III lower rectal cancer (JCOG0212): results from a multicentre, randomised controlled, non-inferiority trial. Lancet Oncol. 2012 Jun. 13(6):616-21. [Medline].

Dhir M, Lyden ER, Wang A, et al. Influence of margins on overall survival after hepatic resection for colorectal metastasis: a meta-analysis. Ann Surg. 2011 Aug. 254(2):234-42. [Medline].

Margalit DN, Mamon HJ, Ancukiewicz M, et al. Tolerability of combined modality therapy for rectal cancer in elderly patients aged 75 years and older. Int J Radiat Oncol Biol Phys. 2011 Dec 1. 81(5):e735-41. [Medline].

Ceelen WP, Van Nieuwenhove Y, Fierens K. Preoperative chemoradiation versus radiation alone for stage II and III resectable rectal cancer. Cochrane Database Syst Rev. 2009 Jan 21. CD006041. [Medline].

Jakobsen A, Ploen J, Vuong T, Appelt A, Lindebjerg J, Rafaelsen SR. Dose-Effect Relationship in Chemoradiotherapy for Locally Advanced Rectal Cancer: A Randomized Trial Comparing Two Radiation Doses. Int J Radiat Oncol Biol Phys. 2012 May 15. [Medline].

Wong RK, Tandan V, De Silva S, Figueredo A. Pre-operative radiotherapy and curative surgery for the management of localized rectal carcinoma. Cochrane Database Syst Rev. 2007 Apr 18. CD002102. [Medline].

Ng K, Ogino S, Meyerhardt JA, et al. Relationship Between Statin Use and Colon Cancer Recurrence and Survival: Results From CALGB 89803. J Natl Cancer Inst. 2011 Oct 19. 103(20):1540-51. [Medline]. [Full Text].

NCCN. Clinical Practice Guidelines in Oncology Symposium: Colon, Rectal and Anal Cancers. Available at http://cme.medscape.com/viewprogram/8374.

[Guideline] National Comprehensive Cancer Network. NCCN Clinical Practice Guidelines in Oncology. Rectal Cancer Version 1.2016. Available at http://www.nccn.org/professionals/physician_gls/PDF/rectal.pdf. Accessed: March 11, 2016.

Kidwell KM, Yothers G, Ganz PA, Land SR, Ko CY, Cecchini RS, et al. Long-term neurotoxicity effects of oxaliplatin added to fluorouracil and leucovorin as adjuvant therapy for colon cancer: Results from National Surgical Adjuvant Breast and Bowel Project trials C-07 and LTS-01. Cancer. 2012 May 8. [Medline].

Cao S, Bhattacharya A, Durrani FA, Fakih M. Irinotecan, oxaliplatin and raltitrexed for the treatment of advanced colorectal cancer. Expert Opinion on Pharmacotherapy. 2006. 7(6):687-703.

Maughan TS, Adams RA, Smith CG, et al. Addition of cetuximab to oxaliplatin-based first-line combination chemotherapy for treatment of advanced colorectal cancer: results of the randomised phase 3 MRC COIN trial. Lancet. 2011 Jun 18. 377(9783):2103-14. [Medline].

Douillard JY, Siena S, Cassidy J, Tabernero J, Burkes R, Barugel M, et al. Randomized, phase III trial of panitumumab with infusional fluorouracil, leucovorin, and oxaliplatin (FOLFOX4) versus FOLFOX4 alone as first-line treatment in patients with previously untreated metastatic colorectal cancer: the PRIME study. J Clin Oncol. 2010 Nov 1. 28(31):4697-705. [Medline].

Peeters M, Price TJ, Cervantes A, Sobrero AF, Ducreux M, Hotko Y. Randomized phase III study of panitumumab with fluorouracil, leucovorin, and irinotecan (FOLFIRI) compared with FOLFIRI alone as second-line treatment in patients with metastatic colorectal cancer. J Clin Oncol. 2010 Nov 1. 28(31):4706-13. [Medline].

Simkens LH, Koopman M, Mol L, et al. Influence of body mass index on outcome in advanced colorectal cancer patients receiving chemotherapy with or without targeted therapy. Eur J Cancer. 2011 Nov. 47(17):2560-7. [Medline].

Quan D, Gallinger S, Nhan C, Auer RA, Biagi JJ, Fletcher GG, et al. The role of liver resection for colorectal cancer metastases in an era of multimodality treatment: A systematic review. Surgery. 2012 Jun. 151(6):860-70. [Medline].

Cheng X, Chen VW, Steele B, Ruiz B, Fulton J, Liu L, et al. Subsite-specific incidence rate and stage of disease in colorectal cancer by race, gender, and age group in the United States, 1992-1997. Cancer. 2001 Nov 15. 92(10):2547-54. [Medline].

Ebert MP, Tanzer M, Balluff B, et al. TFAP2E-DKK4 and chemoresistance in colorectal cancer. N Engl J Med. 2012 Jan 5. 366(1):44-53. [Medline].

Hendlisz A, Van den Eynde M, Peeters M, Maleux G, Lambert B, Vannoote J, et al. Phase III trial comparing protracted intravenous fluorouracil infusion alone or with yttrium-90 resin microspheres radioembolization for liver-limited metastatic colorectal cancer refractory to standard chemotherapy. J Clin Oncol. 2010 Aug 10. 28(23):3687-94. [Medline].

[Guideline] Kahi CJ, Boland CR, Dominitz JA, Giardiello FM, Johnson DA, Kaltenbach T, et al. Colonoscopy Surveillance After Colorectal Cancer Resection: Recommendations of the US Multi-Society Task Force on Colorectal Cancer. Gastroenterology. 2016 Mar. 150 (3):758-768.e11. [Medline]. [Full Text].

Nielsen A, Munk C, Kjaer SK. Trends in incidence of anal cancer and high-grade anal intraepithelial neoplasia in Denmark, 1978-2008. Int J Cancer. 2012 Mar 1. 130(5):1168-73. [Medline].

FDA: Gardasil approved to prevent anal cancer. U.S. Food and Drug Administration. Available at http://www.fda.gov/NewsEvents/Newsroom/PressAnnouncements/ucm237941.htm. Accessed: May 12, 2015.

Eu KW, Seow-Choen F, Ho JM, Ho YH, Leong AF. Local recurrence following rectal resection for cancer. J R Coll Surg Edinb. 1998 Dec. 43(6):393-6. [Medline]. [Full Text].

Thong MS, Mols F, Lemmens VE, et al. Impact of preoperative radiotherapy on general and disease-specific health status of rectal cancer survivors: a population-based study. Int J Radiat Oncol Biol Phys. 2011 Nov 1. 81(3):e49-58. [Medline].

Bipat S, Glas AS, Slors FJ, Zwinderman AH, Bossuyt PM, Stoker J. Rectal cancer: local staging and assessment of lymph node involvement with endoluminal US, CT, and MR imaging--a meta-analysis. Radiology. 2004 Sep. 232(3):773-83. [Medline].

Boisen MK, Johansen JS, Dehlendorff C, Larsen JS, Osterlind K, Hansen J, et al. Primary tumor location and bevacizumab effectiveness in patients with metastatic colorectal cancer. Ann Oncol. 2013 Jul 17. [Medline].

Kumar A, Scholefield JH. Endosonography of the anal canal and rectum. World J Surg. 2000 Feb. 24(2):208-15. [Medline].

Lipton LR, Johnson V, Cummings C, et al. Refining the Amsterdam Criteria and Bethesda Guidelines: testing algorithms for the prediction of mismatch repair mutation status in the familial cancer clinic. J Clin Oncol. 2004 Dec 15. 22(24):4934-43. [Medline].

Lynch HT, de la Chapelle A. Hereditary colorectal cancer. N Engl J Med. 2003. 348:919â€"932.

Phang PT, Wong WD. Preoperative evaluation of the rectal cancer patient: Assessment of operative risk and strategy. Current Therapy in Colon and Rectal Strategy. 2nd ed. Philadelphia, Pa: Mosby; 2005.
Table 1. Comparison of AJCC Definition of TNM Staging System to Dukes Classification.
Rectal Cancer Stages
TNM Staging
Duke Staging
5-Year Survival
Stage I
T1-2 N0 M0
A
>90%
Stage II
A
T3 N0 M0
B
60%-85%
B
T4 N0 M0
60%-85%
Stage III
A
T1-2 N1 M0
C
55%-60%
B
T3-4 N1 M0
35%-42%
C
T1-4 N2 M0
25%-27%
Stage IV
T1-4 N0-2 M1
5%-7%
Table 2. Acceptable Minimal Distal and Proximal Resectional Margins for Rectal Cancer.
[26]
| | | |
| --- | --- | --- |
| Resection Margins | Proximal Resection Margin(cm) | Distal Resection Margin (cm) |
| Ideal Margins | 5 cm or more | 2 cm or more |
| Minimally acceptable margins | 5 cm or more | 1 cm or more |
Table 3. Colorectal Chemotherapeutic Regimens
COLON AND RECTAL CANCER



COMMON CHEMOTHERAPY REGIMENS




FOLFOX (every 2 weeks)
Oxaliplatin 85 mg/m2 day 1



Leucovorin 200 mg/m2 day 1



5-FU 400 mg/m2 IV Bolus day 1 and 2



5-FU 600 mg/m2 IV Infusion day 1 and 2 (22 hours)




FOLFOX 4



(every 2 weeks)



(4 cycles)




Oxaliplatin 85 mg/m2 day 1



Leucovorin 200 mg/m2 day 1



5-FU 400 mg/m2 IV Bolus day 1 and 2



5-FU 2400 mg/m2 IV Infusion day 1 (46 hours)




mFOLFOX 6



(Every 2 weeks)



(4 cycles)




Oxaliplatin 85 mg/m2 day 1



Leucovorin 400 mg/m2 day 1



5-FU 400 mg/m2 IV Bolus day 1 and 2



5-FU 1200 mg/m2 IV Infusion day 2 days




CapeOX



(Twice daily x 14 days)



(every 3 weeks)




Oxaliplatin 130 mg/m2 day 1



Capecitabine 850 mg/m2 PO BID for 14 days




FOLFIRI



(every 2 weeks)




Irinotecan 165 mg/m2 day 1



Leucovorin 200 mg/m2 day 1



5-FU 400 mg/m2 IV Bolus day 1 and 2



5-FU 600 mg/m2 IV Infusion day 1 and 2 (22 hours)




FOLFOXIRI



(every 2 weeks)




Irinotecan 180 mg/m2 day 1



Oxaliplatin 85 mg/m2 day 1



Leucovorin 200 mg/m2 day 1



5-FU 3200 mg/m2 IV Infusion day (48 hours)




Bevacizumab
5-10 mg/kg IV every 2 weeks with chemotherapy
Cetuximab
400 mg/m2 IV day 1, then 250 mg/m2 IV weekly
Medscape Reference © 2011 WebMD, LLC